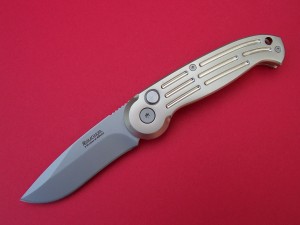 A few months ago, my colleague wrote a post on legislation in Maine that would legalize switchblades for one-armed people.
Last week, Maine lawmakers finally passed that legislation, which will make Maine the first state to allow people to carry switchblades.
Typically, spring action knives are illegal to carry, but Maine is making an exception for one-armed people who cannot open a knife quickly in emergency situations. There is a caveat, of course, that says the blade on the knife cannot be longer than three inches.
While this news is fantastic for one-armed people in Maine who have had to slowly open their knives with their teeth, it's sparked much mockery and criticism from people around the web. Their main criticism is that Maine lawmakers are not using their time wisely and that this is unnecessary for one-armed people because they'll never really need a knife that quickly.
Although they may have a legitimate gripe with the part about lawmakers not taking care of bigger issues (i.e. Maine's growing budget woes), to say that one-armed people will never need knives quickly for emergency purposes is simply wrong.
Through my series Knives Save Lives, we've seen just how important knives are in split second situations. In one of the articles, the author only thought of a situation with bears where a knife might be necessary, but he dismissed it as an unlikely situation anyway. Knives do protect people from bears, like the case of Tom Tilley, but they are also useful in a variety of dangerous situations. They can cut trapped people out of their seatbelts or slice rope quickly.
It's impossible to pinpoint how many people could have or will be saved from one-armed people using switchblades, but there is no doubt that in many situations, the quick use of a knife can save a life.