This post is the last in a week-long series about swords in conjunction with our first Cutting Edge product give-away.  Place a comment before midnight (Central Time) on Sunday and you'll be entered to win a 51-inch William Wallace replica sword ($119 value).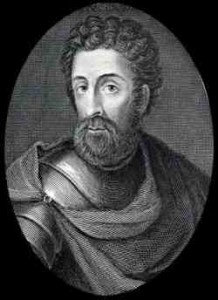 "I could not be a traitor to Edward for I was never his subject,' said William Wallace while being tried for treason after his capture in August of 1305.  Unfortunately, the British government thought otherwise.
After a brief trial, Wallace was stripped naked and dragged through the city by a horse.  He was then hanged until he was barely alive, castrated, sliced open and forced to watch while his entrails were burned, and eventually decapitated. His head was covered in tar and placed on a pike on a top of London bridge.
It was undoubtedly a rough way to die, but Wallace had sent many a foe to equally brutal deaths during his reign as the most notorious freedom-fighter in Scotland.
Wallace's crusade against the British began after infighting amongst the Scottish nobility allowed England to seize Scotland in 1296.  While doing so, the British perpetrated a wide range of atrocities against the Scottish people
Historians speculate that Wallace's wrath was additionally motivated by the murder of Marion Braidfute, a Scottish heiress that he was married to. He took revenge by slaying her murderer, William Heselright, the English Sheriff of Lanark.
From there, Wallace won a string of battles, pushing the British away from Scotland and inciting his fellow countryman to revolution.  Often outnumbered and facing armies with superior weaponry, Wallace used military strategy to his advantage.  His employment of tactical arrangements—like the Sheltron—as well as his use of strategic terrain defied military ethics of his time.
Though Wallace initially purged Scotland of the British, they eventually pushed back into the country sending Wallace and his troops into hiding.
Wallace was captured on August 5, 1305, when John De Menteith, a Scottish knight loyal to England, turned him over to British soldiers.
While I've already covered the sordid circumstances of Wallace's last moments, it's intriguing to know that one of the  most compelling artifacts of his rebellion did survive.
William Wallace's Sword ( We're giving away two of them!)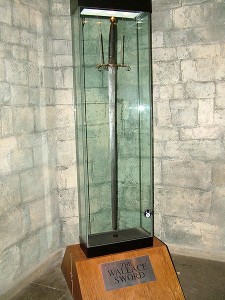 Wallace's sword, a 52-inch claymore, was allegedly recovered by a British governor and passed onto King James IV of Scotland two hundred years later.  There is much debate over whether the sword actually belonged to Wallace, with some sword experts stating that the weapon could not possibly date from this time.
The sword measures a giant 66 inches and weighs approximately 6 pounds.  Historians think that because of its massive size, Wallace must have been at least 6 foot 5; the average height at the time was around five foot seven.  The sword currently resides in the National Wallace Monument, a tower that stands near hilltop in Stirling in Scotland.
Luckily, you don't have to travel all the way to Stirling to feel the raw power of William Wallace.  All this week at the Cutting Edge, we've been running a contest in which anyone who comments on a blog post is entered to win a 51-inch William Wallace medieval replica sword.
Today is the last day to enter and since the contest has been so successful, we've decided to give away a second sword.  Be the first to comment on this post telling us why you think William Wallace is cool (you must comment on the actual blog and not through Facebook) and you'll win a sword.
Good luck!