When you need a knife that will get the job done, it's best to opt for something with the least amount of bells and whistles and gimmicks. But if you want something that's completely impractical but downright whimsical, you go for a knife designed by Paul Ehlers.
Ehlers is a man of many trades. The man made movies as a kid and drew comics. He played Madman Marz in the cult classic horror movie "Madman" and acted in a few other short videos. But, for our purposes, Ehlers is a designer of fantasy knives and weapons. He teams up with knife makers to bring the awesome designs to life. He forged a relationship with the legendary Gil Hibben, which is the guy who does the tough job of bringing his designs into reality with expert knifemaking skills.
Before we get into the knives, I want to get something out of the way: these knives are for artistic purposes only and not for regular use. Don't complain about how this is mall ninja junk because these are actually well-made and quite expensive most of the time. They're to be enjoyed as art.
1. Stingray
Stingrays are elegant creatures that appear to fly through the water with grace. One thing is clear about the Paul Ehlers Stingray: this thing will sting with impunity. Brought to life by the great Gil Hibben, the Stingray is a gauntlet you can hold in your hand with some flourishes that take this awesome design to another level.
Part of it is covered in genuine stingray skin and the eyes are made of mother of pearl. The attention to detail, particularly in the curvature of the flaps, is unparalleled.
Here is a look at the Stingray on the hand.
2. Photon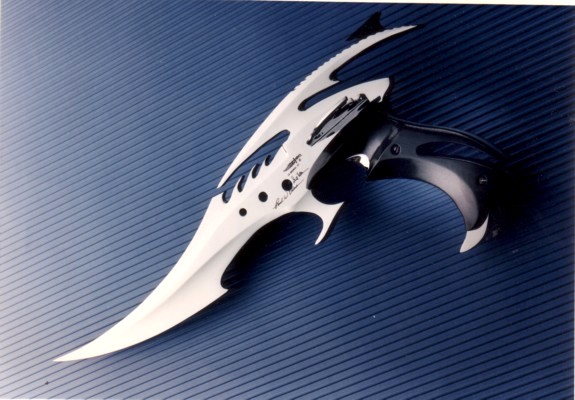 The Photon is another Ehlers design and Hibben creation that features a pistol-grip and futuristic lines, like something you'd find straight out of Star Trek. It has a black Micarta handle and an overall length of 16 inches. The knife was featured at the New York Custom Knife Show in 1995 and went on sale in 2005 for about $3,000.