When you need a knife that will get the job done, it's best to opt for something with the least amount of bells and whistles and gimmicks. But if you want something that's completely impractical but downright whimsical, you go for a knife designed by Paul Ehlers.
Ehlers is a man of many trades. The man made movies as a kid and drew comics. He played Madman Marz in the cult classic horror movie "Madman" and acted in a few other short videos. But, for our purposes, Ehlers is a designer of fantasy knives and weapons. He teams up with knife makers to bring the awesome designs to life. He forged a relationship with the legendary Gil Hibben, which is the guy who does the tough job of bringing his designs into reality with expert knifemaking skills.
Before we get into the knives, I want to get something out of the way: these knives are for artistic purposes only and not for regular use. Don't complain about how this is mall ninja junk because these are actually well-made and quite expensive most of the time. They're to be enjoyed as art.
1. Stingray
Stingrays are elegant creatures that appear to fly through the water with grace. One thing is clear about the Paul Ehlers Stingray: this thing will sting with impunity. Brought to life by the great Gil Hibben, the Stingray is a gauntlet you can hold in your hand with some flourishes that take this awesome design to another level.
Part of it is covered in genuine stingray skin and the eyes are made of mother of pearl. The attention to detail, particularly in the curvature of the flaps, is unparalleled.
Here is a look at the Stingray on the hand.
2. Photon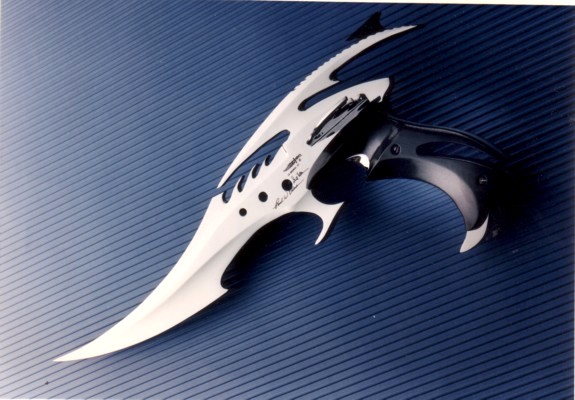 The Photon is another Ehlers design and Hibben creation that features a pistol-grip and futuristic lines, like something you'd find straight out of Star Trek. It has a black Micarta handle and an overall length of 16 inches. The knife was featured at the New York Custom Knife Show in 1995 and went on sale in 2005 for about $3,000.
One of the problems with these custom knives, especially older ones, is getting good images. Carter Town was able to obtain some images from a magazine that showed the knife and Hibben, courtesy of Bob Finkelstein.
Check them out.
A cheaper iteration of the knife was also released a while back.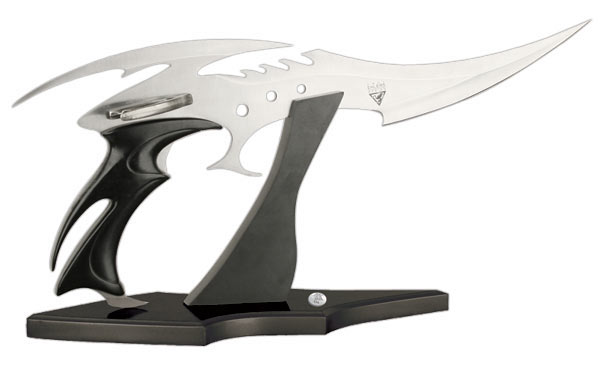 3. Black Widow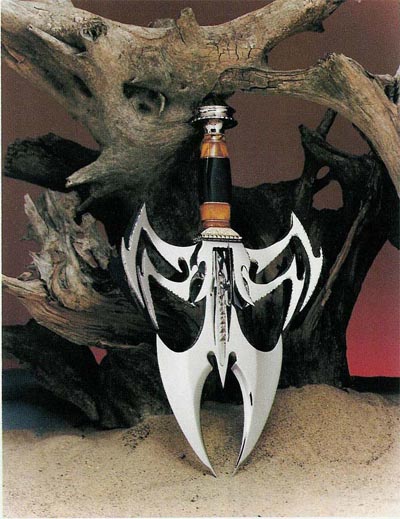 Except for an image on Hibben's site, I haven't been able to find any additional info about the Black Widow. All I know is that it's a truly wicked design. The arachnidal arms of the blade are reminiscent of a spider and the bite looks severe. I wish I knew a little more about what the handle was made of.
4. Alien
Behold the Alien. This is one of the most formidable creations I've ever seen. Like the Stingray, the Alien is a gauntlet with more points and edges than you can imagine.
Hibben has actually made five of these babies over his 50 years of knifemaking, according to fightingknives.info. They say the last one Hibben made was in the early 1990s. Apparently it has at least 17 hand-ground edges and countless other embellishments. I can't imagine how many hours it takes to bring one of these aliens to life.
Here's another image:
Here is what looks like Gil Hibben holding the extraterrestial.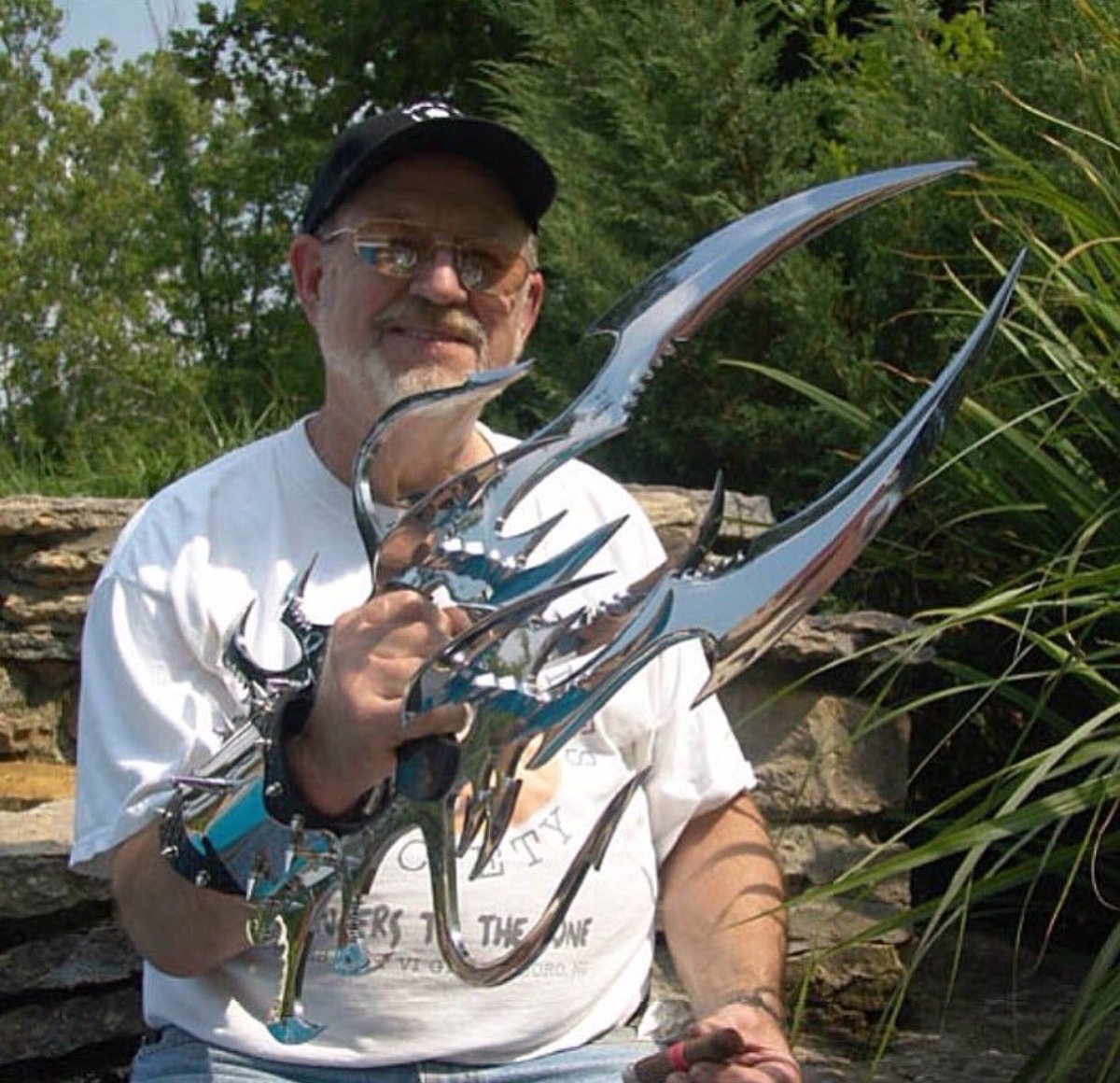 5. Hornet
I love the design of the Hornet. It's probably one of Ehlers' most functional designs (not that you would ever use one of these custom knives). The hand guard made of steel looks like wings and the two-tone handle is a gorgeous touch.
The stinger is, of course, a polished dagger blade. Here is an image of another Hornet on Hibben's website.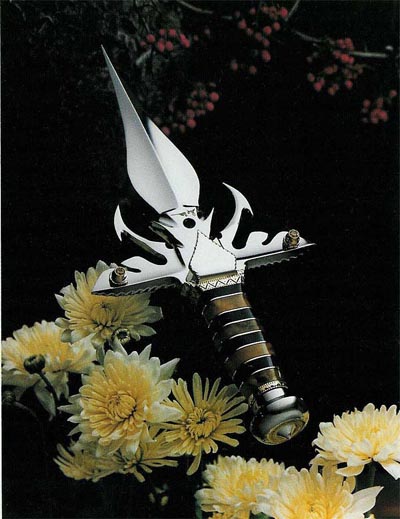 The Hornet has been made into a few iterations like most of Ehlers knives. If you follow san_mai_usa on Instagram, you can see a version of the Hornet next to the Arachnid here.
6. Scorpion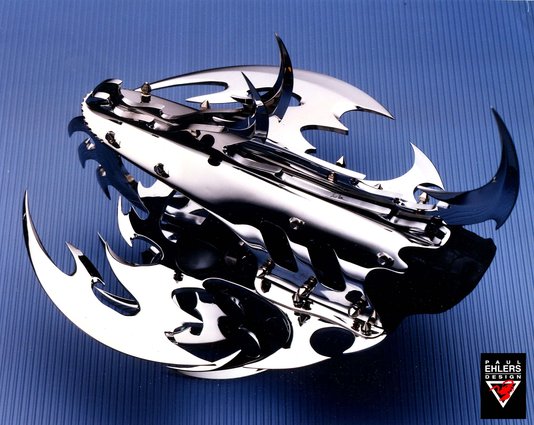 Keeping with the stinging critter theme: next up is the Scorpion. This is another one of those knives I couldn't find much info on, but I enjoy gawking at on Ehlers' site. It appears to be a gauntlet with pincers and a tail with a stinger.
I would have liked to see what it looks like at different angles, but the only images I could find come from Ehlers' website.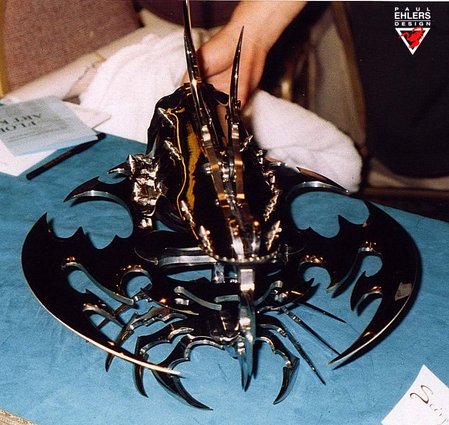 7. Gremlin
Gil Hibben only made a handful of the Paul Ehlers Gremlin — five according to fightingknives.info. The knife is a push dagger with some interesting curves and edges.
It's honestly not one of the most outrageous designs but I appreciate how it looks like a monster from different angles.
8. Thor's Sickle
Thor is best known for his hammer but his sickle looks just as ferocious. Another Ehlers/Hibben creation, Thor's Sickle is a custom knife that's been made 10 times (if the information I found was correct).
The skull handle was carved by Jody Simpson and the overall design is impressive. One of the versions is going on eBay for about $2,500, if you're interested.
Here's the image from that.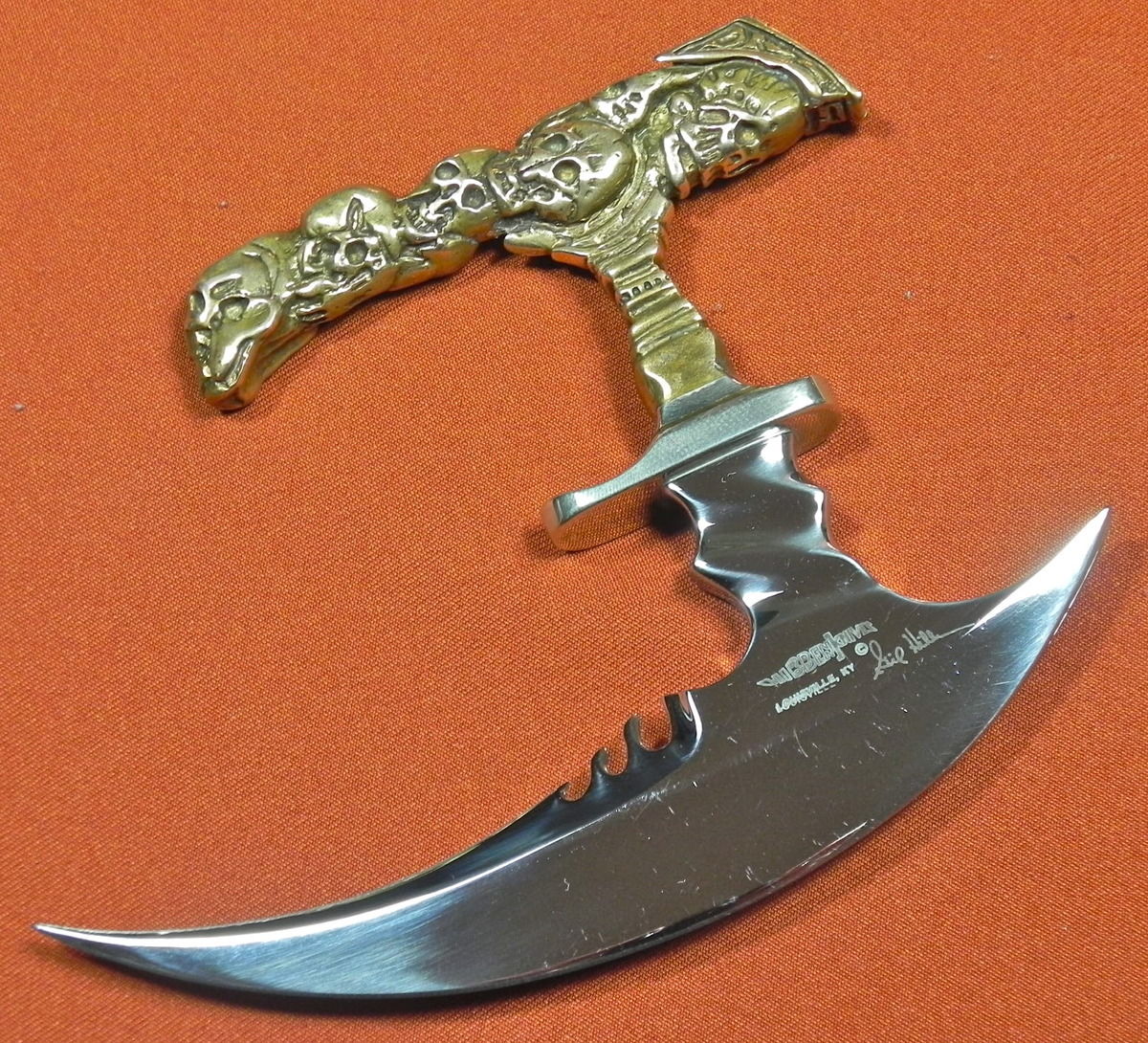 9. Hawk
Unfortunately, except for this amazing picture on Paul Ehlers' website, I wasn't able to find out anything else about it. It features killer wings and talons that make this bird of prey fierce. I can't imagine how much time it spent sharpening the edges. It looks like the user holds the bird around the neck though that seems mighty dangerous for anyone wielding it.
10.  Elf Dirk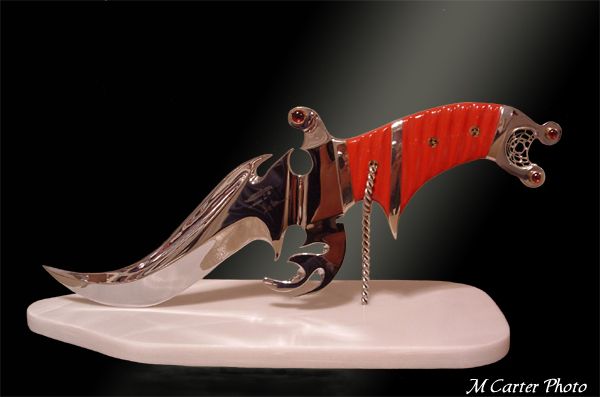 Then there's the Elf Dirk. I know this is a favorite of many people for its brazen design that could be straight out of Lord of the Rings. It would also be great for cosplay if you were brave enough to take it off the stand.
As far as I know, this design has been made by Hibben a fair number of times. Hibben Knives shared a post on Facebook the other day with a new Elf Dirk (featuring a 14kt gold spider web and spider) that he made for someone in Florida.