On this blog, we've taken a look at a lot of bizarre or strange-looking knives, from knives that look like sharks to pocket knives that won't fit in your pocket. To be fair, the knife we're about to show you is a piece of art and may very well be the greatest piece of knife art out there.
Behold the Pacifica by Jay Fisher.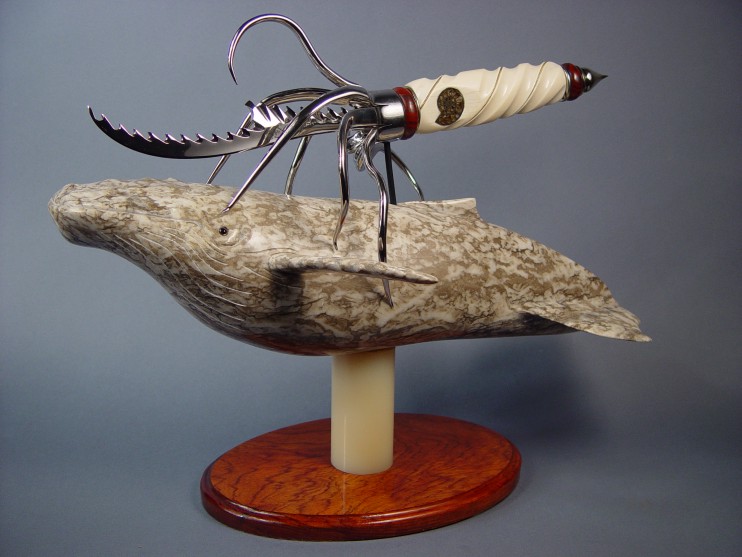 Let me reiterate. This is a piece of art and is not necessarily made to be used for anything other than showcasing. Looking at it through that lens allows you to admire the artwork, execution and design of this amazing knife sculpture.
The piece was made by Jay Fisher, a fantastic custom knifemaker who's made great functional knives like this one and this one. But he's very proud of this creation and even has a whole page on his site dedicated to the Pacifica.
Here's more about the knife in his own words:
The visual power of Pacifica has impacted people at shows, exhibitions, and display venues for years. People have stared at it in fear, have skirted the table giving wide clearance as if it was going to leap off the helpless humpback and rip open their throat. One woman pointed at Pacifica and said, "This is what makes our children do bad things!" and then scurried away. Other knifemakers have stared at it, turned to look at me, scowled, and walked away without a word. Why? Because, no matter your background, education, intellect, or place in this big beautiful world, if a piece of artwork elicits an emotional response, it has done its job.

Ninety percent of the comments about this fantasy artwork are positive. People do find it an edgy, active study in curves, perspective, and harassment on their sensible compassion for an endangered animal. They have a good respect for what it is, politically and biologically indecent as it may be. My only hope as an artist is that the viewer feels … something.
When you're a creator, there will always be people who respond positively and negatively to whatever you do (or worse, indifferently). But the fact that Jay Fisher created this amazing fantasy knife is a testament to the curiosity, imagination and passion.
Check out some more images before we get into the specs.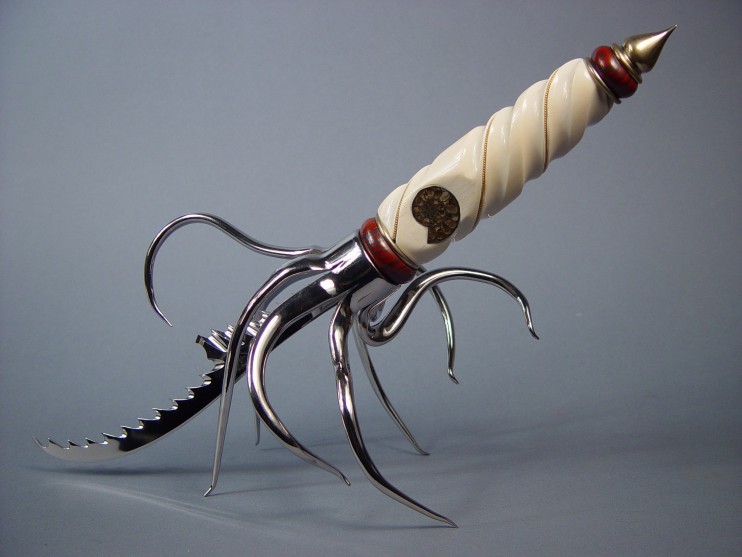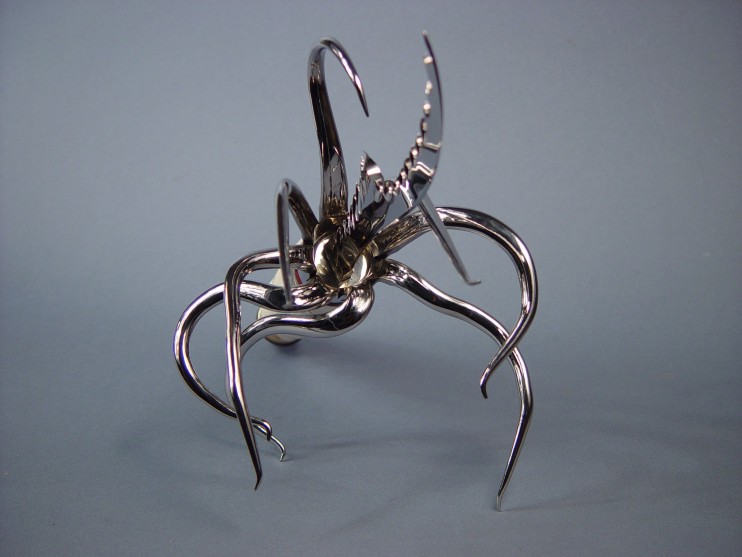 Now a little about the knife. The blade is made of 440C High Chromium Martensitic Stainless Tool Steel. The humpback whale stand is hand-carved from Utah Brown Alabaster. The handle is aged elephant ivory (pre-ban) with 24kt gold wire and Pyritized Ammonite Fossils.
While I was tempted to contact Mr. Fisher for this blog post, I didn't want to incur his wrath because he has very specific lists of things he will and will not do (which I highly recommend reading).
Although the Pacifica was sold, he has a host of other custom knives for sale, which we recommend checking out.
---