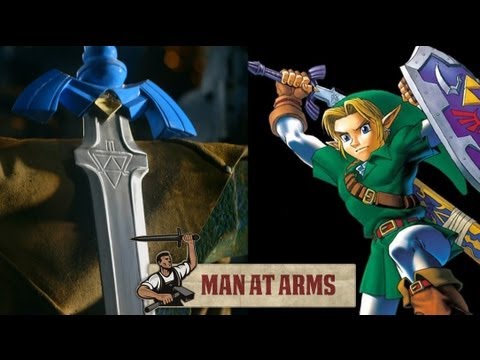 When I was young, I desperately wanted to be a video game designer and imagine up fantastical worlds with crazy weapons. While my dream never came true, I'm still able to do the next best thing: enjoy the games and worlds other people create.
It's always easier to think of an idea for a game or weapon than create something in real life, but who hasn't wanted something from a video game to become reality. Fortunately for all the gamers out there, master swordsmith and propmaster Tony Swatton will make your dreams come true.
For the past few months, Tony Swatton has been the subject of a YouTube series known as "Man at Arms" in which he recreates some of the weapons from popular media like Raphael's Sais from "Teenage Mutant Ninja Turtles" and the Batarangs from "The Dark Knight." While you can already get many replicas of these weapons from around the web—and from your very own Knife Depot—the difference between Swatton's weapons are that they're fully functional. These are designed to be used and withstand force.
He's recreated weapons from many films and TV shows, but his functional replicas of famous swords and weapons from video games are truly outstanding.
About three months ago, he built Link's Master Sword from "The Legend of Zelda." As you can see from the video below, the game version of the sword itself is a sight to behold and the fact that Swatton perfectly builds his own is even more amazing.
His most recent recreation is the Hidden Blade & Pirate Cutlass from "Assassin's Creed IV." Check it out below.
You can check out more of his videos at his site Sword and the Stone and take a look at the AWE me Channel Facebook page for more awesome videos.
---