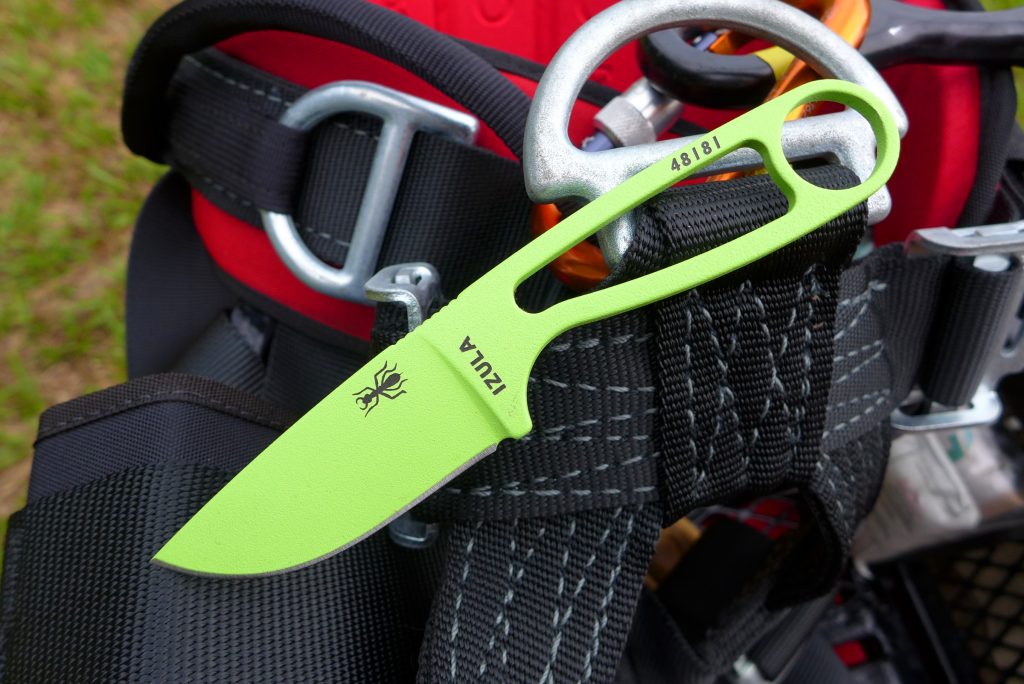 It's an old tradition to wear something green on St. Patrick's Day. Some people wear green shoelaces or a green hat, but if you're the kind of knife nut who's reading this blog, you're probably going to carry a green knife.
In honor of St. Patrick's Day, we're looking at 15 great knives with green handles.
This article has been updated a few times since its first publication in 2014 to get rid of discontinued models and put some new ones.
Spyderco Salt 2, Green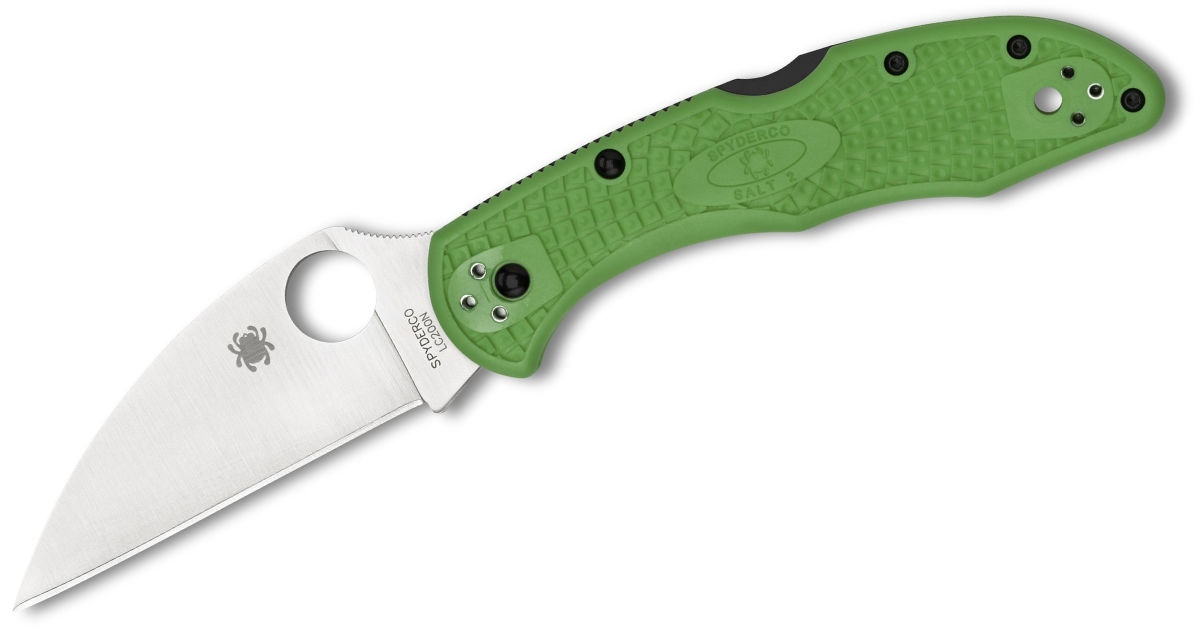 We used to have the Dragonfly 2 in ZDP-189 in this spot, but that knife is no longer available. The Spyderco Salt 2 with Wharncliffe blade made from LC200N and bright green handle scales is the next best thing.

Kershaw Link, Olive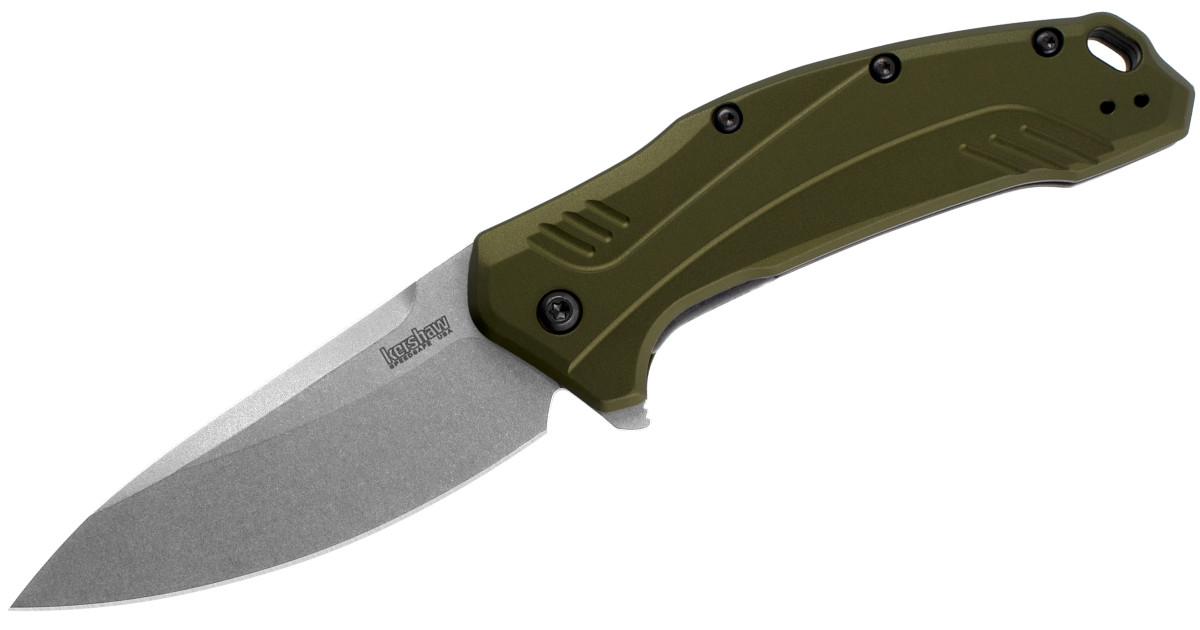 Olive is kind of a tamped down green color, so we decided to add it to this list. The Kershaw Link is one of the best US-made EDC folders, and Kershaw made it even better by making this version have premium 20CV steel with olive scales.

Bear & Son Cutlery Undead Bear Tac II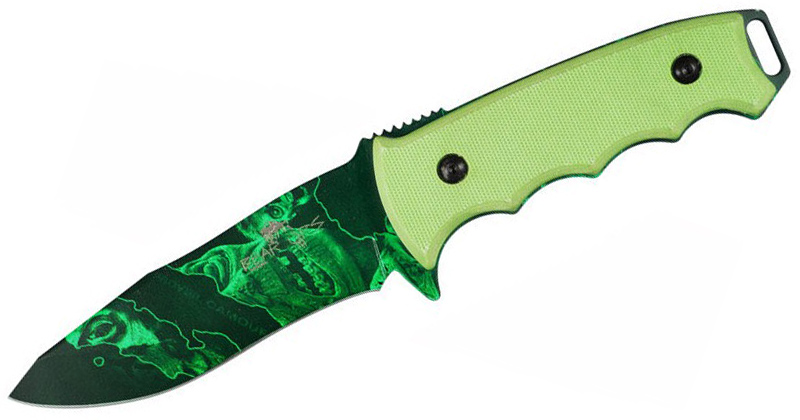 The Bear & Son Cutlery Undead Bear Tac II is a green knife through and through. It features zombie green G-10 handle scales and a zombie green blade made from 1095 carbon steel.

Case Trapper, Worn Bermuda Green Bone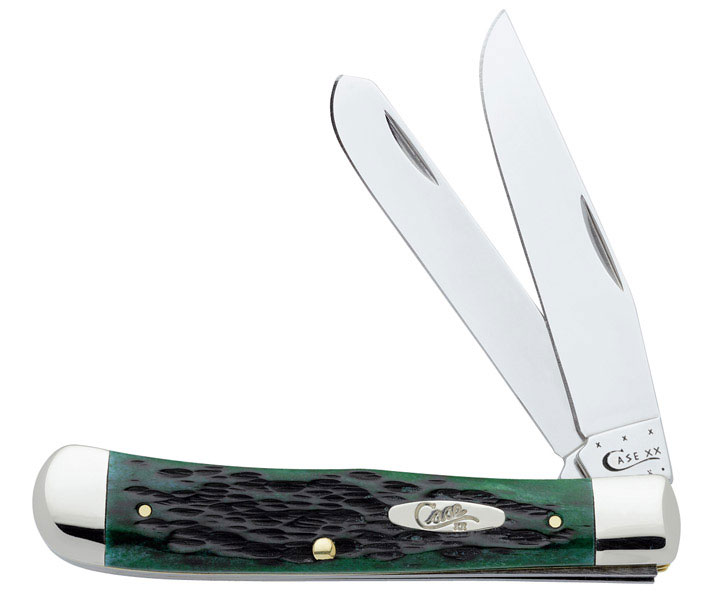 Case Cutlery, at more than 100 years old, still produces some of the best and most respected folders. This Trapper is a nice gentleman's folder and the worn Bermuda green handle blends perfectly with the design to make this a knife your friends will gawk at.
Electrifying California OTF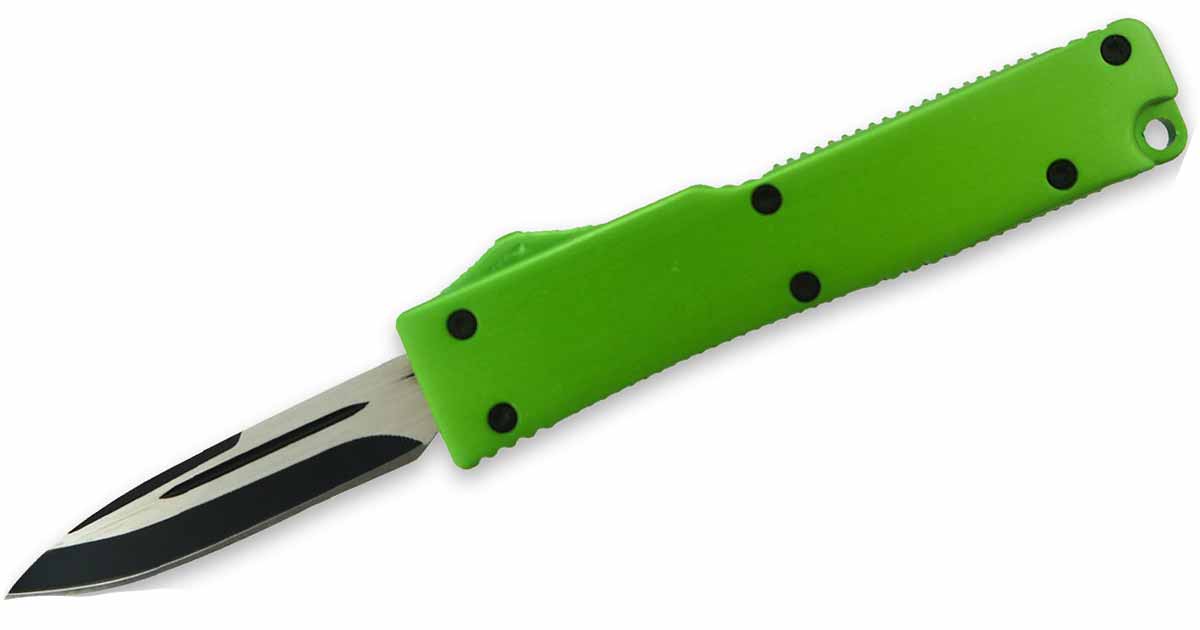 California legal OTF knives are becoming increasingly popular. These little out the front automatic knives have blades under two inches. Even though it's small, it still works like a charm for most EDC tasks.
This inexpensive OTF has a dual action blade and bright green handle.

Spyderco Delica 4, Green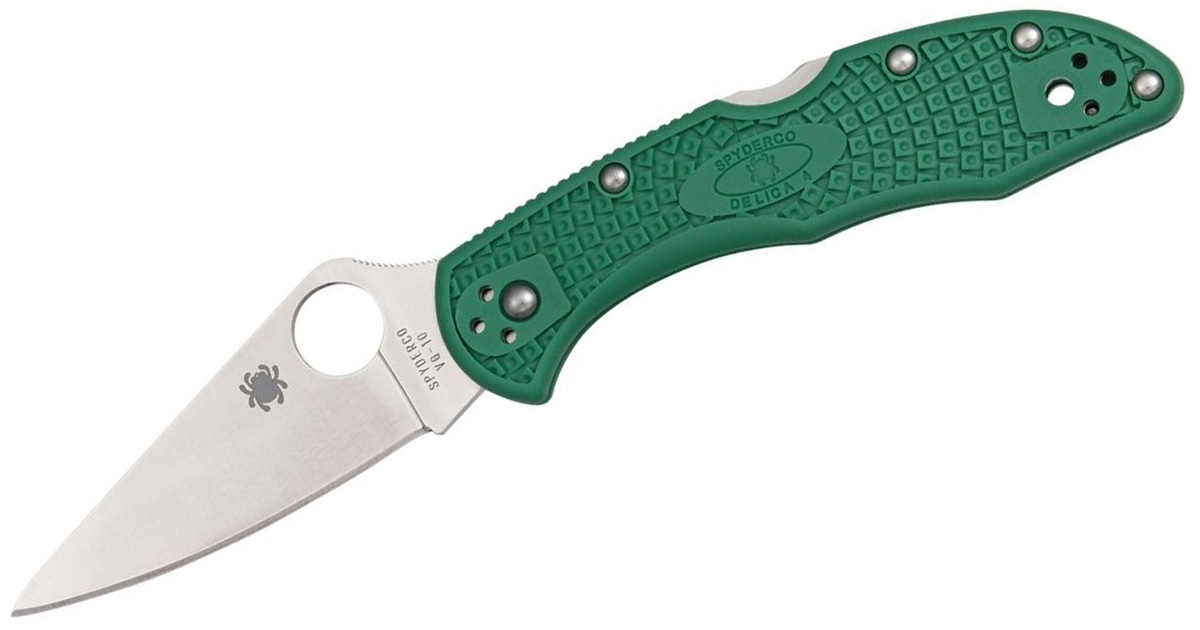 Aside from its British Racing Green knives in ZDP-189 steel, Spyderco also makes regular green knives. One of the best regular green knives is the Delica 4 with green FRN handle and full flat ground blade (versus the flat saber grind of the standard Delica).
This knife has a 2.88-inch blade with VG-10 steel and the familiar bi-directional fiberglass reinforced handle.

Cold Steel Finn Wolf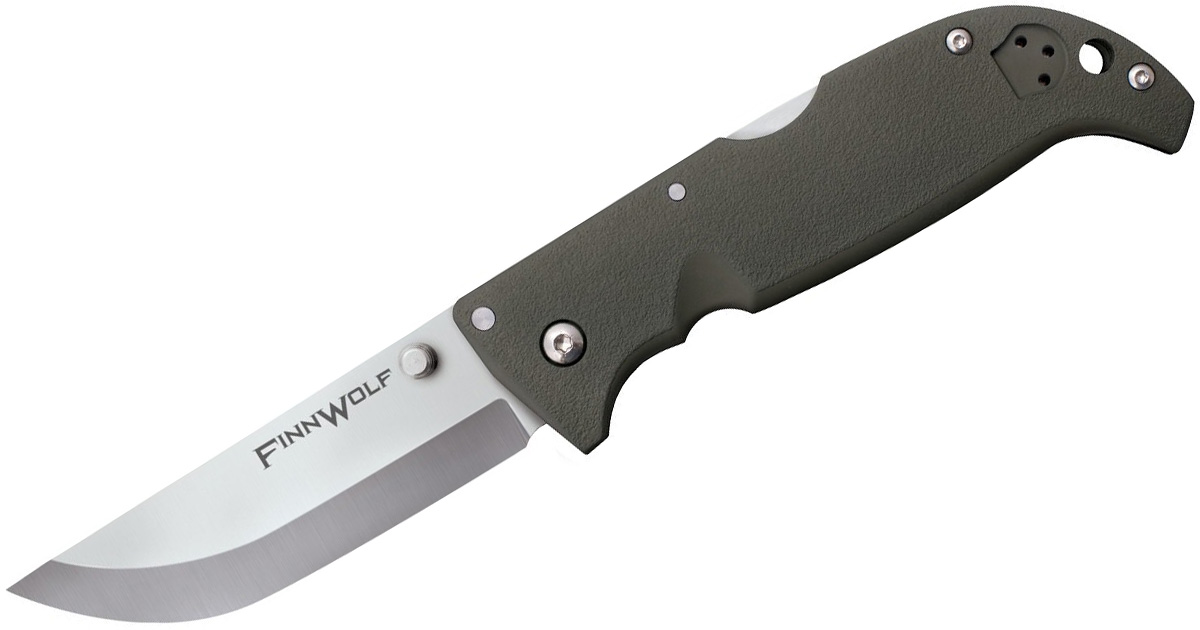 Olive Drab is not really the traditional green, but it's still green nonetheless. There are plenty of options in olive drab if your heart desires, but we're partial to the Finn Wolf from Cold Steel. This robust folder is equipped with a Tri-Ad lock and is essentially a folding puukko.

CRKT Minimalist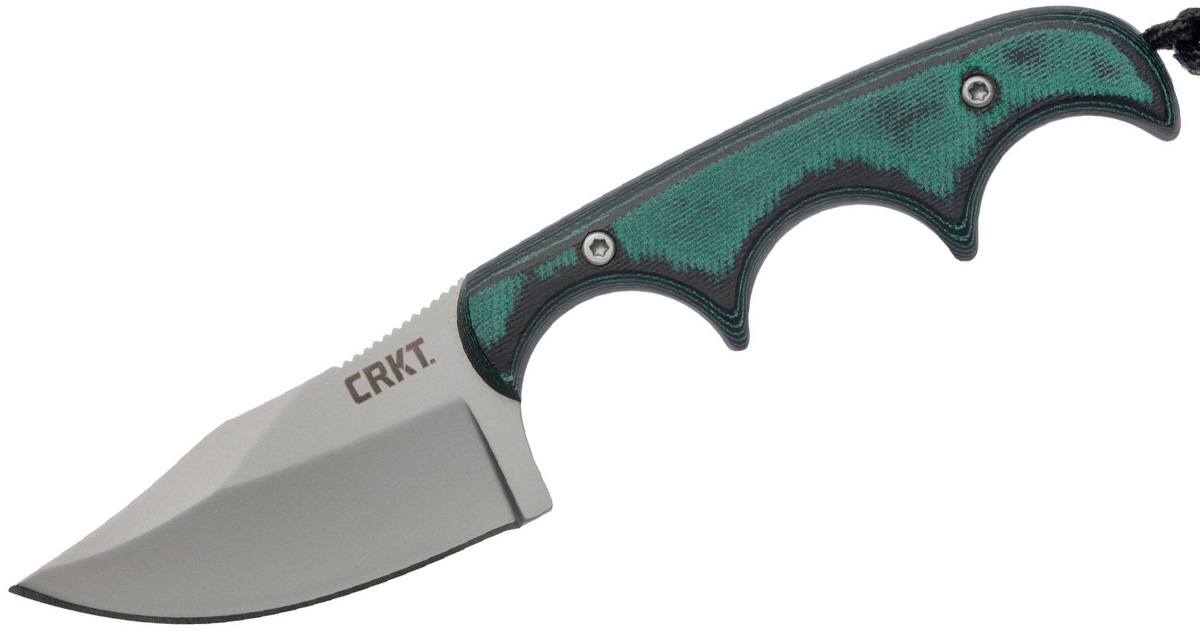 The Minimalist is such a versatile knife. It's an all-around great fixed blade you can EDC with a minimalist design. Oh, and it has lovely hints of green in its almost nonexistent handle. The green comes out in different lights and angles.

KA-BAR Famine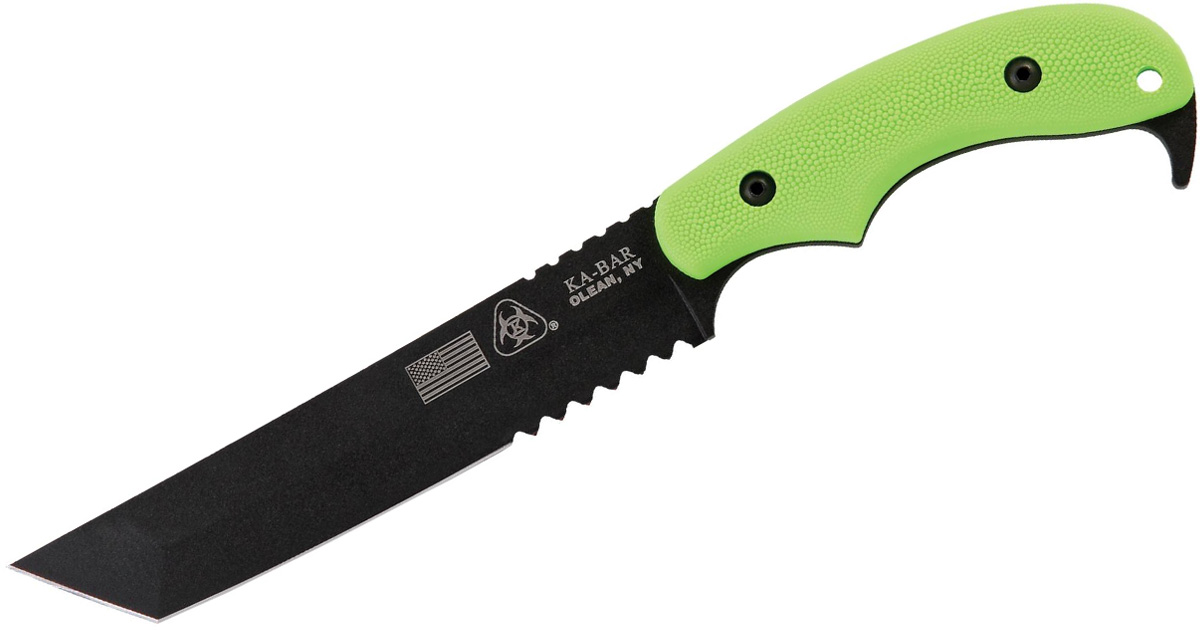 Zombie-themed knives have really fallen out of favor after the zombie boom that rose with the Walking Dead ultimately faded. KA-BAR nearly killed its Zombie Killer line, but it's stuck around with a more understated purpose. While these knives still come with the bright green biohazard scales, they also come with black scales.
These knives are actually quite functional around the farmstead.

Schrade WR3 Water Rat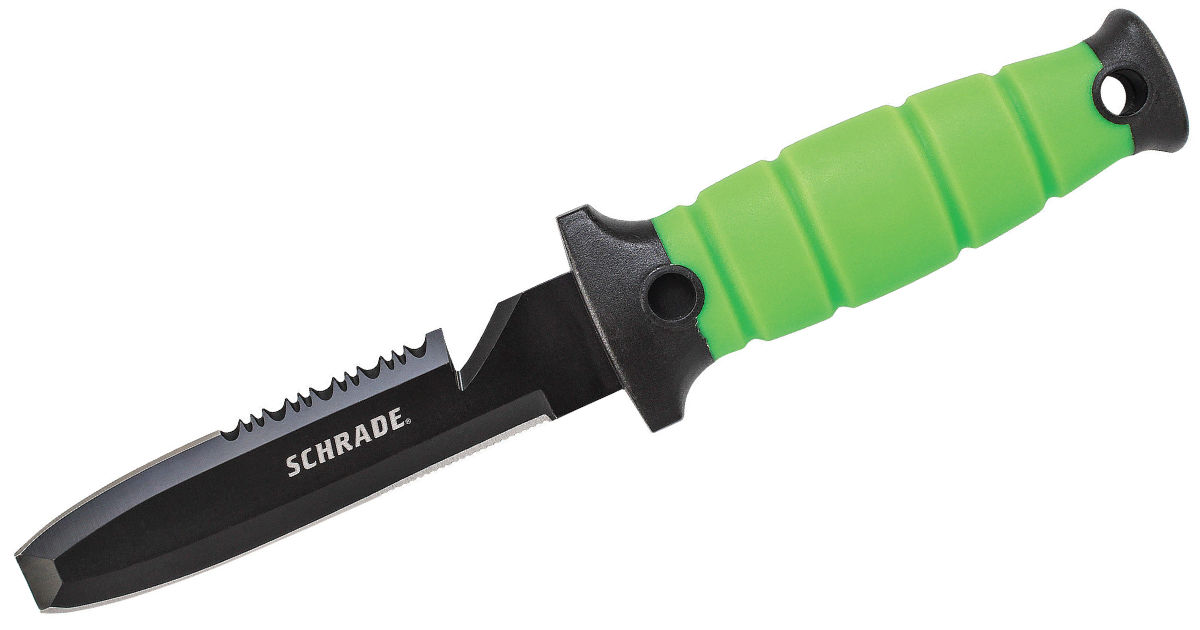 The Water Rat from Schrade is a great dive knife with a blunt tip and a straight and serrated edge. There's even a rope cutter built into the blade.
Its green phosphorescent handle is highly visible and gives the knife some pop.

KA-BAR Dozier Folding Hunter, Kelly Green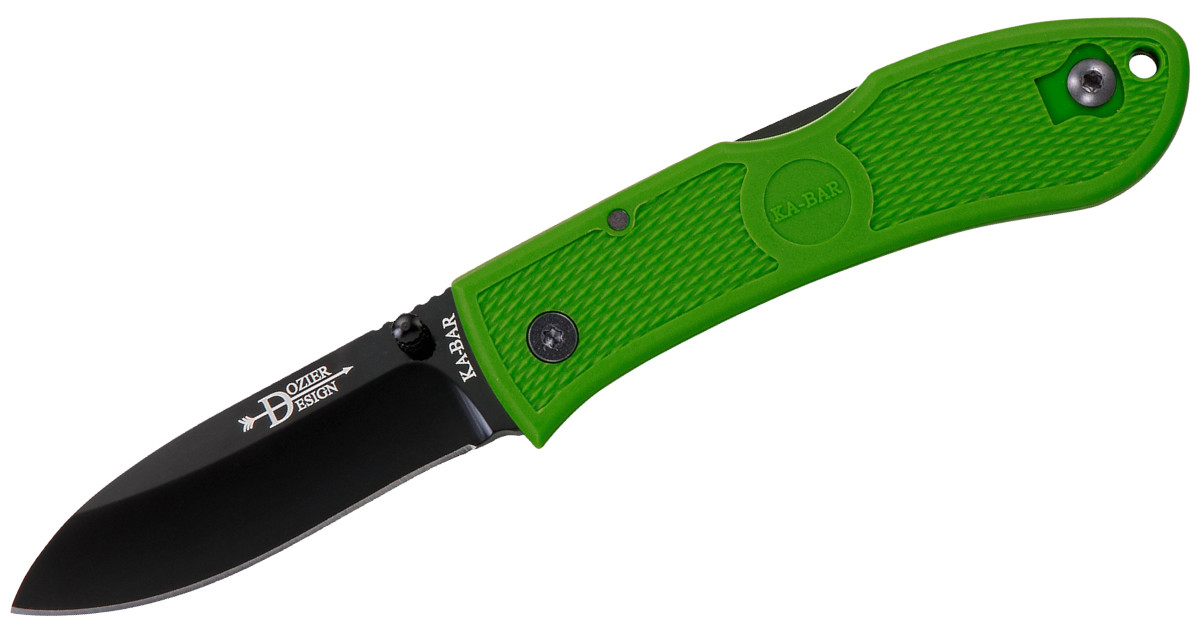 This spot used to feature the fantastic Dozier Folding Hunter but in Zombie Green. Instead of keeping these neon green knives here, we changed it to the new Kelly Green version of the knife, which is a purer green color.

Kershaw Shuffle, Lime Green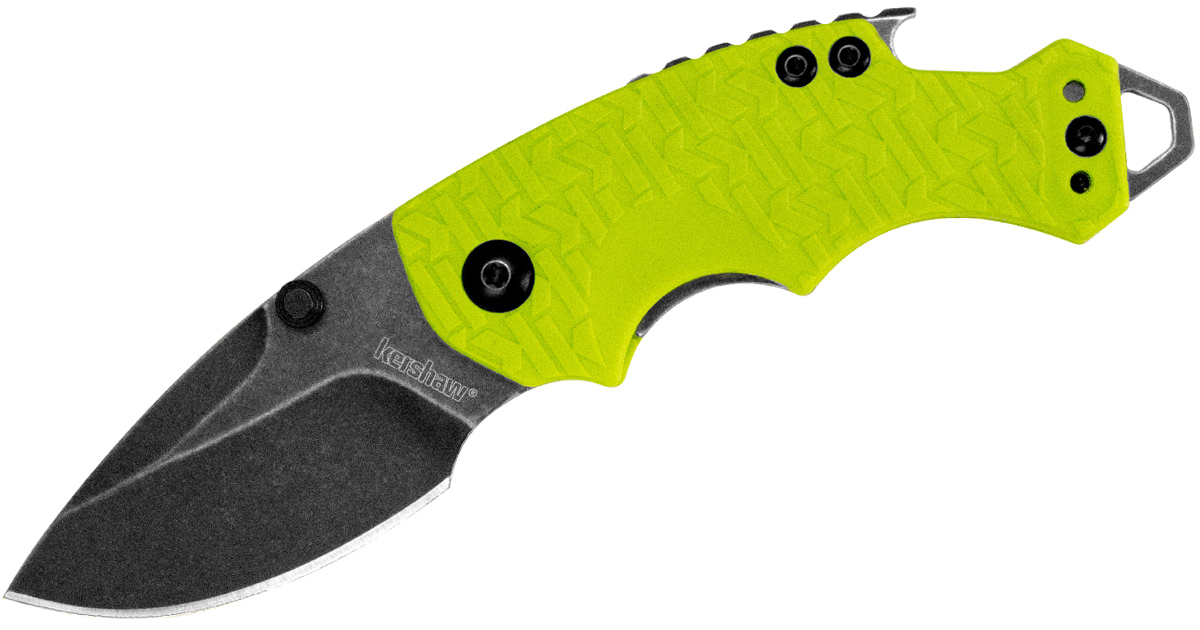 The Kershaw Shuffle is a great little knife with a built-in bottle opener. It has grippy K-texture handle scales. The best part is that it comes in all different colors and variations, including the Shuffle in Lime Green.

ESEE Izula, Venom Green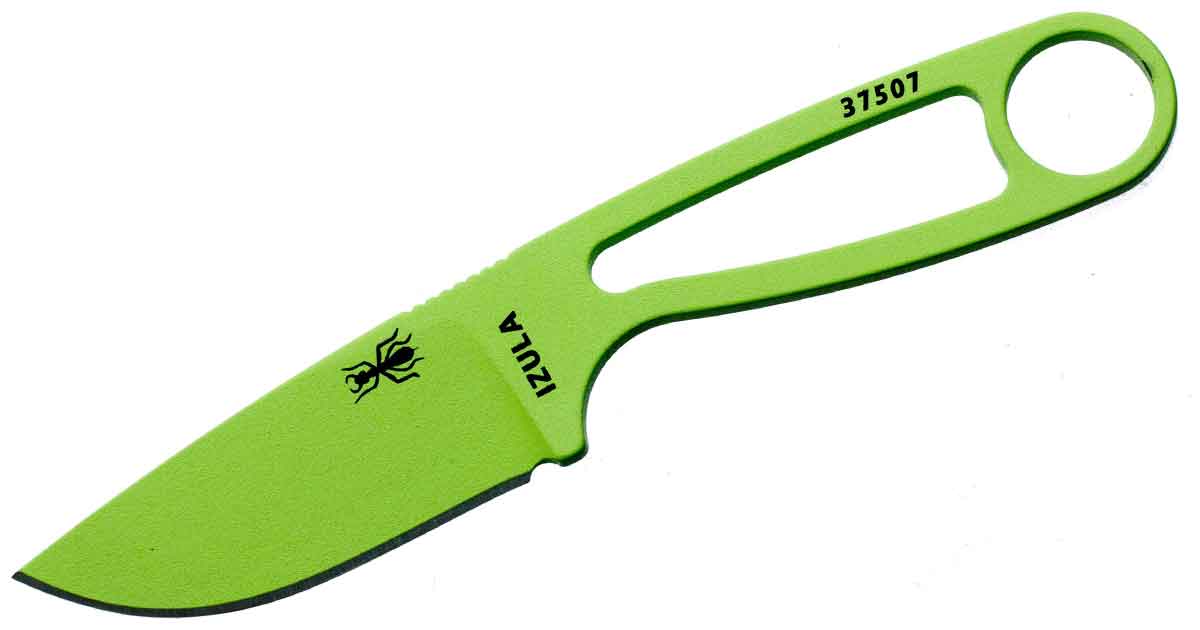 Named after the most brutal ant of the jungle, the Izula is a tough fixed blade that's gotten high marks from countless knife enthusiasts from all walks of life. This version comes in a neon green.

United Cutlery M48 Apocalypse Karambit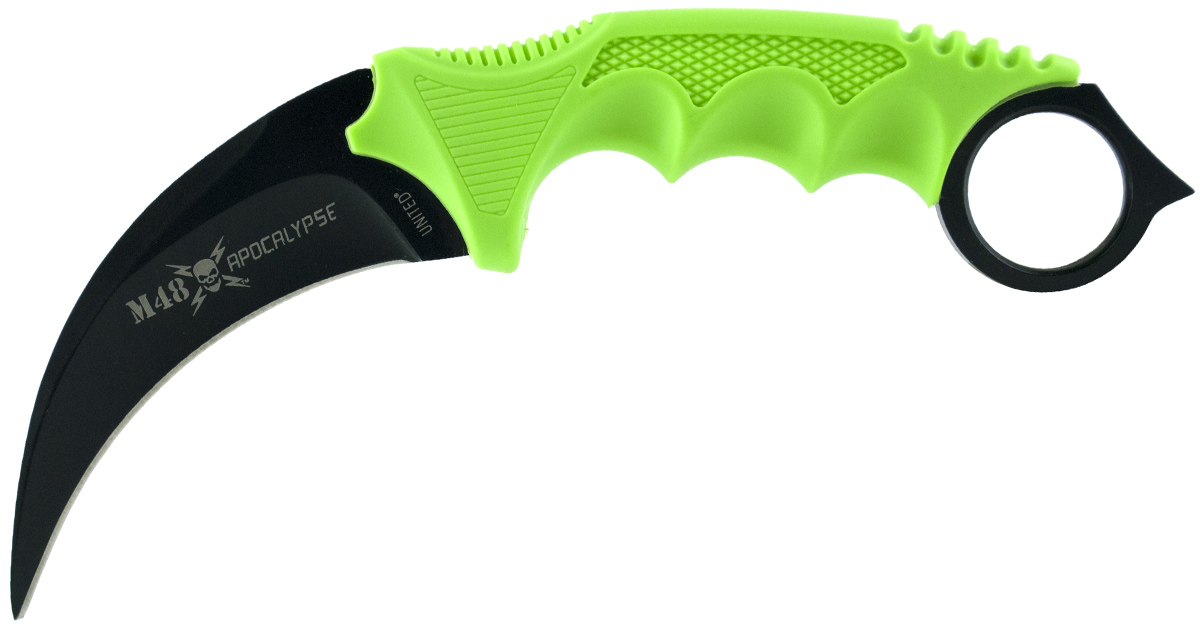 United Cutlery hits all the right spots with its M48 Apocalypse Karambit. It features a 4-inch blade with an over-molded handle in neon green. Like all karambits, the open-hole pommel allows for different types of grips.

Victorinox Classic SD, Shamrock Green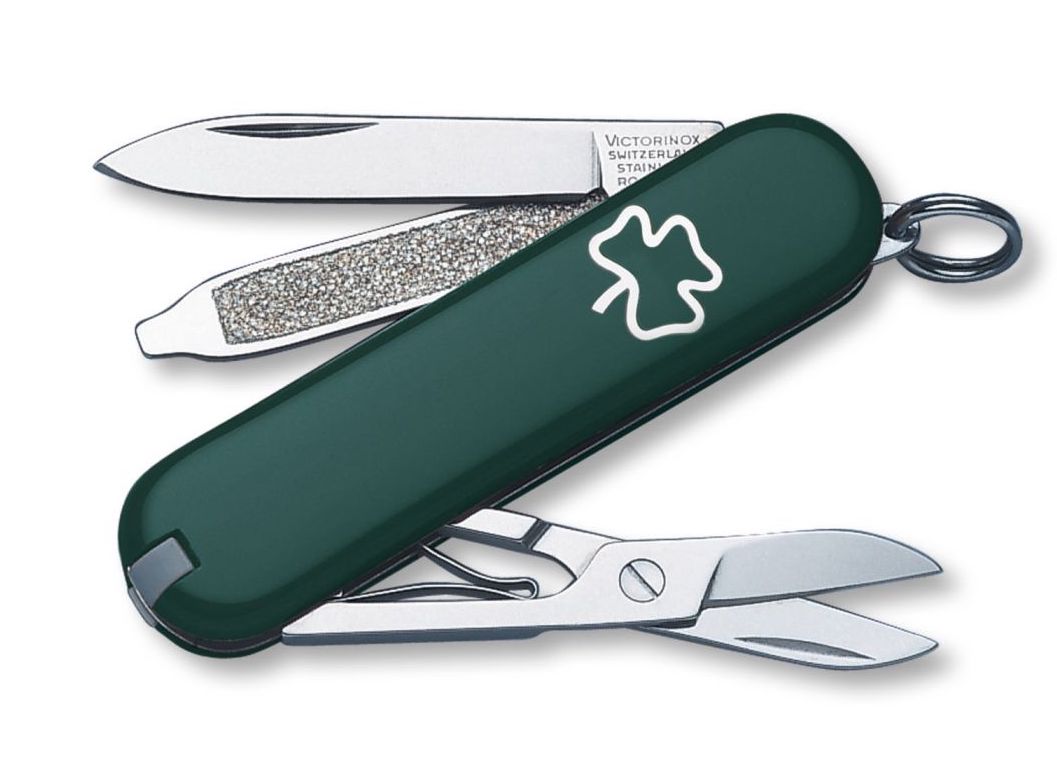 This Victorinox Classic SD is a no frills, straightforward knife with a blade, screwdriver and nail file, scissors, tweezers, tooth and key ring. This model features a Shamrock but the Classic SD is also available in Green and Emerald.