UPDATE: After much resistance, the TSA has announced small knives will stay banned.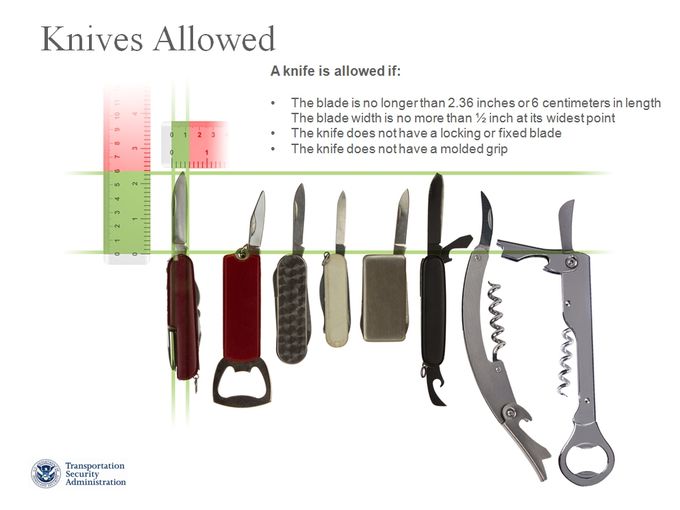 For the first time since 2001, air travelers will now be able to bring small knives on planes again, according to an announcement from the TSA this morning.
The change, which conforms to more lenient international rules on what passengers can take on board, will take effect starting April 25.
While this is a big victory for knife carriers around the country, there are still numerous restrictions on what knives can be carried on board. Only knives that are under 2.36 inches (or 6 centimeters), have non-locking blades and have a blade width of less than half an inch will be allowed. All other knives will still be confiscated.
Here's more from the American Knife and Tool Institute on the announcement:
The American Knife & Tool Institute (AKTI) was instrumental in working with TSA to allow this policy change to happen. "As the knife and tool industry association, we were very pleased to work with the TSA on these revisions to ease the restrictions for all Americans carrying essential and valuable tools when they travel," noted Jan Billeb, AKTI Executive Director.
If you're wondering why this change was made, TSA spokesman David Castelveter said that they will now focus more on what could present "catastrophic damage to the aircraft."
You can expect a big backlash from people who oppose this in the coming weeks. Flight attendants have already attacked the change for unnecessarily endangering passengers and crew.
Here's Stacy Martin of the Southwest Airlines' flight attendant's union:
"This policy was designed to make the lives of TSA staff easier, but not make flights safer," Martin says. "While we agree that a passenger wielding a small knife or swinging a golf club or hockey stick poses less of a threat to the pilot locked in the cockpit, these are real threats to passengers and flight attendants in the passenger cabin."
To be clear, the TSA also announced that among small knives, golf clubs and hockey sticks will also be allowed on the plane. However, razor blades and box cutters, like those used by hijackers on 9/11, will still be prohibited.
The following knives are still not allowed.