We proved long ago that innovation in the knife world isn't dead, thanks to genius knifemakers like the Hawks. But, for those who need even more evidence that knife creativity is alive and thriving, there's the Joe Caswell "Morphing Karambit" Version 2 (MKV2).
The MKV2 by Caswell Knives boasts a design like few others. It uses a manual morphing action to activate the blade quickly and smoothly.
Watch the introduction to the knife.
Caswell posted the knife on crowdfunding platform Kickstarter about a week ago with a modest goal of $23,000. As of publication, the project has raised more than $200,000 from nearly 400 backers, making it the top trending project at Kickstarter. It was likely the first time a knife project ever claimed that spot. It still has nearly two weeks to go.
Here's a little more about the knife.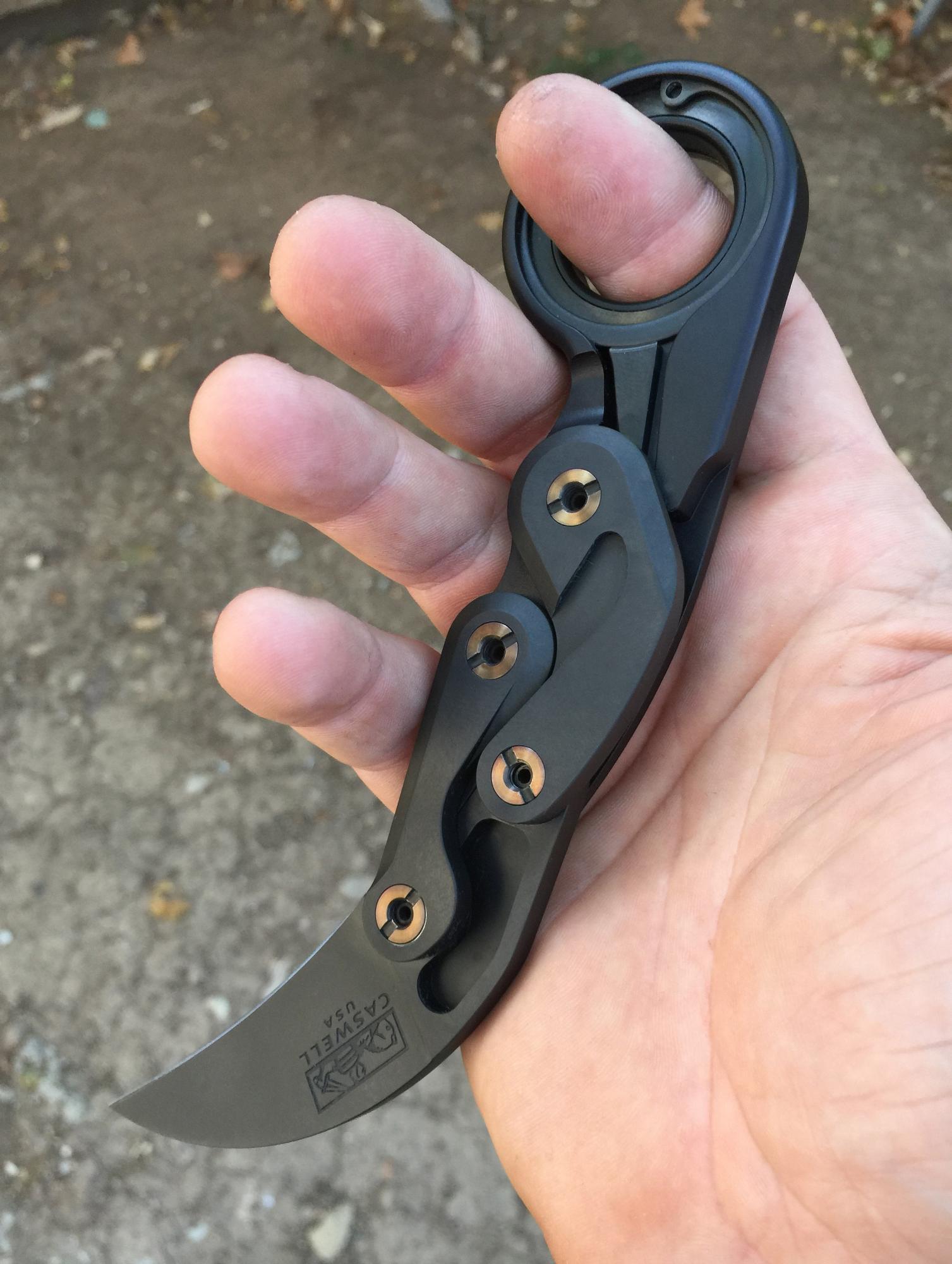 The 2.5-inch blade is made with CPM 3V ion bond with a tungsten DLC finish. The handle is 7075 T6 Aluminum. It weighs about 6 ounces and has an overall length of 7.125 inches.
But the real draw is the opening and closing action. You can pretty much squeeze it open with your palm or use your finger to flick the blade out. The MKV2 also locks open. Here is another look at the opening action from an earlier prototype:
According to Caswell, the unique opening mechanism of the knife keeps the blade away from the fingers and has a relatively simple design construction. It would definitely earn a spot on our list of knives with unique opening mechanisms.
Because it is a manual-opening knife and it has a 2.5-inch blade, it can be carried most places legally.
Now comes the price. You can get this knife on Kickstarter for $450, which is $200 off the expected retail price. I've seen a lot of complaints about the price but the hundreds of backers seem to think the price is fair. The knife will be US-made by Millit Knives in Idaho. Here is an explanation on the price:
The price is a direct reflection of the cost to produce. Margins are very tight to bring this build at this price point.

This is a high-quality assembly made from premium materials, 100% precision machined, with best-available finishes and hand-fitted in the United States by a proven, world-class builder.

This kind of high-quality short production defines a market segment that is well understood by knife enthusiasts and duty professionals. There are many brands dedicated exclusively to producing "working knives" in this price range and beyond.

This product level exists for those that demand premium quality and the value it brings.
Caswell has been showing off an earlier version of the knife to the public for a few years now and has won several awards for the design, including two awards at the USN Gathering.
Here is more about Caswell Knives and some of their other innovations:
For those who simply can't afford the knife on Kickstarter but want to get in on the action, there is some hope. Caswell already revealed that a "major knife brand" has adopted the design and will be releasing a lower-cost imported version by 2019.
Overall, this is a very cool creation, and I hope things go swimmingly with the production process.