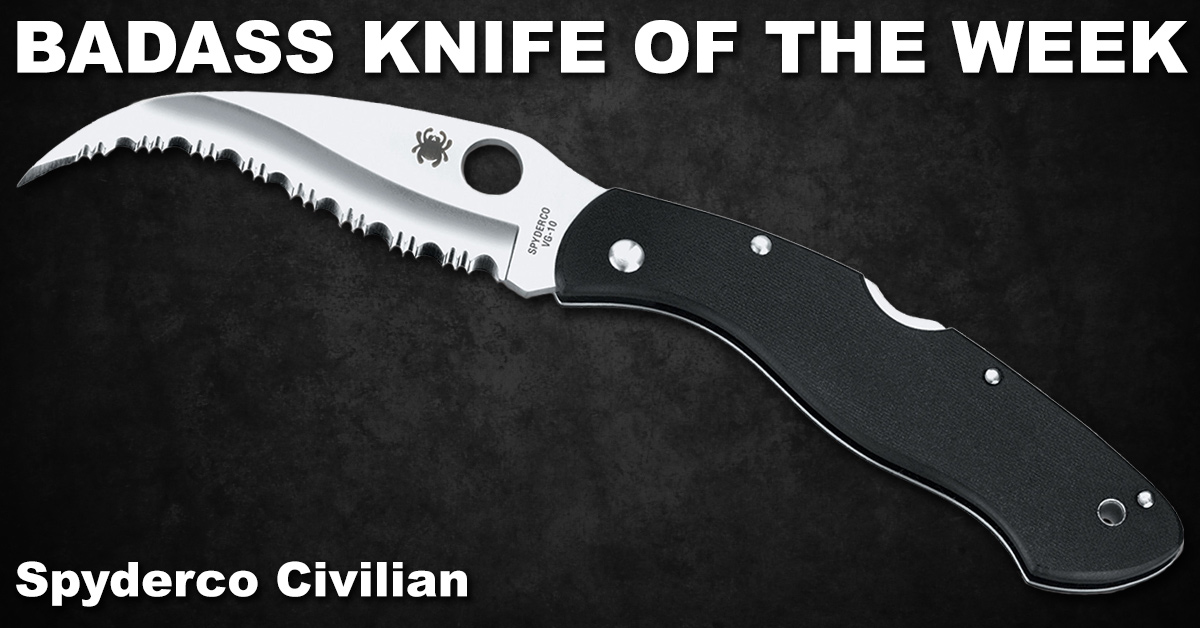 On top of making some great EDC knives, Spyderco is known for making specialty knives for specific tasks — whether it's the Whale Rescue Blade made only for rescuing whales or the serrated Jumpmaster made for the U.S. Army's 82nd Airborne Division jumpmasters.
The latest Badass Knife of the Week is the Spyderco knife made specifically for self-defense purposes, and it's a doozy.
Spyderco was first approached by a specialized branch of U.S. law enforcement to make a last-ditch knife for plain-clothes officers in the field. It wasn't supposed to be a martial arts tool, but something anyone could use if necessary.
So the team at Spyderco accepted the challenge and delivered with the Civilian.
The ferocity of the knife begins with the curvy reverse "S" blade covered from ricasso to tip with serrations. The patented SpyderEdge pattern increases the cutting surface by up to 24 percent. When used in a dire situation, the grabby blade won't fail you.
Made of VG-10 stainless steel, the blade boasts the easy-to-use Round Hole for quick, one-handed engagement. A backlock prevents accidental closure.
Although this is a knife you hopefully never have to use, the Civilian's handle is comfortable to hold and provides enough grip from the G-10 material to keep it securely in your hand.

A two-position, right carry pocket clip allows for discreet carry.
For more information on this Badass Knife of the Week, check out the product page for the Spyderco Civilian.