There's nothing cooler than a karambit knife. That sleek, raptor claw shape, the way you can flick them and spin them in your hand—that's what makes karambits one of the most appealing knife styles on the market today.
Originally of Indonesian design, this intimidating-looking knife doesn't have to be just for martial arts or self-defense. In fact, they are well known for being reliable multi-purpose tools that still retain the awesome aesthetic of a fighting weapon.
The problem is, there are so many out there that it's hard to pick the very best one. Keep reading for our recommendations on the very best karambit knives out there right now—whether you're looking to buy one for yourself or for a loved one.
What to Consider First
There are a few things to think about before going out and buying one of these knives.
First, it's important to know that they come in both folder and fixed blade varieties. The folding knife folds into the handle like most other pocket knives, while the fixed blade is sturdier, with no moving parts, and requires a sheath or cover to carry it around in.
When choosing between the two, think about size. Folders are often smaller blades—though not always—and can always fold down into a more manageable carrying and concealing size. Size will also affect how the grip fits in the hand, something to consider especially if you're buying for someone else.
While we're talking about size, it's also wise to consider the knife laws of wherever you're planning on taking your karambit. One of the most common kinds of law regarding knives in many states is to place a limit on the length of the blade.
Laws limiting these knives are no doubt reactions to how cool karambits look, especially when you realize that there are even double edged karambits out there—though none of those made their way onto this list.
Best Karambits of the Folding Variety
1). Fox 479 Folding Karambit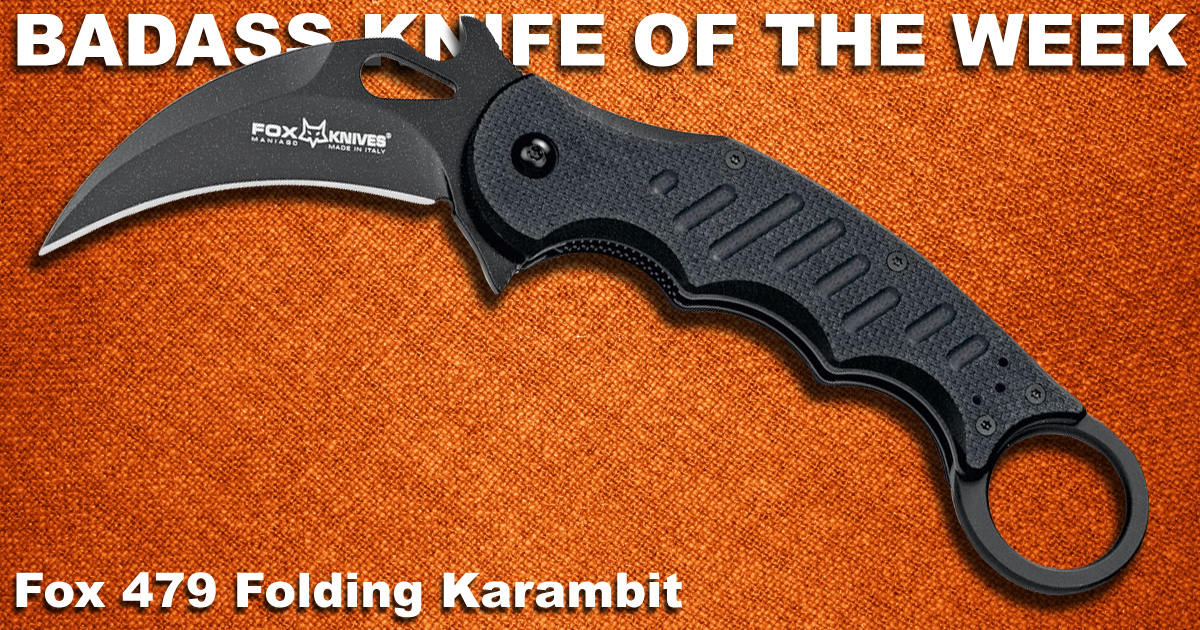 As far as folding karambits go, Fox knives are widely considered to be the gold standard.
Not as cheap as some of the others on this list, the Fox 479 is still well worth the price. This versatile tool comes with Emerson's Wave opening flipper device that makes unfolding the blade quick and seamless.
This is likely the best kerambit out there for your money and is ideal for self-defense or as a durable general purpose utility cutter.
2). Cold Steel 22KF Tiger Claw
Made to resemble a real tiger claw, this beautiful karambit is simple and elegant in its design. That's what you get when an engineer crafts a knife.
The thumb plate allows for easy, ambidextrous opening, and the minimalist look will appeal to anyone who wants the versatility of a karambit while downplaying the showiness that has come to characterize many of these knives.
3). Smith & Wesson Extreme Ops Urban Camo Karambit

If you happen to like a little flash to your knives, this cool karambit comes decked out in camo.
Any karambit made by Smith & Wesson is a reliable and cheap option, but few others are rated as highly as this one. For the price, it's hard to find anything that will withstand more abuse than this little beauty.
Best Fixed Blade Karambits
1). Cold Steel Steel Tiger Karambit
This knife is legendary among karambits. Like the smaller Tiger Claw of the folding variety from the same brand, this beast's shape takes inspiration from the claws of real tigers.
The finger ring will ensure that your grip never slips, and its size and durability might just make this the last karambit you'll ever need—though not the last one you'll want.
Perfect for hunting, fishing, or as a well-rounded tool, the Steel Tiger will shine in martial arts or self-defense and boasts a very reasonable price tag.
2). SOG Knives Fixed Blade Gambit
With a slightly shorter blade than the other fixed blade karambits, this simple knife is also the most affordable.
The SOG Gambit is truly reliable and does it all, from self-defense to general outdoor tasks. Its low cost makes it the perfect starter knife for anyone looking to get into fixed blade karambits.
3). Schrade SCH112 Shasta Mc'Nasty Full Tang Fixed Blade Karambit
This is an impressive looking weapon. And it does look like a weapon. The blade is huge and the curve on it is wicked.
While it's still a useful tool in any context, this bad boy is likely to appeal more to those interested in the martial arts applications of karambits, or the self-defense ones (not that you'll have to actually defend yourself after they see this monster of a knife).
Honorable Mention: White Deer Champion Karambit Knife Magnum
Karambits are already visually appealing knives. But if there's one way to make an already beautiful piece of equipment even sexier it's to make it with Damascus Steel.
With all the versatility and reliability of most other karambits, this one ups the wow factor—and at a decent price, too. Marvel at its curves and the distinct pattern of the metal every time you take this beauty out.
What's Next?
Now that you know the options for some of the best karambits out there on the market there are a few things you can do.
Before you buy, always consider whether a fixed or folding blade is best for you. Think about the legality of owning and carrying karambits in your area, and what size will work best for what you intend to use your knife for.
If you're still unsure how to approach finding the best karambit for you, you can always contact us for more information.
And if you're buying for friends or family, consider personalizing the cool karambit you're giving them with our engraving services to make it a little more special.