There's nothing cooler than a karambit knife.
Although the karambit is best known for its modern day application as a self-defense tool used in martial arts, it was originally used as an agricultural device in Southeast Asia.
Legend has it that the knife is inspired by the claws of big cats found roaming the rainforests of Indonesia, like tigers and leopards. Whether or not it's true, the lore surrounding the karambit makes it a popular design.
What is a Karambit?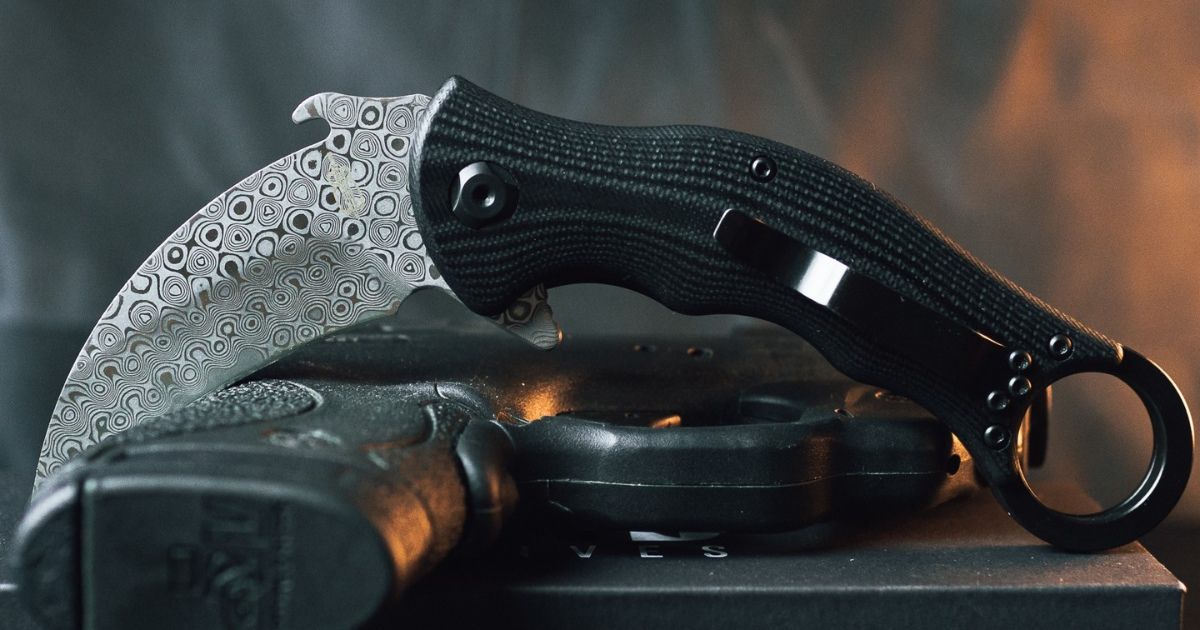 If you've never seen a karambit, it's a type of knife that comes in folding and fixed-blade varieties.
The origins of the karambit trace back to Indonesia and evidence of the knives can be found on temple walls around the region from the 12th century.
Although the knife started as an agricultural tool, it was later incorporated into an indigenous martial arts called silat. Through silat, the karambit spread throughout Southeast Asia. Europeans were later intrigued by the knives and collected them as souvenirs.
The karambit is defined by two main traits. The first is its curved, almost hawk-bill style blade that looks like a claw.
The second main trait is the finger ring at the butt of the handle. This allows the user to hold the knife comfortably for hours when performing tedious tasks or offers a reliable hold when using for self-defense purposes.
These days, designers will sometimes push the boundaries of a karambit (I'm looking at you Joe Caswell!), but the curved blade and finger ring really define the boundaries of a karambit.
The Versatility of the Karambit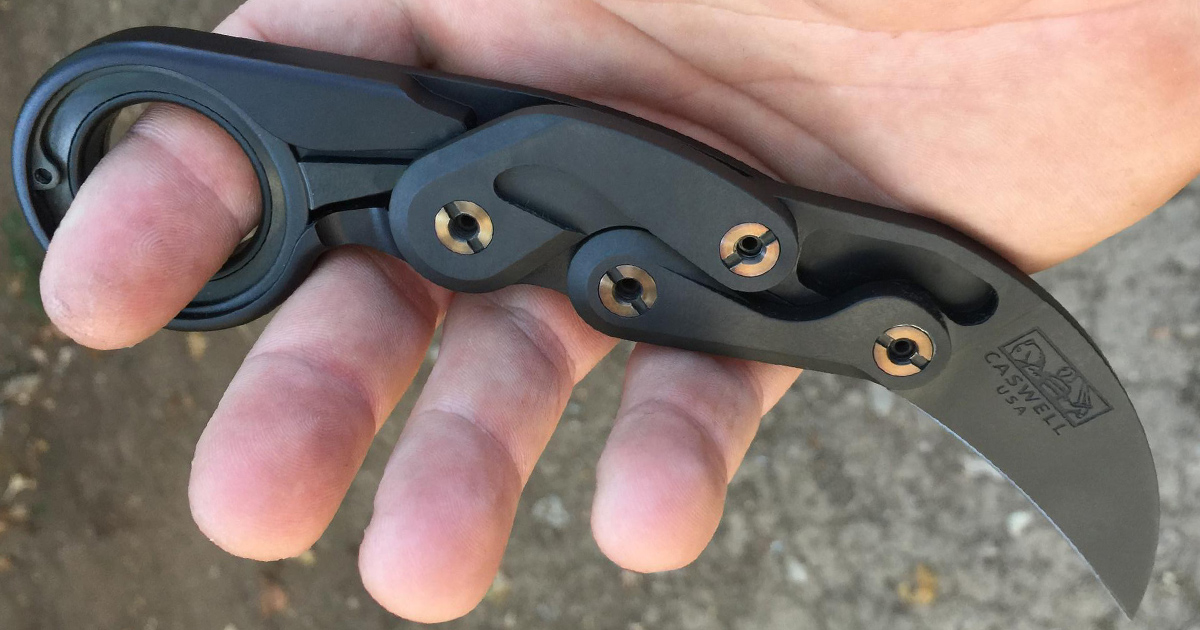 There are a few things to think about before going out and buying one of these knives.
First, it's important to know that they come in both folder and fixed blade varieties. The folding knife folds into the handle like most other pocket knives, while the fixed blade is sturdier, with no moving parts, and requires a sheath or cover to carry it around in.
When choosing between the two, think about size. Folders are often smaller blades—though not always—and can always fold down into a more manageable carrying and concealing size. Size will also affect how the grip fits in the hand, something to consider especially if you're buying for someone else.
While we're talking about size, it's also wise to consider the knife laws of wherever you're planning on taking your karambit. One of the most common kinds of law regarding knives in many states is to place a limit on the length of the blade.
Laws limiting these knives are no doubt reactions to how cool karambits look, especially when you realize that there are even double edged karambits out there—though none of those made their way onto this list.
Best Karambits You Can Buy in 2023
The following are some of the best karambit knives you can currently buy. We're mixing folders and fixed blades together to keep things tight. Let us know if we missed any in the comments.
1. Cold Steel Steel Tiger Karambit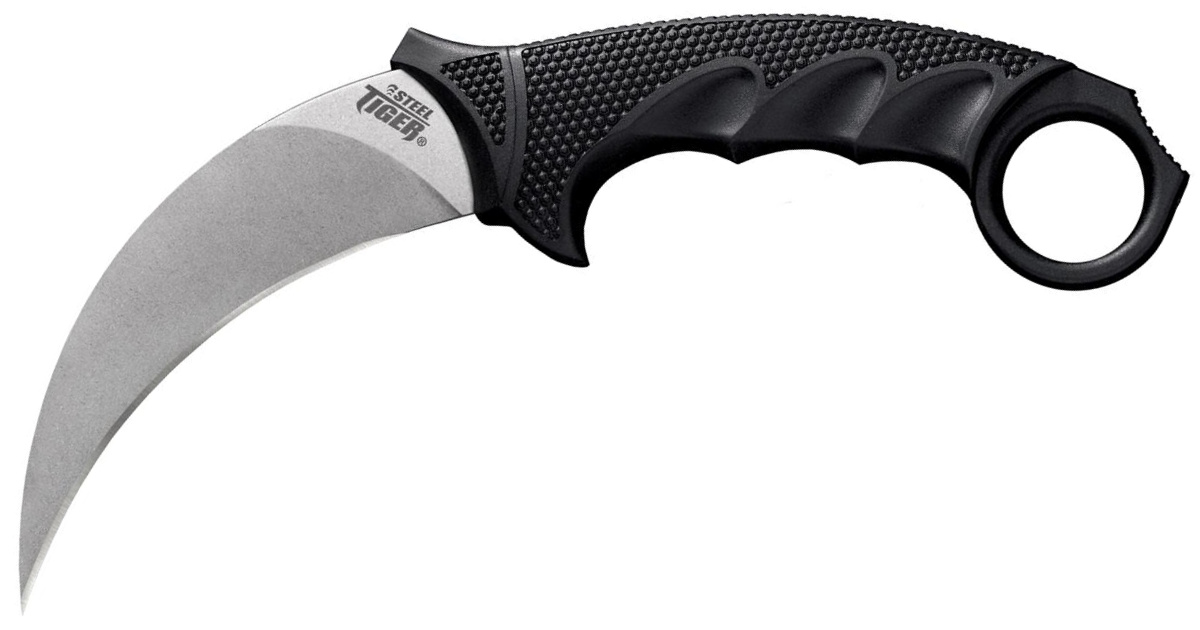 I thought we'd kick out the list with a traditional karambit design: the Steel Tiger.
The Steel Tiger from Cold Steel has that iconic curved blade that comes to a piercing point and the integrated finger ring. This fixed blade has a longer 4.75-inch blade made from AUS8A stainless steel. The larger blade makes this knife more suitable for outdoor use and you can even use it for a little gardening like back in the old days.
The polymer handle is more modern and durable against the elements.

2. Kershaw Outlier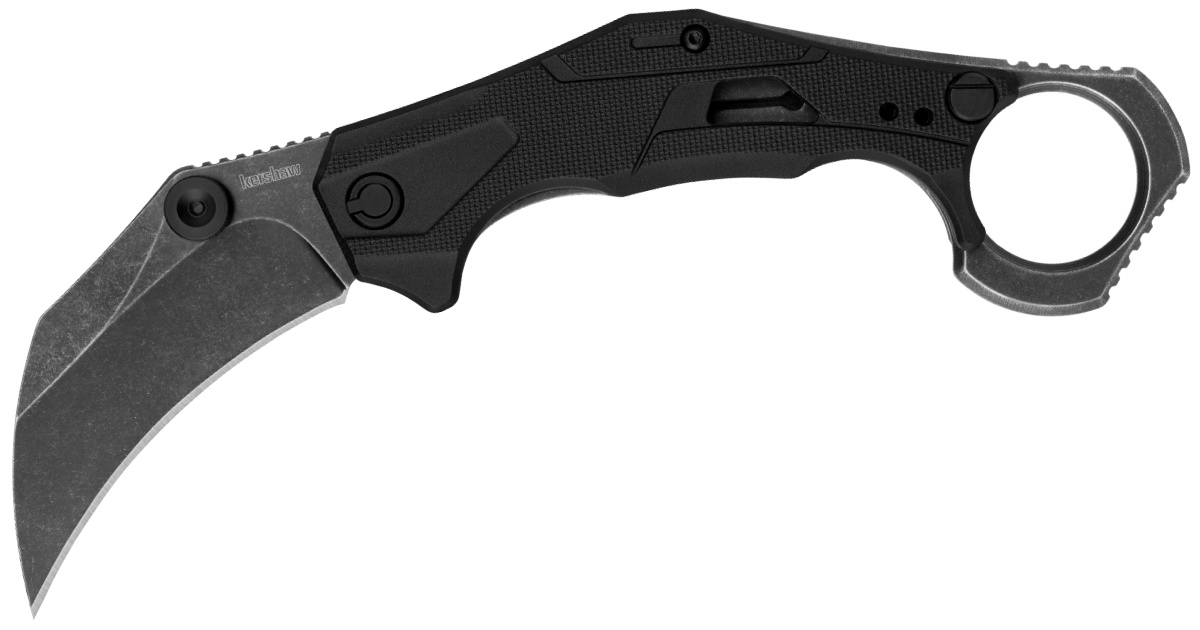 The Outlier is one of the more popular iterations of the karambit in years. This folding version forgoes the classic look for something more modern and edgy.
The blade features an oversized thumb stud and flipper with assisted-opening mechanism that ensures the blade springs open reliably every time. It has a small 2.6-inch blade that makes it great for EDC uses like opening boxes or intimidating would-be aggressors.

3. BnB Damascus Pocket Karambit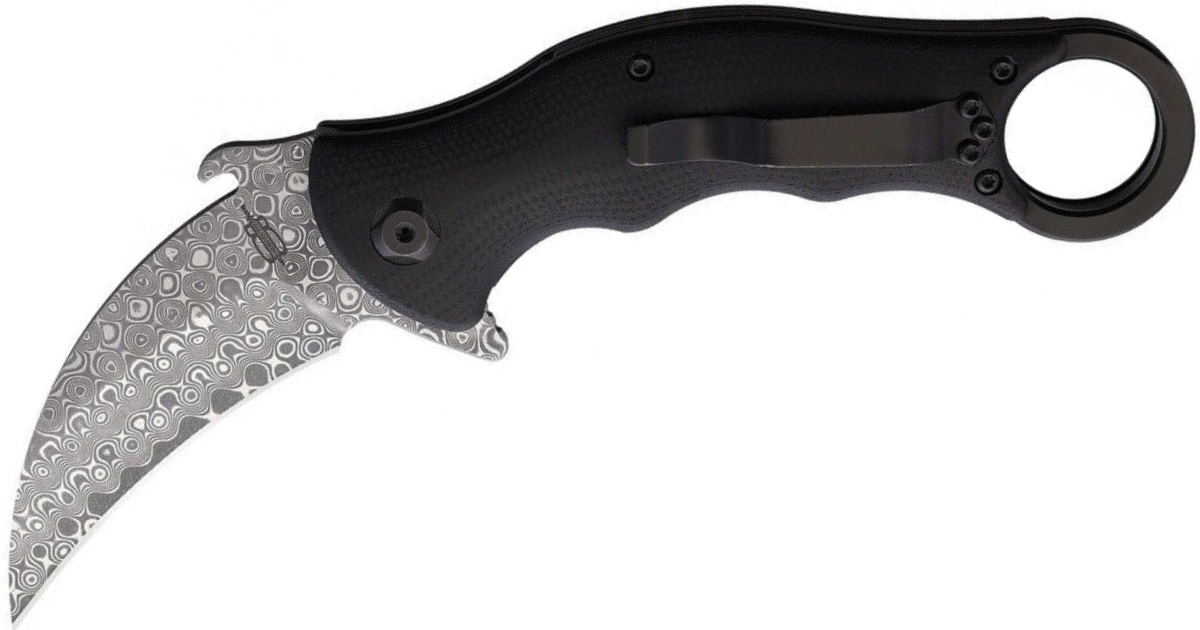 Just because the knife is a karambit doesn't mean it has to look scary and tactical.
The BnB Damascus Pocket Karambit features a 3-inch blade with a handsome Damascus blade that sees two steels layered and folded over each other. Each knife is unique and eye-catching.
Its G-10 handles add an extra layer of elegance to the knife. And, thanks to the Wave-like feature on the blade, this knife can be opened and ready for action the second you pull it out of your pocket.

4. Tac-Force Tactical Karambit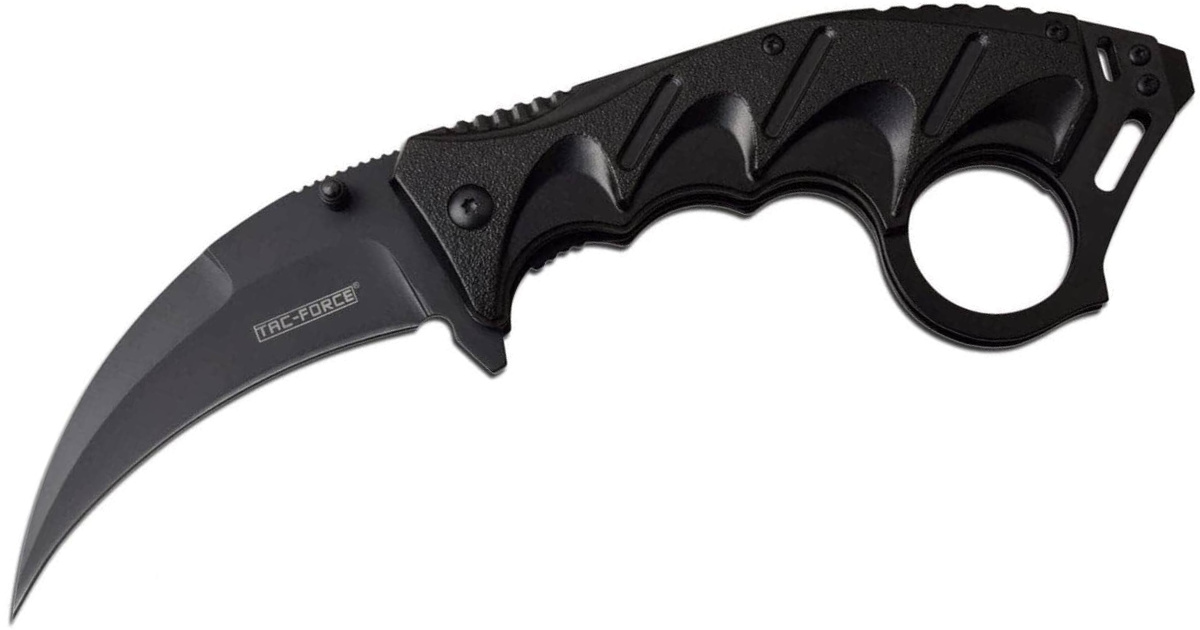 The Tac-Force Tactical Karambit goes all in on the tactical aspects of the category.
It has a 3.5-inch assisted blade with an all-black aesthetic. The handle is a highly textured aluminum with a finger ring that's slightly misplaced to offer an integrated hammer pommel.
You can open it with either a flipper tab or dual thumb studs, so this budget-friendly folder will always be easily accessible.

5. Smith & Wesson Extreme Ops Karambit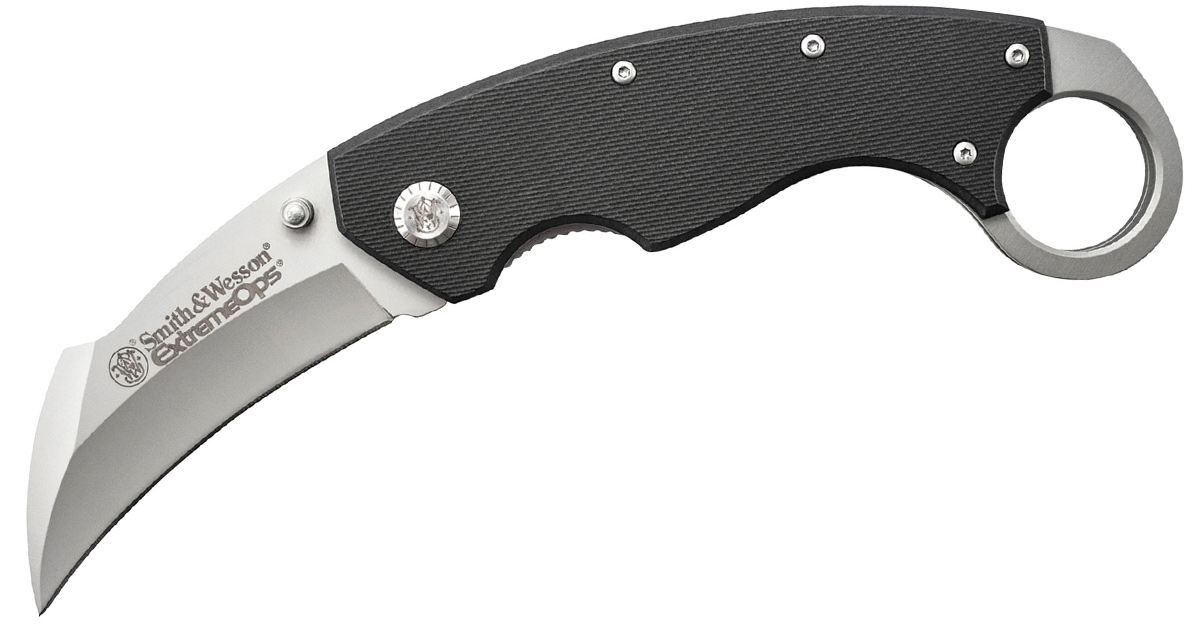 This karambit has a less aggressive design, making it even better for everyday carry. It has a 3-inch blade but with a much less pronounced curve.
Its highly textured G-10 handle feels good in the hand and won't slip, even if your finger is not in the ring. It's also a fantastic price for a dependable folder.

6. Cold Steel Tiger Claw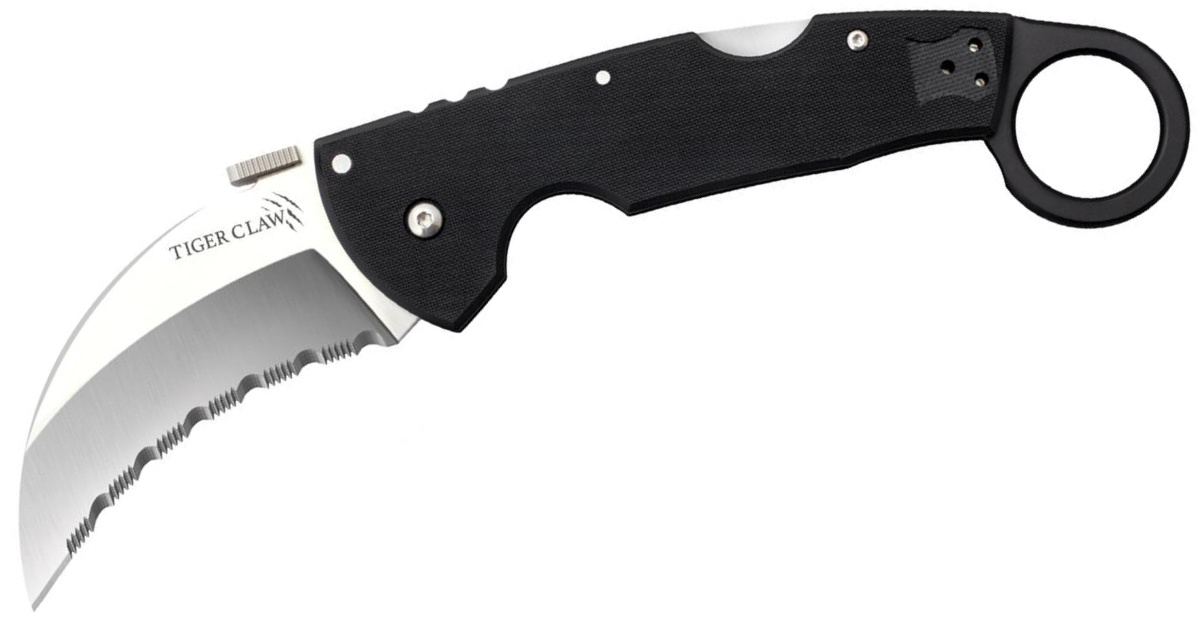 The Tiger Claw from Cold Steel is a self-defense karambit through and through.
Its 3-inch blade is made from high-quality S35VN steel and boasts a fully serrated blade that makes it even more ferocious. It uses Andrew Demko's famous Tri-Ad lock, a mechanism you can bet your life on.
The thumb disc used to open the knife also doubles as a Wave-like feature that engages the knife as you pull it out of your pocket.

7. CRKT Du Hoc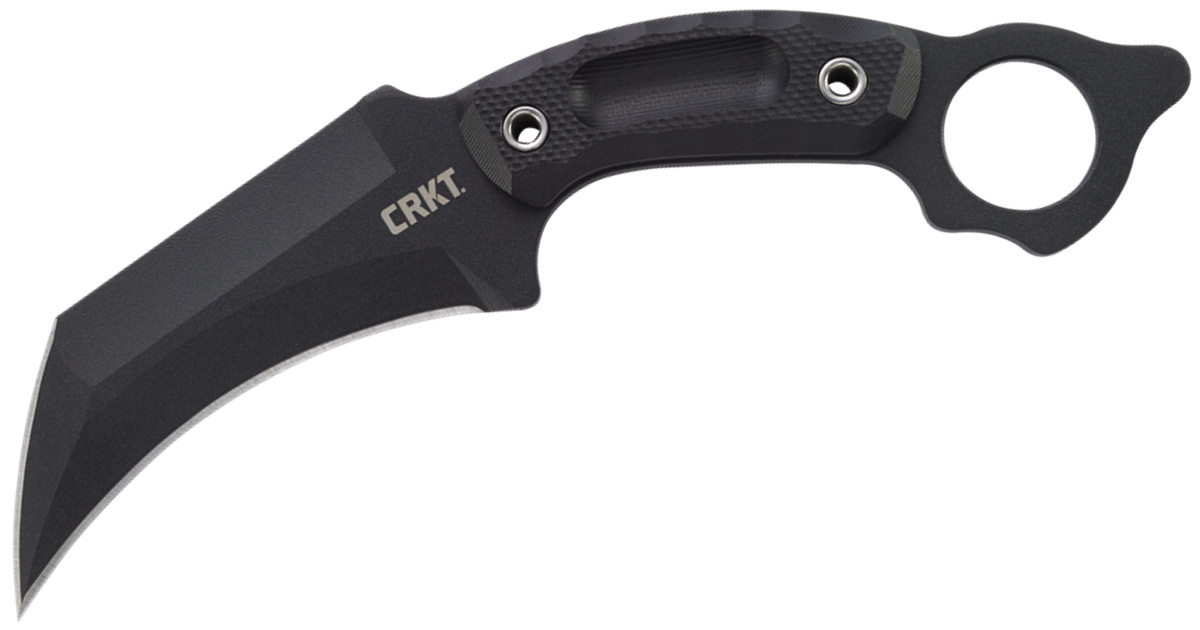 CRKT describes the Du Hoc as a "colossal karambit" and we couldn't think of a better description.
This large karambit has a large 5.1-inch blade with a pronounced curve and design that offers a strong tip that would break under duress. Its G-10 grip covers the skeletonized handle, and it has a finger ring.
It was designed by veteran Austin McGlaun as part of the Forged by War program, so you know the Du Hoc is ready for anything.

8. Tactical Extreme Karambit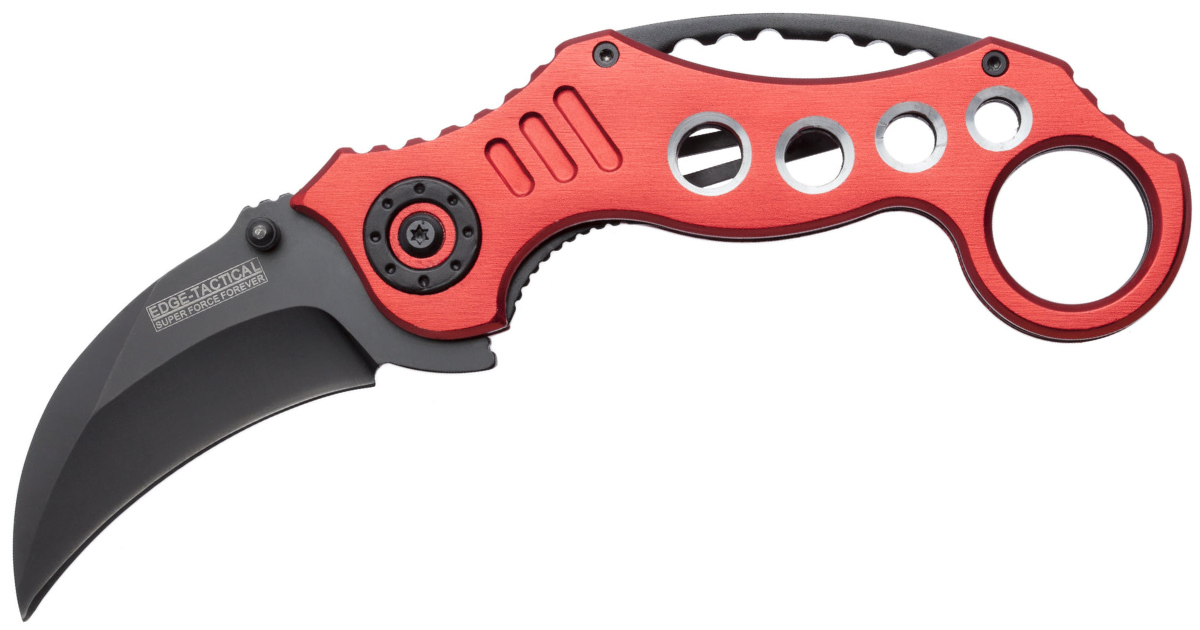 A karambit doesn't have to break the bank to be a good knife. The Tactical Extreme Karambit is a budget-friendly folder with a robust design and a lot to love.
Its 3-inch blade is spring assisted, so you never have to worry about the blade failing to engage all the way. A thumb stud or flipper offers different ways to open it.
The red handle is eye-catching and fills out the hand nicely. For under $20, it's hard to beat this knife.

9. BnB Damascus Venom Karambit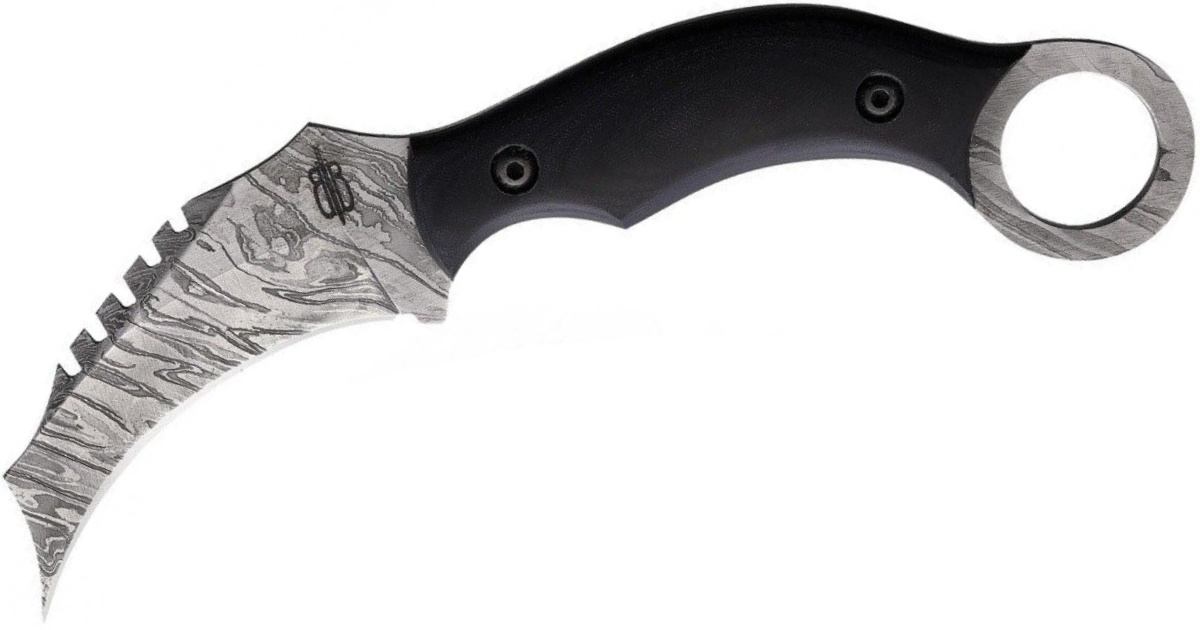 The Venom Karambit from BnB Knives is essentially a fixed-blade version of their Pocket Karambit.
This fixed blade has a 3-inch blade made from Damascus steel. Decorative sawback cutouts on the spine add extra personality to the knife while the G-10 scales conform comfortably to the hand.
The finger ring also features Damascus steel, a nice touch on this handsome knife. It comes with a leather sheath.

10. CRKT Provoke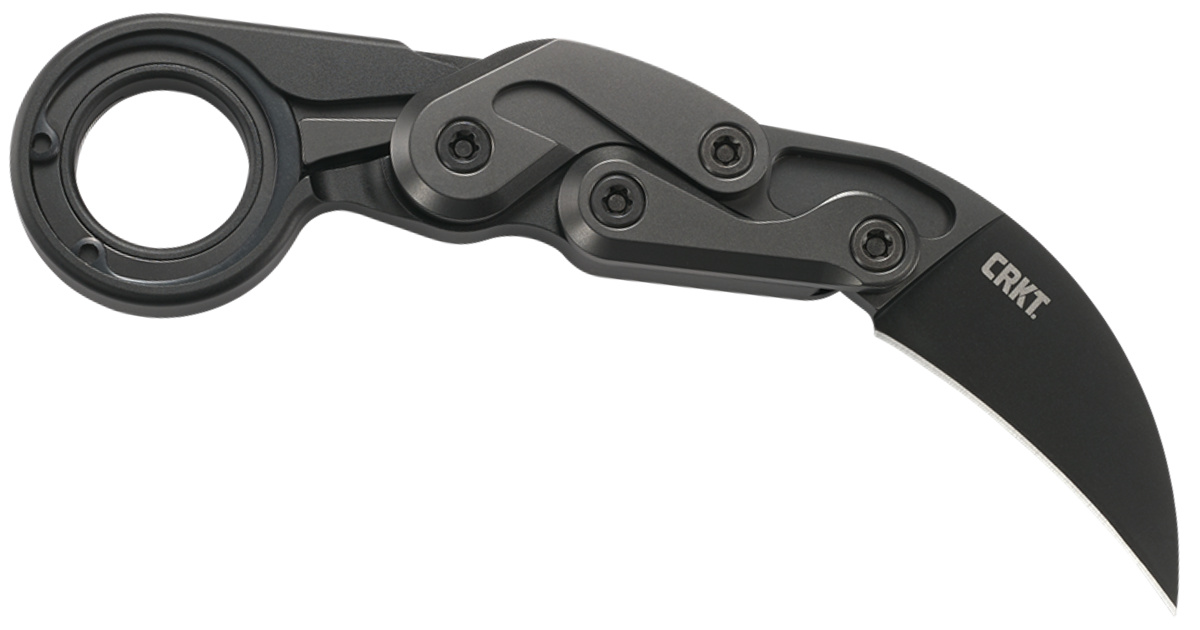 I wanted to end this list with one of the most innovative karambit designs in years. Made by designer Joe Caswell, the Provoke features the unique Kinematic opening mechanism, which allows the blade to pop open with pressure from the thumb. It's a knife you really have to try for yourself to feel its capabilities.
Aside from the opening mechanism, the knife has a 2.41-inch curved blade made from D2 and an aluminum handle. Of course, the thumb ring offers multiple ways for holding it.

What's Next?
Now that you know the options for some of the best karambits out there on the market there are a few things you can do.
Before you buy, always consider whether a fixed or folding blade is best for you. Think about the legality of owning and carrying karambits in your area, and what size will work best for what you intend to use your knife for.
If you're still unsure how to approach finding the best karambit for you, you can always contact us for more information.
And if you're buying for friends or family, consider personalizing the cool karambit you're giving them with our engraving services to make it a little more special.