Article originally published in February 2018 before being updated to include different knives.
Picking the handle material that appeals to you the most depends on a ton of factors, including looks, purpose, durability, and more.
If you want something that's durable and won't warp, opt for a synthetic material. If you want something that's probably the first handle material ever, go for bone. If you want something sleek and strong, pick a knife with a metal handle.
But, if you want a knife that's downright good-looking and feels good in the handle, it's hard to beat good old-fashioned wood.
Pros and Cons of Wood
I won't go until detail about the pros and cons of wood because you probably already know, so I'll boil it down. The Good: Comfortable, beautiful, varied, durable, potentially inexpensive. The Bad: Unstable at times, prone to warpage, requires more maintenance, potentially expensive.
The fact that there are so many types of wood out there means you can get the look and durability you desire while maintaining that natural looks.
There are some stabilized laminates on par with plywood in this list, including Dymondwood. If that doesn't jibe with you, then I apologize in advance.
Without further ado, here's a look at 15 excellent folding knives with wooden handles.
1. Boker Magnum Backpacker (Soft Wood)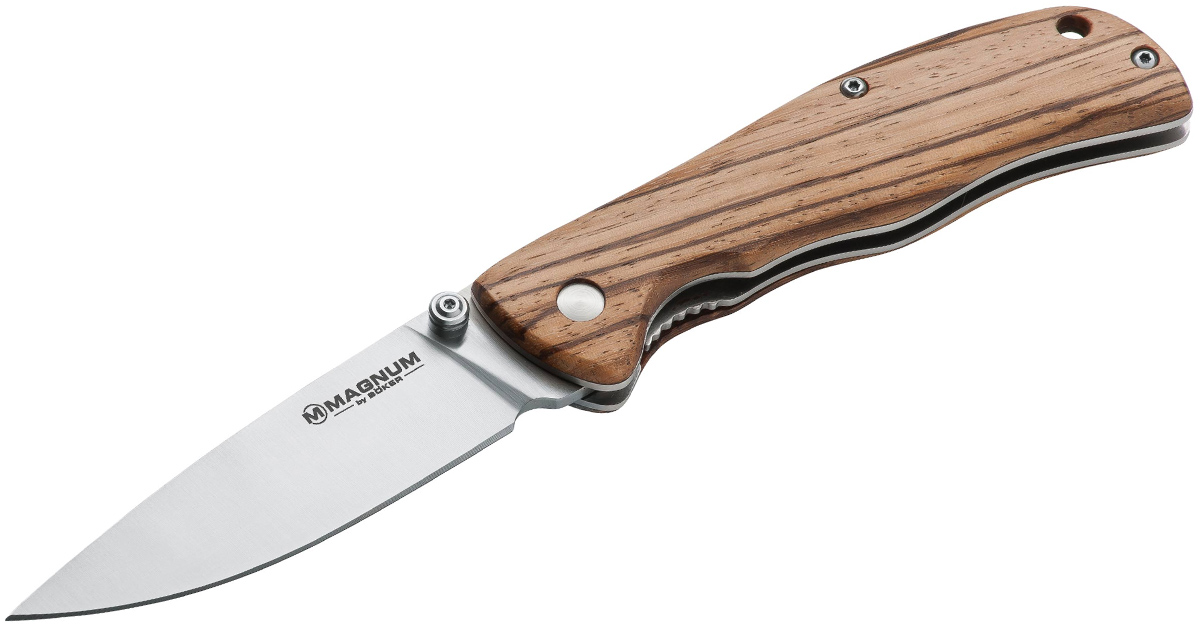 I wanted to start off with the Backpacker. This is a really handsome knife with a simple yet solid construction. It has a 3.4-inch drop point blade made from 440 stainless steel. It opens via a thumb stud and locks with a liner.