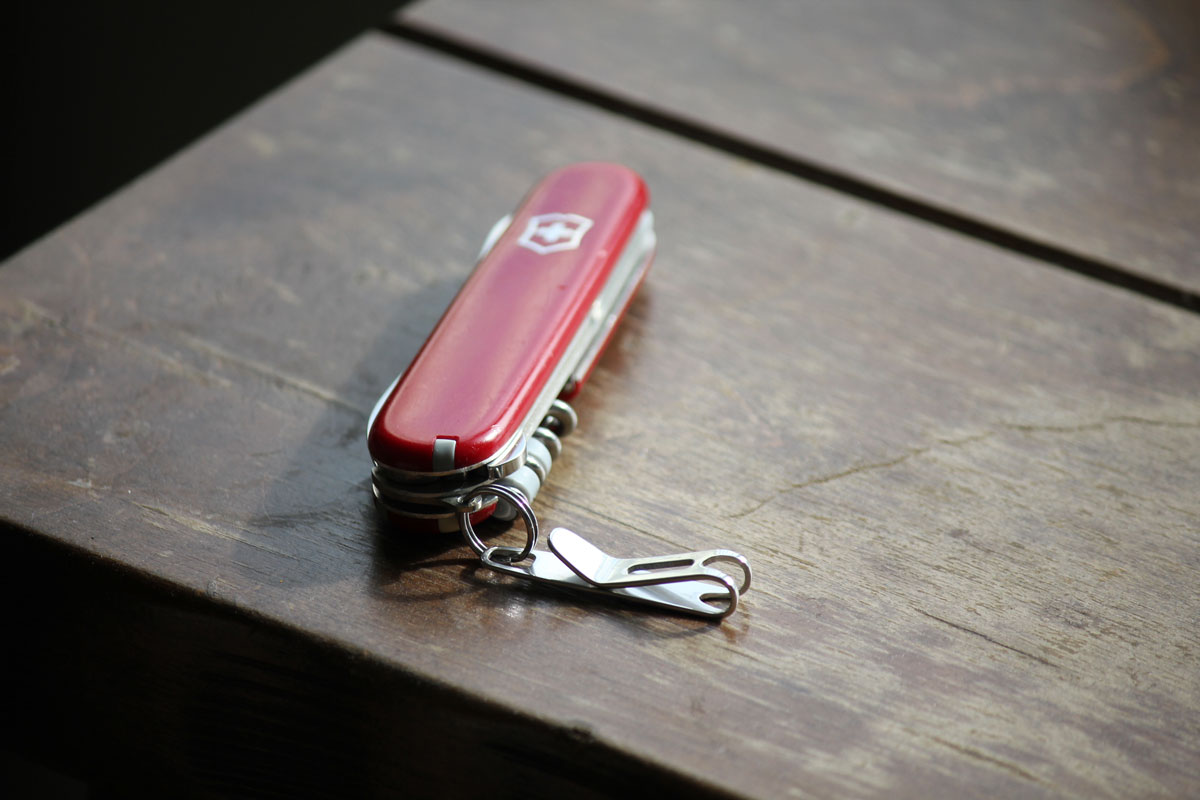 The other day, I wrote about the welcomed news that Victorinox is adding a clip to a new folding knife called the Hunter Pro M. It doesn't mean the iconic maker of Swiss Army Knives will add them to their multitools, but it could be a sign of the future.
Unfortunately, we're still stuck in a world where losing a Swiss Army Knife is all too common for many people. I always find them on the seat of my car or in couch cushions.
Here are some solutions for keeping a Swiss Army Knife from getting lost.
Get a Suspension Clip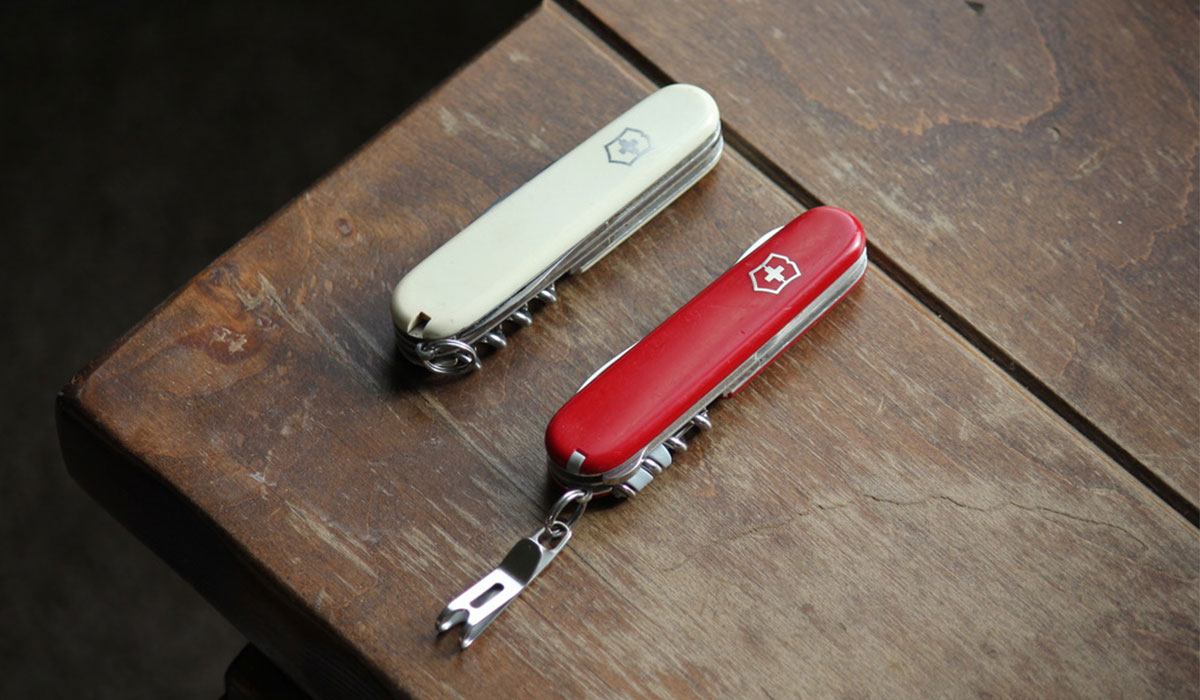 The best and most inexpensive remedy to the problem of Swiss Army Knives slipping out of pockets while sitting down is a suspension clip. Not only are these types of clips cheap but they're also nonpermanent solutions that won't mess up your knife.
My recommendation is the KeySmart Pocket Clip.
We've been big fans of KeySmart for a while now and wrote a review of the original KeySmart way back in the day. I believe the original idea of the Pocket Clip is mainly for keys but it works excellent as a solution for Swiss Army Knives.
Check out how it looks from the outside: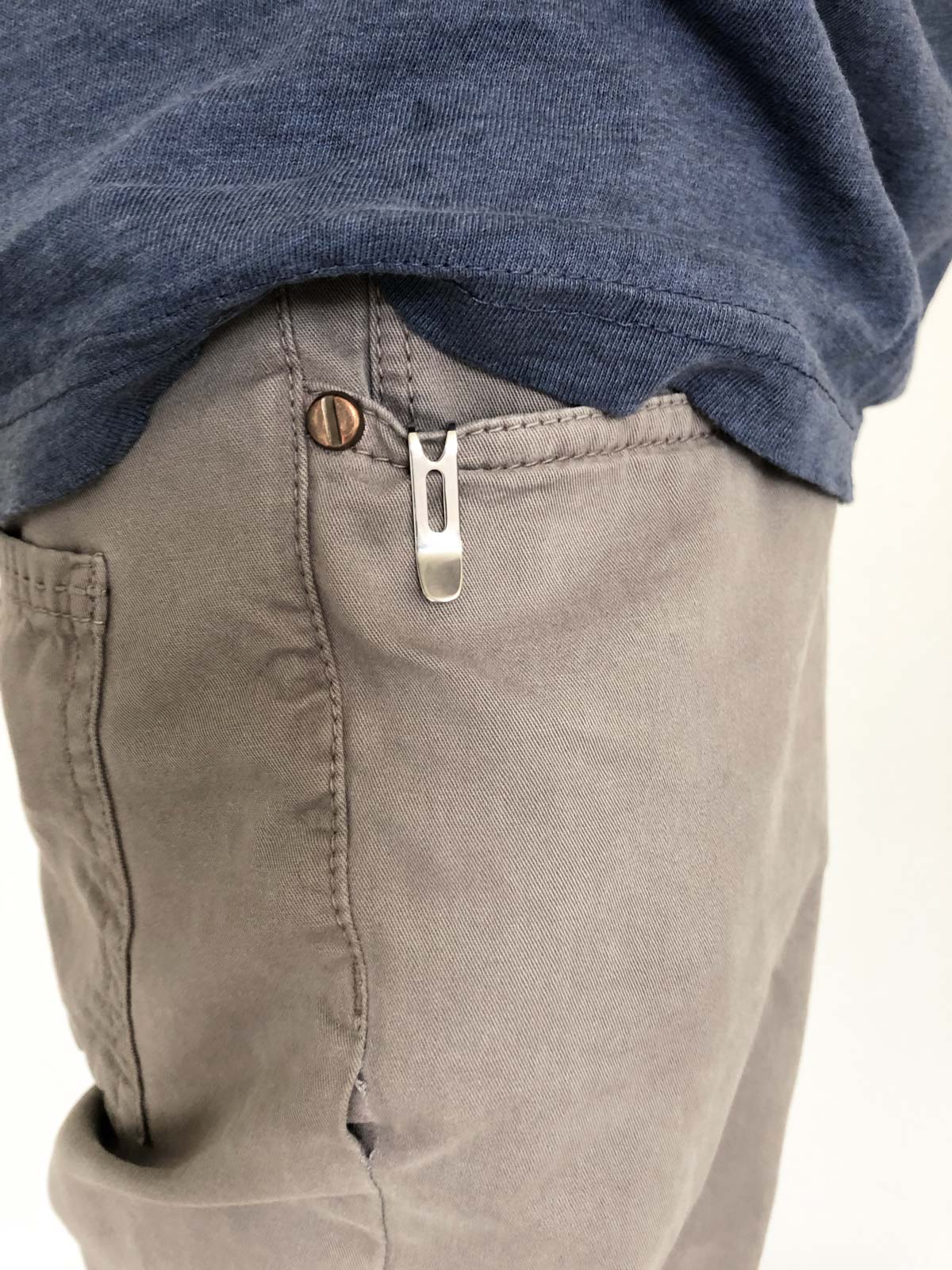 And here's how it would hang inside the pocket: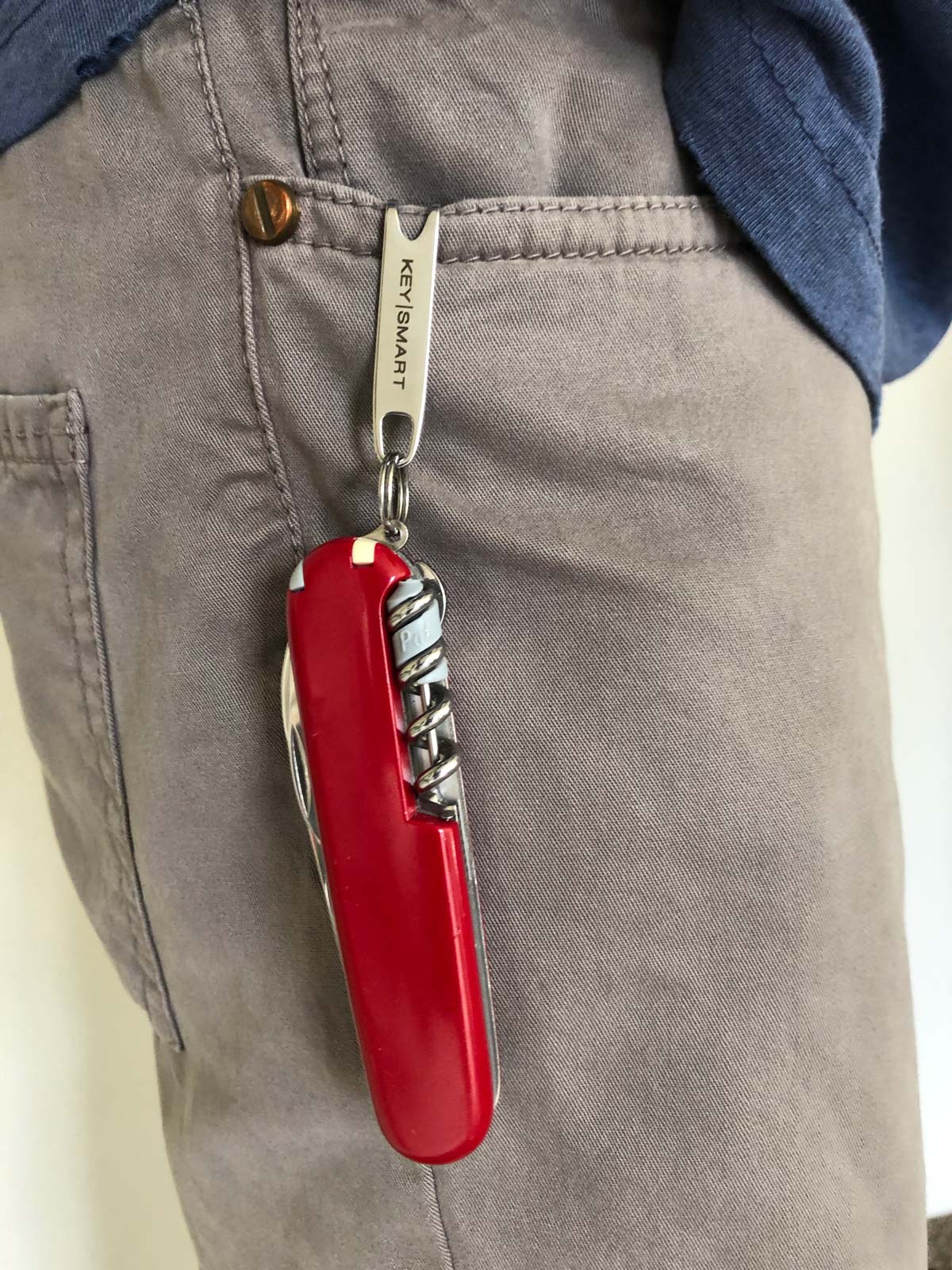 I've been using this on my Compact and it transformed my Swiss Army Knife from an occasional EDC with the right pants to my permanent EDC. Since putting this $5 clip on the knife, it hasn't slipped out of my pocket once.
I find it the perfect companion to a Swiss Army Knife. Pick one up at KeySmart if you want the easiest solution for stopping your SAK from slipping out of your pocket.
If you're too cheap to afford $5, here's a DIY SAK pocket clip:
Install a Clip
The most natural and best-looking solution to stop a Swiss Army Knife from getting lost is to put a clip on it. There are a few ways you can go about doing it. If you want it done right and to look professional, contact a modder. Folks like Robert Lessard can do great things with Swiss Army Knives, including adding all sorts of clips and customizations. Check out some of his work:
It'll cost you, though.
For a less expensive way to add a clip, try something like the NiteIze clips (which I think are made for phones). These use adhesive to stick right on the cellidor scales and work surprisingly well.
They're not as sexy though — especially those rainbow ones.
Stick It In Your Coin Pocket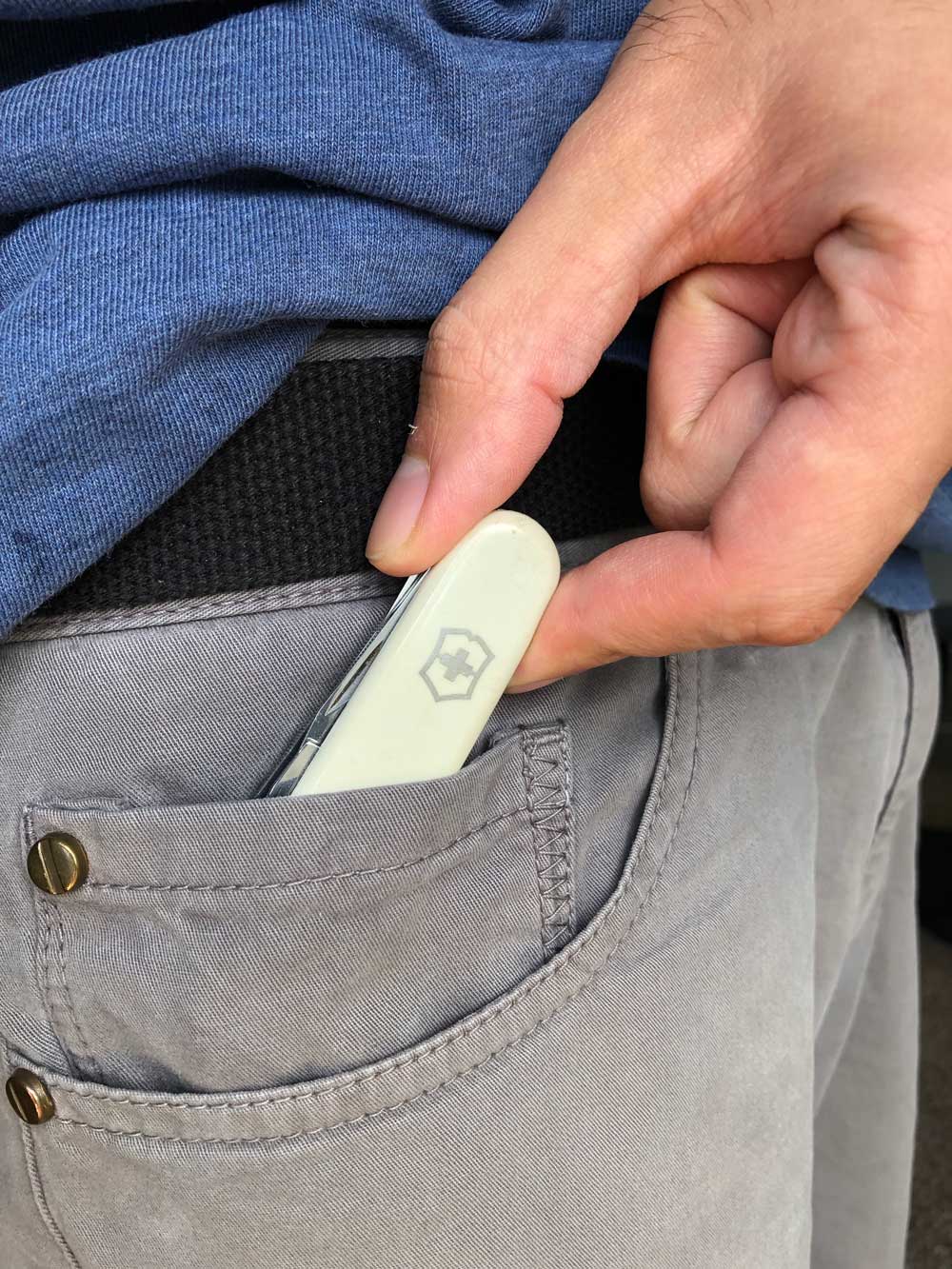 When I'm wearing the right pants, I stick my SAK right in the small coin pocket. This is my desired location for carrying a Swiss Army Knife because it doesn't move around and it's easily accessible. I've never had a knife fall out of my coin pocket.
Unfortunately, not all of my pants have one.
Get a Sheath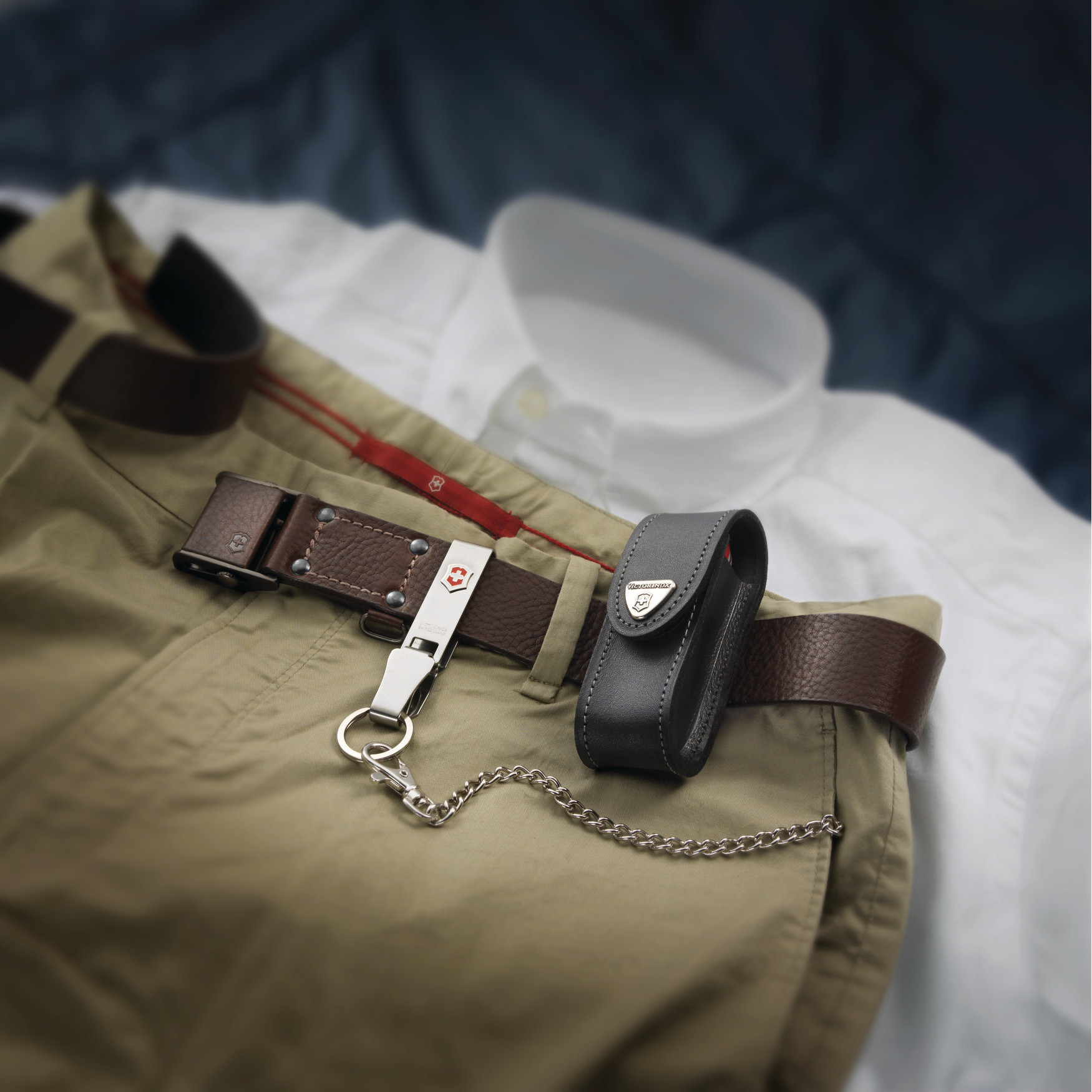 Back before Spyderco came along and pioneered the pocket clip, clipless knives were commonplace and had to be carried either in the pocket or in a sheath. Although a sheath can sometimes make you look like that guy who carries his cellphone clipped to his belt, it is a good way to carry large clipless knives like the bigger Swiss Army Knife models.
Victorinox even has a few sleek and good-looking belt pouches in leather and nylon. These really only make sense for larger models though. I can't imagine carrying a Pioneer on a giant sheath on my belt.
Attach a Lanyard or Fob
As someone who uses a knife for EDC and not much else, I don't fully understand the love for lanyards and fobs — except on Swiss Army Knives. There are actually five solid reasons why you'd want a lanyard or fob (if you don't know the difference, read here) on your knife but they make tons of sense on Swiss Army Knives.
One of the main reasons is that it can help keep a multitool from slipping out of the pocket unnoticed and also makes it more accessible when carrying it loose in the pocket. A fob adds some weight to the knife so you can feel it falling out of your pocket in many cases.
Store It In a Caddy
With everyday carry setups becoming bigger and more complicated (just look at the ridiculous pocket dumps over at Everyday Carry with watches, pens, flashlights, keychains, keychain tools, knives, lighters, wallets, trinkets, reminder coins, spinners, beads, etc), people are opting for a more organized carry. An increasingly popular solution is the pocket caddy.
A pocket caddy or organizer is usually a piece of leather that can fit your traditional pocket knife and maybe a pen. Some are even wallets while others are only made for pocket knives. These can be pretty classy and will keep your SAK from slipping out of the pocket.
Grab a Multiclip
Victorinox must know that carrying a Swiss Army Knife is a risky proposition because they have a few options for ensuring SAKs don't get lost.
The Swiss brand has something they call a Multiclip, which is a belt hanger multiclip you attach to both the SAK and belt. Unlike the suspension clip, this is something that is a bit less convenient because it is physically attached to your belt. That means you can't just pop out the Victorinox and start using it. Instead you have to actually unclip it.
Here's a video showing off how it works:
It's pretty easy to take off but it does require an extra step. On the other hand, it ensures your SAK never gets lost.
Let us know how you keep your Swiss Army Knife secure.