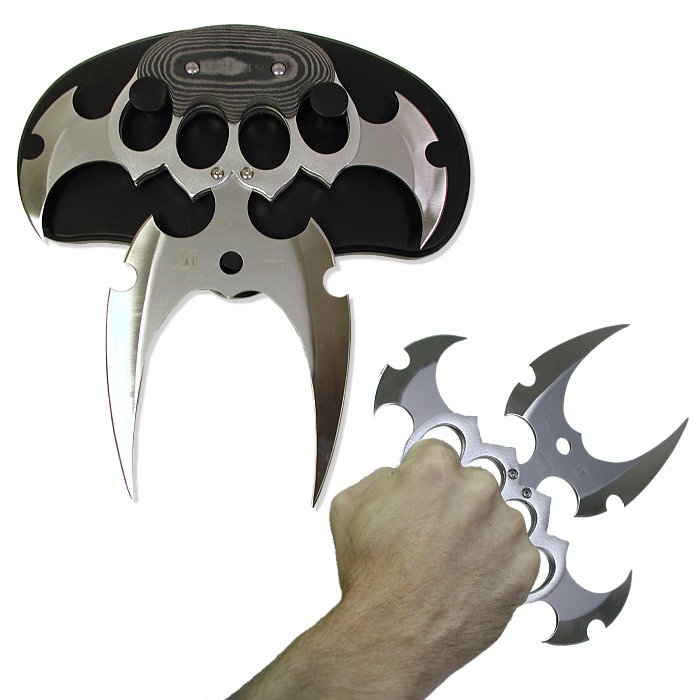 Few knives are as unpredictable, beautifully designed and original as the Interceptor from Tom Anderson Cutlery.
Somewhere between a push dagger and brass knuckles, the Interceptor is impractical and potentially dangerous if it falls into the wrong hands. But, it's undeniably awesome.
The Interceptor has been exploding in popularly around the Web. Sites like Gizmodo and Geek Alerts have likened this insane knife to the weapons used in the new Batman movies. It does look remarkably similar to the old Batman symbol.
The knife is made from quality stainless steel with a Spanish micarta handle. The blade has twin fangs with crescent cut-outs. The great part is that it only costs $56.49.
Here's more from the description of the product:
This cunning agile weapon could only be forged from the darkest depths of the imagination of Tom Anderson. This beautiful terrible masterpiece has a distinctive style and awe-inspiring presence. …

The comfortable Spanish Mikarta handle has has a dark wood-grain appearance and provides superior grip. Each end of the handle has a razor-sharp crescent blade fanning out each with a crecent cut-out for added artistic flair.
Strictly a decorative piece, this is one awesome knife any collector or knife appreciator shouldn't be without.
---