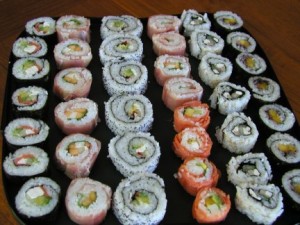 An article published by ABC News today reported that a Japanese sushi federation has created a certification program for aspiring sushi chefs.
"We just want to make sure foreign chefs understand the basics of sushi making: how to cut, clean and prepare raw fish," said Masayoshi Kazato, an experienced chef who was one of the creators of the test.
Not surprisingly, one of the criteria for receiving a certificate was knowing what type of sushi knife to use.
Kazato said he noticed a difference in the knives being used to cut the fish by inexperienced chefs, which is a concern because dull knives often don't cut smoothly and expose the fish to more air, accelerating deterioration and increasing the potential for bacteria to attach to the fish.
We posted about the myth that dull knives are safer than sharp knives, along with other knife myths, a few months ago.  Though a dull knife will have less of an impact if it grazes your flesh, it's not safer, because it forces you to use extra pressure when cutting.
It seems that most knife owners have been disabused of this myth, but we recently ran into a discussion forum at Mythbusters.com, where some participants were still suggesting that dull knives were safer.
When preparing sushi, which is extremely delicate, the need for a sharp knife is not just for safety but to ensure quality as well. A dull blade will crush a maki, which is an all-encompassing term for sushi rolls with rice, toasted seaweed, nor or other fillings.
It's also important to remember to never use a electric sharpener to sharpen a sushi knife, but to always use a sharpening stone, especially if you aspire to join the ranks of certified sushi chefs some day.