The world of multitools has become stagnant.
When the first modern multitool was introduced in the late 1800s, it was truly revolutionary and groundbreaking. While the idea of combining a few tools into a single gadget dates back hundreds of years, this design was so well-conceived it remains in production to this day. Yes, I'm talking about the Swiss Army knife.
If you take a look at the design of the Modell 1890, one of the first iterations of the SAK, you'll notice how surprisingly similar it looks to current Swiss Army knives. It just means that the design was near perfection.
The design of multitools stayed relatively unchanged for decades until a young man spent time traveling abroad after graduating from Oregon State University with a degree in mechanical engineering. During his travels, he realized that the one thing multitools was missing were functional pliers.
That man was named Tim Leatherman.
In 1983, Tim completely changed the multitool landscape with his first design called the Pocket Survival Tool (PST). Now retired, the knife set the standard for what a multitool with pliers should look like — tools coming out of the two handles and the ability to fold into a rectangle.
Unfortunately, the way things work is that one company makes something revolutionary and the others just try to copy it and add small changes. It's no coincidence that most multitools these days look like the Leatherman Skeletool (a very good design).
More than 30 years after that last true innovation in the multitool world, we've been waiting for the next big thing.
SOG may have found it.
SOG Baton Series Rethinks the Multitool
Most multitools fold up into thick bricks that take up way too much space in your pocket. That includes both SAKs and Leatherman types.
So SOG decided to do something a little different.
In conjunction with global design and consulting firm IDEO, which is responsible for such innovations as Apple's first mouse and the convenient Swiffer, SOG created a new line of multitools called the Baton series.
Here is a quick look from GearSight:
When the tools are in the open position with the pliers (or scissors) engaged, it looks like any other pliers multitool. The difference is that the tool folds up into a relatively thin vertical design that's more in line with a marker than a brick.
According to Nick LeFort in his article at Gear Institute, SOG has been working on these for a while now. He saw functioning prototypes at Outdoor Retailer last summer. Here was his reaction:
These mock-ups, which would eventually morph into the Baton line of multitools, were a fresh take on the pliered multitool made for the modern handyperson. In both form and function, they were sleek and innovative; lacking the bulk so commonly associated with these products. Even in their prototype form they moved and worked as if they lived on a string of ball bearings and had been dipped in WD-40. I walked out of the booth that afternoon sworn to secrecy, but splitting at the seams with excitement and wonder.
It seems remarkably simple when you think about it, but it's actually quite ingenious. I'm hoping I can get my hands on one soon, but in the meantime here are the four models.
Baton Q1, MSRP – $54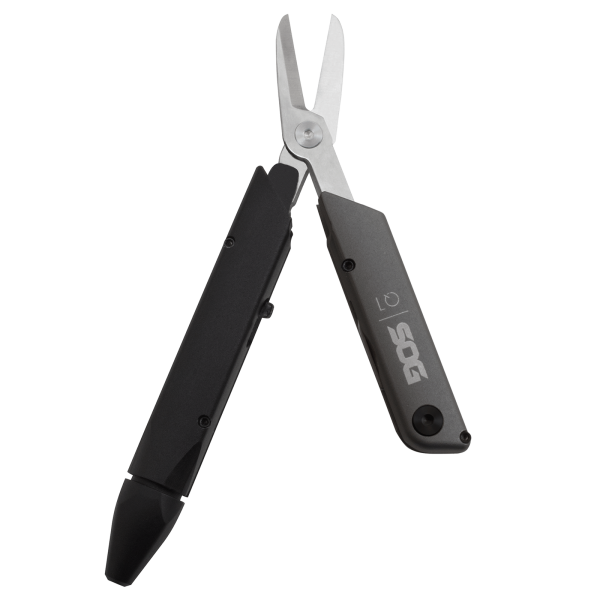 The Baton Q1 is billed as a travel-friendly multitool for the office types. The tool doesn't have a blade, but it does have a pressurized ballpoint pen, bottle opener, flat screwdriver, and spring-assisted scissors. It's slim and weighs only 2.4 ounces.
Baton Q2, MSRP – $67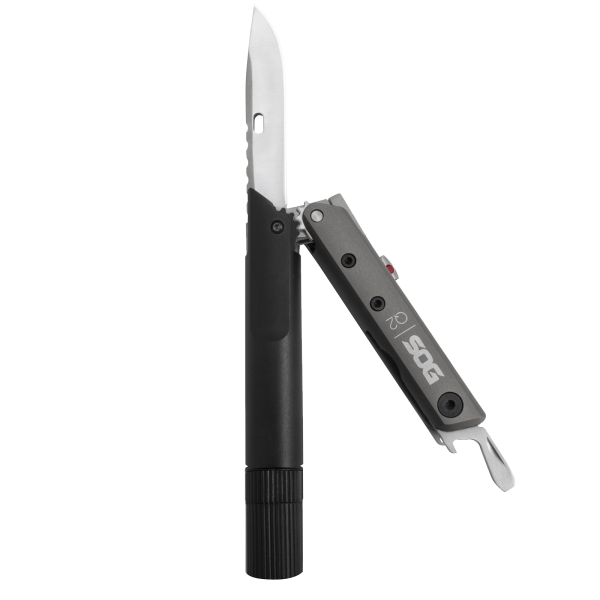 Whereas the Q1 was made for administrative tasks, the Q2 is aimed more at "urban go-getters." Part of the pen shape folds down to reveal a blade. The blade length is still a mystery to me, but it looks adequate for most urban tasks. It also has a bottle opener, flat screwdriver, and LED flashlight.
The specs of the flashlight are also unknown, but those who EDC flashlights probably won't opt for this, despite the fact that it does cut down on pocket bloat.
Baton Q3, MSRP – $94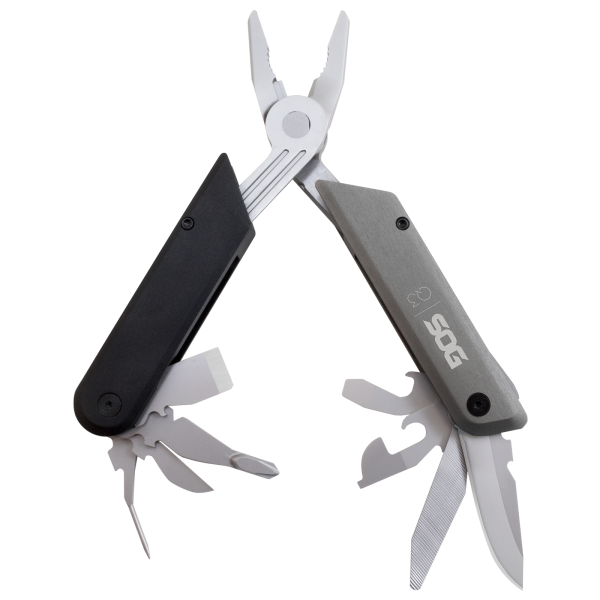 The Q3 is a heartier multitool with most of the same tools as your common Leatherman. With a tool count at 13, the Q3 features such items as a chisel, file, wire cutter, awl, can opener, and three types of screwdrivers. The item weighs 6 ounces and comes with a pocket clip.
Baton Q4, MSRP – $120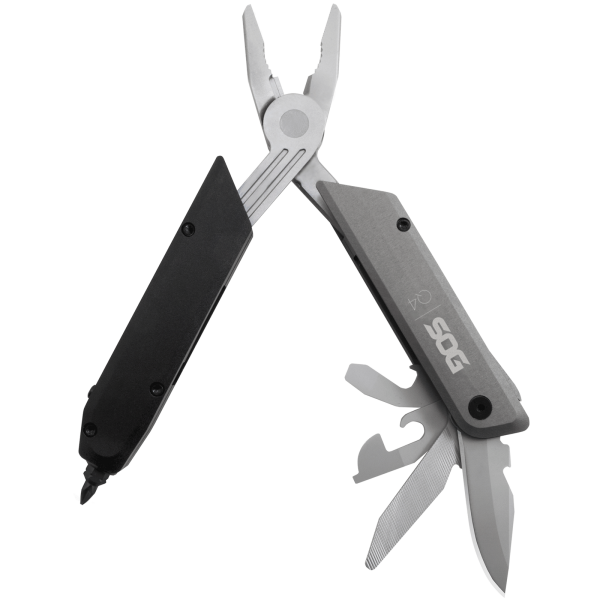 Finally, there's the Q4. This is a slightly different version of the Q3 with different tools, like a blade and hex bit driver.
Channel Your Inner Batman with the Sync I & II
Normally the Baton series would be enough to sate people's desire for new multitools, but as they say on infomercials: But wait, there's more!
SOG is also releasing two new multitools designed to be worn as belt buckles. While belt multitools are not necessarily new, they usually feel like gimmicks. The Sync I and Sync II still may fall into that trap, but I want to believe that they'll be useful and well-made.
Here are some images of the Sync I.