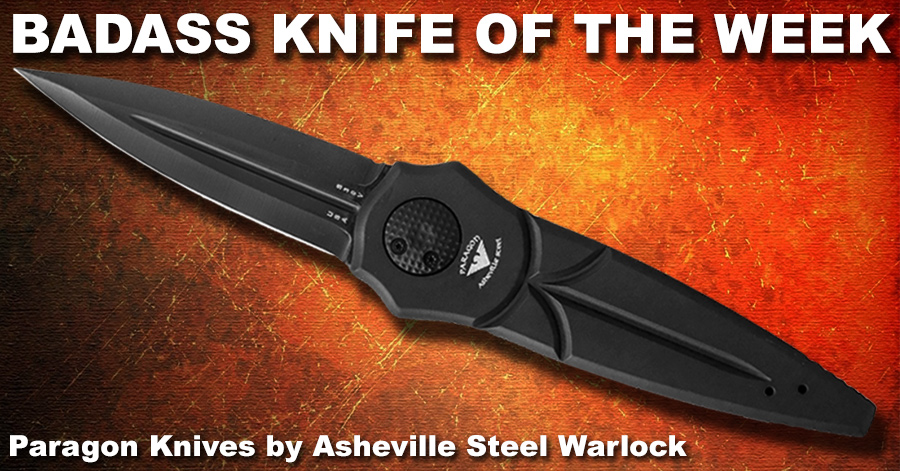 The Warlock from Paragon Knives by Asheville Steel is a knife like no other.
This premium folder is a cross between an automatic knife and an assisted opener. To engage the knife, press the pivot on both sides. This parts the handle at the seams. Once the handle is split, you whip out the blade with the help of gravity, and the knife is locked into place after the button is released.
Recently featured in our list of 15 Folders with Unique Opening Mechanisms, the knife is fun to open and extremely fast once you get the hang of it.
Here's a short review from YouTube showing how it opens and closes:
But if you think the Warlock is nothing but a gimmick, you're sorely mistaken.
This knife boasts premium materials and a thoughtful design. Its 4.625-inch blade is made from S30V steel, which is durable, corrosion resistant, and razor sharp.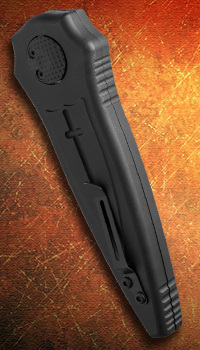 The spear point blade offers a double edge with a piercing point and a fuller down the middle to reduce the blade's weight. It also adds to the overall aesthetics of the all-black knife.
Made from 6061-T6 aluminum, the handle compartment that houses the blade when closed bears the Paragon by Asheville Steel logo and deep grooves.
A reversible tip-up pocket clip makes carrying the knife easy.
This sleek well-constructed folder is made in the United States and will wow anyone who uses it. It may take a few minutes, but with a little practice, you'll be able to open and close the knife in a flash.
For more information on this Badass Knife of the Week, check out the product page for the Paragon Knives by Asheville Steel Warlock.