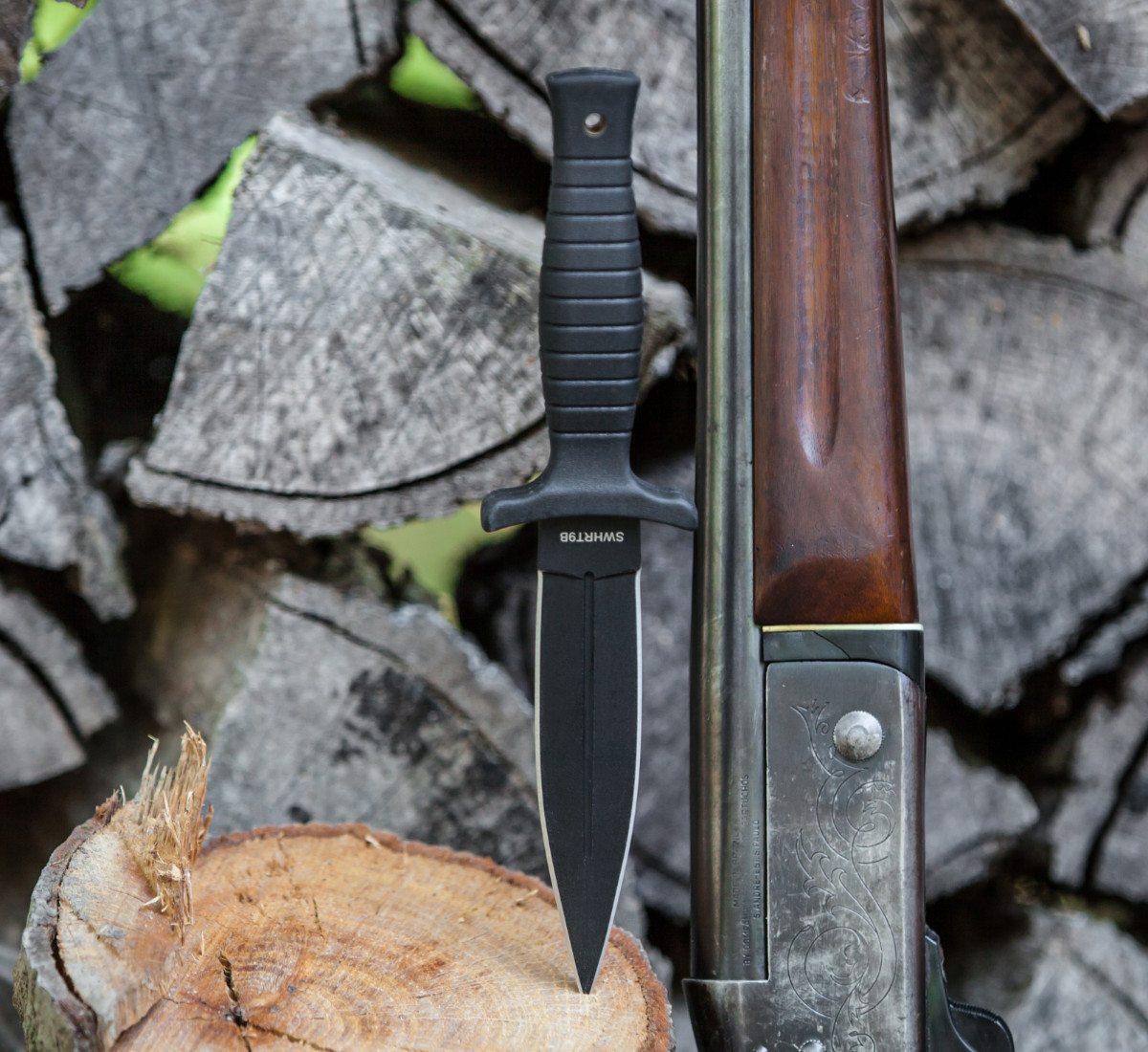 This post was first published in 2020 and updated in 2023.
When you think of Smith & Wesson, high-quality knives might not be the first thing that comes to mind.
No, you probably think of great firearms… and Dirty Harry. But the truth is, Smith & Wesson also manufactures quality knives. They're the type that appeals to law enforcement personnel and those interested in self-defense. These aren't your average kitchen knives.
Smith & Wesson knives are versatile and rugged. They're designed for the field, with sturdy blades that hold their cutting edges, and good grips for ease of use.
Over the years, Smith & Wesson has expanded its lineup of knives to include more than just search and rescue and first response knives. Still, those remain the bread and butter of the lineup.
So let's cut to the chase. See which are the best Smith & Wesson knives.
Smith & Wesson Extreme Ops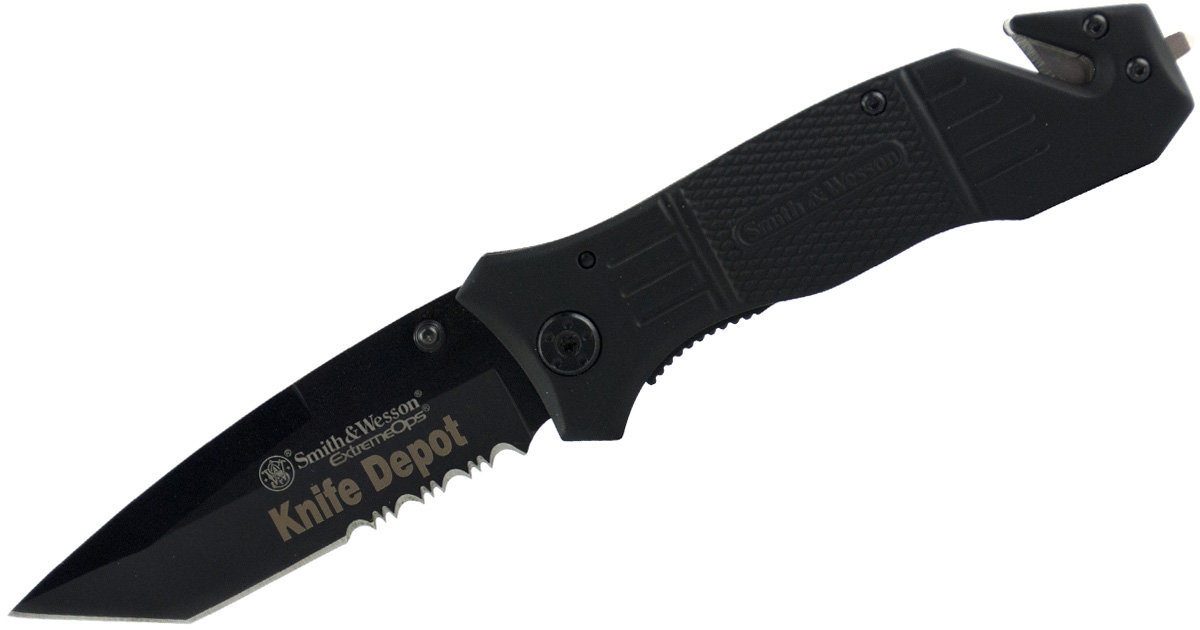 We're starting with one of the top-selling S&W knives at Knife Depot: the Smith & Wesson SWFR2S Extreme Ops.
This is a tactical folding knife that rivals any other rescue knife in this price range.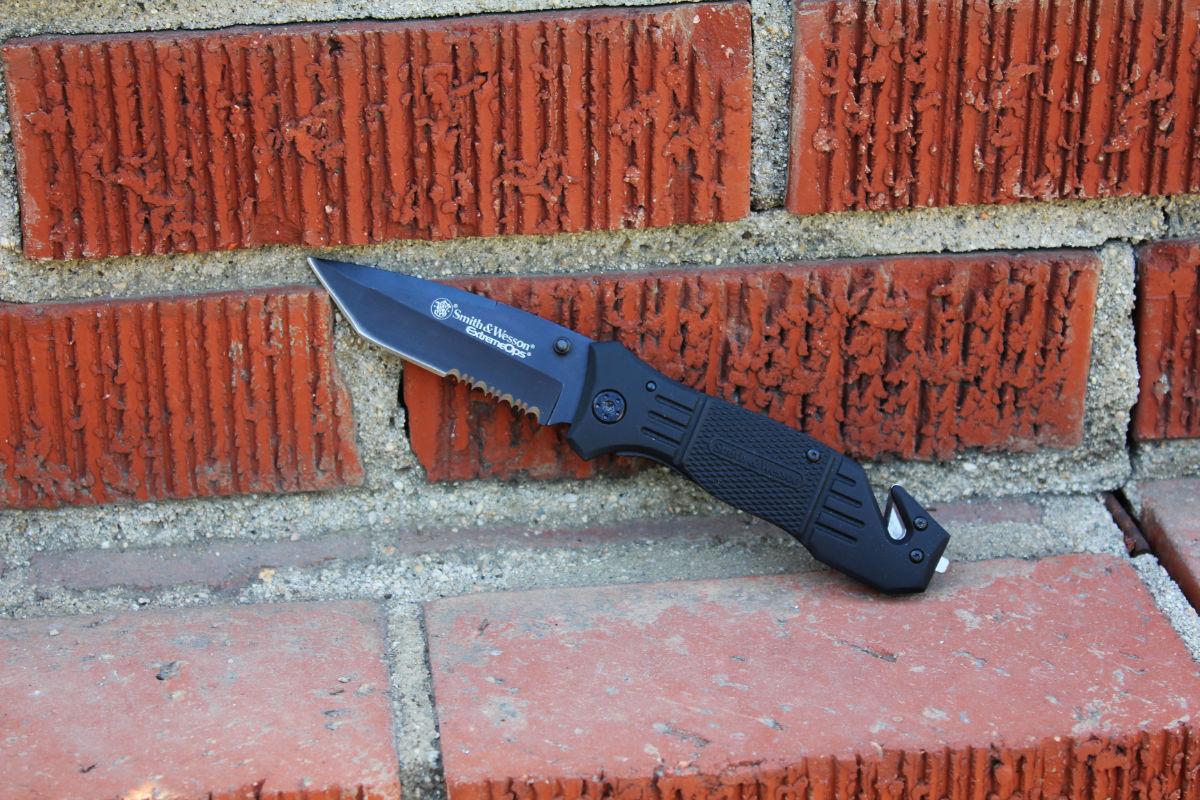 As a heavy-duty rescue knife, the SWFR2S feels great in the hands, thanks to its rubberized handle. Its partially serrated tanto blade is 3.3 inches long.
If you keep one knife in your car for emergency situations, this one should be it. It's also available with engraving! It's no wonder it was a Knife of the Week a few years ago.

Smith & Wesson 1st Response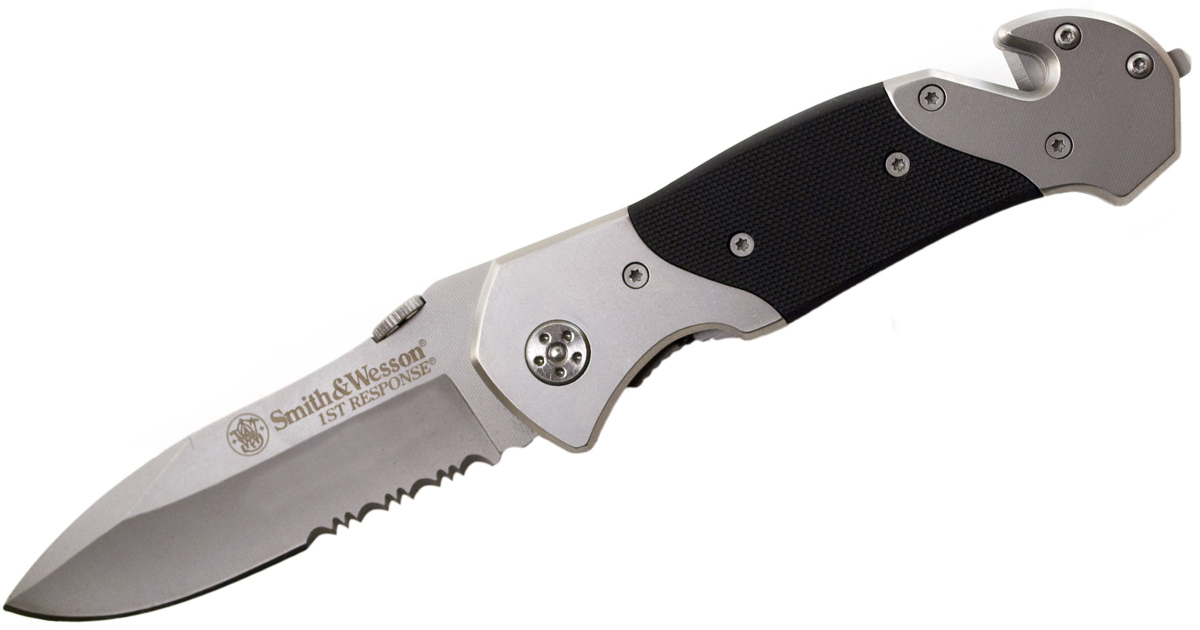 The 1st Response is the companion knife of the first knife on this list. While it has a lot of the same features and blade length, it looks very different.
The Extreme Ops has a tactical look while this knife has a more universal look. The 1st Response has a 3.3-inch partially serrated blade but with a standard blade finish and a drop point profile.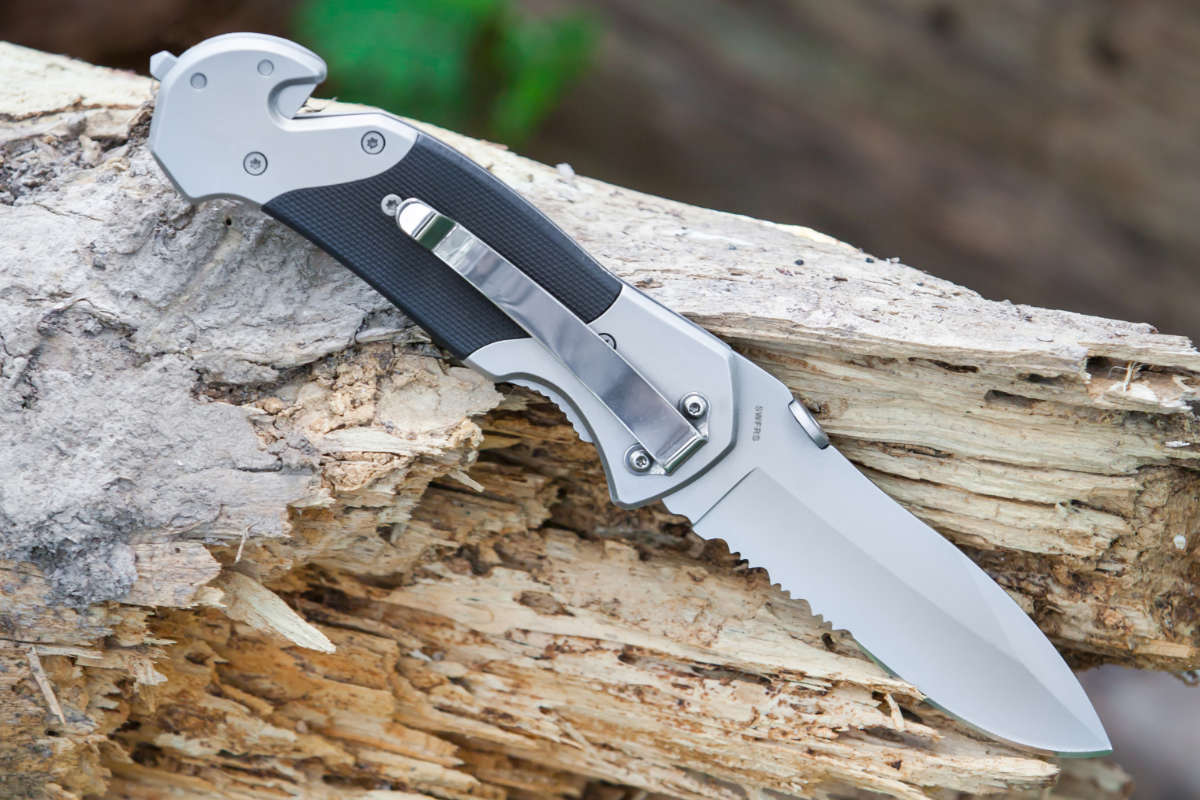 Its handle is part steel and part G-10, making it easy to hold and very durable.

Smith & Wesson H.R.T. Boot Knife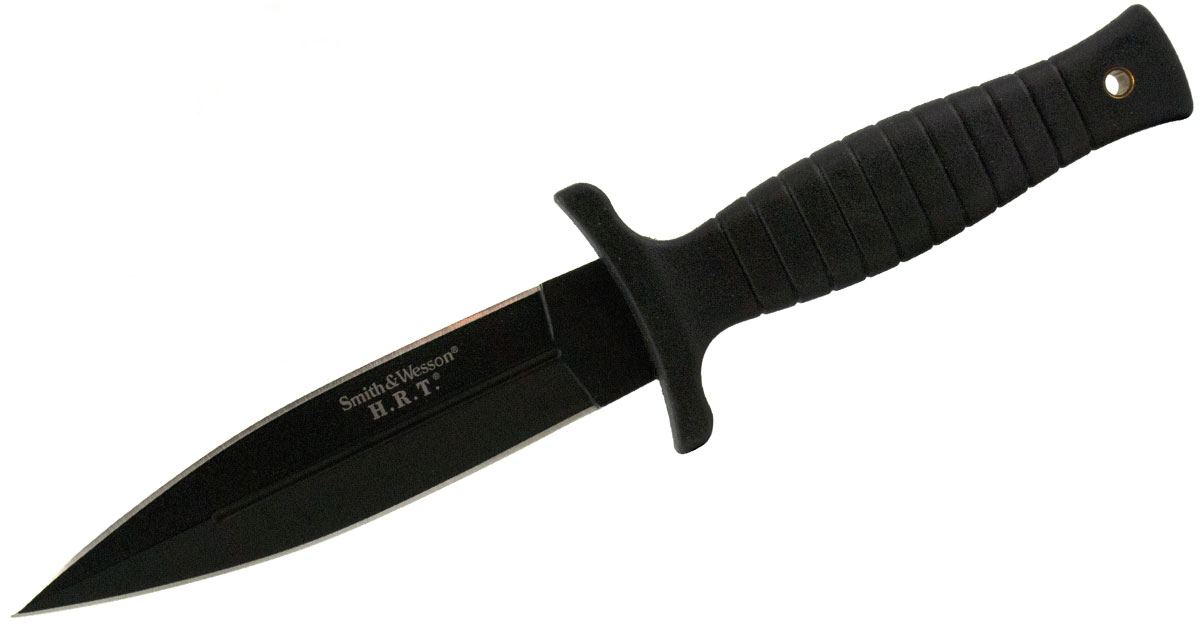 This is a fine, attractively priced fixed blade. The high carbon stainless steel blade is 4.7 inches long, and the knife overall is 9 inches in length. On top of that, it only weighs 7.7 ounces.
The H.R.T. Boot Knife comes with a dual-edged blade and a handguard to protect your fingers. A dual-edged knife also has the advantage of allowing you to use either hand for cutting.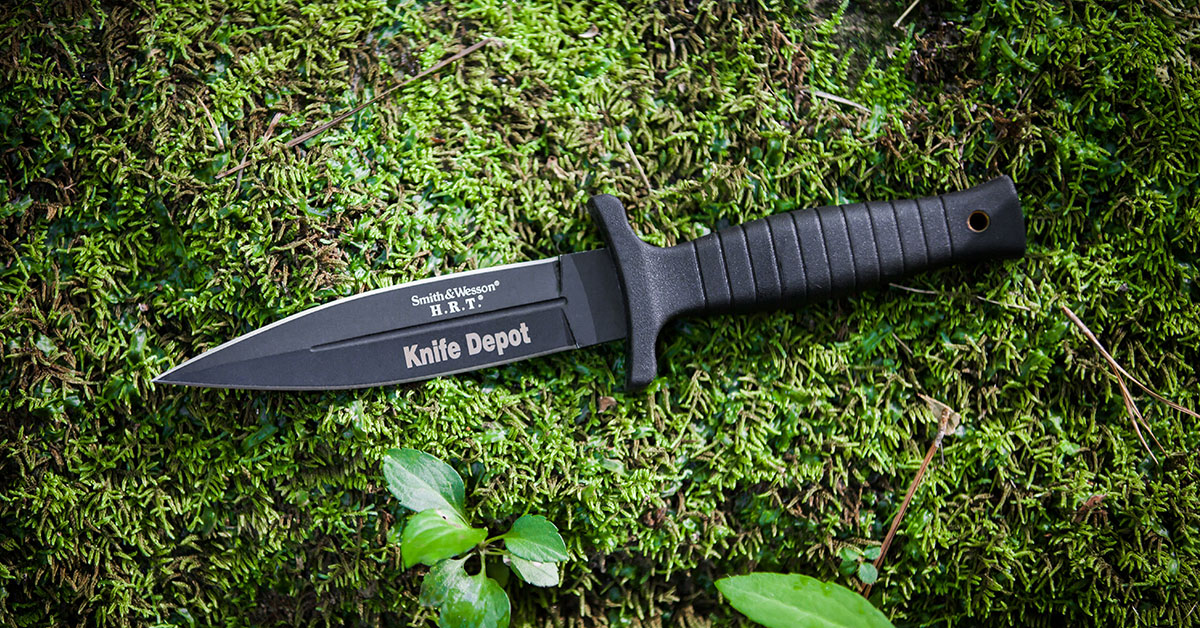 You can also get it with a false edge if your local laws require it.
The knife comes with a sheath for your boot or your belt, which gives you quick access.

Smith & Wesson Search & Rescue Knife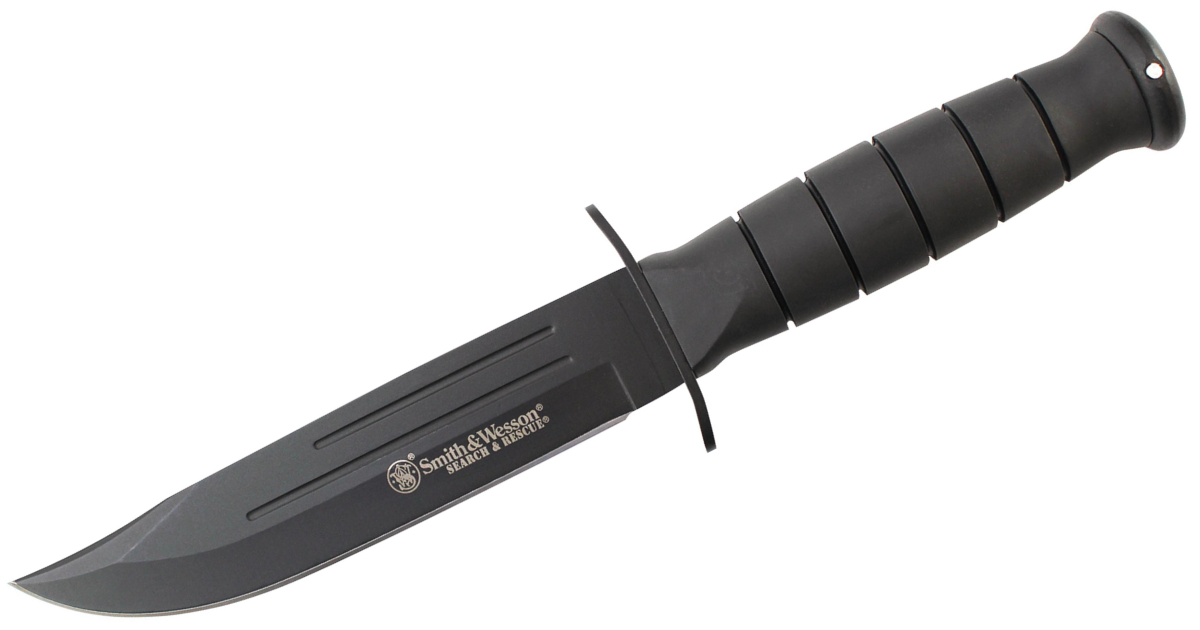 Smith & Wesson puts an emphasis on inexpensive rescue knives, and this is another great example of a fixed blade you can depend on.
This fixed blade has about a 6-inch blade with an overall length of 10.5 inches. It also has a handguard, which is a must for these types of knives.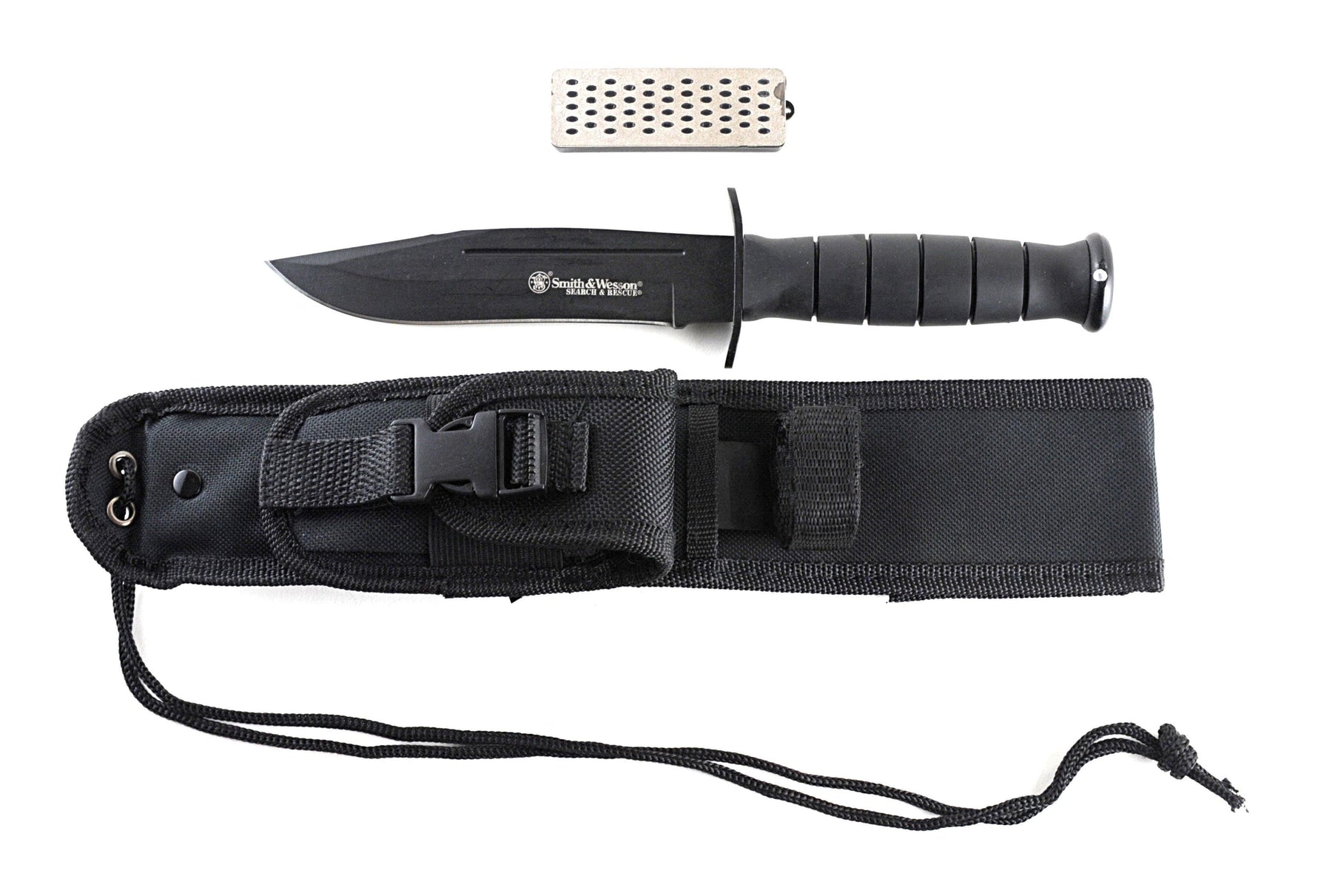 The rubberized handles are comfortable and durable, allowing you to focus on your rescue mission rather than worry about whether your knife will stand up to the elements.
It comes in a clip point or tanto version.

Smith & Wesson M&P Linerlock Knife With M.A.G.I.C. Assist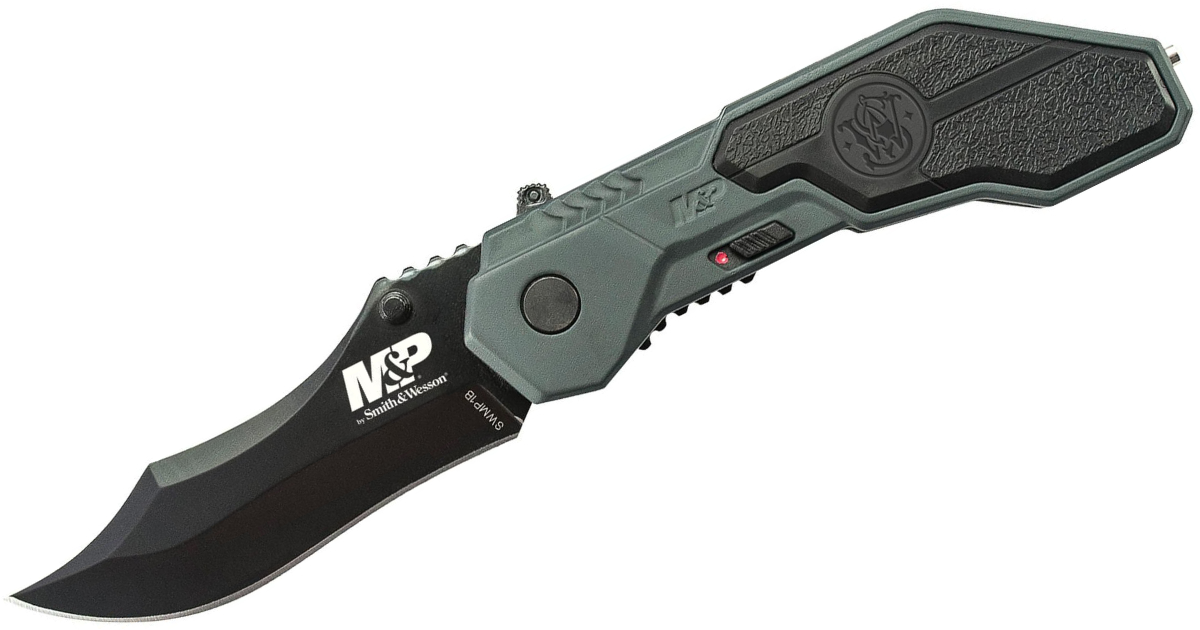 The Military & Police line of knives from Smith & Wesson is fairly robust, with designs for all types of military and law enforcement personnel.
We've noticed people are partial to the S&W M&P SWMP1B Assisted Pocket Knife. It has a reasonable 2.9-inch blade with a unique blade shape that offers a curved cutting edge with an upswept point.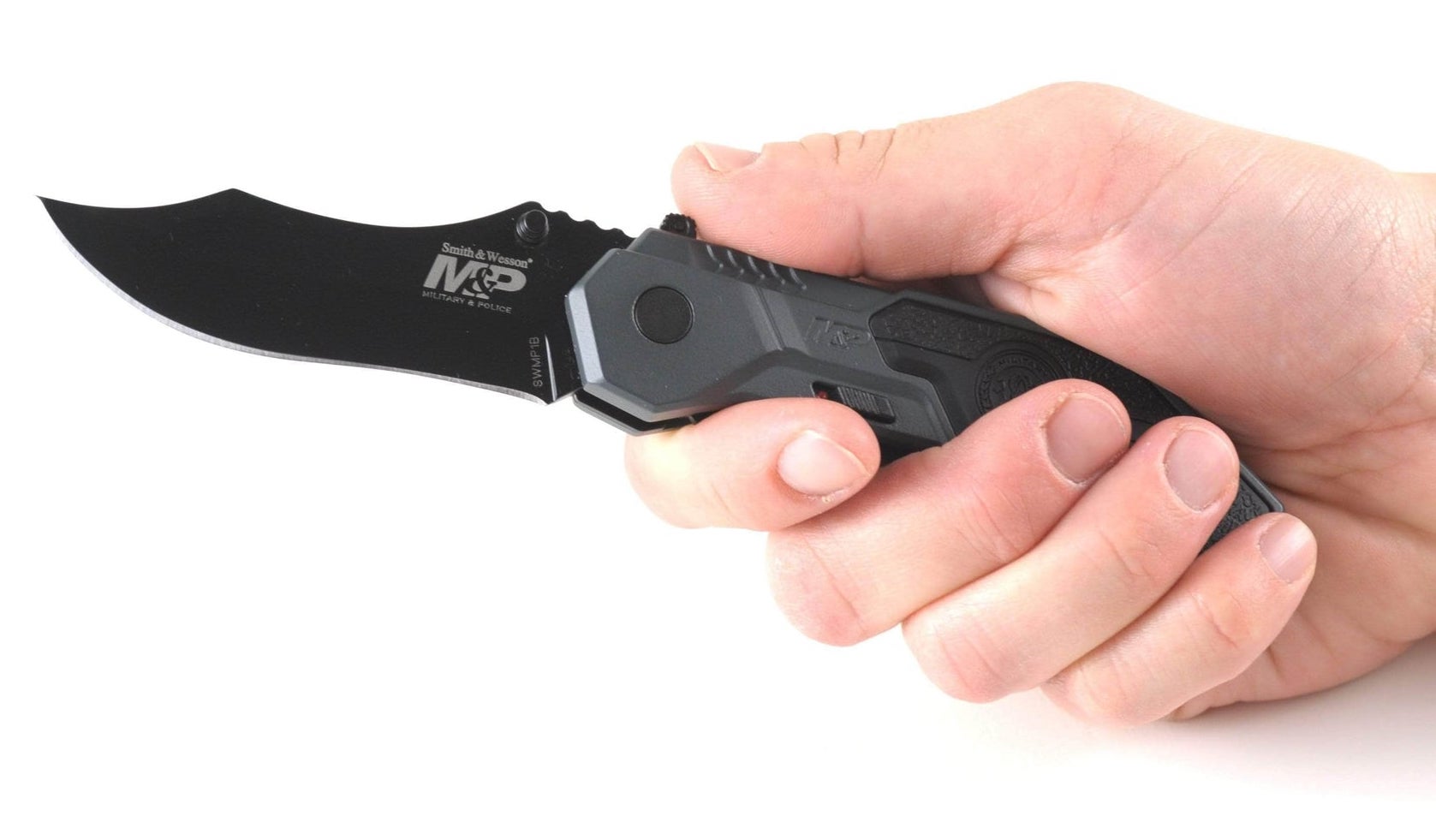 Another great feature is its M.A.G.I.C. assisted opening. Rather than having to open the knife manually, you just push up on the thumb stud and out pops the blade.
And yes, there's a lock so it won't accidentally spring open when you least want it to.

Smith & Wesson Special Ops M-9 Bayonet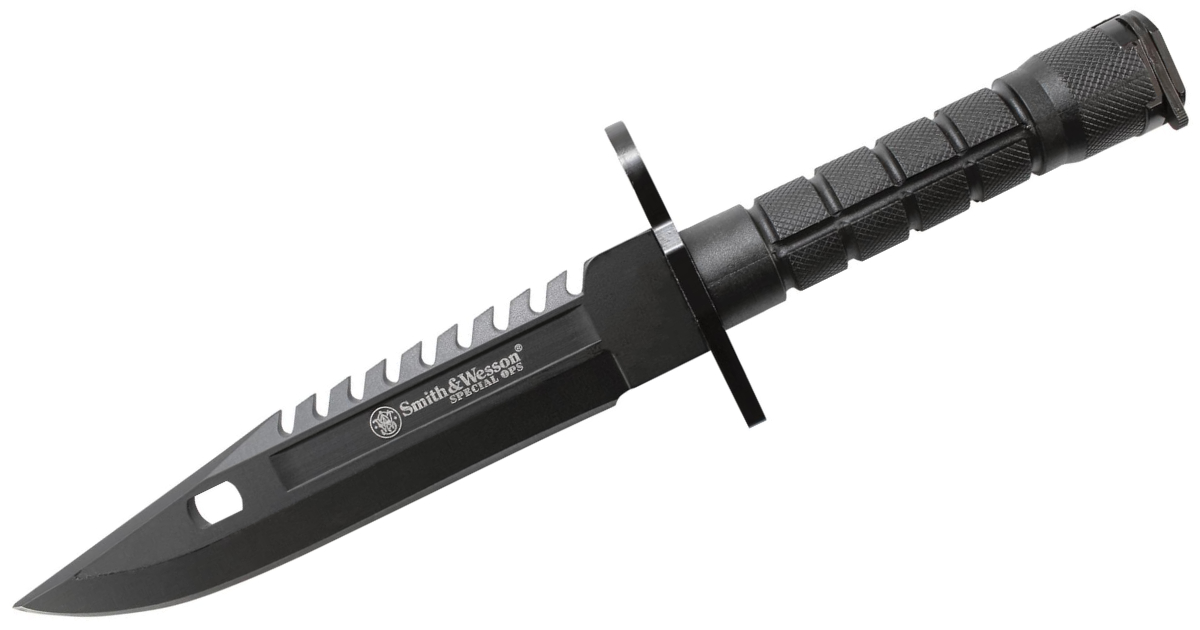 The M-9 bayonet is a versatile fixed blade designed for a bunch of different uses. On its own, it can be a saw, a field and utility knife, a fighting knife, and a bayonet on an M16 or M4.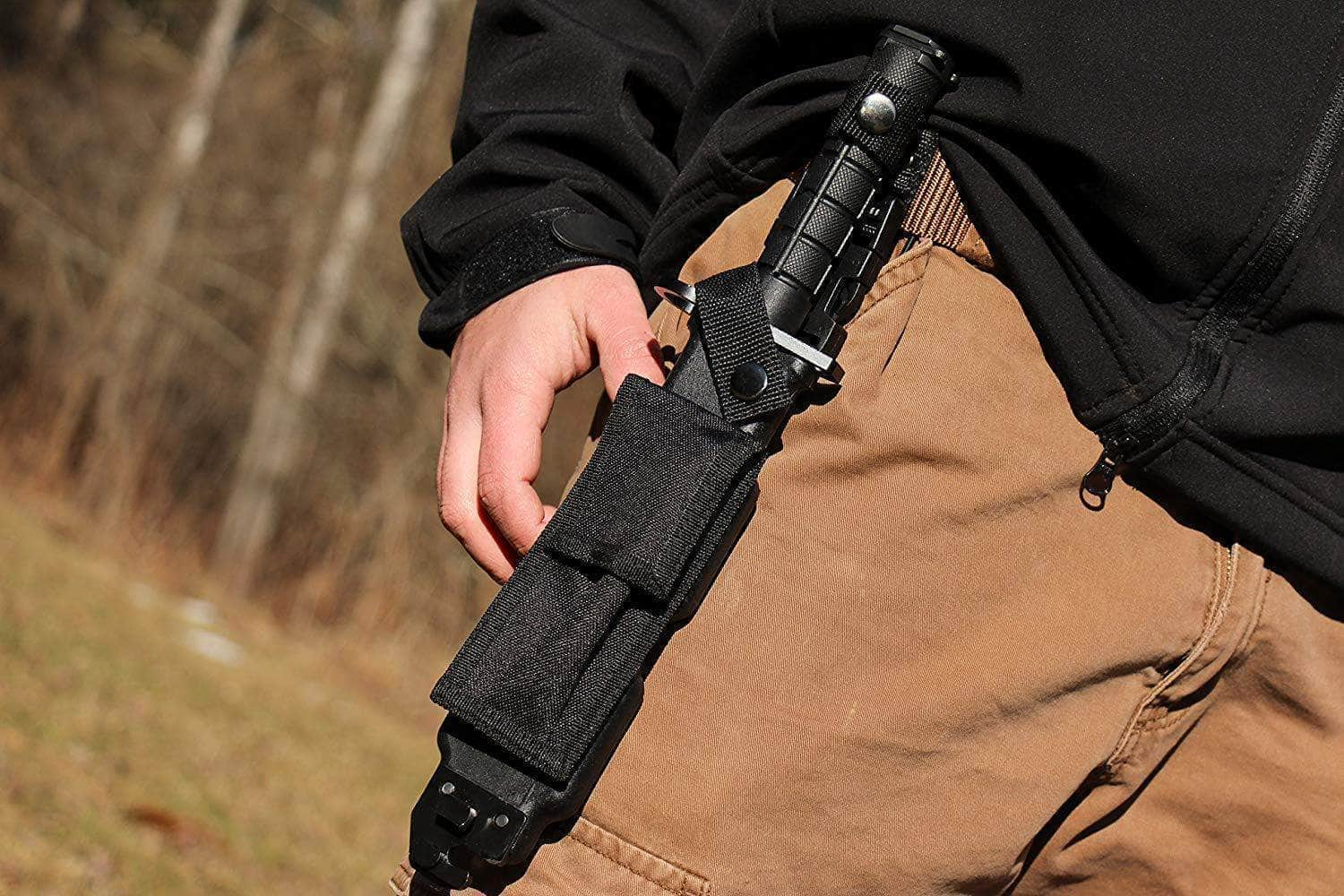 This version of the bayonet comes with a 7.8-inch black-coated 420J2 stainless steel blade with a sawback spine. The handle is thermoplastic rubber, while the scabbard comes with a pouch, sharpening stone, and wire cutters.

Smith & Wesson S.W.A.T.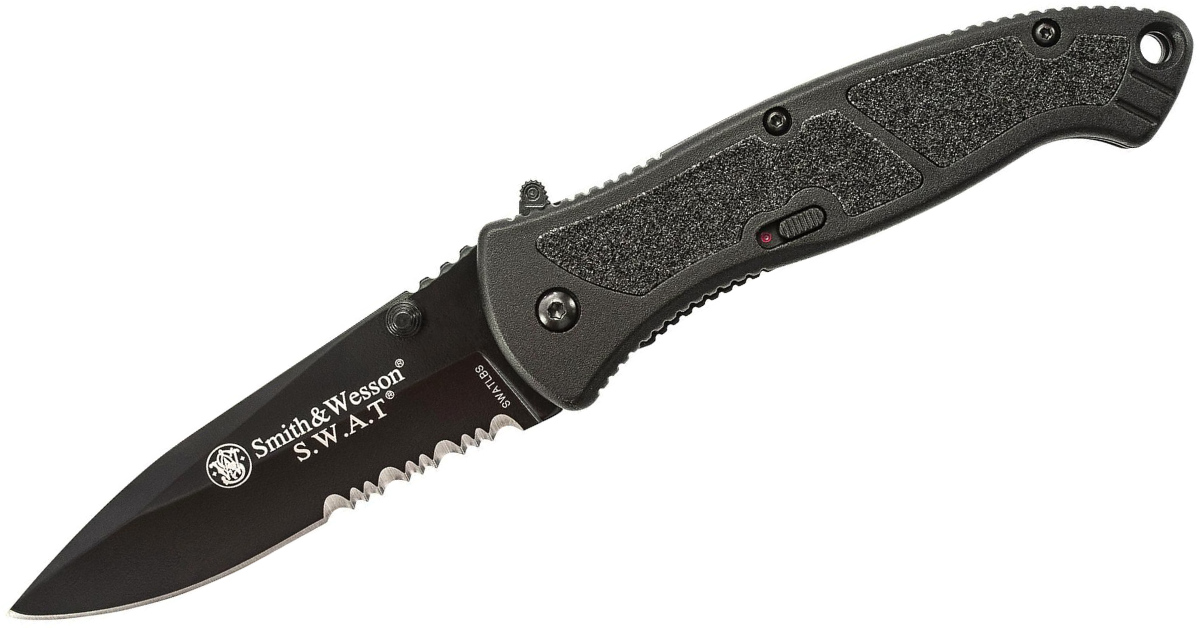 The SWAT series is an excellent line of knives with an assisted-opening mechanism that's integral to the series.
This model has a 3.7-inch partially serrated blade with a drop point that opens lightning fast with a thumb stud or flipper tab. There's even a safety switch to prevent accidental opening or closing.
There's not much to say about this one other than it's been popular for years and has been well-reviewed here at Knife Depot.

Smith & Wesson 6-Piece 8" Throwing Set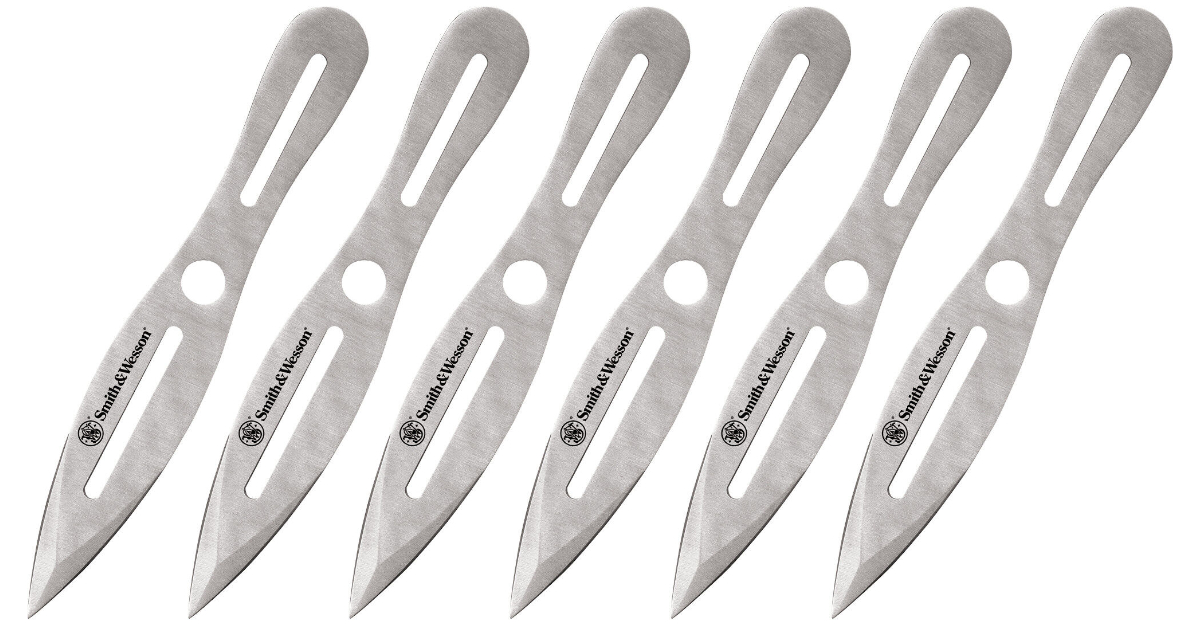 Here is something that might surprise you: Smith & Wesson makes some of the best throwing knives you can buy.
They make an excellent ultimate throwing knife set with axes, knives, and cleavers; they experiment with different throwing knife designs like the throwing cleavers; and they have different types of throwers like throwing cards.
But if you're thinking about trying knife throwing out, these throwing knives are just the ticket.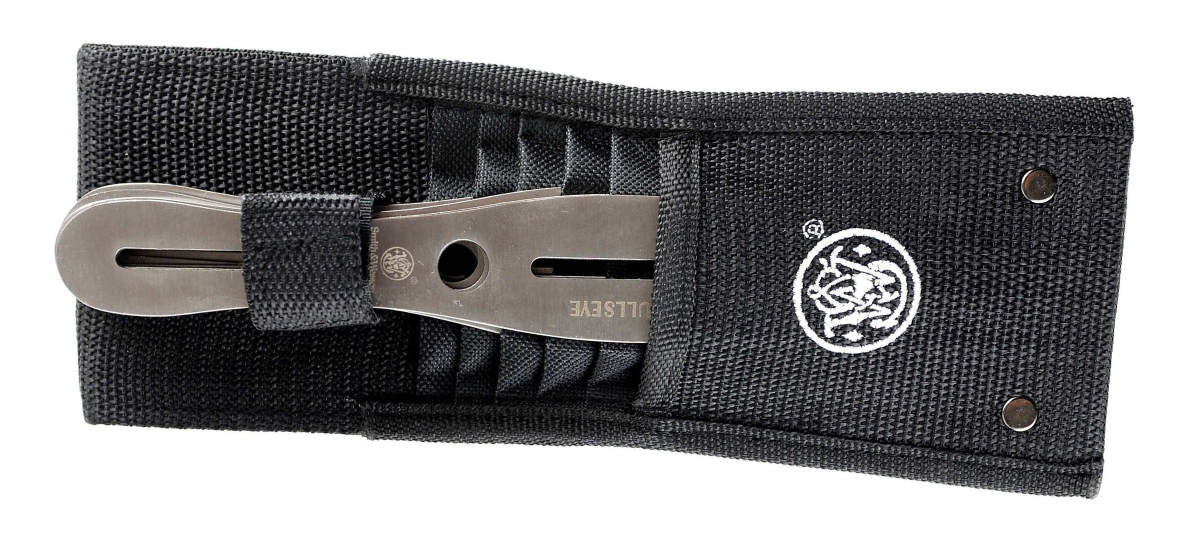 All six knives are 8 inches long, and they each weigh 4.7 ounces. But there's more to it than that.
When it comes to throwing knives, it's all about the balance. No amount of skill can overcome a poorly balanced knife. All six of these blades are well balanced to ensure accuracy.
Now all you have to do is learn how to throw.

Smith & Wesson Assisted OTF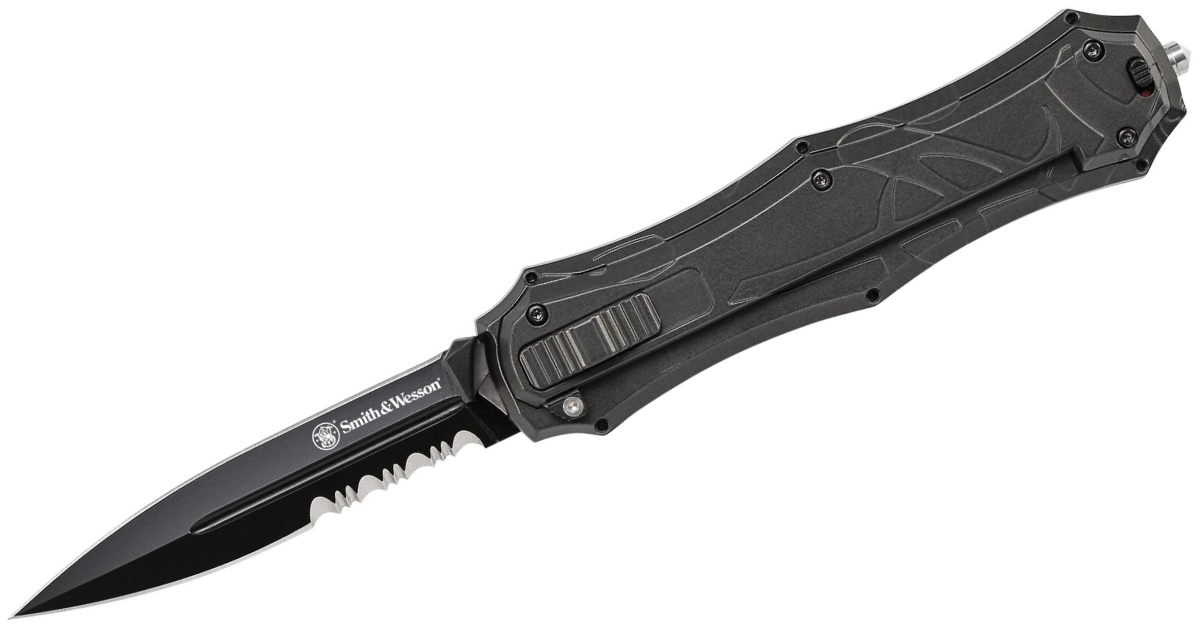 All out-the-front openers are automatic, right? Wrong.
Smith & Wesson managed to make an assisted OTF knife that's quickly become one of their top models. It has a 3.6-inch black-coated blade with a  partially serrated edge.
The black handle is made from aluminum. There's also a glass breaker for emergency situations.
The knife works by sliding an actuator beyond a certain point that then springs the knife open.

Smith & Wesson Extreme Ops Karambit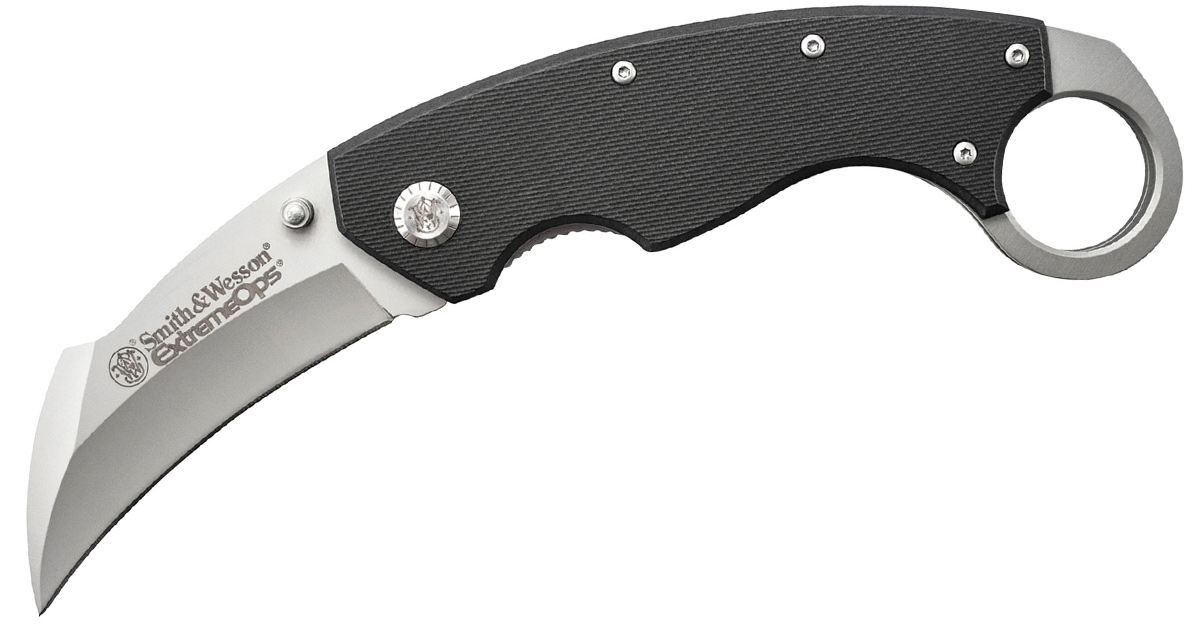 The karambit-type knife is a versatile little blade that's always a fan favorite. Its shape enables precision cutting for skinning and defleshing, which is always a plus.
But the karambit also doubles as a great multipurpose knife. It's perfect for self-defense and just about any other use a knife might have.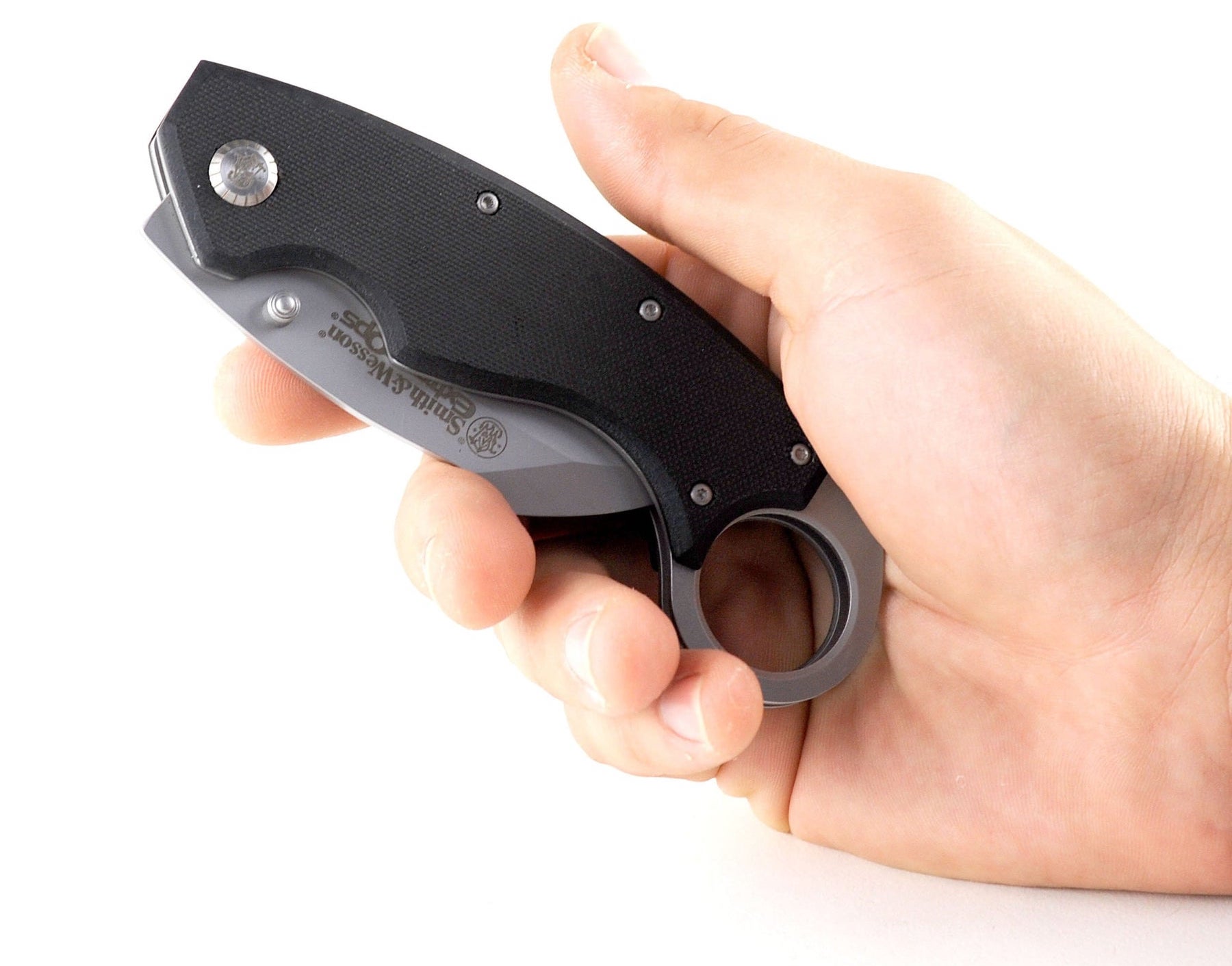 This particular karambit is manufactured of top-quality, high-carbon stainless steel, making it ideal for indoor and outdoor activities.

Honorable Mentions
Over the past few years, Smith & Wesson has been expanding its catalog to include far more everyday carry knives with less of a tactical focus.
Some of these knives might get a spot on this list in a few years, but they have to earn it.
Other knives that deserve mention include the Smith & Wesson Sideburn, Smith & Wesson Stave, Smith & Wesson M325 Revolver Knife, Smith & Wesson H.R.T. Boot Knife, and Smith & Wesson Border Guard.
So if you're in the market for a Smith and Wesson blade, check out our inventory to find what you're looking for.