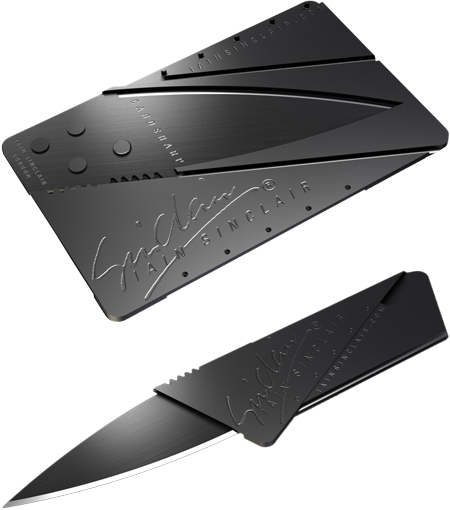 A design company has created an amazingly unique folding knife that's the size of a credit card.
Known as the "Cardsharp" by the company Iain Sinclair, the new creation is billed as a superlight and supersharp utility knife.
When the knife is closed in its disengaged position, it's the exact shape of a credit card, but when it's opened, the knife features a sharp blade smaller than three inches long.
While the concept might sound a bit campy, the pictures make the whole thing look very cool.
The website lists some of its uses to include camping, fishing, utility, cooking, medical, emergency services, medical uses, self-defense and others.
There are many reasons why this knife is impressive, such as the fact it weighs less than 5 ounces, is made from surgical stainless steel and is waterproof.
It opens up in three swift moves as demonstrated by the video below and one end of the "card" also folds to become a hilt that prevents your hand from sliding into the blade.
From the looks of it, the knife is probably not ideal for everyday or repeated use because the grip doesn't look comfortable at all, but it could be a useful knife to have in case of emergencies. For example, not only does the small knife fit safely into your wallet, but you can also store it in your car or lunch box.
If you're interested in this knife, it's going to set you back about $25.
To see how this design actually functions, check out the video below.