This post was originally published in September 2014 and updated in February 2019.
An old saying goes something like this: "Stars: they're just like us." Except for the whole money and fame thing, it's largely true.
Celebrities, like us, have their own obsessions and collection habits. While some celebrities collect really strange and impractical items (such as Johnny Depp's disturbing Barbie collection), some are reasonable people who, like many of you reading this, collect knives.
A surprising number of celebrities are really into knives, including Keith Richards, Steven Seagal, Ziggy Marley, Wayne LaPierre, Kid Rock, and Pamela Anderson, but the following are among the most notorious and well-known knife collectors.
Sylvester Stallone
We're all familiar with John Rambo's love for awesome knives, but the man who plays Rambo is equally enthusiastic about knives. Sylvester Stallone has been a big collector of knives for a long time and continues to be one to this day.
I'm not sure if it's Stallone's influence or just the movies he acts in, but Stallone always manages to get some amazing knives into his movies, such as a Spyderco in Cliffhanger, the unique Herman Schneider knife in Cobra, and, of course, the Lile Rambo knife.
Some of the knives he's collected over the years come from the very best, including Bob Loveless, Bill Moran, Jimmy Lile, and more. Apparently, Stallone has a pretty epic wall of knives in his home.
Ted Nugent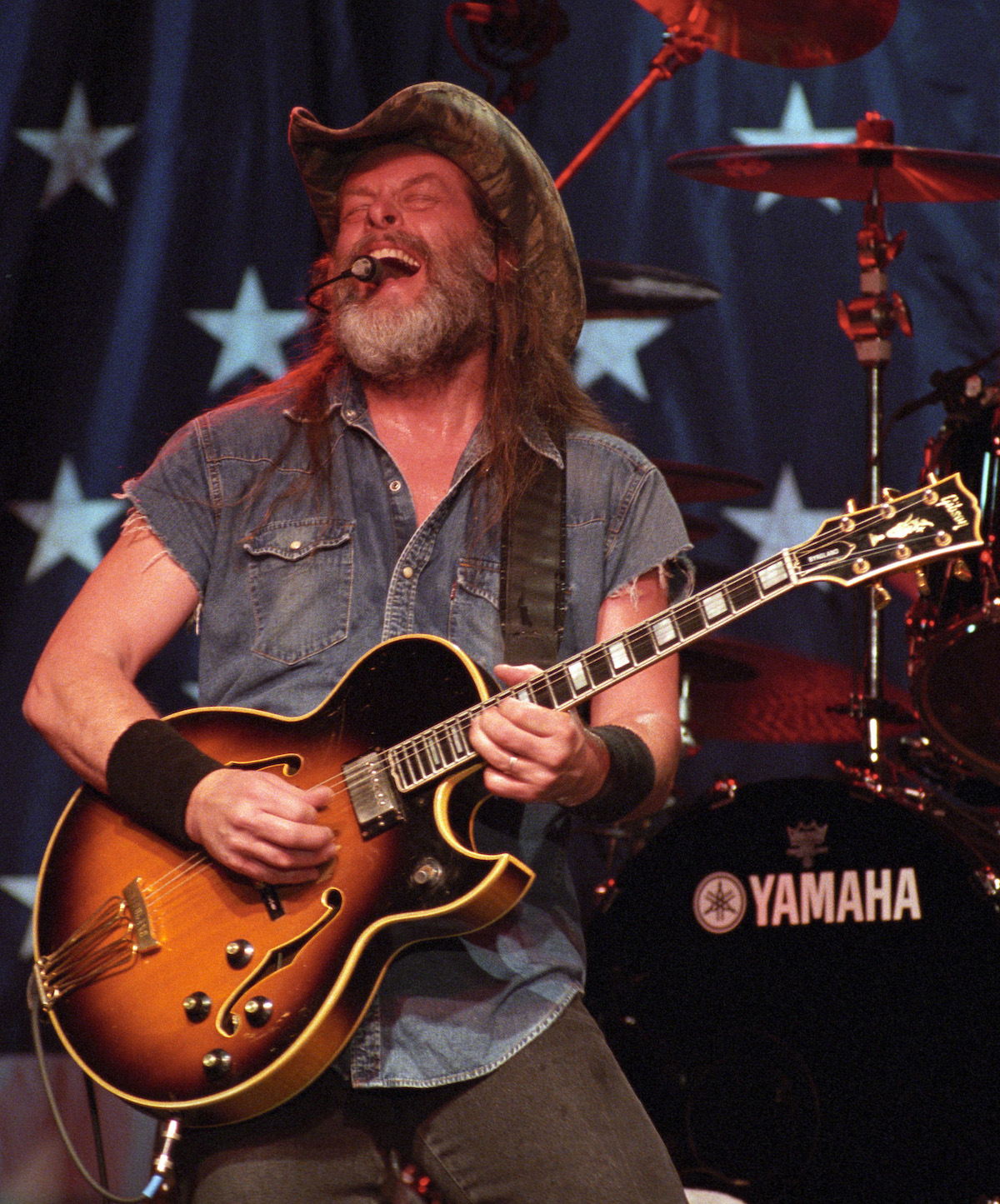 Once upon a time, the Nuge was famous for being an amazing guitar player, but now Ted Nugent is probably more well known for his antics and conservative beliefs. He's always been a collector of knives and has ingratiated himself with many manufacturers.
At one point, there was a Ted Nugent signature edition of the Kershaw Leek and one or two Ted Nugent Swiss Army knives from Victorinox. More recently, Buck Knives signed Nugent to be an ambassador for the brand.
I couldn't find much more info on what knives are in his collection, except that Outdoor Edge knives are among his favorites, but you can't question his knife bona fides. In addition to being a part of several knife brands, he's also a supporter of Knife Rights.
Tim Duncan
Tim Duncan seems like he's one of the most down-to-earth guys you could ever meet. He was always quiet and focused when he used to play for the San Antonio Spurs. But when he's off the court, he appears to be just like you and me. Along with being a huge fan of video games, Dungeons & Dragons, and Renaissance fairs, Duncan is also a well-known collector of knives.
I haven't been able to find any specific information on the types of knives he collects, but his old bio used to say he has a rather large knife and sword collection with at least one 3-foot samurai sword.
Nicolas Cage
From one of the most normal guys, we move on to one of the weirdest. I've shared this story on the blog before, but I was an extra in a movie with Cage and when the cameras were off, he would sit in his chair and act insane. The man may be out of his mind, but he's a huge fan of knives.
He's collected knives from Ken Onion, Gil Hibben, and countless local knifemakers. A few years back a story about him buying a $2,000 knife with a mammoth ivory handle made the rounds because he casually used the knife to cut steak. That's not the first example of him buying a nice knife only to use it on food and it likely won't be the last. Hey, if you have the means and the love for knives, why wouldn't you cut every steak with a great knife?
You can find a lot of anecdotal evidence on Blade Forums about Nic Cage buying knives from local shops and knifemakers.
Steven Tyler & Joe Perry (of Aerosmith)
We've lumped Aerosmith's Steven Tyler and Joe Perry together because they're both equally obsessed with knives. They're probably some of the most fanatic knife enthusiasts around. These guys have bought knives from numerous custom knifemakers (Steve Hill, Ken Onion, Darrel Ralph, to name a few), and they're certainly no strangers to knife shows.
Steven Tyler is frequently seen carrying a knife wherever he goes, and knives were always part of his wardrobe when he was a judge on American Idol.
In the comments, Steve Hill even said that Joe Perry bought one of his neck knives from a store and gave it to Johnny Depp.
Axl Rose
Speaking of Steve Hill, he also said that Axl Rose from Guns N' Roses has a few of his custom pieces. That made me look into whether Rose is a collector as well. Lo and behold, he is!
There are many stories of Axl Rose and knives, including a story in Rapid City Journal in 2016 saying that he bought 13 custom knives from Rod Watts.
There is also this picture of a young Rose with a  knife clipped to the outside of his pocket (what's with that anyway?):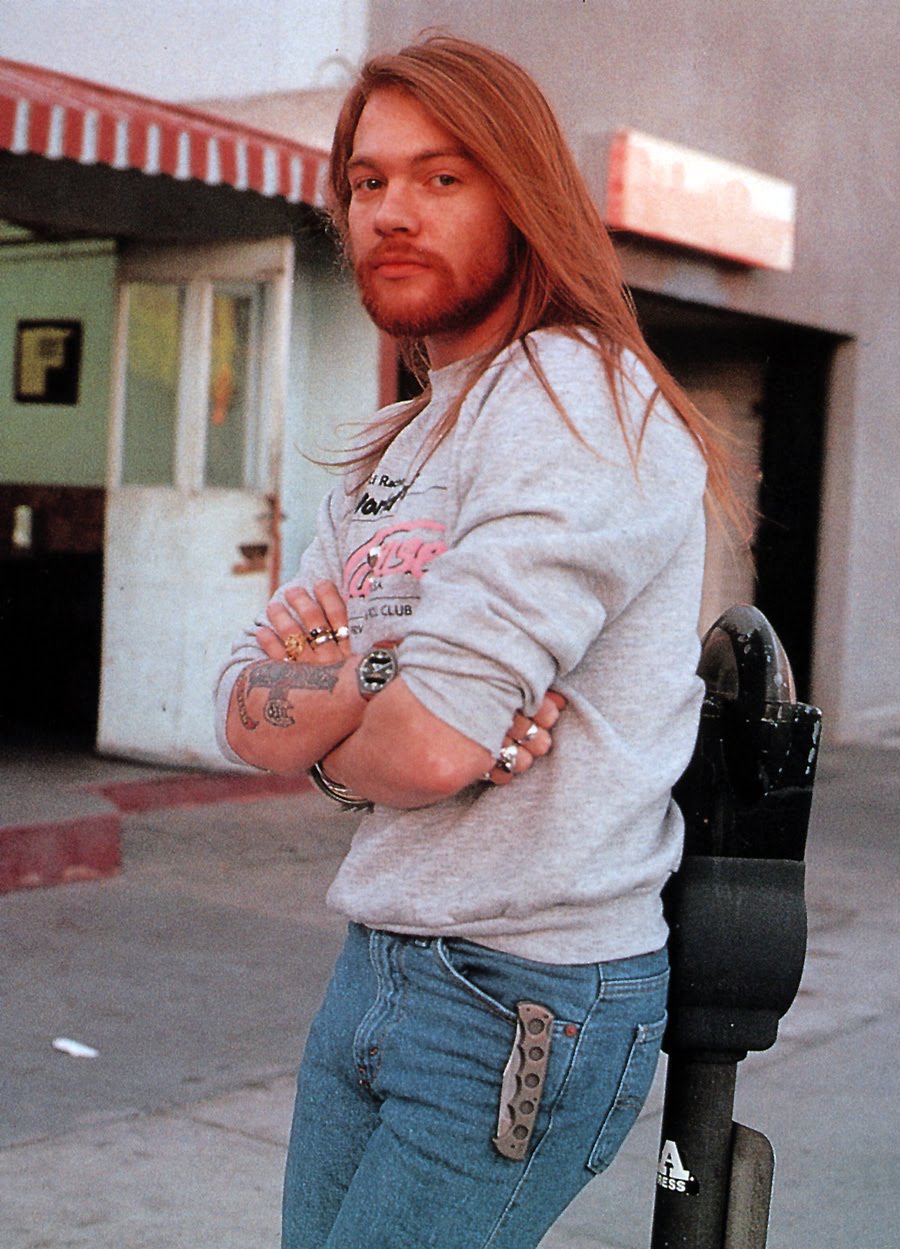 He has what appears to be an old Buck Titanium knife, which was the Overall Knife of the Year at Blade Show in 1987.
I'm sure many more of these old rockers from back in the day enjoyed a good knife or two and may even have a collection. Others include the late Steve Ray Vaughn and Brian Johnson from AC/DC.
Angelina Jolie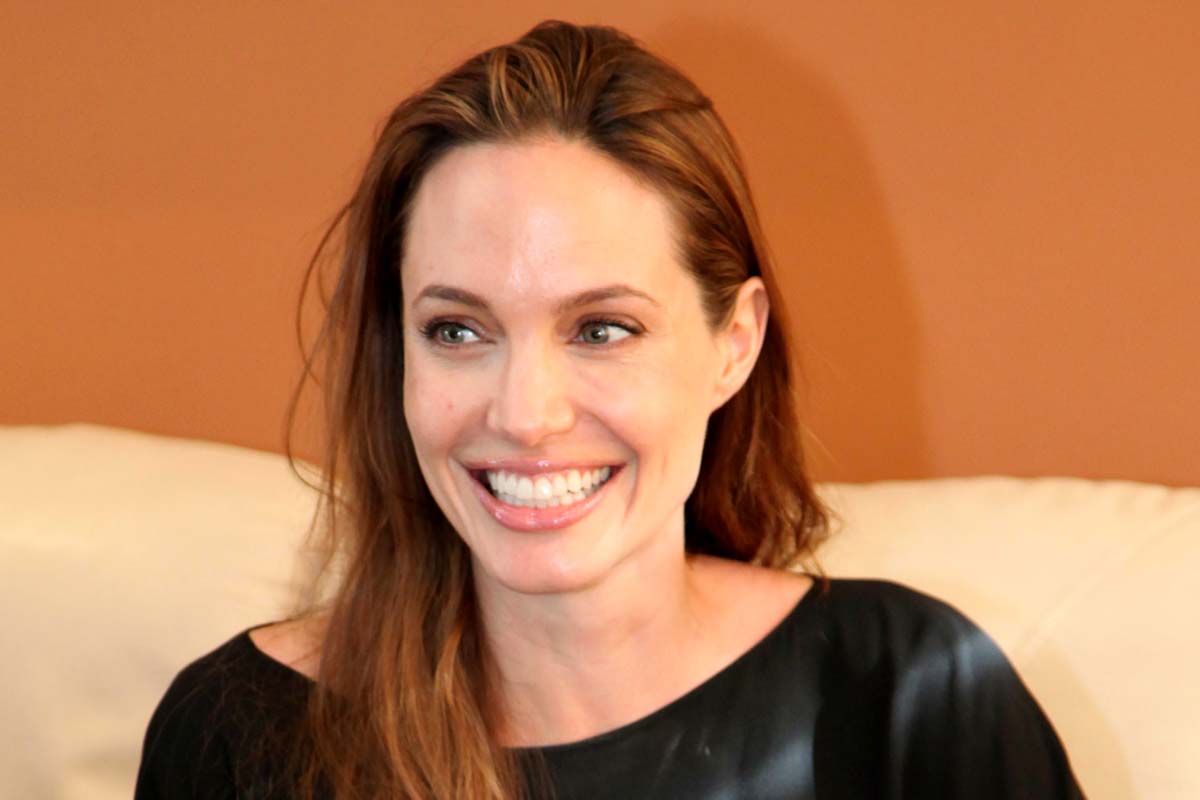 These days Angelina Jolie is best known for her work as a philanthropist, but even just a few years ago, she was a well-known knife collector.
Countless articles have been written about her "strange" obsession with collecting knives, but her appearance on Late Night with Conan O'Brien showing off her butterfly knife skills remains popular. The video below shows her in action and talking about why she loves knives.
She said ever since she was a little girl she was fascinated by knives, and it appears her fame has only made it more possible for her to collect knives. She's also really into knife throwing after learning for the Tomb Raider movie.
Joel McHale
If you've read this blog before, you already know that Joel McHale is a fan of knives. Last year, I wrote about how he likes to give celebrities knives instead of tote bags for appearances on his shows.
On top of that, he apparently Stans for Cold Steel. You know you're a big fan if you get your staff and crew Cold Steel Rajahs with your face on them.
There are some other stories about McHale and his knife obsession here if you're interested.
Anna Faris
Anna Faris is probably best known for her roles in the Scary Movie franchise, The House Bunny, and television series Mom. In a recent interview with podcast extraordinaire Marc Maron, Faris revealed that she has a sizable knife collection.
It doesn't sound like Faris is a fanatical knife collector her whole life but bought a robust knife collection from someone. She expressed an appreciation for a knife Maron had in his garage — a vintage Kershaw she says.
You can hear her talk about knives here around the 39-minute mark.
Shelley Berman
Comedian Shelley Berman died in 2017 at the ripe age of 92. For young people, he was best known for his work as Larry David's dad on Curb Your Enthusiasm, but he was actually a prolific comic who recorded several comedy albums that went gold.
According to a writeup about his life after his death, Shelley and his wife Sarah started collecting knives in the 1960s and did so nearly up to his death. In 2013, he even wrote a piece in the Wall Street Journal about custom knives. Here he is talking about Marc Maron in 2012 about his early interest in knives.
At one point, over 50 knifemakers worked on a one-of-a-kind knife and gifted it to him as a surprise.
Here is that knife from Blade Magazine:
Let us know if there are any worthy celebrities we missed.