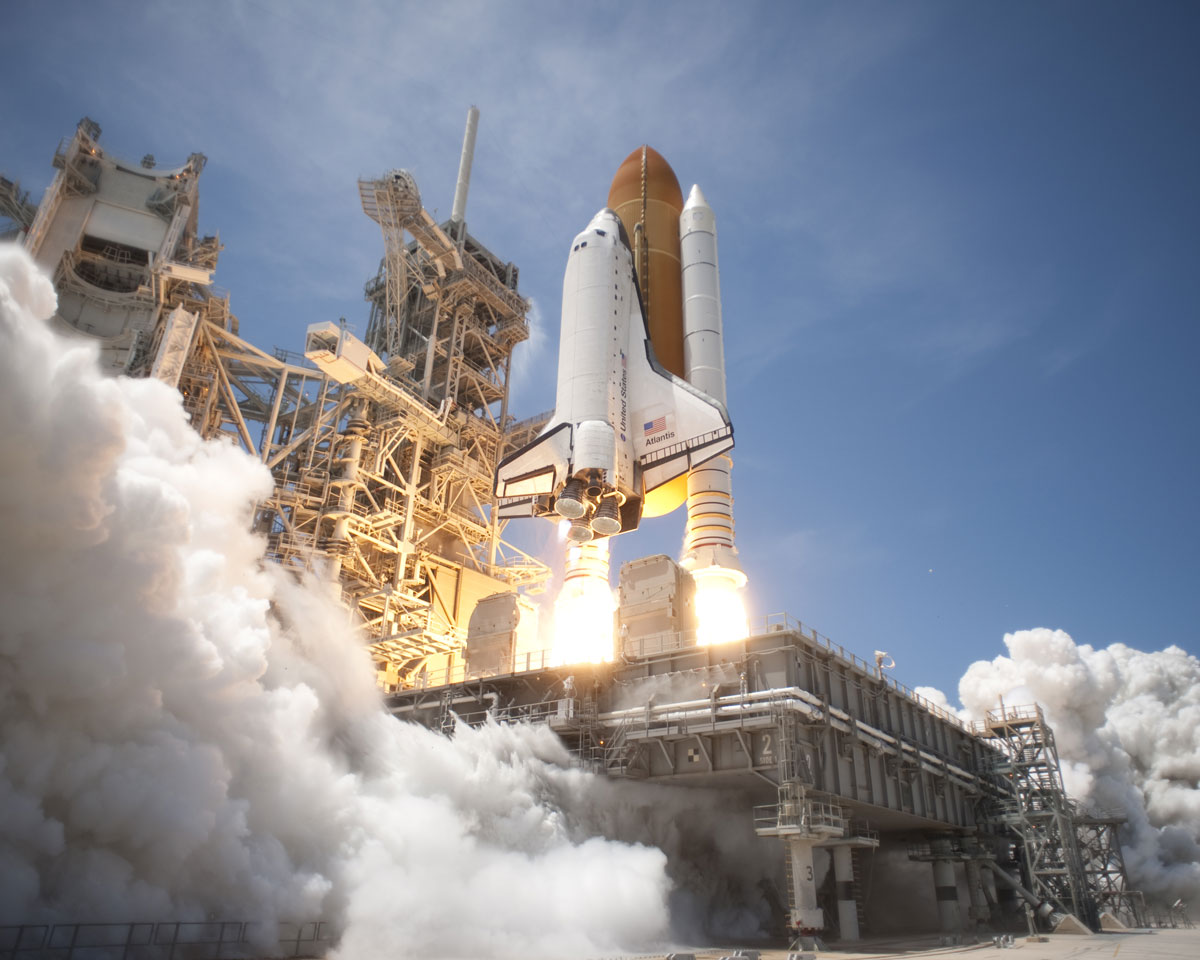 According to the aptly named website howmanypeopleareinspacerightnow.com, there are currently three people in space.
Although NASA retired the Space Shuttle program a few years back, there are still grand plans for sending people back to the moon and eventually to Mars.
In honor of the 50th anniversary of Apollo 11, when Neil Armstrong became the first man to walk on the moon (with Buzz Aldrin a close second), we thought it'd be interesting to take a look back at the knives that have gone into space.
Camillus Mil-K
Since the first people were sent into space, they have almost always had a knife within reach. I'm not sure whether the first man in space — cosmonaut Yuri Gagarin — carried a knife (though I'm sure he did). However, we do know what the first American man carried into space.
According to the Smithsonian National Air and Space Museum, Alan Shepherd carried the Camillus Mil-K Demo Knife in his kit during the United States' first manned mission to space on May 5, 1961. This was the US-equivalent of the classic Swiss Army Knife made by Victorinox. The version Shepherd carried had a tang stamped with 1959.
Unfortunately, Camillus filed for bankruptcy in 2007 before being bought out by Acme United.
Randall Made Knives Model 17 Astro
This knife has one of the coolest stories. At the time, NASA had this philosophy that if something didn't exist, it would simply make it. The team needed a survival knife for emergencies and couldn't find one suitable for them. So astronaut Gordon Cooper and NASA doctor William Douglas reached out to Bo Randall of Randall Made Knives to create a special design.
The result was the RMK Model 17 Astro.
This knife was carried on many missions into space, including the first US-manned mission to space. John Glenn also carried one in 1962.
On the second manned mission to space, Gus Grissom had one of these knives on the Liberty Bell 7 in July 1961. However, the spacecraft malfunctioned when it landed in the ocean and started to sink. Grissom was able to escape, but the spacecraft and knife sank nearly 16,000 ft.
It wasn't until 1999 was the craft recovered. Surprisingly, the knife was well-preserved despite being in saltwater for 30 years. A story in the October 2000 issue of Blade Magazine detailed the awesome story.
Here is an excerpt:
Without a doubt, Randall knives have visited some strange and interesting places over the years but none can surpass the journey of this one. In 1961, it attained an altitude of 118.3 miles above the earth, traveled at 5,168 mph through space, experienced 11.1G zero gravity and then spent 38 years 16,000 feet beneath the ocean's surface.
Here is the knife covered in muck: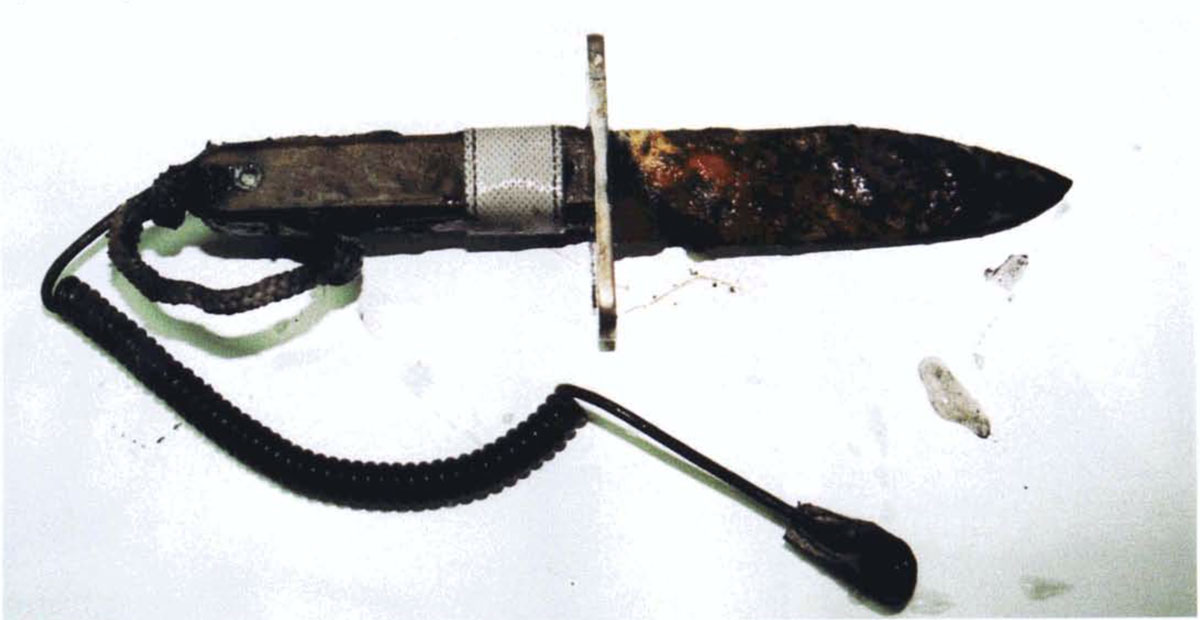 See this for a look at the knife once it was all cleaned up.
I believe less than a dozen were actually made by Randall for the astronauts but about 60 German-manufactured ones were made.
Camillus MC-1 Paratrooper
Even as switchblades were being banned on Earth, an automatic knife was being deployed into space as an emergency tool. Camillus got a second knife sent to space in the MC-1 Paratrooper.
I've had a hard time verifying this, but there have been reports of NASA ordering MC-1 automatic knives for its Gemini missions.
Aside from anecdotes, the closest I got to confirmation is an auction of a Camillus in 2015 that included paperwork from NASA that said the knife spent more than 25 hours on a mission in December 1965 aboard the Gemini 6. Silodrome had a story about it, but the auction has unfortunately disappeared from the internet.
This was the second part of the NASA documentation that talked about flight duration.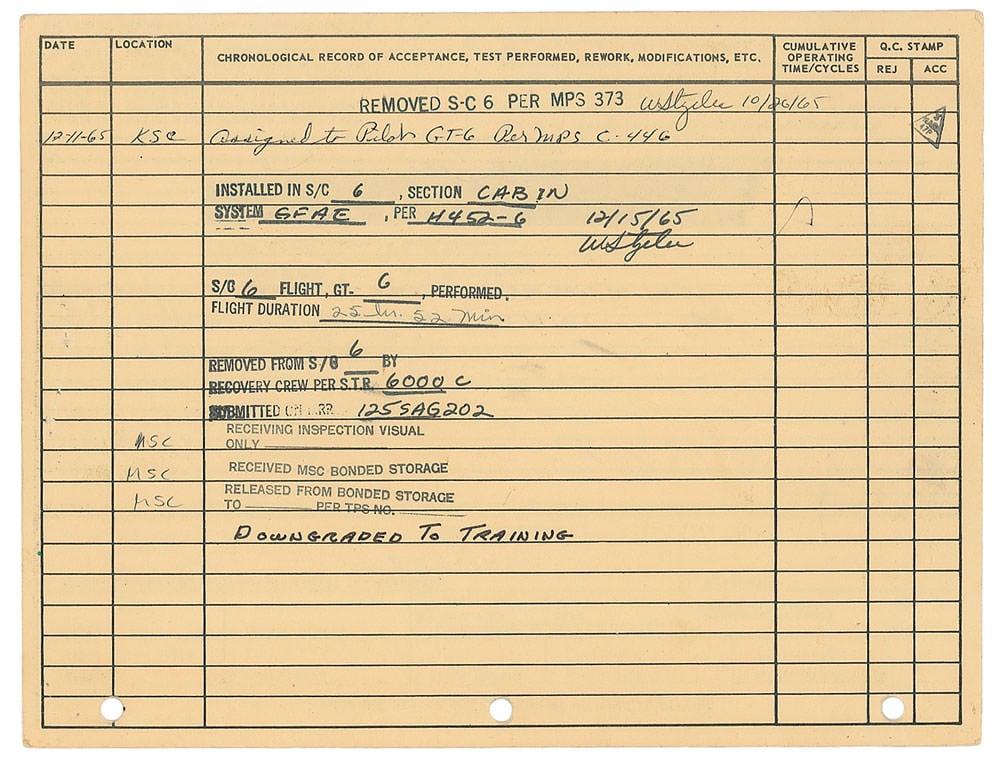 This model was designed for paratroopers to help them escape and featured a hook tool and a blade that springs open with a button.
Case Astronaut Knife M-1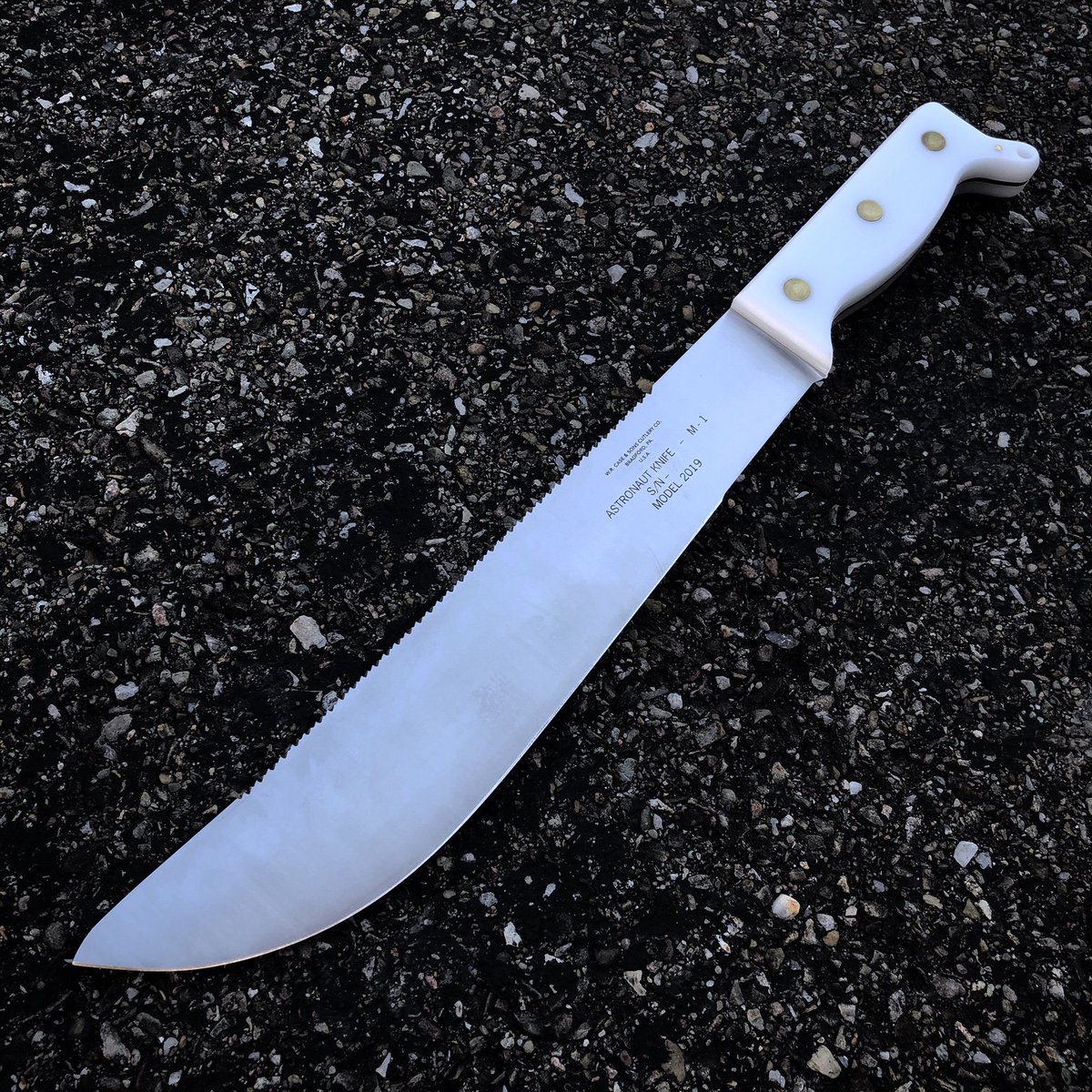 In 2019, Case decided to remake its classic M-1 knife designed specifically for astronauts. That's partly what inspired this article.
NASA commissioned Case to develop a survival knife for its Gemini and Apollo missions in the early 1960s. Here's more detail from a recent announcement from Case:
When other military knives did not meet NASA's criteria for the start of the Apollo program, the organization commissioned Case to create a knife to their exact specifications. The original Case Astronaut Knife M-1 was designed to be lightweight and featured a sharp cutting edge partnered with saw teeth on the back side. The blunt base of the knife's blade was capable of prying items from terrain. The handle was made of an ultra-lightweight synthetic which was found to withstand a hard impact without shattering. It also exuded no fumes, a feature that was critical to maintaining the purity of the air quality within the spacecraft.

The knife's most practical applications can be derived from its stowed location inside the ship's Command Module, where it resided with other essential gear as part of a survival pack. The items inside were to be used in the event the capsule splashed down off-course after re-entering Earth. In all, the Case Astronaut Knife M-1 traveled to the Moon and back nine times from 1968-1972 as part of NASA's Apollo program.
The knife was part of a survival rucksack and had a cool aluminum sheath.
Case has a commemorative version for 2019 only.
Soviet Cosmonaut Survival Machete
The Russians also had a survival kit of their own. The highlight of their kit was a triple-barreled survival pistol with a machete that could fit into the pistol grip.
The survival machete carried by cosmonauts had a 9-inch triangular blade with a removable black rubber handle. I am not absolutely sure, but I believe the machete could be fitted with the TP-82 survival pistol carried by the astronauts.
You can still find these for sale around the internet on the right day. The one in the picture above is from another auction.
Victorinox Master Craftsman
It's a safe bet to assume a Swiss Army Knife has been on many missions to space. One of the exact models is likely the Victorinox Master Craftsman.
Here is some info from SAKwiki:
In late 1978 NASA bought 50 knives from Victorinox, presumably Master Craftsman models, for their Shuttle personnel. These were plain scaled versions with no special name or designs on the scales. Victorinox later started producing this same model calling it an "Astronaut". These were produced from 1986 until 1991. Being pre-1991 models these versions had no Hook or Chisel.
However, I know for sure that the Victorinox Astronaut (or an early version of the Craftsman) was sent to space. How do I know? This picture:
That's Claude Nicollier and Steven Smith floating on the Discovery with a 20th anniversary Apollo 11 "Astronaut" model next to them.
There's also this classic ad from Victorinox:
There's also that great story from astronaut Chris Hadfield about the time he arrived at the Mir space station in 1995. They couldn't get the hatch open because the Russian engineers sealed the doors a little too well.
Here's what Hadfield wrote in his book.
"So we did the true space-age thing: we broke into Mir using a Swiss Army knife. Never leave the planet without one."
Emerson NASA SpecWar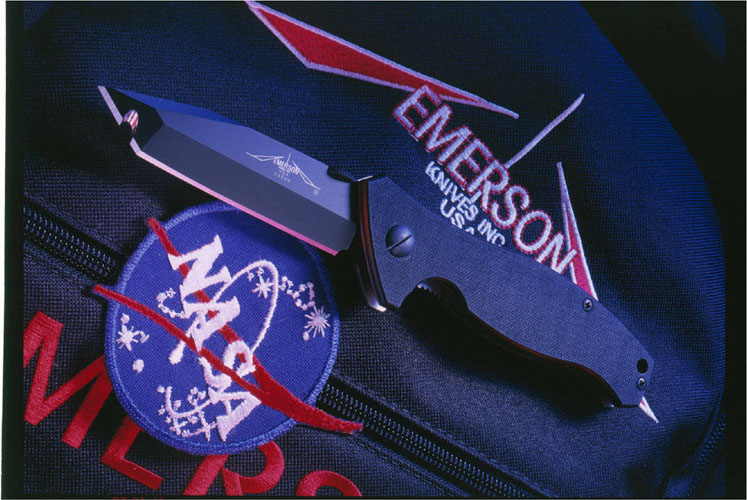 In 1999, Emerson Knives was contacted by NASA to make a knife for astronauts in the Space Station program.
Here's more from the old Emerson website:
Working to a set of parameters and duties as defined by both the astronauts and engineers at NASA, several designs were considered and built. However, after a lengthy debate, a unanimous decision was reached, that the already existing design – The SPECWAR – fit all the requirements for size, weight, materials, strength, and ergonomics. The only change was to the front of the tanto style blade. The addition of a reverse hook was needed to facilitate opening food kits and other sealed items as well as any emergency situation that might require slitting open clothing or gear.
I don't think the special NASA SpecWar was ever for sale for civilians, but it did get used by astronauts in space.
See for yourself:
Yup, that's a cosmonaut cutting a sausage in space with an Emerson. I'm a little disappointed the hilarious Pete from Cedric & Ada Gear and Outdoors on YouTube didn't do anything with that in his latest review of an Emerson knife.
This version had a notch in the blade for opening things — essentially a seatbelt cutter in the blade.
That's all I got right now. There have been other knives, including kitchen cutlery and even meat cleavers, but those don't get talked about much. There was also a knife used on a spacewalk a few years back that remains unidentified.
I'd be curious what knives they plan on using in future space missions. Spyderco and space seem like they would go together swimmingly. I'm sure Spyderco would be happy to oblige if this image from the 2010 catalog is any indication: