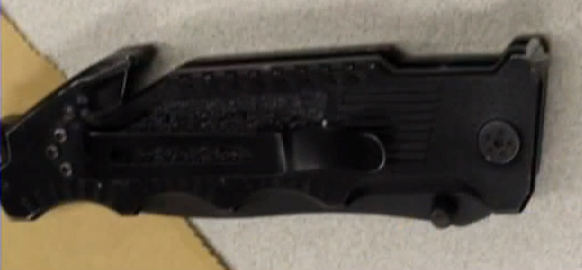 We've seen some pretty amazing ways knives have been used to save lives, including everything from cutting kids out of burning vehicles to sawing off limbs to escape certain doom. Still, some of the most impressive ways knives save lives are unintentional.
When Deputy John Capriola and his partner responded to a call in Fresno about shots being fired on the evening of Dec. 23, he never expected his knife would save him the way it did.
As they were searching for people who were recklessly shooting in the area, the sounds of gunfire became louder and more intense. Here's what he told ABC news:
"I could hear it coming right towards me," said Capriola. "It sounded like a laser and it hit me in the right leg and knocked me off my feet."
After he took cover from the gunfire, his partner checked him for wounds. When they realized no blood was coming out of where he was shot in the leg, Capriola took the knife from his pocket and saw it was dented at the end.
Here's more from his interview with ABC news:
"I pulled out my pocket knife, a big chunk was missing," said Capriola. "The bullet hit my knife."

The perfectly placed knife was in his right pant pocket and blocked the impact.

Capriola added, "One inch to the left, one inch to the right or up or down and it would have been a different story."
This doesn't really qualify as a knives save lives article because it probably would have simply injured him, but he's still lucky he was able to spend his Christmas with his family instead of recuperating in the hospital or worse.
The police arrested the shooters for "carelessly using military style guns" and Capriola was able to go home with nothing more than a bruise and a dented bullet in his pocket.
At the end of the day, luck is yet another compelling reason why you should always carry a knife. You never know what might happen.
Watch the interview with Capriola at the ABC news site.