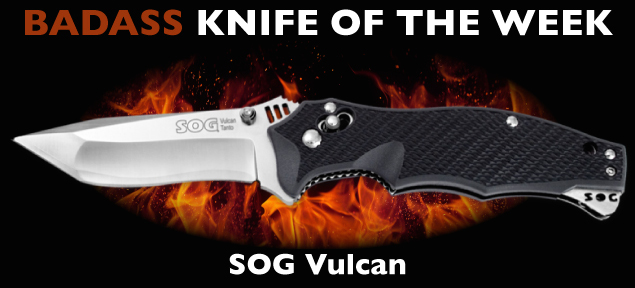 The legend of Vulcan, the Roman god of fire, has him manufacturing the finest steel weaponry for his fellow gods and heroes with an emphasis on craftsmanship, which is why Vulcan makes such an apt name for this week's Badass Knife of the Week.
The SOG Vulcan embodies two admirable attributes of the Roman god: formidable strength and quality craftsmanship. The knife boasts a 3.5-inch, VG-10 blade with a tanto-style tip and good-looking grind that could put even the most decorated warrior in a trance.
While the handiwork shines through the satin-finish blade, the strength and reliability of this folder is hidden in the ergonomically contoured handle. Made from glass-reinforced nylon, the handle is not only abrasion and impact resistant but it's also tremendously strong.
The knife, among the best sellers here at Knife Depot, features the Arc-Lock mechanism, which uses a pivotal block to keep the blade nice and secure when engaged. Even better, the mechanism is tested at over 1,000 lbs. of force, so you never have to worry.
If a knife's usefulness is dependent on the speed in which it can be deployed, the Vulcan is among the most serviceable. It comes with a blade kick deployment system, a flipper that allows quicky and easy one-handed opening in a split second.
With all this craftsmanship and technology already packed into the knife, the double thumb studs and reversible low-carry clip are just icing on the cake.
Want to know a little more about this week's badass knife? Check out the SOG Vulcan product page.
---