Gerber is back, baby!
OK, so it may be too early to declare Gerber officially back from the dead, but the recently announced Gerber US-Assist S30V is yet another step in the right direction for the much-maligned brand.
The first thing touted by the US-Assist product page is the fact that it's made in Portland, Oregon—the knife capital of the United States. Gerber is really trying to point out how some of its knives are made in the United States, especially after many people complained about the knives being made poorly overseas.
The US-Assist is a hodgepodge of quality knife features that have the potential to make an excellent knife. This assisted-opening knife features a 3-inch blade with dual-ramped thumbstuds. The knife uses something called B.O.S.S. Tech, which is a ball-bearing system that reduces friction and increases the knife's longevity.
Here is a breakdown of the technology: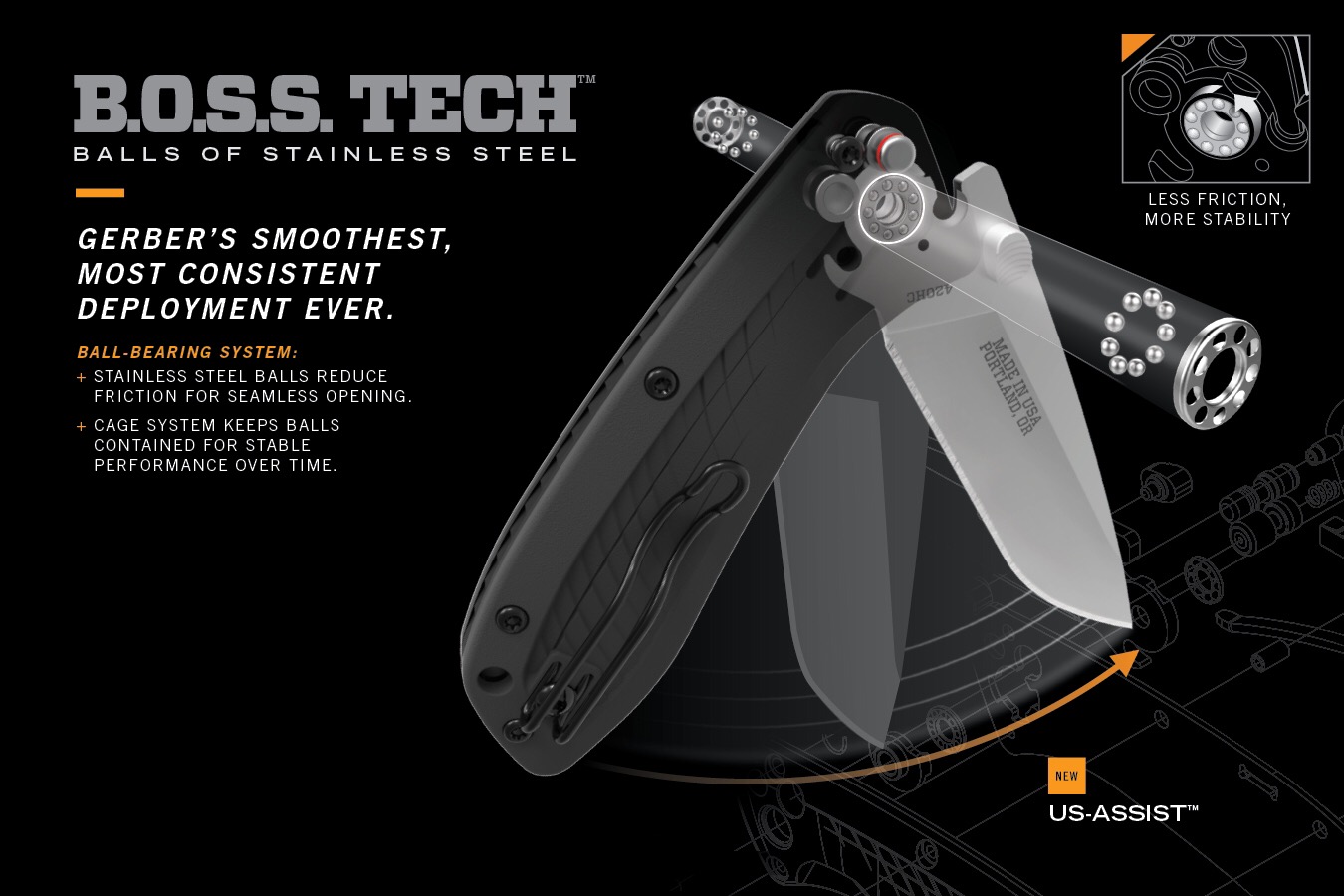 Having a ball-bearing system alongside assisted-opening technology sounds like overkill. Ball-bearing systems are usually reserved for knives without AO technology because it makes things quicker and smoother. Still, the company promises the two features will create "Gerber's smoothest, most consistent deployment to date."
Gerber has consistently been criticized for not naming the steel on its knives, and this is yet another step in the right direction. The US-Assist uses quality S30V stainless steel. It will also be released in 420HC stainless steel.
The knife uses a plunge lock with a cross-bolt safety device as a lock, and the glass-filled nylon handle scales look great. They could have used more expensive G-10 scales, but the similar nylon handle scales work well on the Benchmade Griptilian, so I'll hold off judgment until it's in my hand.
After the success of the Gerber StrongArm (a recent Badass Knife of the Week), it looks like Gerber is getting back on track. It may be hit or miss for a while, but as long as Gerber keeps prioritizing premium materials, US-made tools, and quality control, Gerber will rise out of its suffering reputation and regain its status as a truly great American knife company.
The US-Assist will be available in November. The MSRP for the US-Assist S30V is $119.00 and $99.00 for the 420HC version. The street prices will be much lower.