New knives are starting to come out from the big brands, and we should see more interesting new models at the upcoming Shot Show. Fortunately, we don't have to wait as Cold Steel made its 2019 product lineup live on its website.
Cold Steel has been at the top of its game the last few years — going from mall ninja jokes to praises from all walks of the knife community. (Though they still have fun with their ridiculous videos.)
This year proves to be another promising one for the Ventura-based knife brand. We should also expect more to be released in the coming months.
Here are just some of the ones we're most excited about. You can see all of them at the 2019 lineup page.
Cold Steel AD-15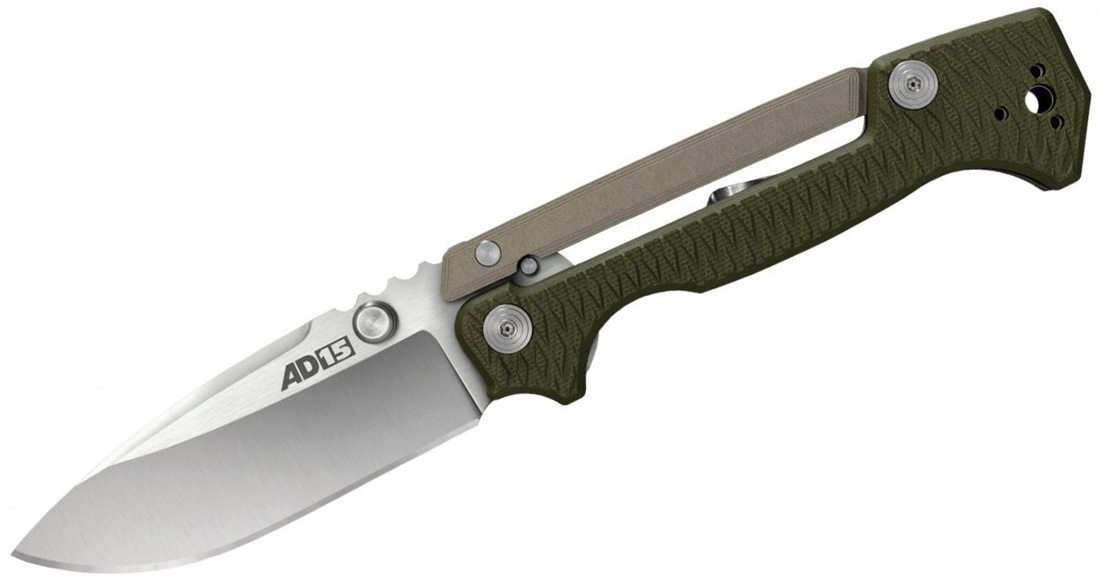 I'm not going to beat about the bush and put the most exciting models at the end. By far the most intriguing new Cold Steel is the AD-15. This knife is based off of Andrew Demko's AD-15. The Demko Knives version was a surprise hit that everyone seemed to love.
The highlight of the knife is the new Scorpion Lock that's so simple yet so effective. It almost reminds me of the Strap Lock designed by the Hawks. This model will have a 3.5-inch S35VN blade and come in at a robust 6.5 ounces.
MSRP: $269.99
Cold Steel AD-10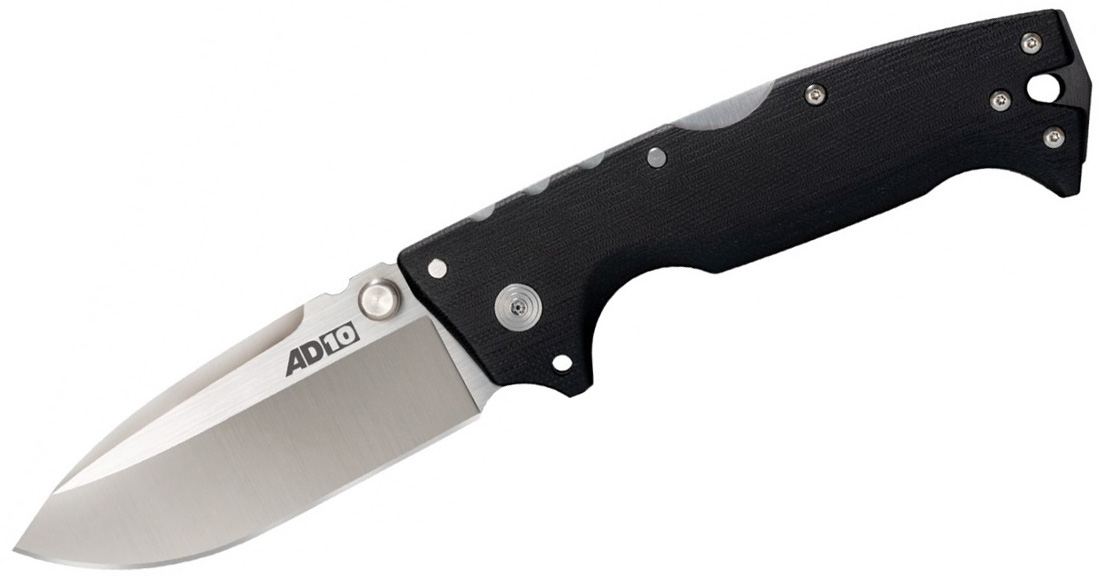 Cold Steel also picked up a second design from Demko Knives in the AD-10. This model shares a lot of design cues with the fierce 4-Max (also designed by Demko) but it's been toned down a bit. It has a 3.5-inch S35VN blade and G-10 handle scales.
The weight is cut down to 6.5 ounces (vs the 9.2 ounces of the 4-Max). But thanks to the Tri-Ad lock, the AD-10 doesn't sacrifice on strength or durability. This will become a formidable opponent for best working folder and a reasonable EDC.
MSRP: $239.99
Cold Steel Crawford Model 1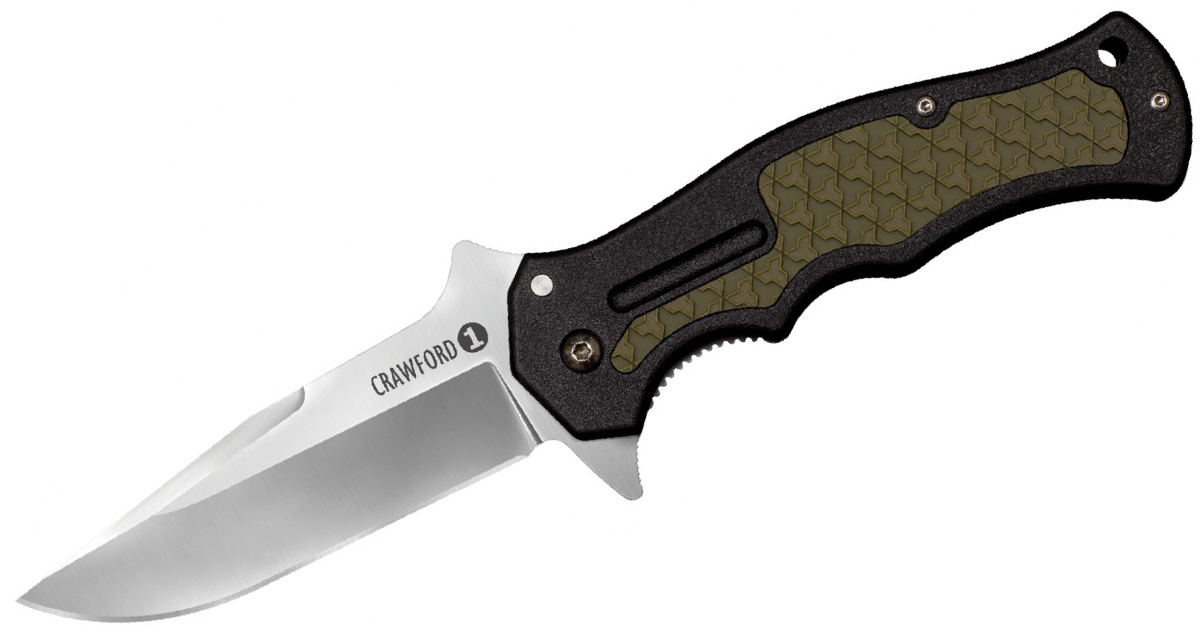 Father and son duo Pat and Wes Crawford have designed a number of great knives for CRKT. But Cold Steel picked up a Wes Crawford design loosely based on a custom knife. This knife is definitely more budget friendly than the first two but shows what can be done on a budget.
The 3.5-inch blade uses Japanese 4034 stainless steel (which is akin to the 420 series). It has a flipper integrated into the tang and GRN handle scales with inlays. It has a leaf-spring lock and a safety mechanism to keep it from shutting unexpectedly.
MSRP: $49.99
Cold Steel Chaos Bowie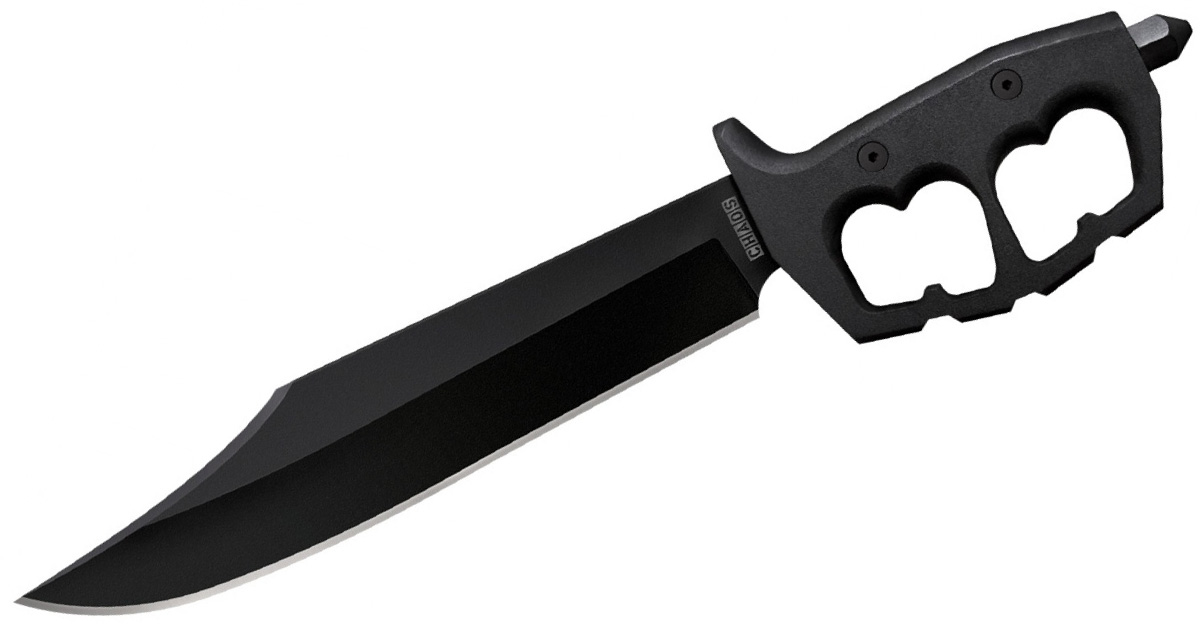 Cold Steel has made a few knives under the Chaos series, which take design cues from the trench knives seen widely in the World Wars. The Chaos Double Edge remains a best-seller at Knife Depot while the Chaos Kukri was recently discontinued.
Cold Steel is keeping at it with the new Chaos Bowie. It has the same guard and pommel as the others but with a massive 10.5-inch clip point blade made from SK-5 high carbon steel.
MSRP: $119.99
Cold Steel Wild West Bowie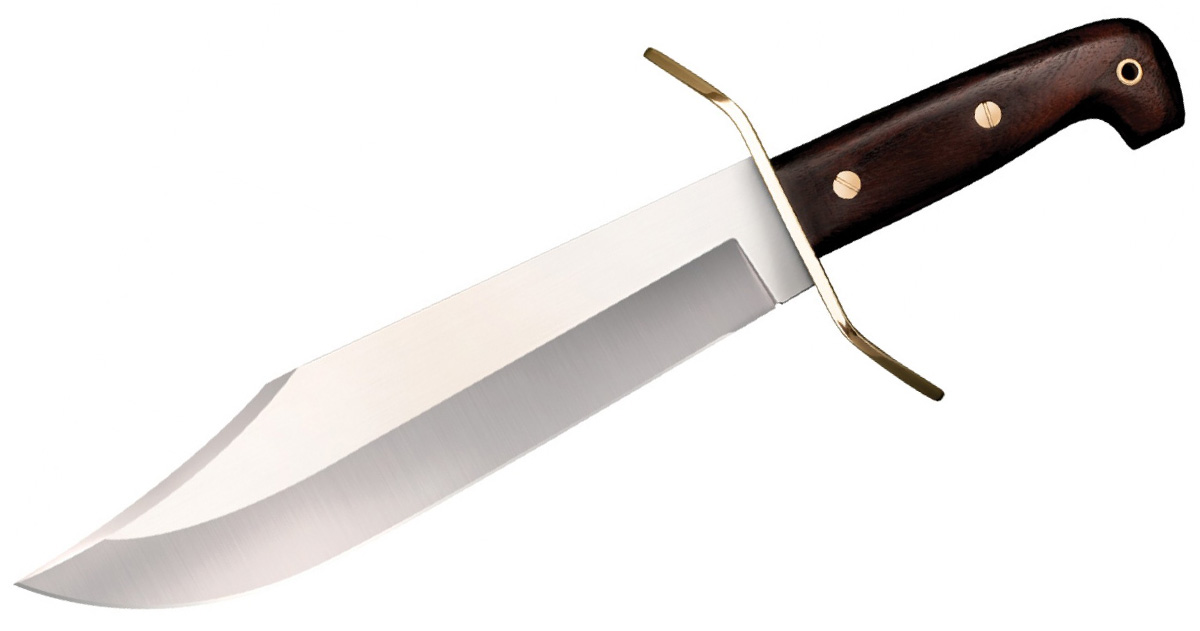 Another Bowie from Cold Steel? Yes, please. The Wild West Bowie is another version of the iconic Bowie knife. Whereas the Cold Steel 1917 Frontier Bowie looks like something you might see in World War I, the Wild West Bowie takes the look of a knife from the Wild West (duh!).
The blade is 10.75 inches of 1090 carbon steel while the handle is Rosewood. This is a great interpretation of the Bowie.
MSRP: $127.99
Cold Steel XL Espada G-10 (AUS10A)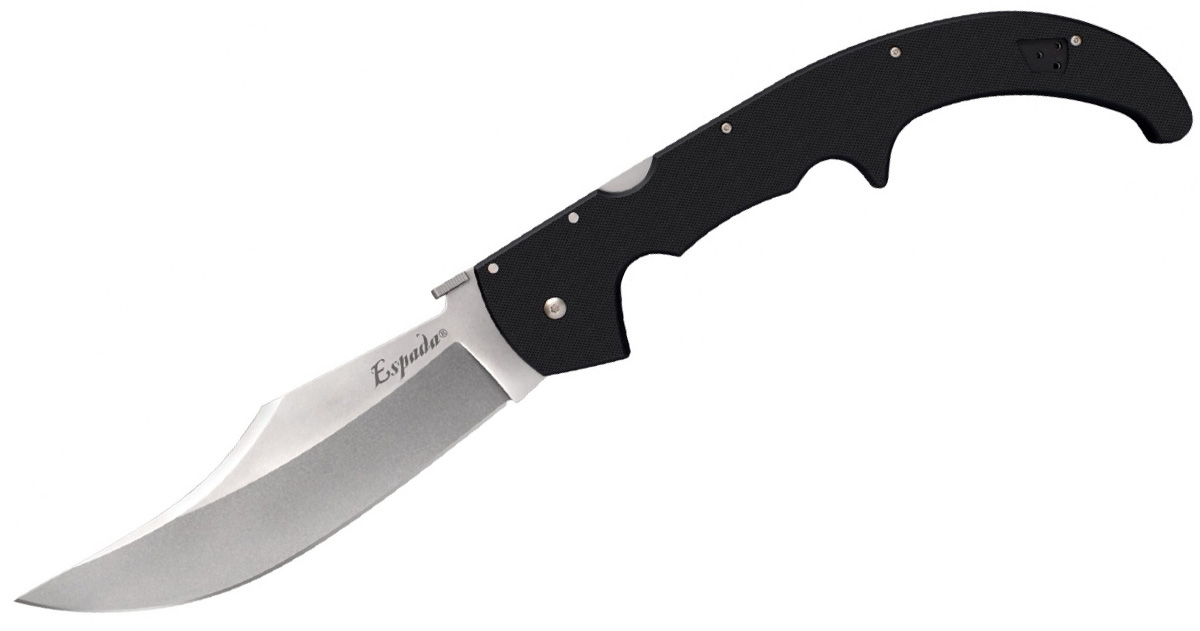 Unfortunately, Cold Steel announced that it was moving away from CTS-XHP and CTS-BD1 steel in its products. While most XHP knives were changed to S35VN steel, the Espada moved to AUS10A on its G-10 iteration. This means that the price has been slashed significantly.
The "new" AUS10A steel G-10 Espada now features a very reasonable price tag. For example, the XL Espada G-10 (AUS10A) with 7.5-inch blade is now only $299 MSRP, which can be around $180 street price. That's the cheapest and largest Espada you can get. The large Espada G-10 (AUS10A) with 5.5-inch blade is only $229 MSRP or around $140 street price.
MSRP: $299.99
Cold Steel AK-47 Field Knife (Stonewashed)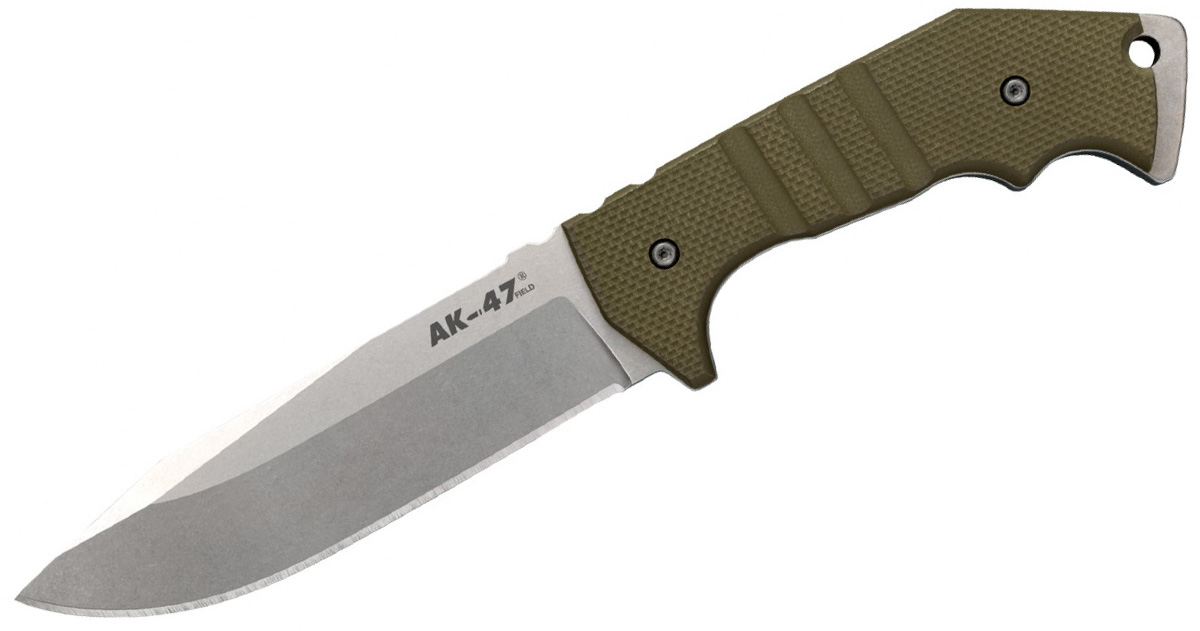 The AK-47 folding knife from Cold Steel is one of its top sellers. So they adapted the design into a fixed blade field knife meant to be a companion for military personnel. The blade is 5.5 inches of 3V steel with OD green G-10 handle scales.
Why is this version on this list? It has a stonewashed finish. So many people have been clamoring for finishes on knives other than the black DLC because we don't always want a tactical look. This — along with the new stonewashed version of the Warcraft — may spell a promising future for stonewashed finished blades.
MSRP: $234.99