With thousands of knives flooding the markets, it might seem like there's so much overlap out there that all knives start to bleed together. If you actually believe that new knives no longer have much to offer, you have a lot of studying to do.
Every year manufacturers and designers work hard to bring something new and exciting to the table. To better illustrate how new knives are still proving their worth, we thought it'd be interesting to take a look at all the winners of Blade Magazine's "Overall Knife of the Year" award since the start.
The winners of this award are voted by attendees of the BLADE Show and a panel of special judges. These knives are typically prototypes at the time, but show real craftsmanship, expert designs, beautiful construction, and much more.
The first BLADE Show took place in 1982. From what I could find, the first Overall Knife of the Year award was given to a Fight'n Rooster knife, though I couldn't pinpoint the model, so I didn't add it here.
Also, the show did not have an Overall Knife of the Year winner in 1983. If I am wrong, please let me know. So with that, let's start with the knife that won the award in 1984 and work our way to the present.
1984: Timberline Survival Hunter

(The image is of a skinner version of the knife made by Timberline's Vaughn Neely. These old knives are hard to find.)
The Survival Hunter is a design by Vaughn Neely, who founded Timberline, and was a beloved knife. You still see these vintage Survival Hunters for sale but they tend to go very quickly. Like I said, these earlier knives are difficult to find information on, but it also won the American Made Design of the Year in 1985.
1985: Gerber Clip-Lock

The Clip-Lock from Gerber was a Black Collins design that's now long discontinued. It had an unusual sheath design in that a clip locked it into place. Here is a quick video overview:
1986: Fight'n Rooster 7-blade Congress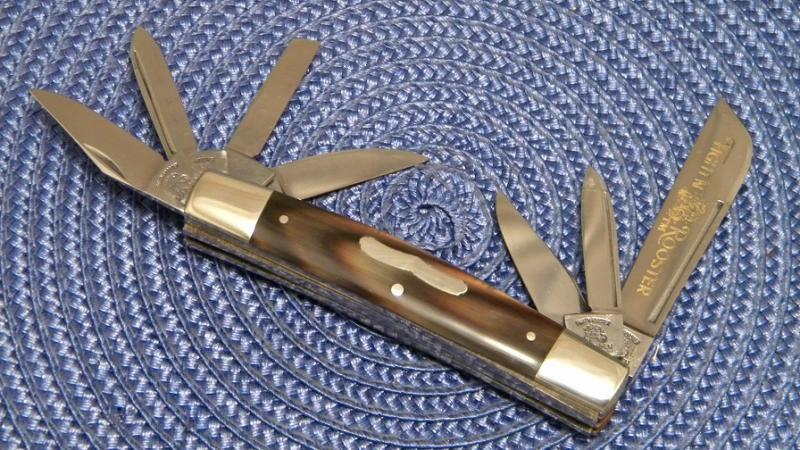 I'm honestly not too familiar with Fight'n Rooster Knives, but I was able to find out that the company was started in the '70s by Frank Buster. Most of them were traditional slip joint designs typically made in Solingen, Germany. This 7-bladed Congress was all I could find of the knife, but if it's not the correct model, please let me know.
1987: Buck Titanium

The Buck Titanium was an interesting design with a titanium handle and an overall design reminiscent of the Buck 110 Folding Hunter. It had a monstrous pocket clip, which you can kind of see in the image above. It had a back lock and was just a solid knife.