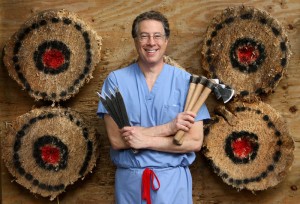 For anyone who thought knife throwing was only for die-hard outdoorsmen, you're wrong.
A record-breaking doctor known by many for his breast augmentation surgery also spends his spare time throwing knives for sport. What makes this even more amazing is that he's highly skilled at both.
Dr. Ted Eisenberg from Pennsylvania holds the Guinness World Record for most breast augmentation surgeries at 3,460, and he's won multiple awards during tomahawk and knife-throwing competitions.
A few weeks ago, I posted about how to become skilled at knife throwing, and this just goes to show that knife throwing is such an enrapturing and peaceful sport that nearly anyone who starts instantly becomes hooked.
For Eisenberg though, it took him a little while to actually get started. After being inspired by the Crocodile Dundee and James Bond movies, he asked his wife for a throwing knife as a present.
The first time he thew it at a tree, he told AOL news he felt so bad that he even "went and hugged the tree."
It wasn't until he was introduced to knife-throwing expert Joe "Brokenfeather" Darrah that he really got into it, and once he began practicing, he started winning competitions.
Eisenberg used the concentration and delicate skills needed during breast augmentation surgery and applied it to throwing knives.
Anyone who's been on the fence about whether to start throwing knives for sport should use this as motivation to get out there and start throwing. Not only is it a way to relax after a hard day, but it's also a way to become really skilled at something.
Check out the news video to find out more about Dr. Eisenberg.