Day 1 has come to a close at the Blade Show and we've checked out a lot of badass knives and met a bunch of awesome people.  Here are a couple of the highlights:
Creek Stewart, Survival Knife Expert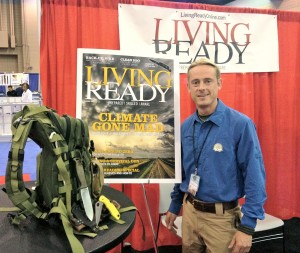 I started out the day chatting with Creek Stewart, survival instructor and author, about what he looks for in a survival blade.  Creek's survival knife of choice is the Blackbird SK5 from Ontario Knives, which he was sporting in a sheath from Paul Schaffer of Hedgehog Leatherworks.  In addition, he was carrying a Spyderco folder and a pretty burly leatherman.
Creek had tons of good tips on picking out a good survival knife for every day carry.  A couple of his fundamentals were making sure your knife is a fixed blade, has a full tang and a heavy duty pommel.
We're going to post a full-length interview with Creek later this week, but you'd be well advised to scope out his survival school in Indiana if you're looking for an awesome spot to brush up on your survival skills.
Corrie Schoeman, South African Custom Knifemaker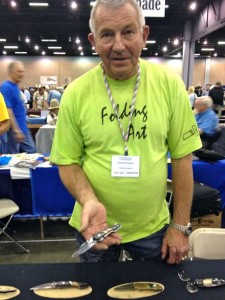 For over 30 years, Corrie's been making awesome knives and he showed us some pretty fantastic Damascus steel blades.  Corrie uses a lot of really exotic handle materials. Just from his knives on display, he had handles made of mammoth tooth, cape buffalo and (pictured below) kudu antlers. For those who aren't in the know, the kudu is an African antelope that, according to Corrie, can jump six feet in the air.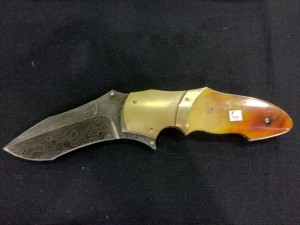 Red Blade Knives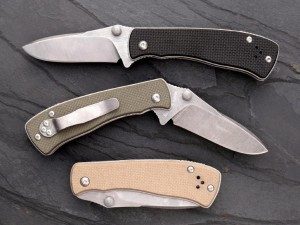 I was just kind of stumbling about lost in the frenzy of sheer knife power, when the Red Blade Knives booth caught my eye.  These are some of the burliest folding knives I've ever seen.  The pig ( pictured above) is 1/4″inch and made of CPM S30 steel, with titanium liners.
Red Blade Knives is run by Dan Rotbaltt, Robi Mukherjee and Sean "Griz" Coulter.  Rob, a veteran, said that one of the motivations for developing these knives was to create the sort of knife a solider would need, tough enough to take just about any sort of abuse. From a cursory glance, I'd say these blades are at that level.
That's my quick and dirty rundown from today's Blade Show.  Tomorrow, we'll be checking out a bunch of awesome seminars and covering the World Cutting Contest, so stop by for more updates.