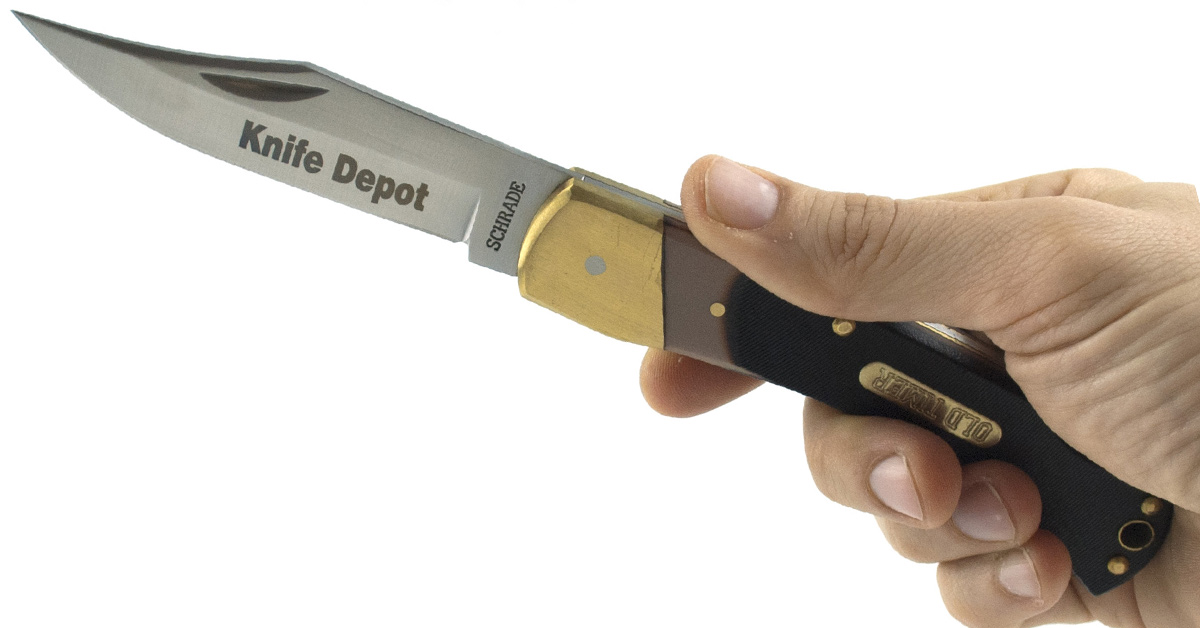 There's a lot to love about celebrations. The food, the mirth, the family. But it's not always fun and games.
Whether it's Christmas, a graduation dinner, a birthday party, or even a bar mitzvah, trying to think of a great gift is the worst.
Maybe I'm just biased over here (yes, this is a knife blog), but I honestly think that engraved knives make the best gifts.
Here's why.
1. The person will actually use it.
Let's start with one of the best arguments for a knife as a gift: it's functional! How many times have you given or received a gift that ends up stuffed deep into a closet or tossed in a drawer?
Now think of all the times you've pulled out your pocket knife in the last hour alone. If you're anything like me, it's a fair amount. I used it to open packaging from Knife Depot, cut a straw in half (a long story involving my son), and cutting up cardboard.
If you're worried the gift recipient may not be familiar with all the uses of a knife, share my look at 101 uses for the pocket knife.
2. You can find the perfect knife for any personality.
Since the knife has been around for millions of years, countless variations and designs exist. This means you can find a knife that matches up with the personality of the recipient.
If your dad is a lawyer, opt for a classy gentleman's folder. If your sister is going to college, get her a versatile pocket knife with some self-defense possibilities. If your buddy is an avid outdoorsman, pick him up a survival knife. If your mom has to clear some brush in her yard, grab her a machete. If your girlfriend cooks a lot, get her a chef's knife.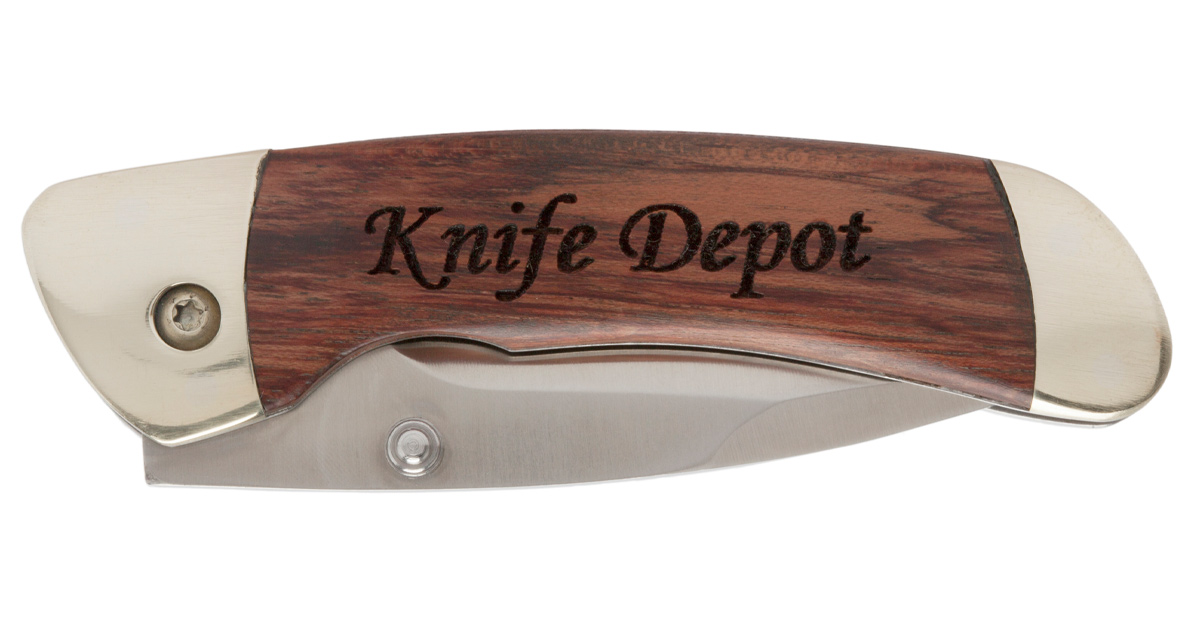 There are thousands of knives to choose from, so it's unlikely you won't be able to find the perfect match.
3. An engraving makes the gift personal.
I've been extolling the virtues of getting a knife but haven't yet talked about the kicker: a laser engraving.
A knife can admittedly feel impersonal and cold unless the recipient is already a knife fan. That's why Knife Depot has given people the opportunity to engrave any knife with a phrase of your choosing.
By putting an engraving on the knife, it instantly becomes more personal and meaningful. It's not just some piece of steel; it's an extension of your thoughts and sentiments. The only difficult part is trying to figure out what you want the engraving to say.
4. You can spend the amount you're comfortable with.
Next up is the cost factor. As stated before, there are thousands of knife models to choose from with prices ranging from $7 to, well, several thousand. This means you can pick a knife that falls within the price range you're aiming for.
If you have a Secret Santa budget of only $20, you can get a few good knives at or below that pricepoint, as I laid out in a recent post.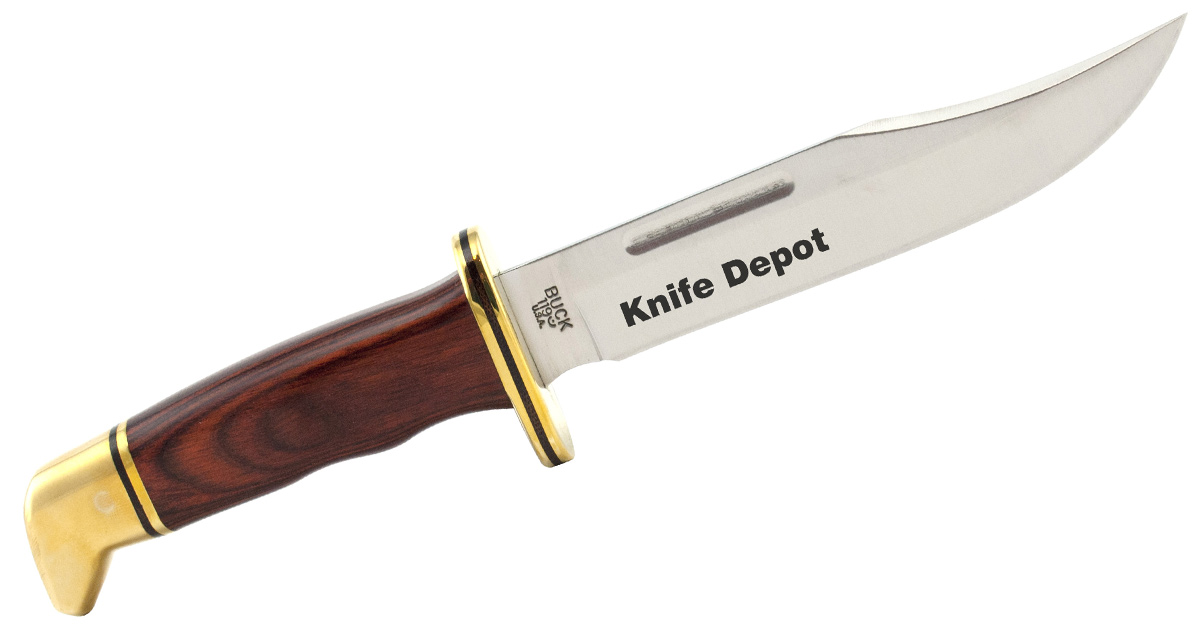 Some models even come in different versions—basic to super premium. Take a look at the Benchmade 940 Osborne. It's one of the best EDC knives ever made and comes in three tiers. The 940 is a base model, the 940-1 is a premium version with carbon fiber scales and better steel, and the new 940-2 is somewhere in the middle.
5. They work as gifts for any event.
It's tough having to think of a gift for every single holiday or celebration. You probably wouldn't give a "world's greatest dad" mug to your father on Christmas just like you wouldn't give one of those tin jugs full of popcorn for someone's graduation. You could, however, give an engraved knife on any of these occasions.
The reason extends back to the fact that there are thousands of knife designs. You can get a design that better matches the spirit of the celebration. On top of that, knives have different meanings. A knife given on Christmas could become an heirloom item while a knife given on a birthday could be seen as a rite of passage into adulthood.
If you're shopping for a gift, check out some of the Quick Ship Engraved Knives at Knife Depot.