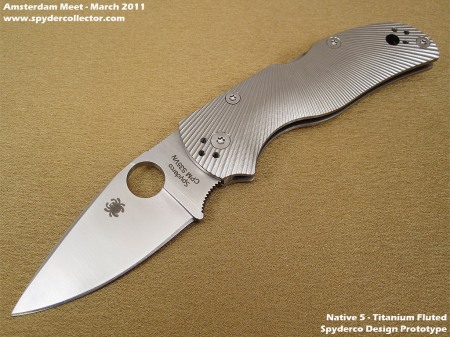 Back in June, BLADE Magazine held their 30th annual BLADE Show in Atlanta and there was a lot of action to report.
One of the traditions of the show is to give out awards to the best knives, knifemakers and more. While a lot of focus was on the "Overall Knife of the Year," which was a very beautiful Zero Tolerance 0777, another notable award is the "American-Made Knife of the Year."
This year, none other than the Spyderco Native 5 (Fluted Titanium) won the honors. As you can see from the prototype above, the Spyderco Native features an amazing design on its fluted titanium handle. Although I've never held this knife, someone from the Spyderco Collector noted that the pattern didn't seem too sharp and had a great grip.
The weight of this knife compared to the previous models of the Native is similar, but the blade is made from CPM-S35VN steel. It also has a lockback locking system, a thumb hole in the blade and a 4 position clip.
It's hard to find much fault with this knife and probably one of the best aspects is that it's made in the U.S.A.
Here are some more pictures from the Spyderco Collector.