Article originally published in February 2018 before being updated to include different knives.
Picking the handle material that appeals to you the most depends on a ton of factors, including looks, purpose, durability, and more.
If you want something that's durable and won't warp, opt for a synthetic material. If you want something that's probably the first handle material ever, go for bone. If you want something sleek and strong, pick a knife with a metal handle.
But, if you want a knife that's downright good-looking and feels good in the handle, it's hard to beat good old-fashioned wood.
Pros and Cons of Wood
I won't go until detail about the pros and cons of wood because you probably already know, so I'll boil it down. The Good: Comfortable, beautiful, varied, durable, potentially inexpensive. The Bad: Unstable at times, prone to warpage, requires more maintenance, potentially expensive.
The fact that there are so many types of wood out there means you can get the look and durability you desire while maintaining that natural looks.
There are some stabilized laminates on par with plywood in this list, including Dymondwood. If that doesn't jibe with you, then I apologize in advance.
Without further ado, here's a look at 15 excellent folding knives with wooden handles.
1. Boker Magnum Backpacker (Soft Wood)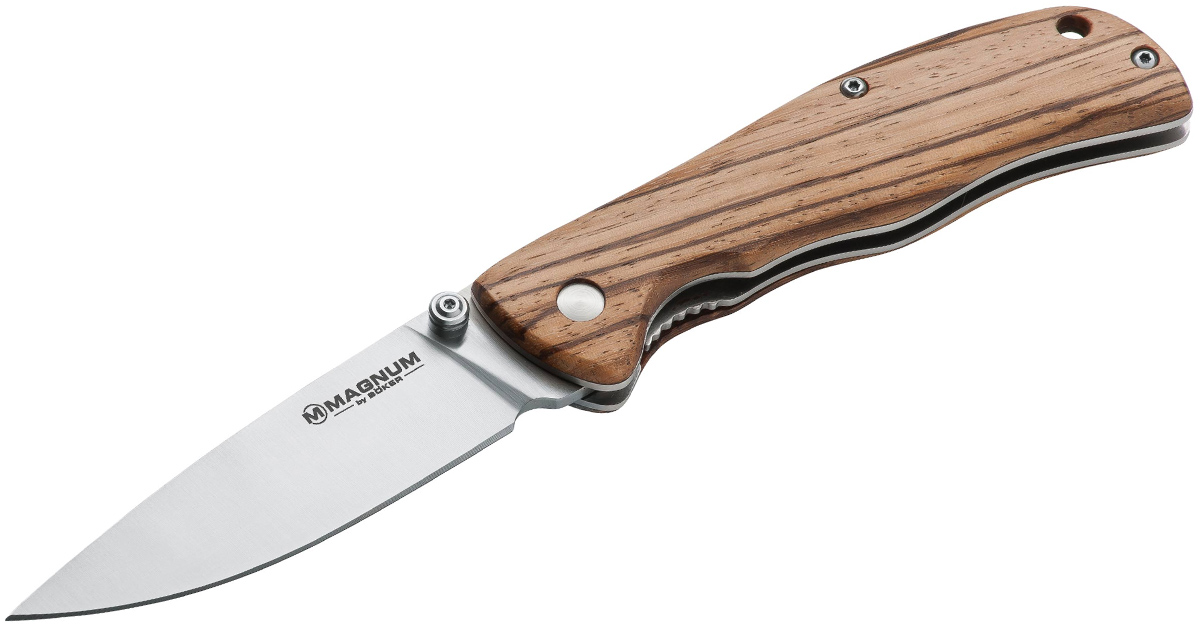 I wanted to start off with the Backpacker. This is a really handsome knife with a simple yet solid construction. It has a 3.4-inch drop point blade made from 440 stainless steel. It opens via a thumb stud and locks with a liner.
The wood scales feature grain so this knife fits in naturally with the outdoors. The grip feels great in the hand. I couldn't find any info on the type of wood, but it is a softer wood.

2. CRKT M4-02W Carson (Burl Wood)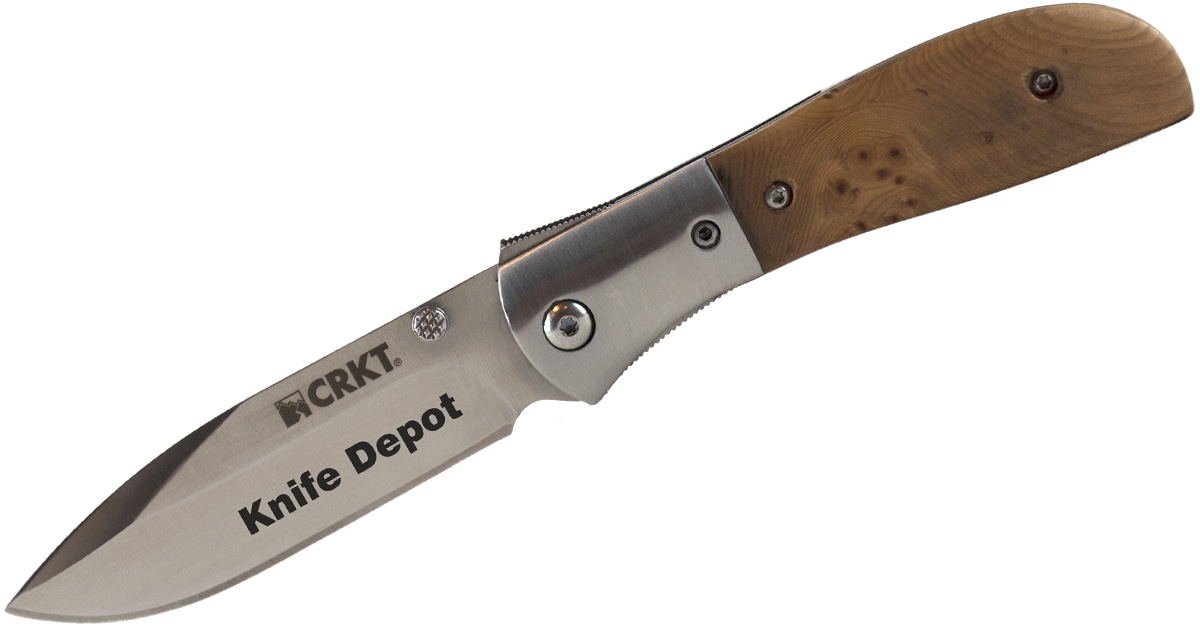 My goal for this list was to keep those knives with bolsters or very little wood at the minimum, but I couldn't leave off the M4-02W. Not only is this one of Knife Depot's best-selling knives but it remains a staple of CRKT thanks to its thoughtful design by the late great Kit Carson.
The knife is based off Carson's M4 and was made into a more EDC friendly knife with a smaller 3.25-inch blade and more cost-effective materials. The blade uses the Outburst Assisted Opening Mechanism while the handle is made of burl wood complemented by stainless steel bolsters.

3. Old Timer 33OTW Middleman (Desert Ironwood)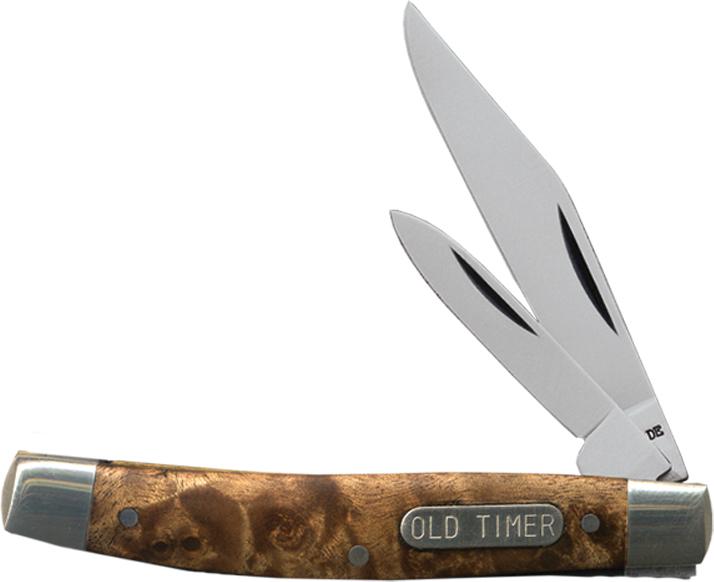 The Middleman is a popular knife at Knife Depot. The Desert Ironwood version only adds an extra layer of beauty to the classic design. The knife has two blades (a pen and a clip point blade) that open via a nail nick.
The handle is desert ironwood, which is found in the southwestern region of the United States and the northwestern region of Mexico. It is hard and features a good pattern.

4. SOG Twitch II (Rosewood)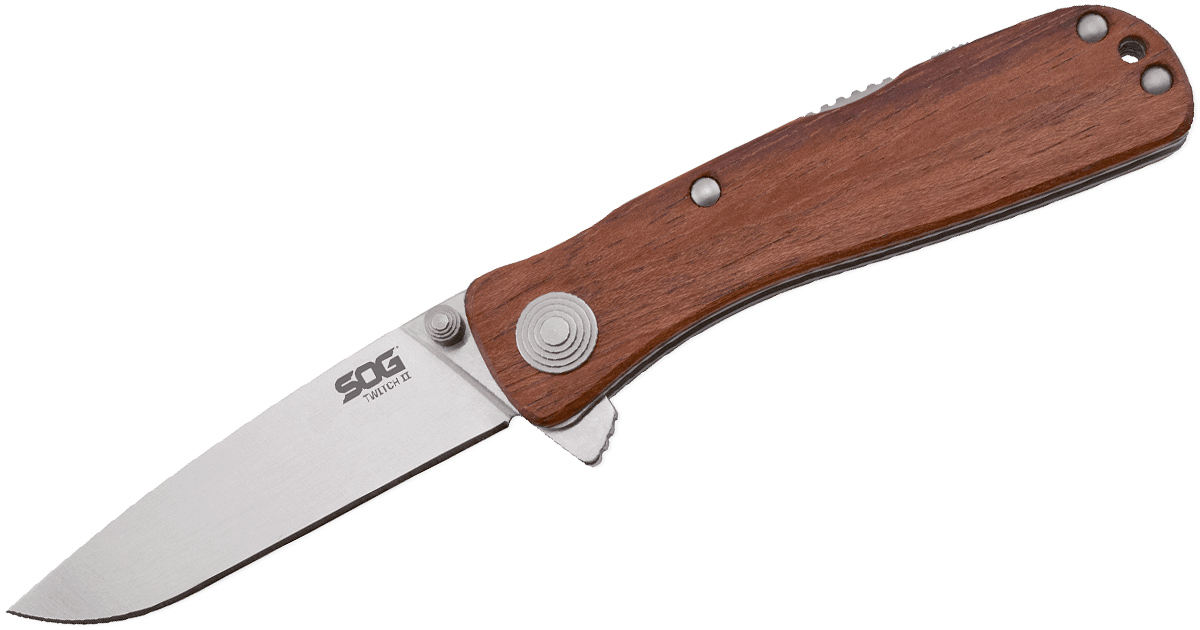 Somehow the unassuming Twitch folder from SOG became one of its most popular lines. The series expertly combines the classic look and feel of the lockback while adding some modern twists like an assisted-opening mechanism and flipper to bring it into the modern age.
With the Twitch II and Twitch XL, SOG decided to make a version with a rosewood handle. The color and look complement the 2.65-inch satin blade. This knife has gotten rave reviews from people who carry it as their EDC.

5. Victorinox Spartan (Hardwood)
Nowadays, you can find the Swiss Army Knife in all types of colors, iterations, and scale materials. But one of my favorites is the SAK in hardwood. You can find the Huntsman and SwissChamp in hardwood, but my top pick is the Spartan.
The Spartan itself was named a Badass Knife of the Week a while back because it is a quintessential knife. It has roots in the original Officer's Knife and has 12 tools, including a blade, can opener, bottle opener, reamer, and more.
The hardwood finish gives it a look and texture that carries well anywhere.

6. Fallkniven GP Gentleman's Folder (Redwood)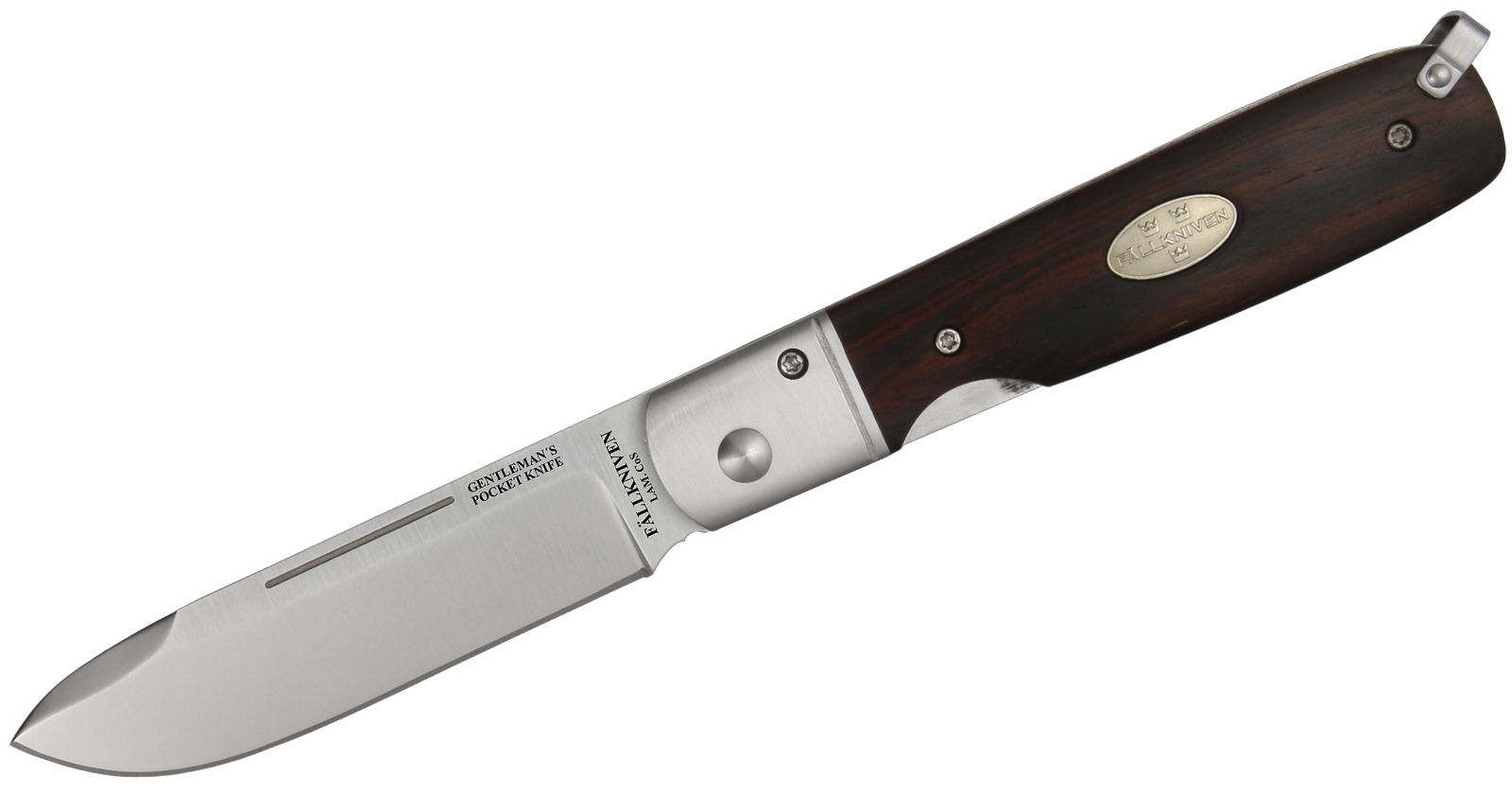 Fallkniven makes some of the best knives around. They succeed in everything from fixed blades to gentleman's folders. The Fallkniven GP Gentleman's Pocket Knife is further proof. The knife features a 3.07-inch laminated cobalt steel blade and dark redwood handles (from Central America) with stainless steel bolsters.
According to Fallkniven, "Redwood is an oily, hard and heavy wood that is durable and beautiful." The knife uses a liner lock and is as gentlemanly as they come.

7. Boker Plus Exskelibur I (Cocobolo)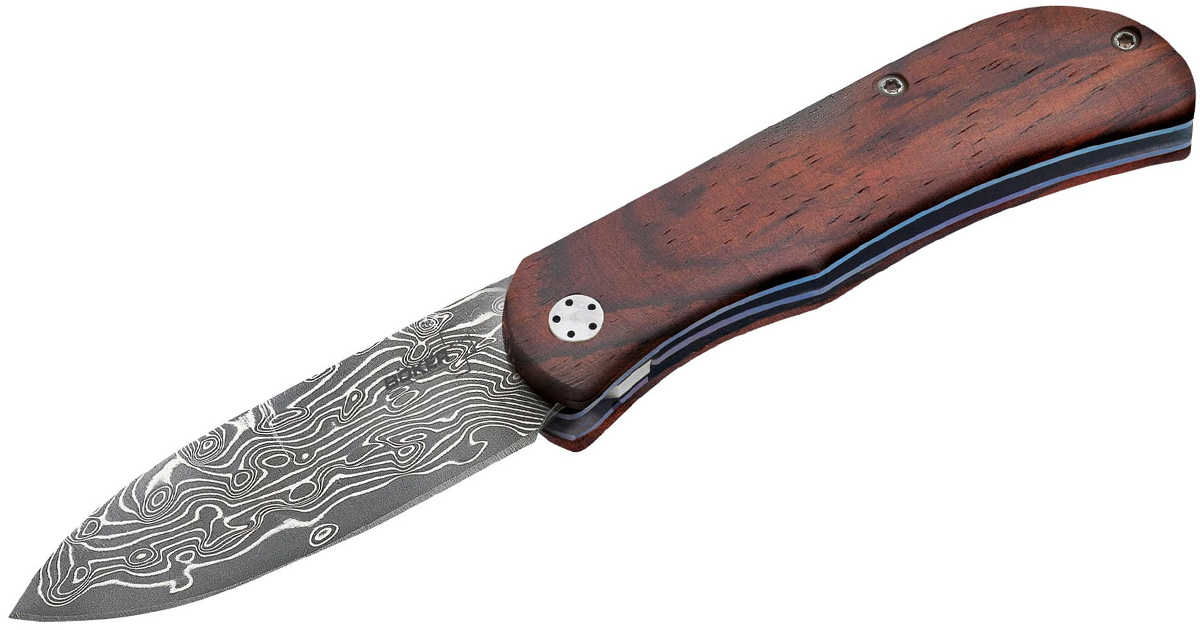 Just because a knife is called an EDC knife doesn't mean it has to be delicate. The Boker Plus Exskelibur is a beast of a knife with a 3.5-inch blade and an overall length of more than 8 inches. This version of the Exskelibur I boasts a Damascus blade and cocobolo handle scales that contrast with the steel.
Although it looks like it may belong in a display case, you can use this knife with confidence.

8. Antonini Old Bear (Walnut)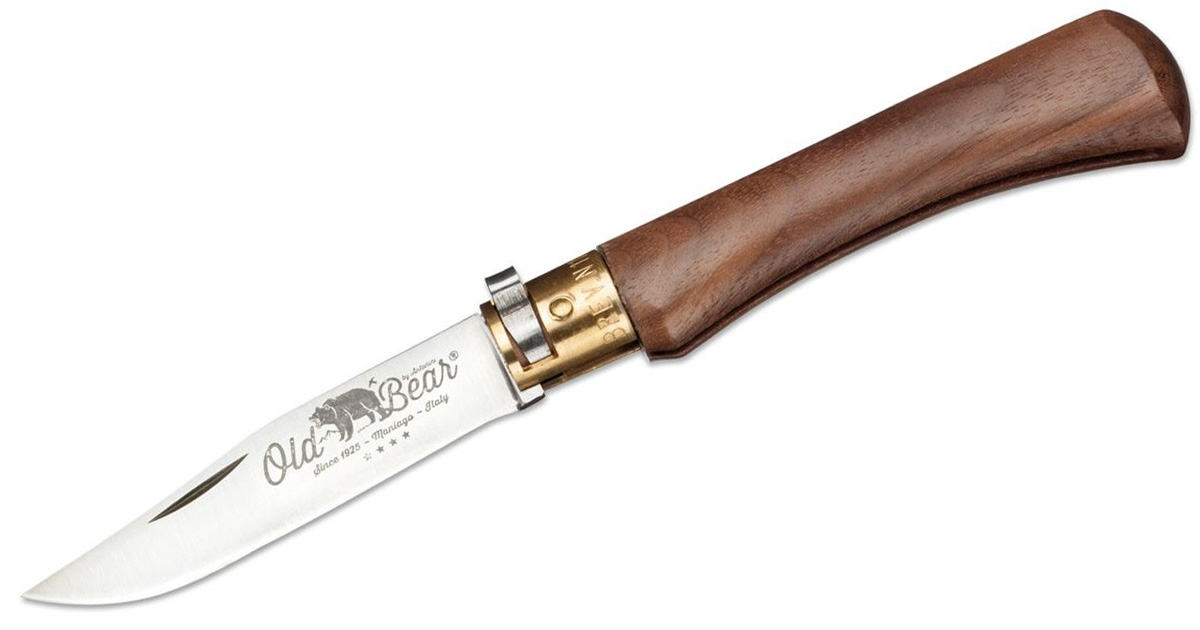 The original version of this article had the classic Opinel in this slot with its beech wood, but I decided to switch things up and replace it with the similar Antonini Old Bear, made by an Italian company.
The knife features a very similar design with a few differences that some say make the knife better than the Opinel. First, it has walnut handles. Second, it has a more ergonomic design. Finally, it has an altered version of the ring lock.
It's definitely a worthy competitor to the Opinel.

9. Buck 110 Folding Hunter (Dymondwood)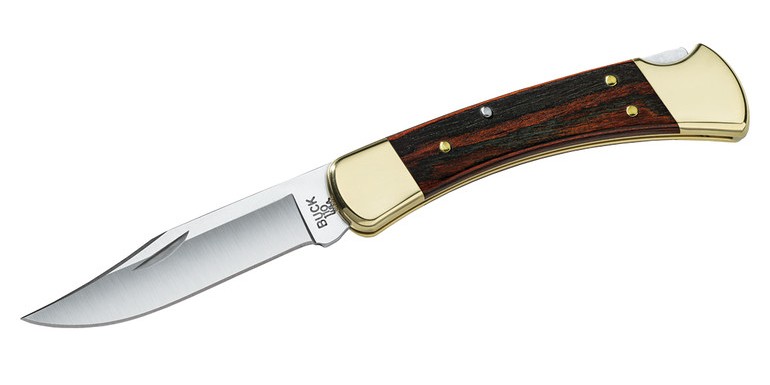 It doesn't get any more iconic than the Buck 110 Folding Hunter. Yes, the 110 is a beast with a 3.75-inch blade and a weight of 7.2 ounces, but those who really work their knife still swear by this design.
The handle is Macassar Ebony Dymondwood with immaculate brass bolsters. It's hard to go wrong with this one.

10. Boker Stockman (Oak)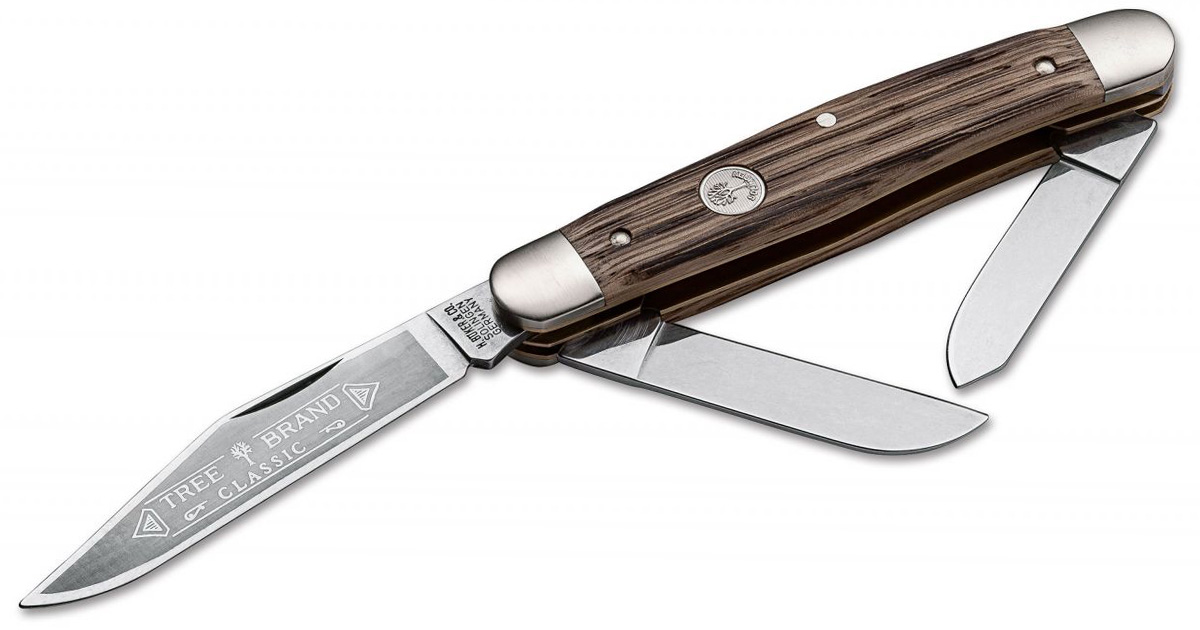 Oak is no longer a popular handle material, despite its undeniable beauty. Fortunately, Boker has a series of traditional knife with Oak handles. One of our favorites is the classic stockman.
Made in Solingen, Germany, the stockman has a three blades, oak wood handles, and C-75 carbon steel.

11. Boker Plus Gnome (Olive)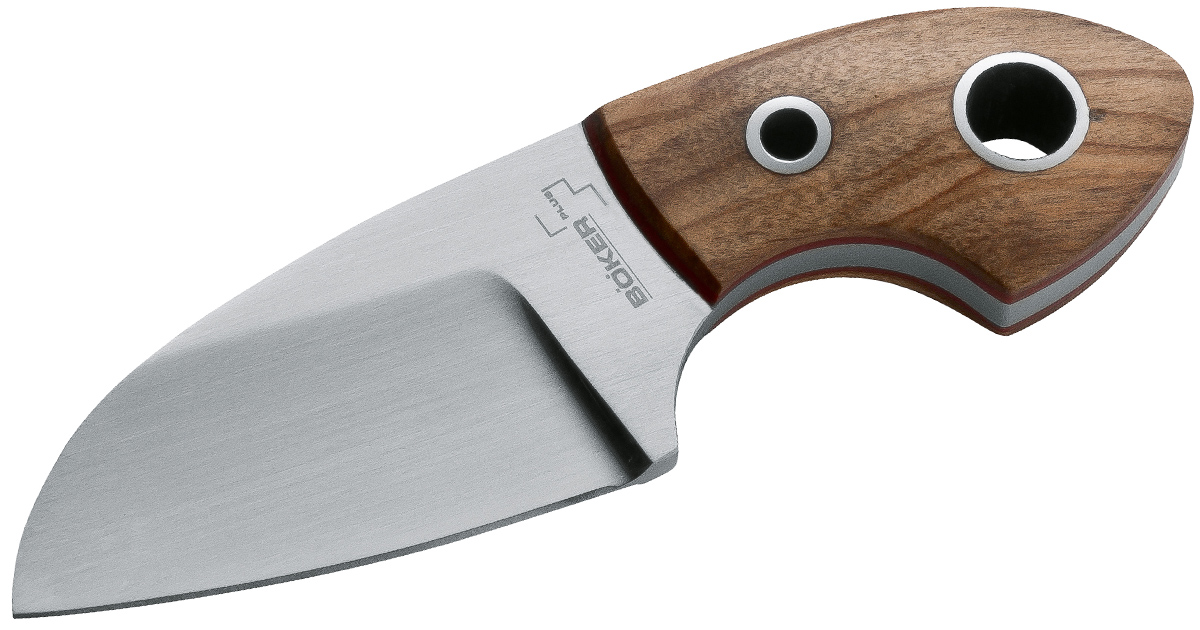 Wait, I thought this was EDC knives? What is a fixed blade doing on here? Some people exclusively carry fixed blades as everyday carry knives, so I wanted to give those folks an option. There were a lot to choose from, but to give the wood options some diversity, I opted for the Boker Plus Gnome with olive wood scales.
The standard version of the Gnome is already beloved, which is no surprise because it comes from the mind of Jesper Voxnaes. It has a 2.2-inch blade and can fit hanging around the neck or even in the pocket. The handle is olive wood with red fiber underlays.

12.  Case Trapper (Chestnut)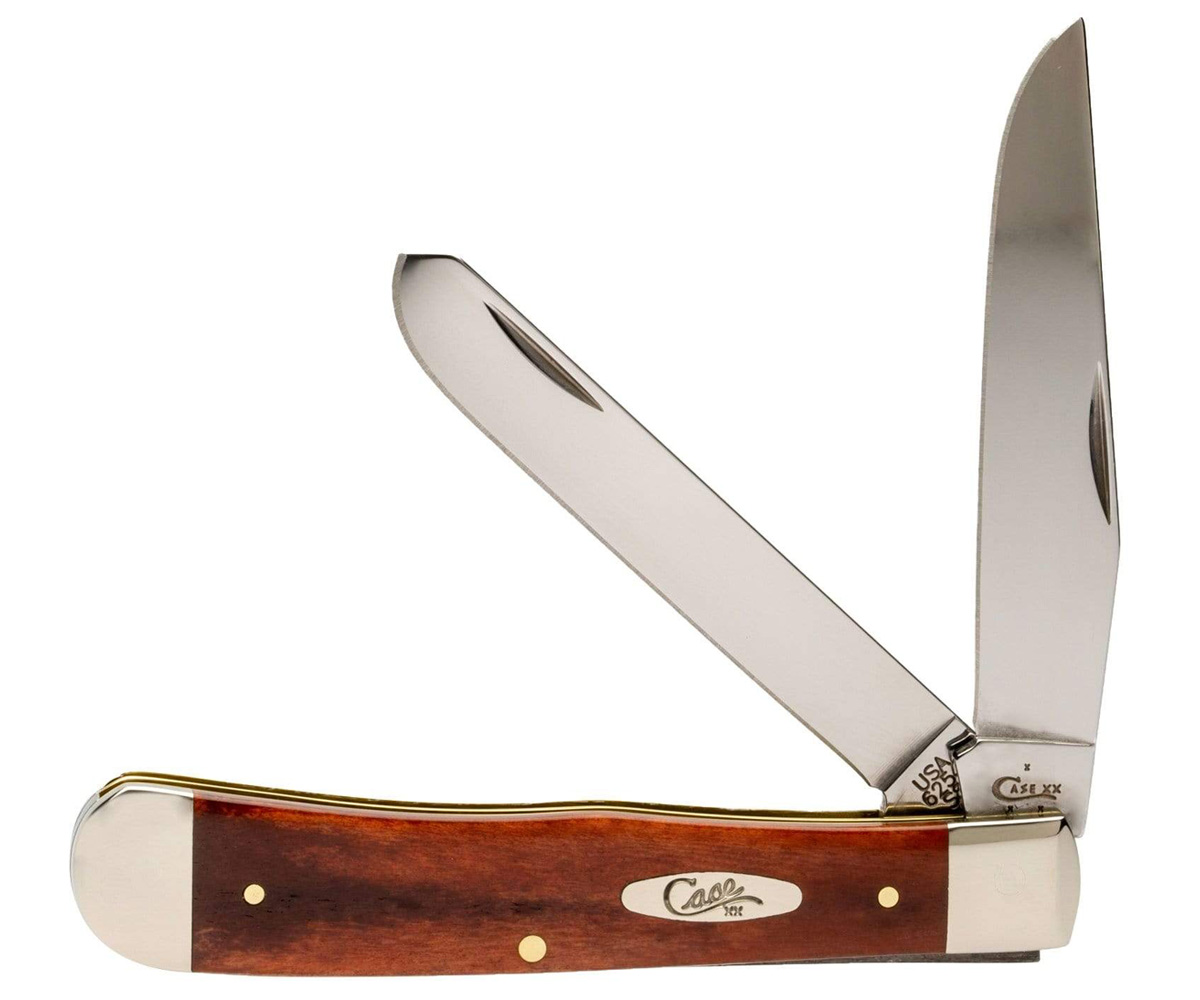 The Trapper is a beloved pattern because it's a true classic. The handle is rich chestnut with a smooth bone pattern.
The closed length is 4.13 inches and it weighs 4 ounces.

13. Benchmade Hunt North Fork (Dymondwood)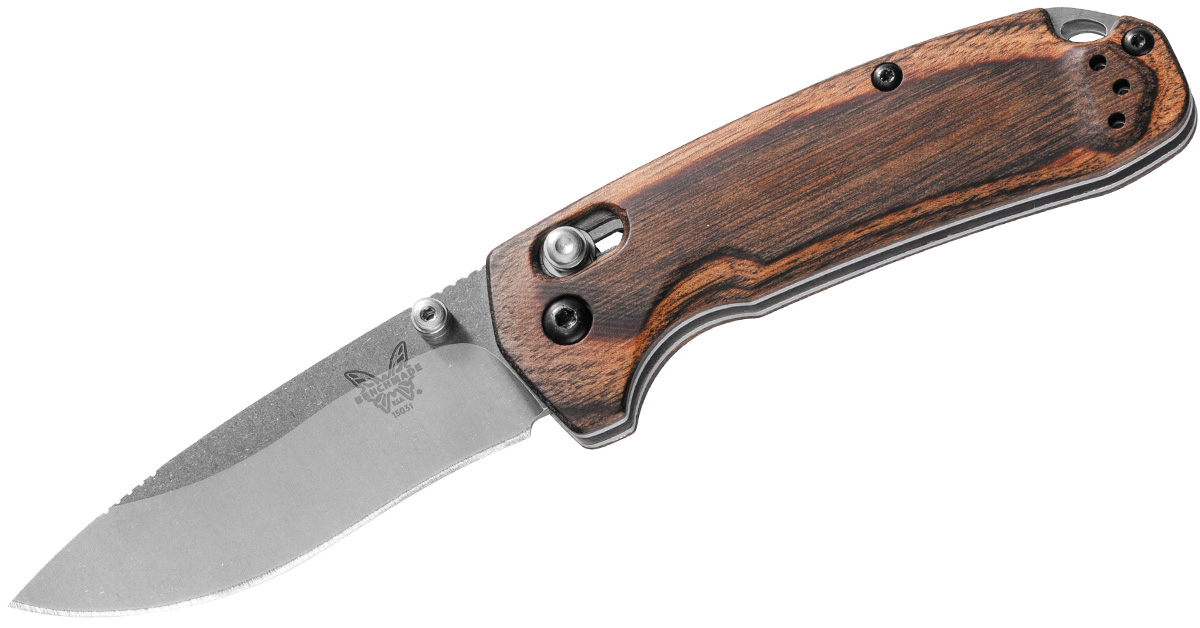 With its dymondwood handle scales, S30V steel, and AXIS locking mechanism, it's hard to find anything wrong with this great knife. The knife is designed with hunters in mind — hence its inclusion in the Hunt series — but I argue this knife is good for everyday carry as well.
The blade is just under 3 inches and the wood handle is as classy and versatile as they come.

14. Boker Barlow (Grenadill Wood)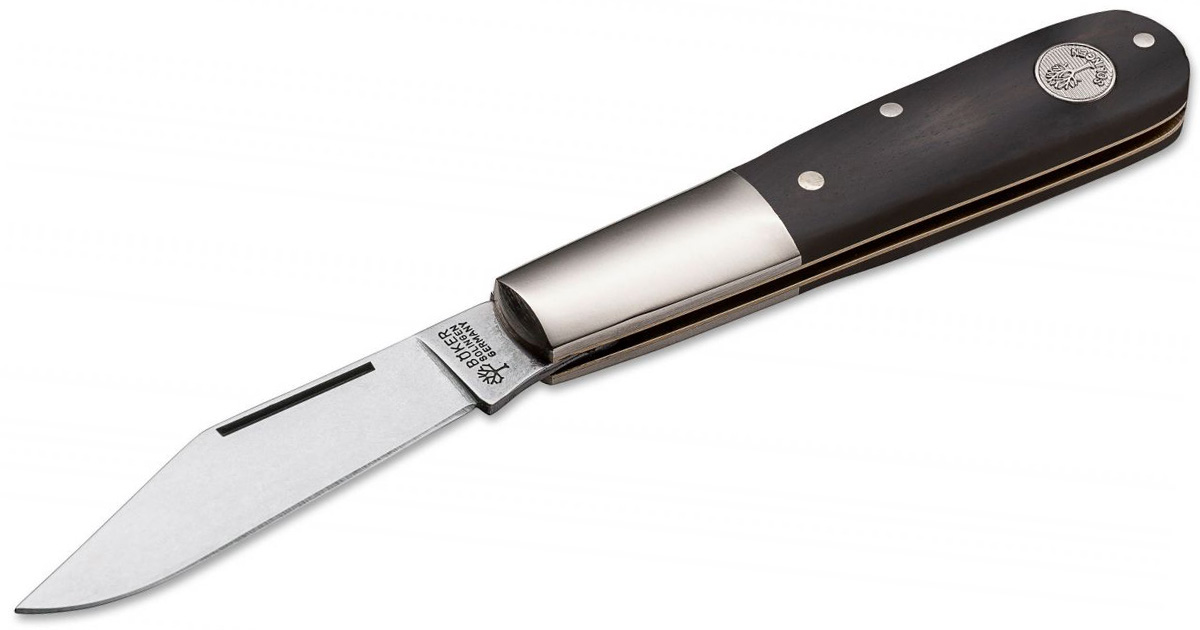 If you want diversity in wood handle materials, you have to give a nod to Boker. Yet another traditional pattern with exotic wood material comes from the tree brand. This time it's a Barlow with grenadill wood handles.
According to Boker, grenadill wood is a very dense African hardwood that's very dark. It adds an extra layer of beauty and class to this old knife pattern.

15. Boker Plus Damascus Gent II (Ebony)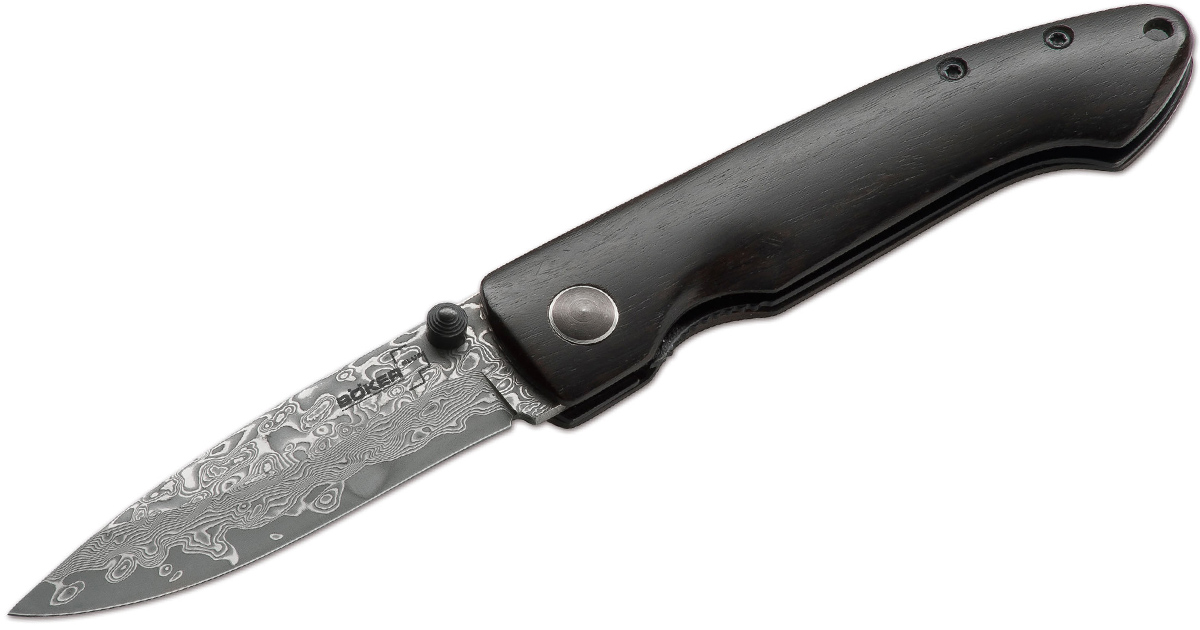 Finally, there's the ultra classy Boker Plus Damascus Gent II. The Damascus blade is 2.7 inches and features a ton of personality. That's only made better by the sleek dark ebony wood handle scales.
This is the kind of knife you could comfortably take to a black tie even with no side eyes.

---