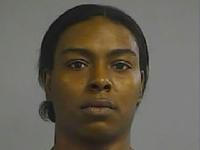 One of my fondest memories of my youth was eating at Pizza Hut after little league baseball games; I'm just glad I never played baseball in Louisville, Kentucky.
A Louisville woman is facing disorderly conduct charges after she pulled out a sword to settle an argument–likely over an inadequate slice to pepperoni ration–at a Local Pizza hut.
According to the cops, Wynika Mason removed her sword from its sheath in the midst of a verbal dispute with employees, menacing them with its large, glimmering blade.
When the cops arrived, Mason apparently continued her tantrum; she also gave officers permission to search her car, where they found the sword in question.
This, quite obviously, is a good reason to bring your own sword to Pizza Hut or any other fast food restaurant you patronize.  That way you'll be prepared for a duel should trouble arise. https://credit-n.ru/offers-zaim/dozarplati-srochnye-zaimi-online.html