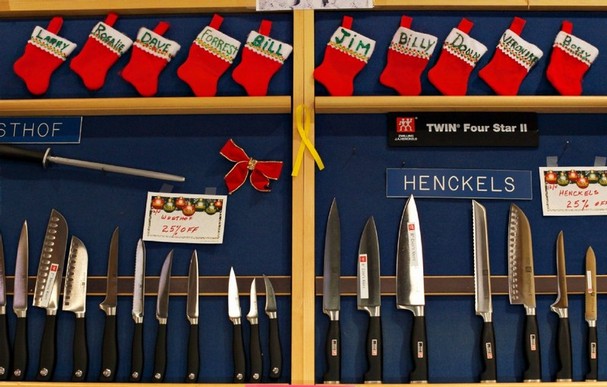 So, you've made the decision to buy a knife for Christmas for a friend or loved one.  That's terrific, but now comes the hard part: what sort of knife should you get them?  To make things easier, we've created four archetypes of the modern knife fan along with a few suggested models.  Have some additional ideas?  Then, let us know below.

The Jack of All Trades
Do you have a brother, father, mother or lover who can fix the toilet, gut a deer, whittle a masterpiece and prepare a delicious dinner all without breaking a sweat.  Lots of handymen and craftsmen fall into the jack-of-all-trades category.  These knife lovers are constantly dabbling in different projects and pursuing various hobbies.  They love to learn on the go and aren't worried about making a mistake or two along the way.
Recommended Knives: For such a diverse set of tasks, you'll need a knife with a lot of range.  Consider a 3-blade or 4-blade pocket knife, which combines blade types such as pen, sprey, sheepsfoot and others, providing an excellent range of tools perfect for those who like to do everything themselves.  Multi-tools and Swiss Army knives are also great choices.
The Minimalist
He wears the same pair of faded blue jeans every day.  He only owns one pair of shoes.  He eats the same cereal every morning, occasionally drinking his orange juice out of the carton.  When he goes on trips, he never, ever checks a bag. All of us have a minimalist in our life, someone who likes to keep things as simple as possible, including when it comes to knives.
Recommended Knives: A Single-blade folding knife is at the top of the list. This kind of fellow is looking for a knife with one good blade that's functional, strong and versatile, and that fits efficiently in his pocket.  A neck knife, which is conveniently suspended from a lanyard, will also appeal to him, especially if he's often on the go.
The Show Off
Did he wear a light-blue tuxedo to the prom when everyone else was in black?  Does he always have the biggest truck and the most badass T.V. for watching the game on?  When it comes to blades, the Show Off needs something big and burly that will set himself apart from the pack.
Recommended Knives: Go big with a top-notch survival knife that towers above its competition.  A Bowie knife, with its long curvaceous blade, is also a good option.  If you're looking to really spice it up, consider a set of throwing knives.
The Intellectual
He is always the smartest man in the room, whether the conversation revolves around ice skating or neuropsychology.  A history buff, he's a voracious reader, appreciative of the warriors of the past.  He likes tools that not only function for him, but have a legacy he can enjoy.
Recommended Knives: How about a Samurai sword, with it's vibrant history, or one of our many historical daggers.  If he's a bit more conventional than that, consider buying him a classic folding knife from a company with a rich history of craftsmanship, such as Buck Knives.
Well, who did we leave out?  I'm guessing probably a bunch of folks.  Let us know what sort of knife you'd like for Christmas and why in the comment section below.  You never know, we may make your Christmas wish come true.
Also, you can always check out our guide to buying a pocket knife for more details on picking out the right blade.
---