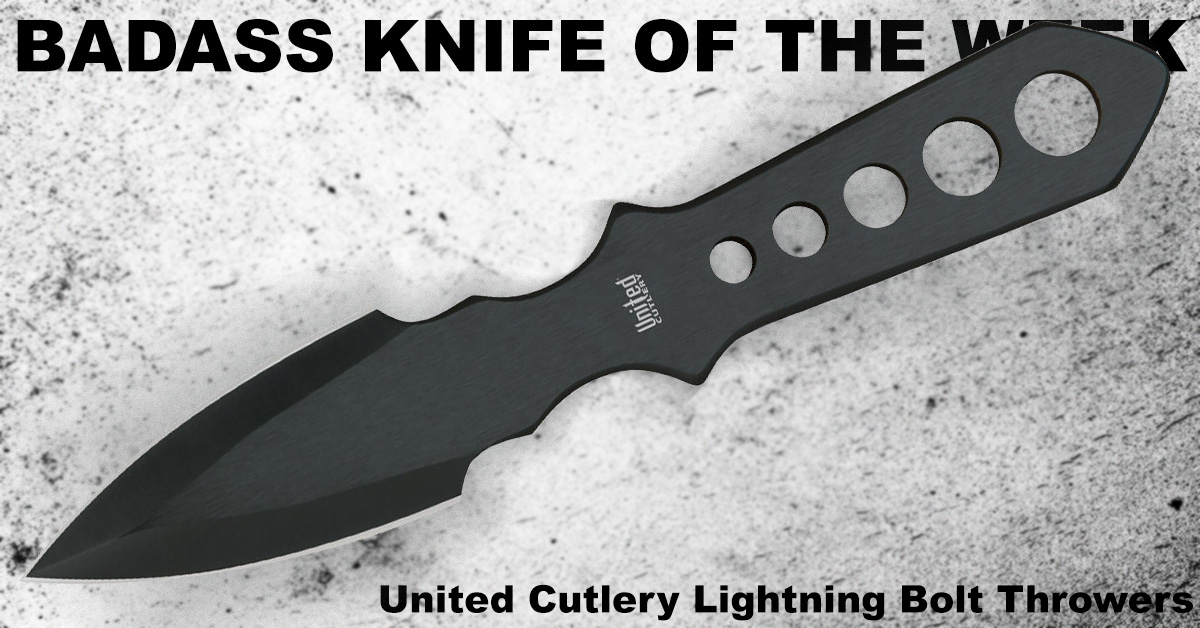 If you think knife throwing is just for odd-looking folks who perform stunts at the freak show, where have you been the last few decades? Just last week, even The New York Times wrote a fascinating story about the sport of knife throwing.
In honor of the growing sport, our latest Badass Knife of the Week is a set of throwers for beginners and experts alike.
The United Cutlery Lightning Bolt Triple Throwing Set is billed as the first-ever self-defense throwing knife set that you can carry discreetly. While self-defense isn't the most practical purpose for this set, the knives make a darn good set of throwers for those looking to break into the hobby.
Here's a look at the silver versions:
Each of the three 5.5-inch throwers is made from a single piece of AUS-6 stainless steel with black coating, which bolsters the durability of the knife and dampens the reflective property of the steel.
The 2-inch spear point blade features razor sharp edges on both sides for a satisfying stick in your target. Cutouts in the handle help balance out the weight of the knife for a consistent throw every time.

The three knives each lock into the hard ABS sheath that you can wear on your belt. A nylon shoulder harness included with the knives also gives you the option for concealed carry in case an impromptu throwing competition breaks out.
For more information on this Badass Knife of the Week, check out the product page for the United Cutlery Lightning Bolt Triple Throwing Set.
---