Comment on this post or any other between today and midnight on Sunday and you'll be entered to win a 51-inch William Wallace replica sword .
If you are one of the first ten people to comment on any individual post, you'll get DOUBLE ENTRIES.
What's sexier than a sword?  How about a hot chick slicing up her foes with one?  Here, for your viewing pleasure, are the top 10 female sword fighters.
7. Violet Song jat Shariff (Milla Jovovich) – Ultraviolet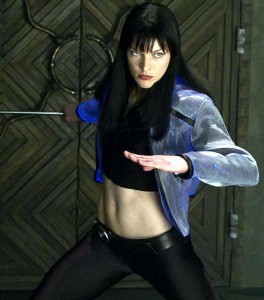 Even though the sci-fi thriller was widely panned by critics for its excessive complexity and lack of realism, the film did produce one of the hottest sword wielding fighters of all time. Throughout the film, Violet, played by Milla Jovovich, relentlessly plows through groups of inept fighters with a range of weapons, including swords and knives. Check out the cool scene below where Violet takes out a room of sword fighters.
http://www.youtube.com/watch?v=Yn6btSjAzPk
6. Guinevere (Keira Knightley) – King Arthur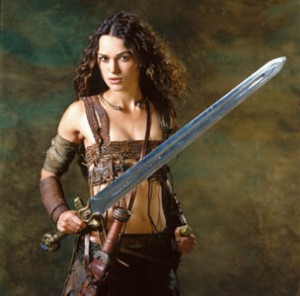 Along with being fierce, Guinevere, from the 2004 film about King Arthur, engages in some truly amazing battles. For her loyalty, skill with swords and other weapons and refusal to give up, Guinevere takes the number 6 spot on this list. Check out some of her fiercest moments from the film in this clip.

5. The Bride (Uma Thurman) – Kill Bill, Vol. 1 and Vol. 2
Say what you will about Uma Thurman, but The Bride in Quentin Tarantino's Kill Bill films is one hot sword fighter you don't want to mess with. In one of the greatest sword fights in cinema history, The Bride takes on a group of masked men replete with gore and violence. Look at some of her moves in the clip below.

4. Xena (Lucy Lawless) – Xena: Warrior Princess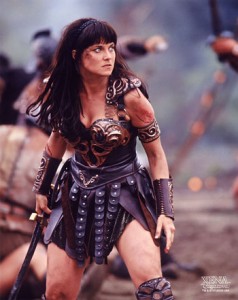 It's impossible to compile a list of hottest female sword fighters without including Xena. Even though she's only a fixture on the small screen, she remains the quintessential female warrior. Throughout her six seasons on television, she battled countless enemies with humor and intensity. Kudos to any woman who could carry around that massive sword and wield it skillfully.
3. Jen (Zhang Ziyi) – Crouching Tiger, Hidden Dragon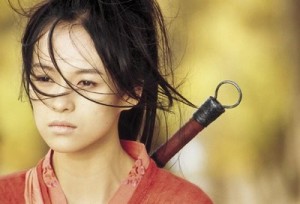 The battle scenes in Crouching Tiger, Hidden Dragon are whimsical, impassioned and inventive and no one in the film represents this deftness more than Jen. The beautiful sword fighter, who was destined for an arranged marriage but yearned for a warrior's lifestyle, engaged in several battles throughout the movie including this iconic fight in the trees.
2. O-Ren Ishii (Lucy Liu) – Kill Bill, Vol. 1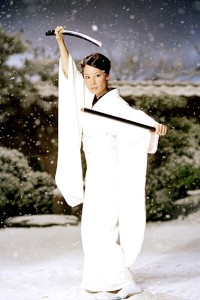 Although she may appear innocent and fragile, O-Ren Ishii should never be crossed, as demonstrated from the clip below. The film emphasizes her flawless beauty, grace and fighting skills, especially when pitted against The Bride.
1. Elena Montero (Catherine Zeta-Jones) – The Mask of Zorro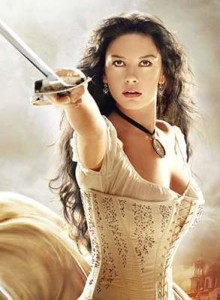 This curvaceous student and love interest of Zorro earns the top spot on this list for her sword fighting skills and undeniable good looks. In the clip below you see her playfully battling Zorro with a rapier fencing sword before losing her clothes to the masked swordsman. Throughout the film, she demonstrates intimate knowledge of sword fighting and uses it for good.
Tell us which female swordfighter is your favorite and enter to 51-inch William Wallace replica sword .