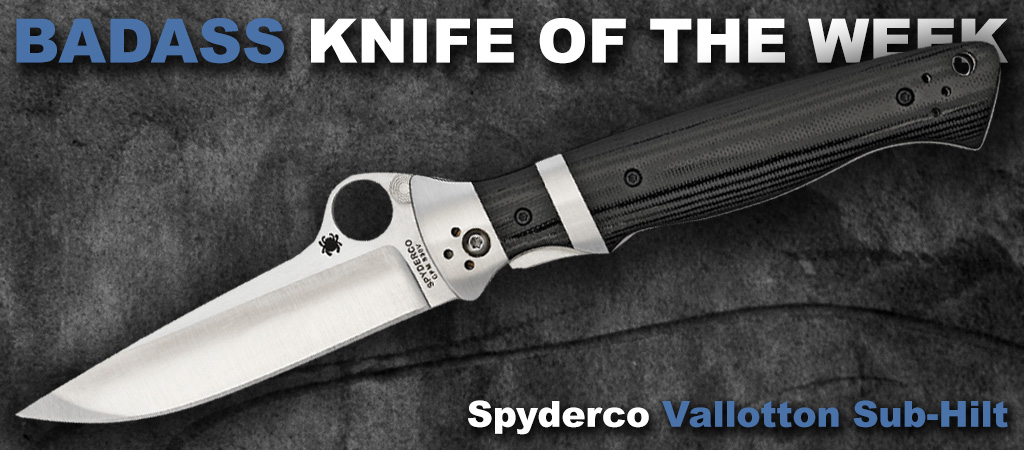 If you travel to the crossroads of breathtaking design and quality construction, you'll arrive at the latest Badass Knife of the Week.
The Spyderco Vallotton Sub-Hilt Folder is a critically acclaimed custom collaboration between Butch Vallotton and Spyderco that demonstrates the kind of quality and innovation you can expect from two great entities.
The Vallotton Sub-Hilt folder features a 3.75-inch blade made from premium CPM S30V steel, which is known for its toughness, corrosion resistance, and ability to keep an edge. Its modified tanto blade has a hollow grind at the cutting edge with a convex grind at the tip.
Like all Spyderco folders, this knife comes with the iconic Round Hole for easy one-handed opening. However, unlike the other Spyderco knives, the Vallotton Sub-Hilt Folder comes with ambidextrous thumb studs that double as blade stops.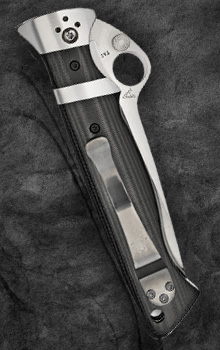 The addition of the thumb studs is a nod to the maker of the knife, Butch Vallotton. Vallotton, who started making knives as a hobby and became a professional knifemaker in 1984, was a pioneer in thumb stud uses, including reusing them as stop pins.
If you get an international vibe from the handle, you're not off base. The modified coffin-shaped handle is inspired by Italian-style folders and features polished black G-10 with fitted stainless bolsters that make the whole knife elegant.
A four-position pocket clip, along with a lanyard hole, add to the overall versatility of the knife. This unique folder is the perfect addition to any collection.
For more information on this Badass Knife of the Week, check out the product page for the Spyderco Vallotton Sub-Hilt Folder.
---