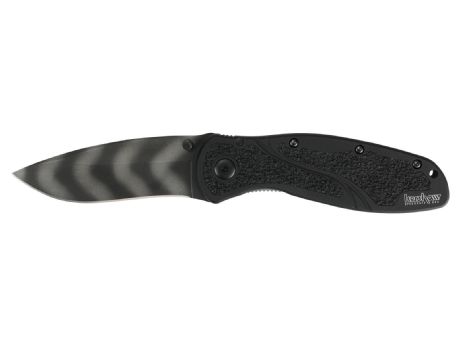 Kershaw Knives just announced the introduction of a new and exclusive knife hitting the market: the Tiger-Stripe Blur.
The Blur models are not new but are actually among the most popular knives at Kershaw. Nevertheless, the Tiger-Stripe Blur is something different.
The new knife features a drop point blade that's 3 3/8 inches long with a SpeedSafe assisted opening function for one-handed engagement. The namesake comes from the black and gray coating in diamond-like carbon (DLC). If you're not familiar with DLC, it's a highly resistant film that reduces the amount of wear on the blade. Here's more from a press release from Kershaw about DLC:
The DLC coating is applied in a process called Physical Vapor Disposition (PVD). During PVD, metals are instantly evaporated and ionized via a high-current, low-voltage arc. The metal ions are then accelerated into a vacuum chamber. A negative voltage is introduced, which permanently deposits a thin metal coating on the blades. This makes the new Blur's tiger-striped coating highly scratch resistant.
Without getting a feel for the knife, it's hard to determine just how great this $119.95 knife is. The past Blur models with Trac-Tec inserts, which run at $79.99, do not disappoint, so it's easy to assume this will be another top-quality knife.
The major downside of the Tiger-Stripe is that it's sold exclusively through Cabela's, so it's not widely available.
---