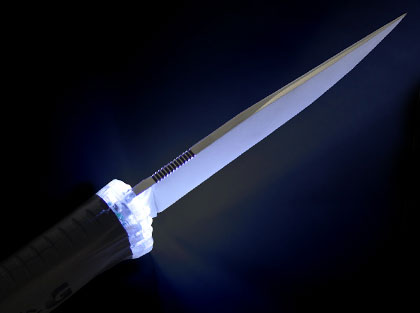 In the world of knives, finding something truly innovative and new is near impossible due to the fact that knives have been around for about two million years. However, SOG dared to try something unique: light up the blade of the knife with LEDs.
Sure, we've seen lights on knives before, such as the great Wenger Spotlight Swiss Army Knife and low-quality Core Lite, but the new SOG Blade Light turns the phrase "taking a stab in the dark" on its head.
The purpose of the light isn't just to help you find the keyhole of your home at night; it's meant to illuminate the blade to allow you to accurately slice in the dark without annoying shadows.
It does this by taking six LEDs and molding them into the glass-reinforced nylon (GRN) handle, which means the lights and the push button are waterproof—even when fully immersed in water. Both sides of the blade are lit up by three LEDs to give you light on each side.
The Blade Light comes in two different versions: a fixed-blade or folding knife. The fixed variation comes with an overall length of 11.3 inches and is powered by a single AA battery while the folder is 9 inches long with a 3.9-inch blade. It's powered by two AAA batteries. The fixed-blade Blade Light also comes with a molded hard sheath that features a quiet carry tensioner and a slot for two spare batteries.
The fixed-blade version costs $115 while the folder will set you back $85. As of right now, the folder is sold out and won't be available until later this year.
---