With the new year comes new knives.
2017 is off to a great start with a slate of new knives from Benchmade.
The Oregon-based company revealed its new knives last month shortly after it announced the discontinuation of a number of models, including its entire line of HK knives. While the specific reasons each knife was discontinued can only be speculated, the new line confirms that some of the models got upgrades or were brought on over under the Benchmade name.
The new product lines (and special editions) are mostly what you'd expect from Benchmade with a few new tricks. The new knives also indicate that the 154CM steel standard for the Butterly Logo brand is likely becoming S30V (since all the new knives are that steel).
Take a look at what Benchmade has in store for you this year.
Benchmade 560 Freek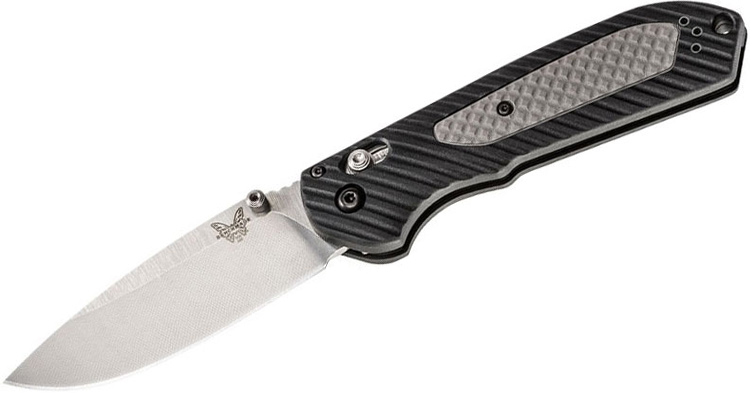 The 560 Freek is a manual-opening AXIS lock folder with a focus on well-made and grippy handles. Sound familiar? The Freek will appeal to fans of the Griptilian (or to those who want a little more from the Grip). The 3.6-inch drop point blade is made of CPM-S30V steel, but the focus really seems to be on the handle. It has what Benchmade calls dual durometer handles, which features Versaflex inlays for maximum comfort and durability.
This model seems to be one poised for wider market appeal among those looking for a quality EDC. There are a few versions of the 560, including one with serrations and a black blade.
Benchmade 590 Boost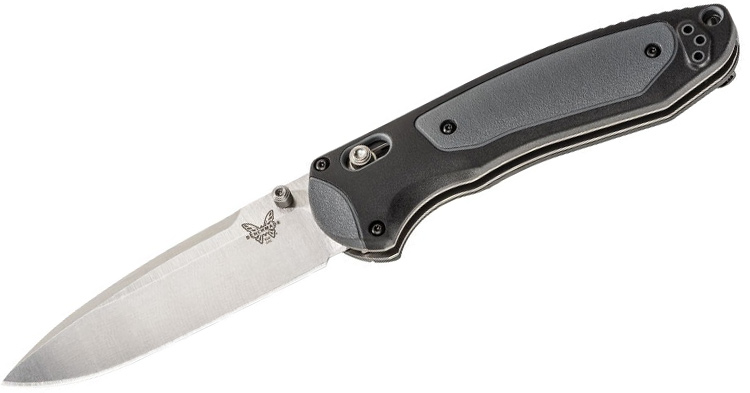 The Boost shares some of the same qualities as the new Freek with one notable addition, the AXIS-Assist mechanism. Like the Freek, the blade is S30V with a drop point profile, except the length is 3.7 inches.
The knife also has dual durometer handles with the Versaflex inlay. It would be great for those needing a bigger EDC in their lives.
Benchmade 570/5700 Presidio II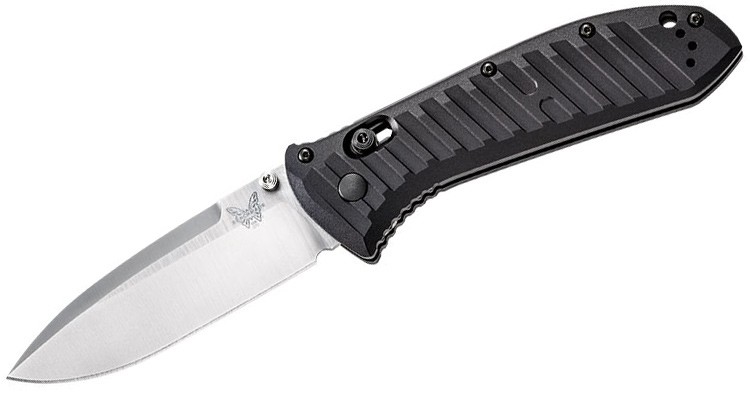 Remember the Presidio? It's back.
Few people were expecting Benchmade to discontinue the Presidio a few weeks back, though it likely meant that a new version was coming. Our suspicions were correct. The new Presidio II comes in a manual (570) and automatic (5700) version. It got a steel upgrade with S30V steel and a slightly redesigned handle
Benchmade 781 Anthem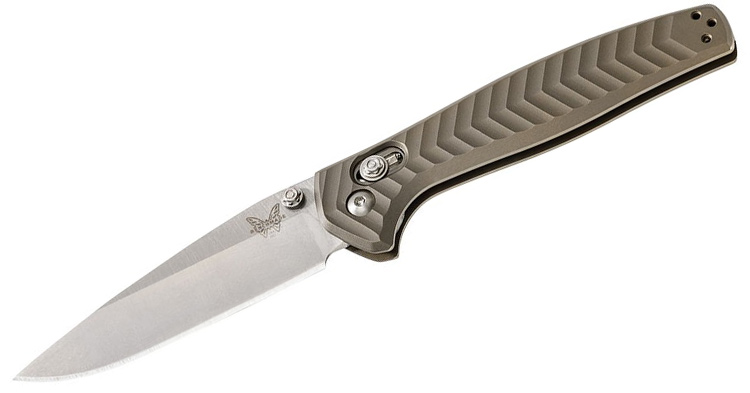 The Anthem is likely to turn heads as "the first ever single piece, billet titanium AXIS knife." As Benchmade's first integral frame AXIS knife, it's pricier than some of the other offerings but for good reason. The 3.5-inch blade is CPM-20CV steel and the anodized billet titanium handle is superb.
It's a higher end knife that fans of Benchmade will want to pick up.
Benchmade 87 Balisong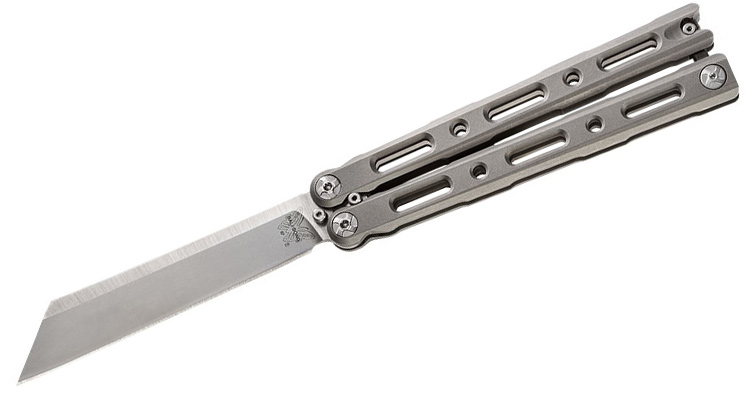 Benchmade is getting back to its roots with another balisong. It's a modern take on a classic knife.
The 4.5-inch Wharncliffe blade is S30V steel and the handle is billet titanium. Nothing to scoff at here.
Benchmade 125 Azeria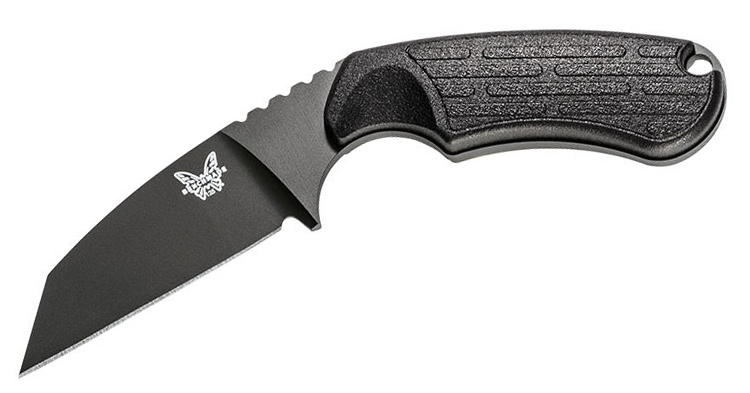 The Azeria is a last-ditch knife that reminds me of the KA-BAR TDI Law Enforcement. The fixed blade is meant to be carried in a sheath and pulled out with a quick draw when things get dicey. Its pistol-style grip is made from black Grivory and the sub 3-inch blade is N680 steel.
These types of knives are great for officers or concealed carry.
Benchmade 4400 Casbah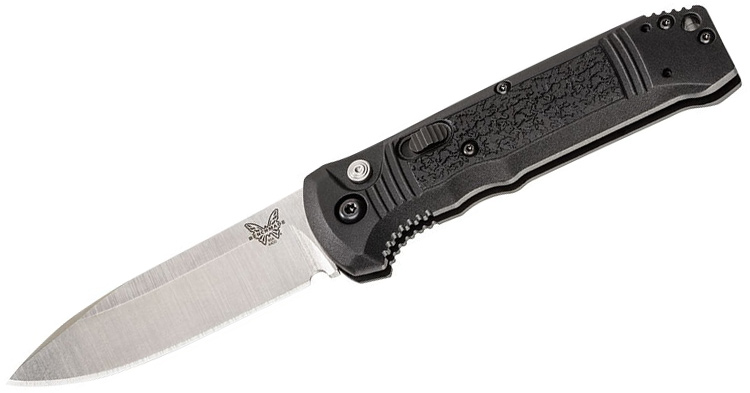 Are you ready to rock the Casbah? This new push button auto is worth picking up just for the fun of using that line (and its variants) over and over. The 3.4-inch blade is S30V and the textured handle is Grivory. It's designed for everyday carry.
This knife also marks the return of HK knife designs. Unsurprisingly, now that the HK Patrol is renamed and brought under the Benchmade brand, it's more expensive.
Benchmade 4600 Phaeton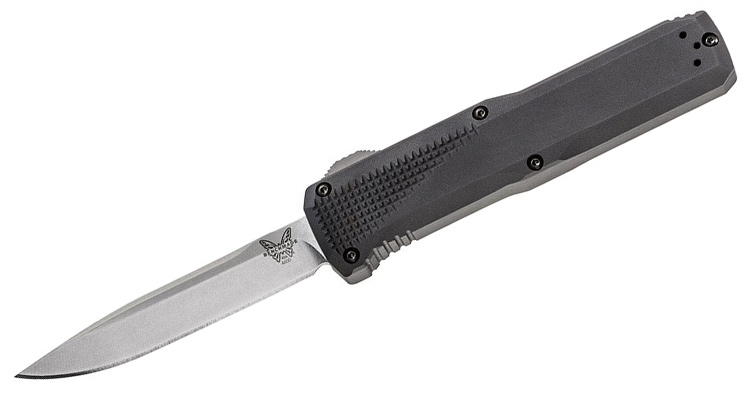 The 4600 Phaeton is a great OTF auto. The new spine-fire OTF, as Benchmade calls it, has an S30V 3.45-inch blade with a black anodized 6061-T6 billet aluminum handle.
Benchmade 4700 Precipice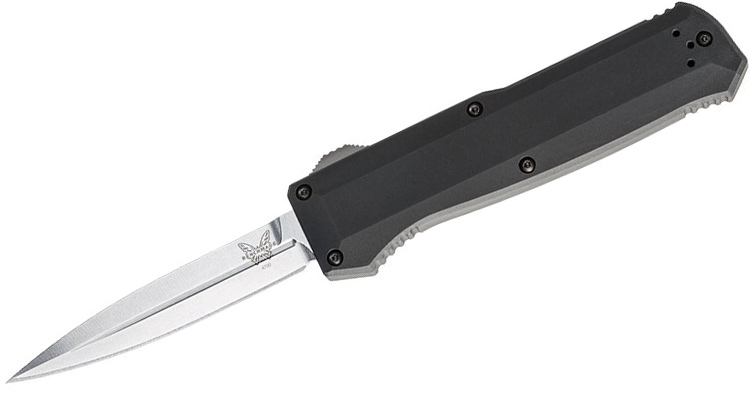 The 4700 Precipice is another OTF folder. It's a double-action OTF with the same blade specs but a different blade profile.
Benchmade 10 Rescue Hook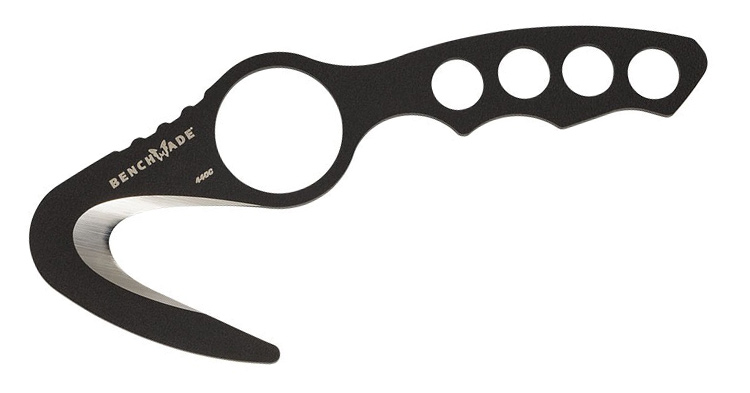 When you need a little rescue tool, the 10 Rescue Hook is a great solution. Originally built for corrections officers, the enlarged hook gap makes cutting thicker rope a cinch. It comes with a Boltaron sheath that allows you to carry it in all types of positions and angles.
Benchmade 485-171 Valet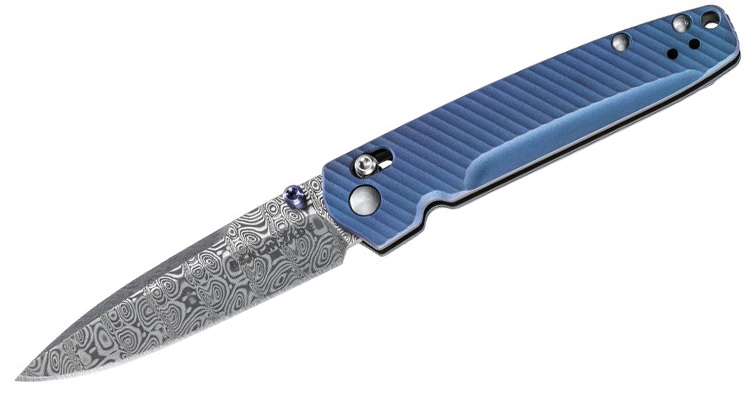 Now we're getting to the special knives. The-171 Valet is more a work of art, thanks to its ladder pattern Damasteel blade and blue-violet anodized billet titanium with DLC coated stainless steel liners. It also has a Damasteel backspacer, anodized titanium thumbstud, and DLC coated reversible tip-up deep-carry pocket clip. Simply gorgeous.
Benchmade 3300BK-1701 10-Year Anniversary Infidel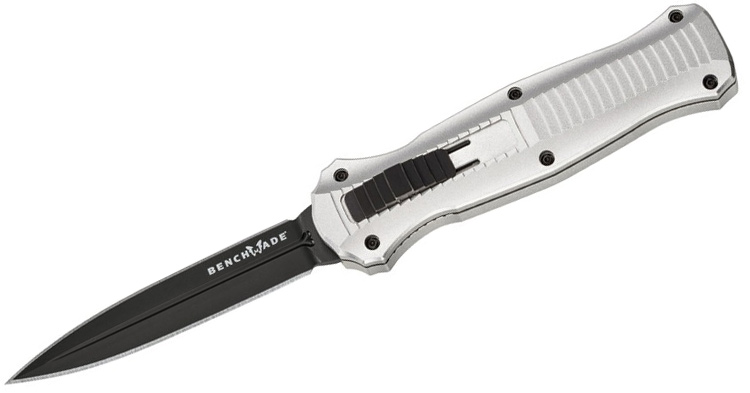 This limited edition knife marks the 10-year anniversary of the popular Infidel auto. The dual-action OTF auto has a silver bright dip, 6061-T6 billet aluminum handle and comes with a commemorative challenge coin.