Yes, we're already two months into the year, but there's still plenty of new knives to admire and covet. We've gone through new Spyderco and CRKT knives, so let's continue with the new products from Benchmade.
Benchmade separates its knives into different series, such as the Black Class, Gold Class,  Hunt Series, and others. This year they're only releasing knives from the Blue Class and the Black Class.
The Blue Class is more working class, blue-collar knives that are designed for everyday use but still boast quality construction and materials. The Black Class is aimed at professionals, especially those in the military and public safety fields.
Let's start with the new knives from the Blue Class.
Benchmade 665 APB Assist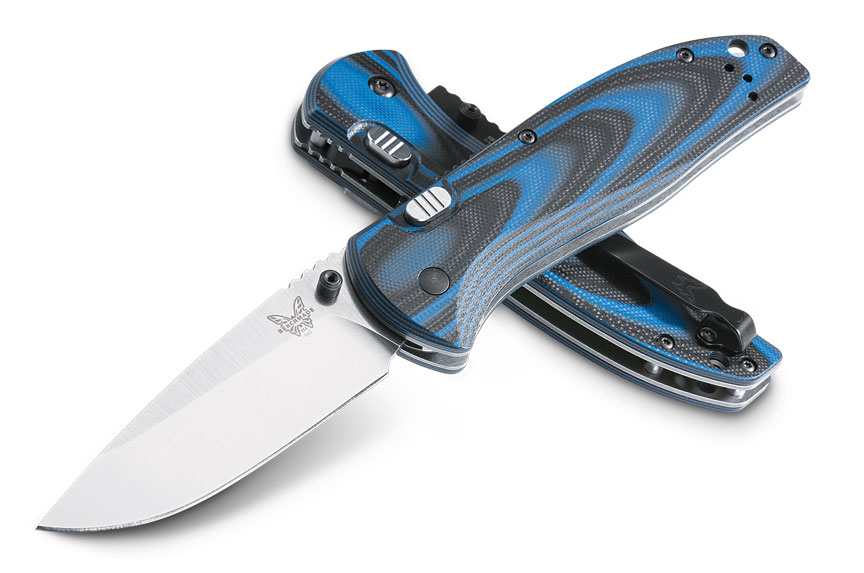 One of the highlights of the new knives is the 665 XAS, which is a push-button Axis-Assist knife. Basically, it's an assisted push-button knife that also requires the buttons pushed for the blade to be closed. It's inching ever so close to a switch blade.
The blade uses 154CM steel and the handle has a blue and black G-10 handle.
Benchmade 761 Ti Monolock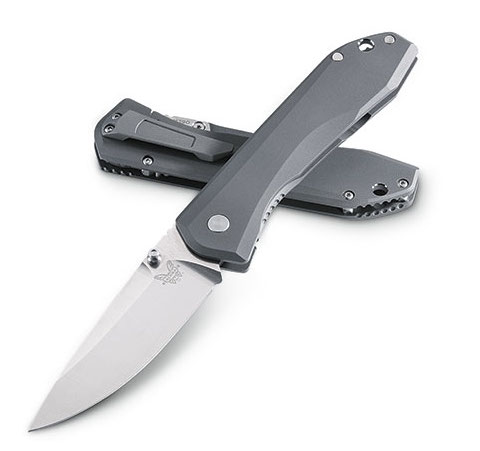 The real highlight of the 761 is the machined 6AL-4V titanium handle with its titanium tip-down clip. It uses a monolock on the 3.73-inch M390 steel blade.
Benchmade 484-1 Nakamura AXIS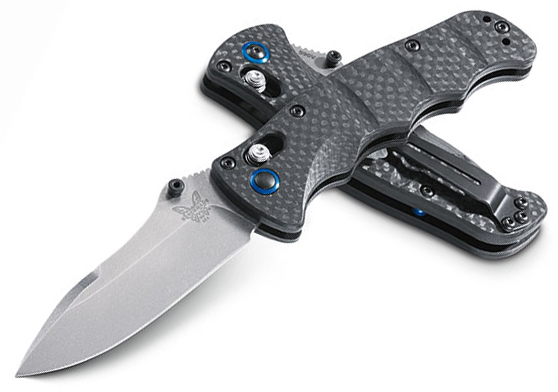 The original 484 came out last year, but this is a newer and more updated version of the knife. It uses CPM-S90V super premium steel on the 3.08-inch blade (as opposed to M390 on the original). It has an AXIS lock and a contoured carbon fiber handle with stainless steel liners.
Benchmade 153 Jungle Bolo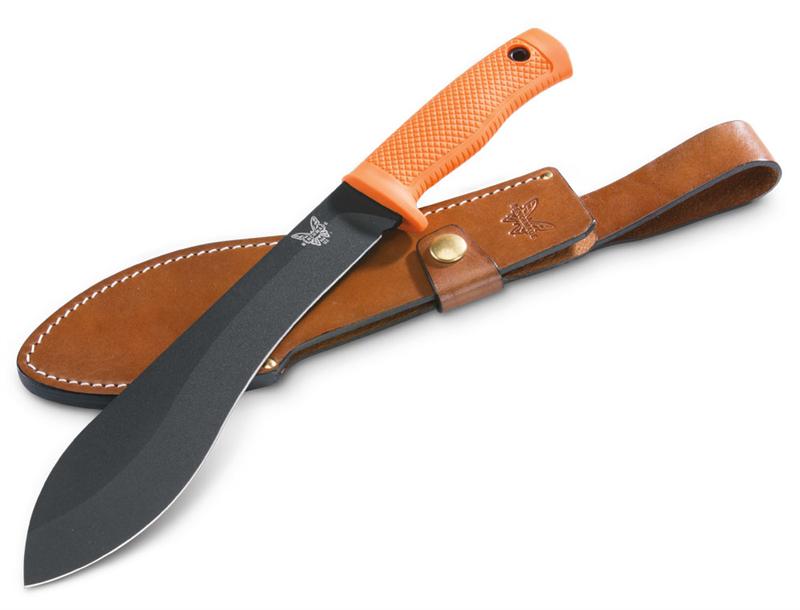 Benchmade doesn't typically venture too far from its folders and AXIS locks, but these two large choppers show the company is willing to explore new territory.
The Jungle Bolo looks great with its 9.69-inch blade made of 1095 spring steel. The orange-textured handle, which is great for visibility, is made from Santoprene.
Benchmade 154 Jungle Clip-point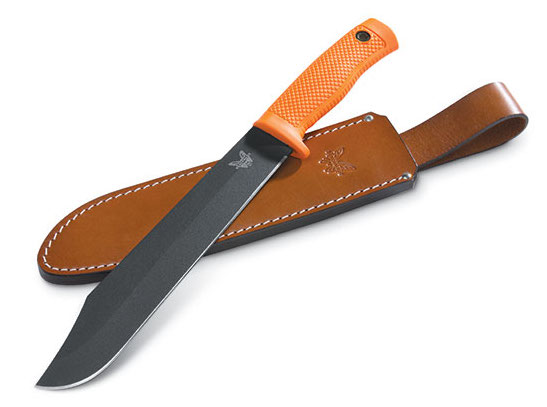 The 154 is the 153's counterpoint and uses the same materials, except this one has a clip point.
Benchmade 485 Valet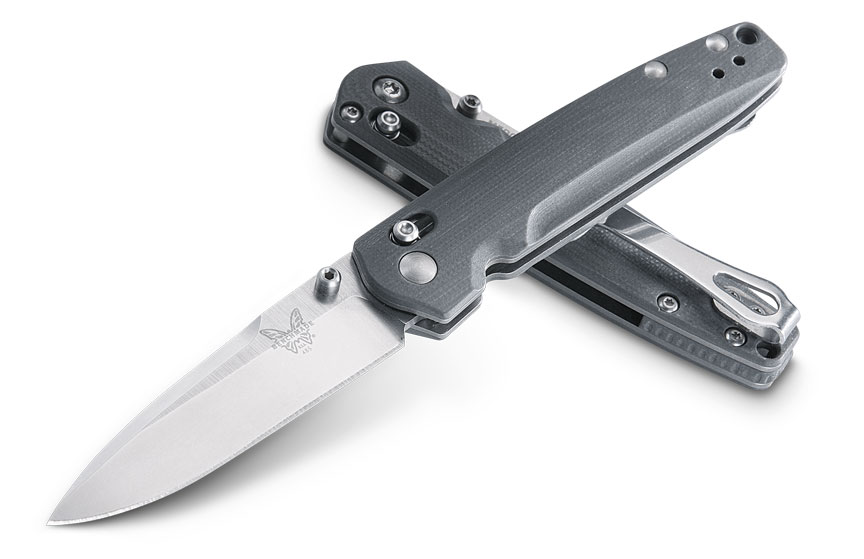 This knife makes a good everyday carry with an M390 steel blade that's a little less than 3 inches long. It has a gray contoured G-10 handle and a reversible tip-up pocket clip.
Benchmade 477-1 Emissary Family Aqua Anodized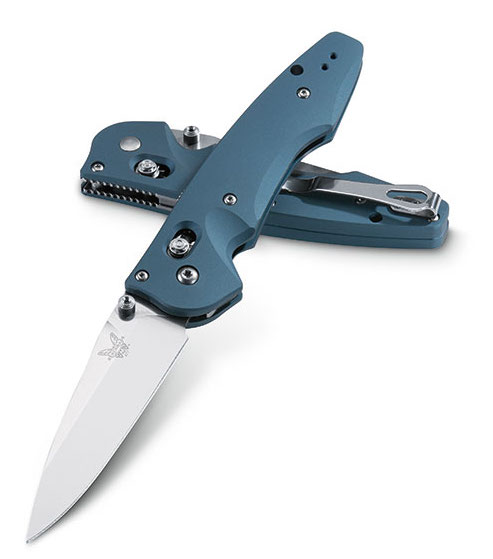 This is a newer iteration of an old knife. The real change is the good-looking aqua-anodized handle.
Benchmade 112 H2O Fixed

The latest addition to the H2O family is this fixed blade, which was originally developed for an elite military program. It uses N680 ultra stainless steel and features a blunt tip and rescue hook.
It comes in black and yellow.
Benchmade 757 Vicar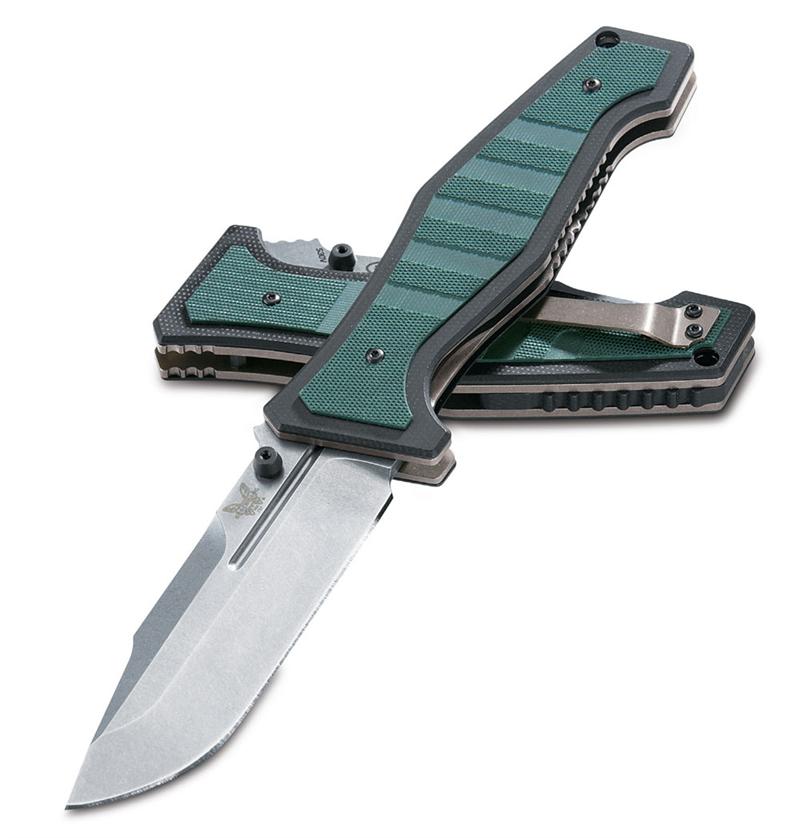 This is a modern and really handsome knife from Shane Sibert. It has a blade of 3.86 inches made from CPM-S30V steel. The handle is green and black stacked G-10.
Benchmade 162-1 Bushcrafter EOD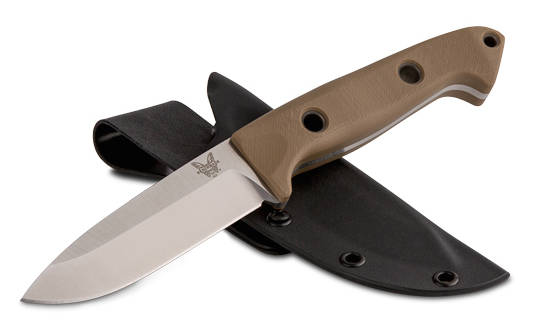 This is another iteration of the Bushcrafter. It has a 4.43-inch fixed blade made from S30V stainless steel. The handle is made from hand-blended sand, contoured G-10.
Next up are the Black Class knives.
Benchmade 6800 Auto APB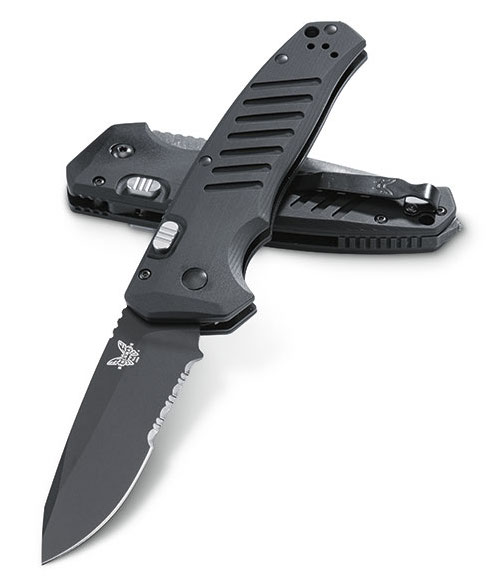 The 6800 is a sleek knife that's a push-button automatic. The 154CM stainless steel is  3.52 inches long, and the handle is black anodized 60601-T6 billet aluminum. There's also a bonus carbide glass breaker.
Benchmade 3320 Pagan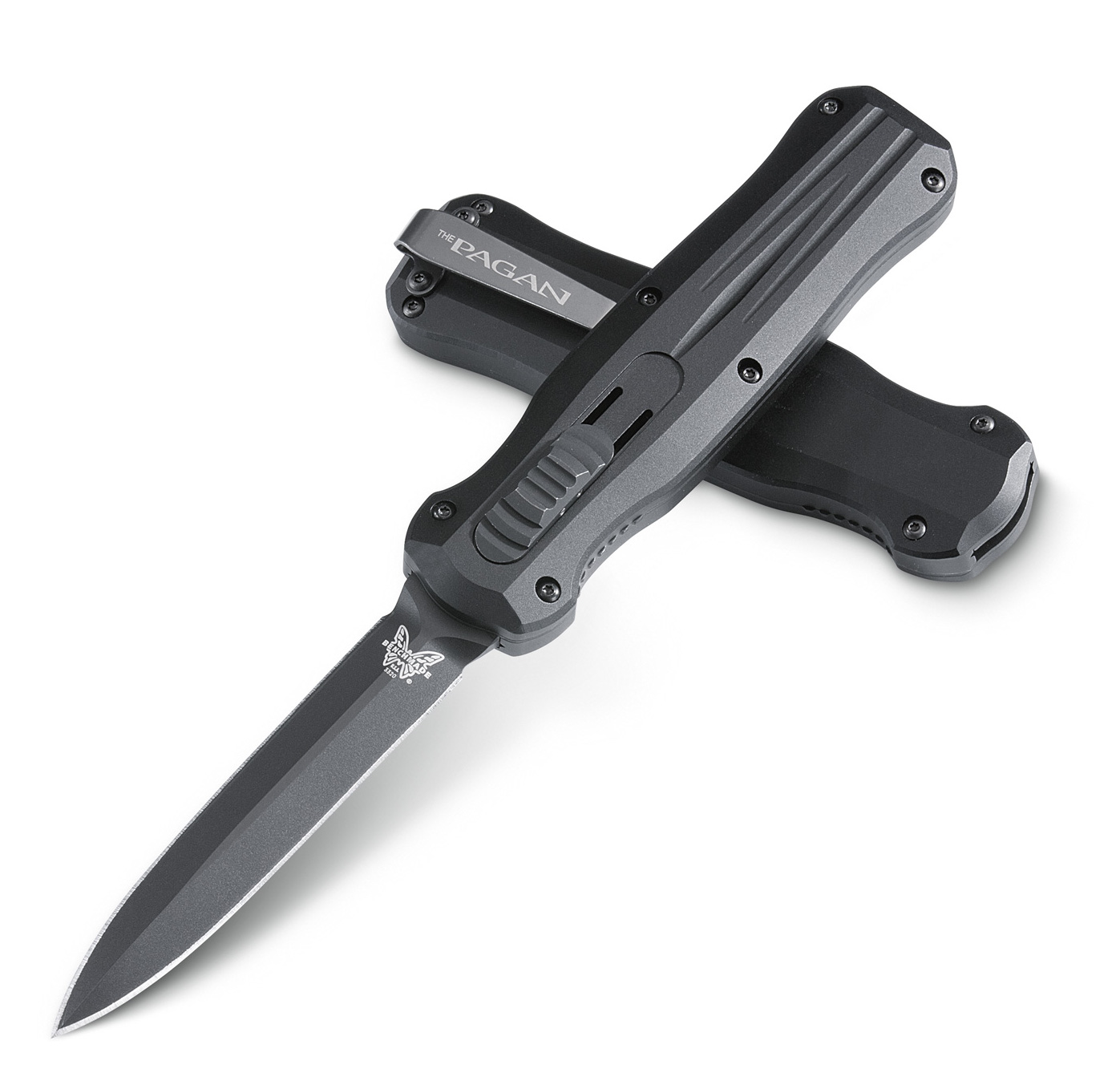 The Pagan is a nice OTF knife with a spear-point blade that's a little less than 4 inches long. The handle is also black anodized 60601-T6 billet aluminum.
Benchmade 808 Loco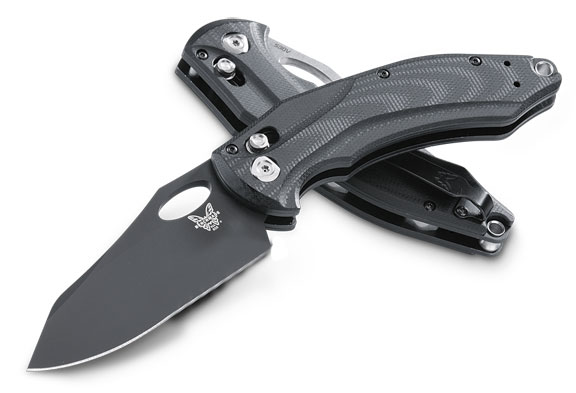 No, this isn't a Kershaw. Despite its decidedly non-Benchmade look, the Loco is a heavy tactical folder with an AXIS lock and 3.68-inch CPM-S30V steel blade.
Benchmade 4300 CLA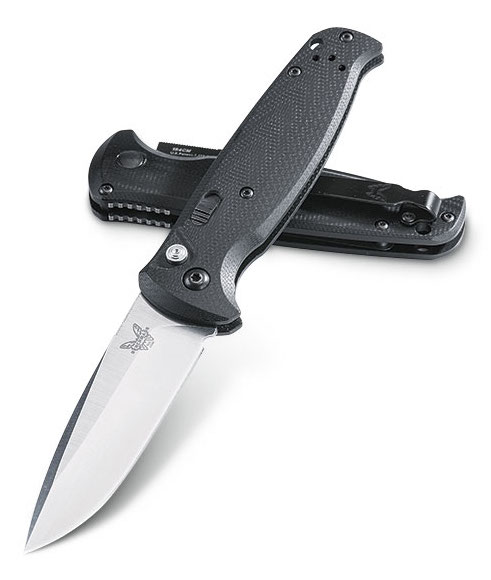 This is a push-button automatic knife with a safety mechanism. The 3.4-inch blade is made from 154CM stainless steel and the handle is reliable contoured G-10.