"I'll never be able to afford a Sebenza."
"I want to try out a SOG Tomcat before a get a real one."
"I wasn't going to buy a real one anyway — might as well get a fake."
"It's not hurting anyone."
These are common arguments from people trying to justify buying knockoff and counterfeit knives.
To those people, all I say is NO. Counterfeit knives are not only harmful to the designers and makers but can also be harmful to you.
If you're not dissuaded from buying clones or knockoffs, this post will hopefully open your eyes to the dangers and pitfalls of buying fakes. Here's why you should only buy a real and legitimate knife.
A Note on Terminology
Clones, knockoffs, counterfeits, homages. What's the difference? All of these terms are typically used to mean one of two things.
A knife passed off as the real thing.
A counterfeit knife is one that looks exactly like the real thing — with branding, all the design elements, and even packaging information — but is not from the actual company.
A knife that steals designs from another model.
If it looks like a Spyderco, functions like a Spyderco, but is called an Arachnidco, it's a stolen design. It may not have the branding of the original but it may be a heavily borrowed design. This is not necessarily a counterfeit knife, but the effects are the same.
1) Counterfeit knives cause loss in sales.
This one is the most obvious reason not to buy a counterfeit knife: you're taking away money from those who made the original. Multinational brands typically lose around 10 percent of their annual revenue to counterfeiters, according to the Secretary General of the International Chamber of Commerce.
The American Knife & Tool Institute has some knife stats for you.
"Based on the latest 'AKTI State of the Sporting Knife and Tool Industry Report,' we conservatively estimate that the annual financial impact on the sporting knife and tool industry is around $80 million," said AKTI Executive Director Jan Billeb back in 2013.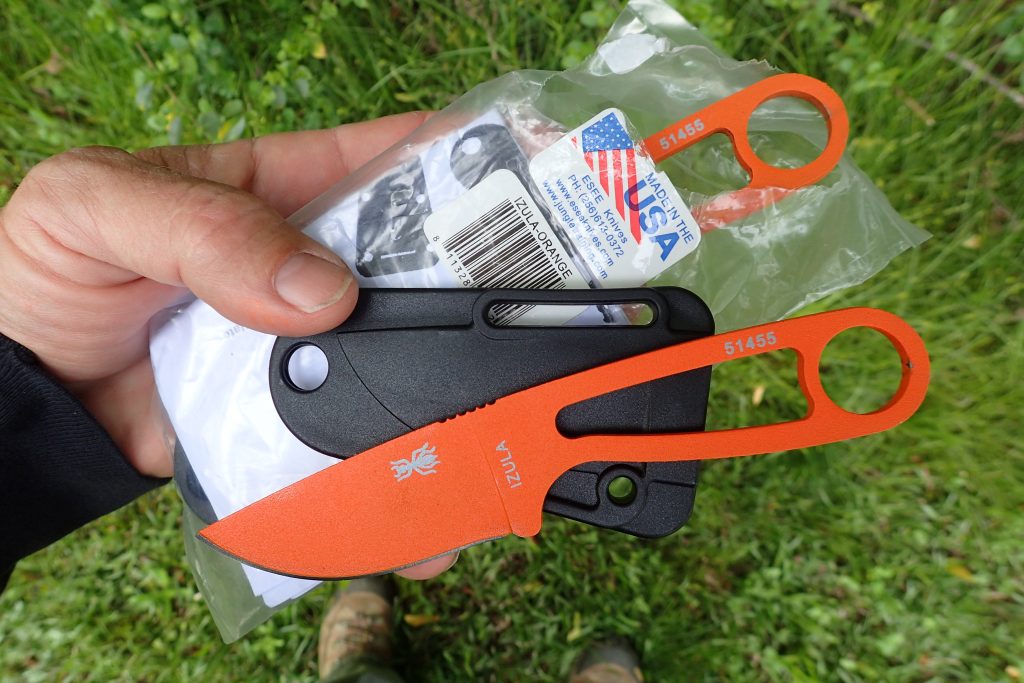 Imagine spending all this time, money, and resources on making the best product possible only to have everyone copy the product and sell it as their own. Not only does all your hard work go unpaid but it has to feel just awful and could possibly discourage people from making new things.
Millions of dollars each year are going away from those who deserve it to criminals trying to make a buck off of others.
2) Knife companies incur unforeseen costs.
Aside from the loss of revenue from sales, counterfeiting puts a big financial burden on knife companies you may not have considered.
First, there's the customer service aspect. You get a lot of people going to warranty departments of major brands to get their knockoffs fixed.
Here's what Benchmade's Les De Asis said about that to AKTI:
"We've experienced counterfeits bearing our trade name and trademarks coming into our warranty department. Some were attempts to copy our products. Others bore no resemblance to our genuine products but had our brand name stenciled on them. Bottom line – buyer beware! You deserve to get what you pay for. We pride ourselves in our ability to innovate, satisfy, and take care of our customers' needs. We share the consumer's pain when we tell them it's not a genuine Benchmade."
Companies have to spend more resources trying to figure out warranties and fakes in their customer service department.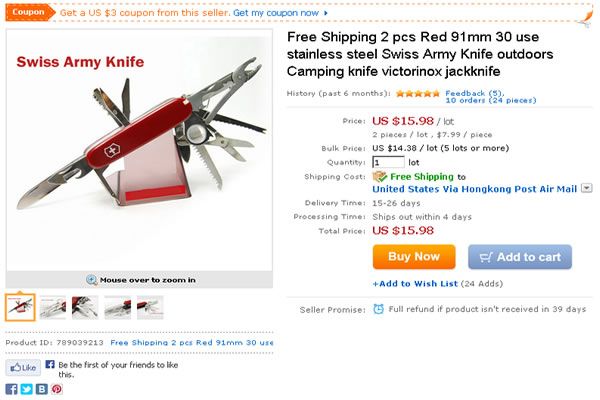 Second, there are tons of legal fees. Companies like Spyderco have been aggressively litigious against counterfeiters when they can, but lawsuits don't come cheap. I bet Spyderco spends millions a year in legal fees taking on counterfeiters. Just this year alone, Spyderco has sued Kittery Trading Post (twice) for selling counterfeits and eBay for not stopping people from selling fakes (that case was recently settled).
Finally, there's the monitoring of counterfeiters. To really stay ahead of the game, you have to put in measures and safeguards to ensure you're always a step ahead of the fraudsters.
3) Your money is used to fund crime.
If you look up reasons why you shouldn't buy knockoff Gucci bags or counterfeit CDs, you'll often see people link counterfeit products with organized crime. While it is true that counterfeit goods have funded drug cartels, terrorists, and gangs, there is no clear evidence between counterfeit knives and organized crime.
I'm trying not to be an alarmist and link the two, but either way, you're funding a criminal operation when you buy a counterfeit knife. Stealing intellectual property is a crime, so what counterfeiters are doing is illegal.
In fact, Chris Reeve believes Chinese counterfeiting operations may even be supported by the Chinese government.
"I believe, although I have no evidence, there is assistance given by the Chinese government to these endeavors, whether it is active and financial or simply turning a blind eye."
I know it can be expensive for some people, but buying fakes just encourages more illegal activity and worse.
4) It harms the reputation of the company.
Aside from simply causing the obvious financial loss to the knife company, counterfeit knives can also harm the overall reputation of the company.
While many people who buy fake knives do so knowingly, some do not. These people get poorly made knives with all the branding and understanding that it's from the original company only to see it has major issues.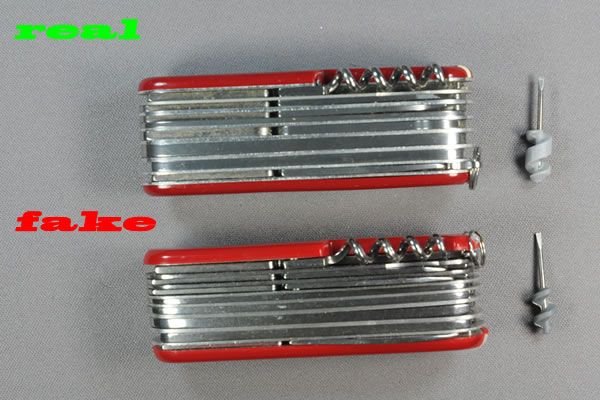 These people aren't aware it's a fake and assume the brand on the knife just makes awful knives.
Here's an excellent video (well worth a complete watch) the late Marshall Hoots of Going Gear did with Spyderco's Sal and Eric Glesser about fakes and more.
This is just an excerpt of the conversation about reputation:
There are companies that develop a good reputation and a good name. Then there are companies that usually come out of China that will make a counterfeit and they're getting better… It hurts our reputation when somebody buys one and they don't get the performance or longevity that they expect, but it's a bigger problem than most people are aware of.
5) Fakes can be dangerous to you.
Whether you have a very cheap knockoff of a SOG or a well-done fake of a Sebenza, you can be in danger of severe injury when using a counterfeit knife.
Why? Well, the knife is almost always going to be far worse and less reliable than the original. Here's what CRKT has to say about that:
First, the consumer takes the risk of serious product defects, and the possibility of product failure and/or injury. The knockoff pirate company is not to be found to make good on the failure, or even to be pursued for damage claims.

Second, the inferior quality of knockoffs usually results in poor performance, reduced edge-holding ability and short product life. These are not the real CRKT® knives and tools that users tell us they cherish for years and years.
Things like a poor lockup, loose pivot, and brittle steel can result in a catastrophic failure of your knife. And, if you're using it with any force, it could be the end of your fingers (or worse).
6) You don't know what you're getting.
Similar to the reason above (but less compelling), you don't know what you're actually getting. A counterfeiter may say the blade steel is S30V, but it could be 5Cr13 stainless steel. The same goes the locking mechanism. It may look like an AXIS lock but function completely differently (and therefore less effectively).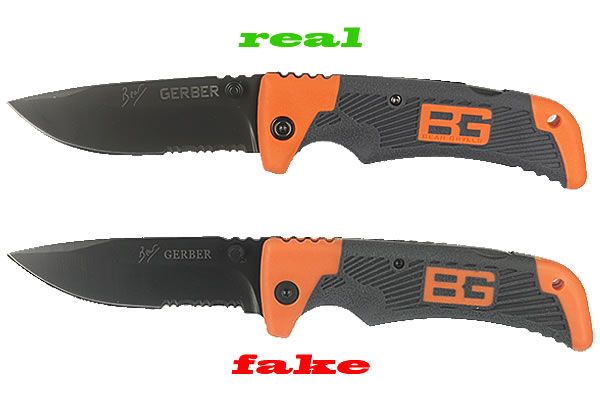 There are no standards for counterfeiters and while some can be very well-made, it's just too risky.
7) They don't promote actual sales.
There's a specious argument out there that clones can help promote sales of the original company. This is patently false.
Counterfeiters explicitly say the knives are clones or homages so you can try them out. Instead of shelling out the $400 for your Sebenza, you can try out a clone. The truth is that people aren't rushing to buy the real thing after — either because they may just be OK with the clone or because the clone is inferior and they don't want to pay the $400 (even though the actual is significantly better).
Again, even if you are buying a knife to try it out, it still supports the overall counterfeiting effort affecting nearly every aspect of the fake knife trade.
8) There are so many other options.
So maybe you can't afford a Sebenza or a Microtech, but why, why why do you need to buy a fake? There are thousands of other legitimate knives from legitimate companies at affordable prices. Even Spyderco makes cheaper versions of some of their popular knives. In fact, they have a whole line called Byrd knives that are essentially Chinese knockoffs.
Can't afford a Spyderco Endura? Get a Byrd Cara Cara 2. Can't afford a Chris Reeve Mnandi? Get a Benchmade Megumi. Can't afford a Victorinox SwissChamp? Get a Victorinox Cadet. Sure, these are all different knives with different personalities, but you have options.
Companies like Gerber, CRKT, Buck, Case, SOG, Kershaw, and more have quality knives at reasonable prices. There's simply no need to buy a fake these days.
And if you really must have that robust and awesome SOG Fatcat, start saving instead of giving money to counterfeiters.
9) You're supporting scammers.
This goes back to the second point, but there's something disgusting and immoral about supporting people who are scamming others for a living. These people do some really questionable stuff. They may write fake reviews, fail to give refunds, scam unsuspecting customers, and worse.
There's nothing I hate doing more than supporting a scam artist and a thief.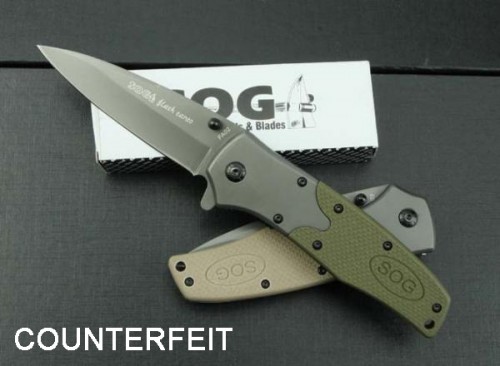 Scammers are spread across the world. Although we know China is a big culprit , people sell fakes here in the United Staes as well. This is a worldwide problem that you should not support in any way.
While you're free to do what you want with your money, I urge you to avoid buying fakes at all costs. https://credit-n.ru/order/zaymyi-oneclickmoney-leads.html