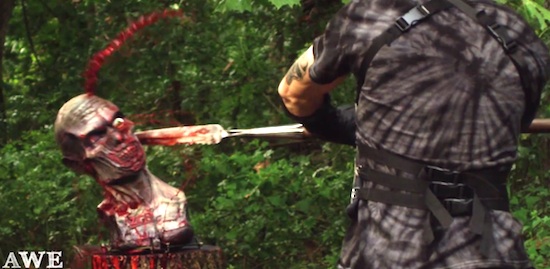 Are you suffering from zombie fatigue yet?
Let's hope not because with the return of the Walking Dead's fifth season, Halloween quickly approaching, and the ever-present zombie video game, zombies ain't goin' nowhere.
That doesn't mean we have to suffer though. Even if you are tired of the flesh-hungry hordes, you can still get some pretty cool stuff out of it.
That's where the latest Man At Arms: Reforged video from the AWE Me Channel comes in.
In Monday's video, Sam, Matt, and John each set out to create the ultimate weapon for a zombie apocalypse. The weapons included a katar, a spear, and a war hammer.
To make the competition fair, the guys brought in a third-party judge from over at Zombie Go Boom, which we've shared on social media a few times.
The winning weapon seems clear from the very beginning in my eyes, but you can imagine each person has his or her own fighting style.
You can check out the video below and let us know which one you thought was the best.
---