In a split second, the hunter can quickly become the hunted.
That's what happened a few weeks ago when a Minnesotan hunter named Brandon Johnson was out tracking a black bear that one of his friends had shot earlier.
Johnson was out around midnight on a warm fall day near Sand Stone, Minn. The moonlight was low and there was a dense fog in the forest. Suddenly, the very bear Johnson was tracking charged at him and knocked him down, snapping his left arm in half and causing him to go unconscious for a moment.
When he came to, the 525-pound bear was biting at his hand and he was unable to get away. That's where our life-saving tool enters the story.
Johnson had a 5-inch fixed blade knife in his right hand. So he did the only sensible thing he could think of: he stabbed the hell out of the bear.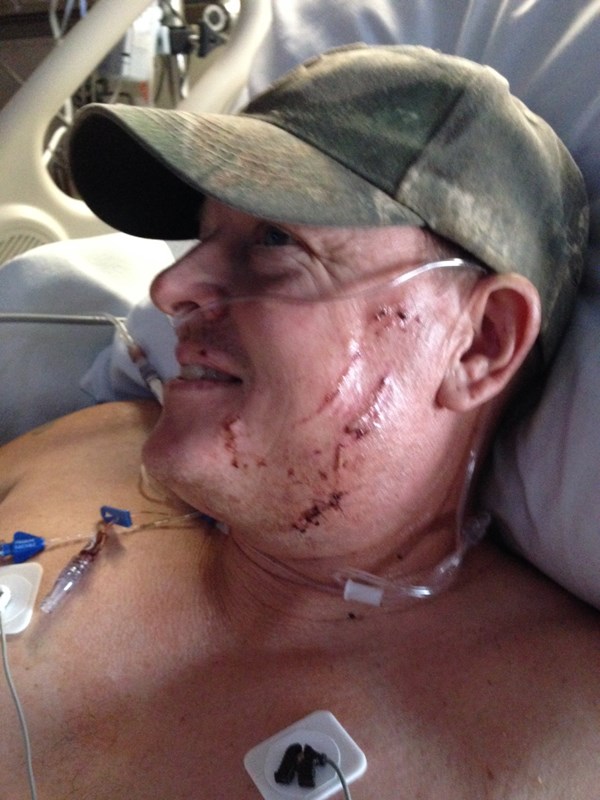 After repeated stabbing, the bear finally backs away, leaving the injured Johnson on the ground. Just when he thought it was over, the bear returned. It was scared off again when he screamed for help from his nearby friends.
The bear wouldn't give up that easily though. It returned for a third time and went straight for Johnson. With the bear back for more, Johnson told KARE-TV news that he "got to the point where I thought I was going to die, and I got myself to the point where I was ready to die, there was no more fear."
Then he went for the throat of the bear… literally.
"I pushed myself off the ground and shoved my hand right itself of its mouth and down its throat with my knife," he recounted.
As you might expect, the bear retreated for a third and final time. Johnson, with the help of two friends, walked 700 yards to the ambulance.
The next day, Johnson's friends found the carcass of the bear near the scene of the attack.
Without a knife within arms reach, there's almost no way Johnson would have survived the attack. This reinforces the importance of wearing a knife and keeping it in a place where you can reach it in dangerous situations.
In the end, Johnson escaped with relatively minor injuries, considering just how large the bear was, but he's been left with huge medical bills. You can find a fundraising website for him here.