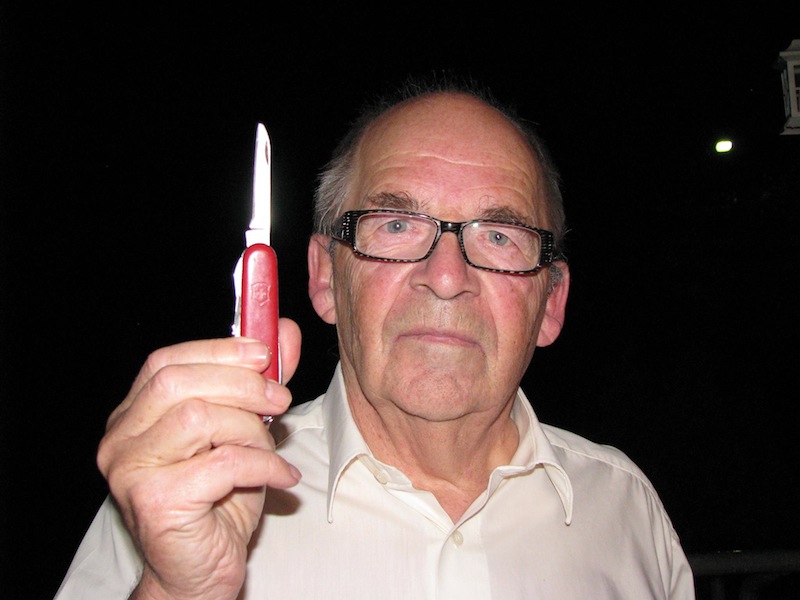 What's in your pocket right now? Probably a wallet, keys and a phone, but there should be one other item in there: a knife.
And not just any knife. Everybody should carry a Swiss Army knife and here's all the evidence you need.
On November 10, a 38-year-old man was driving along in Germany when he suddenly lost control of his vehicle, according to a press release from Victorinox. If you've ever lost control of a car, you know how unpredictable it could be. This man's car skidded across the lane of oncoming traffic, smashed a roadside marker, hit a tree and rolled over into a ditch on the side of the road. After all was done, the car was upside down on its hood and on fire.
Needless to say, the man was in serious trouble. Enter septuagenarian Rüdiger Leonardy.
Like any good Samaritan, Rüdiger pulled over with a group of other people to see if they could rescue the trapped man from being burned alive. Here's a better description of what the scene looked like:
The mangled car was burning around the front axle. The driver was seriously injured and had been left hanging upside down in his seatbelt. There was no time to lose, but the helpers at the scene were unable to release the man's seatbelt.
With no one able to unlock the seatbelt, 73-year-old Rüdiger pulled out his knife: a 40-year-old Swiss Army knife he picked up while on vacation in Switzerland.
He quickly cut through the belt with the knife and the man was pulled out of the car severely injured and on fire. Rüdiger put his life on the line to save the man who is now recovering in intensive care. It's safe to say that had Rüdiger not been there with his Swiss Army knife, the man would not have made it out of the car.
Let this be a gentle reminder that along with your keys and wallet, you should always have a knife nearby—and something as durable and reliable as a Swiss Army knife.