Day two at the Blade Show culminated with the World Cutting Championship, in which knife-wielding competitors dashed through an obstacle course while slicing targets to pieces.
It was obscenely hot in the courtyard of the Cobb Galleria at 4 p.m., yet despite the scorching weather, close to a hundred spectators had gathered to watch 13 knifemen chop though wood, water bottles, golf balls and rope in the hopes of being crowned the 2011 champion.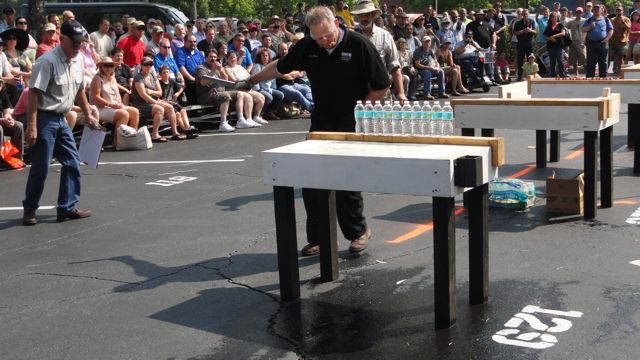 The course took competitors approximately 45 seconds to compete.  Time was a component of scoring, but more important was whether or not participants cut through the various obstacles completely.
The favorite was Donavon Phillips, who was coming off a recent victory at the U.S. National Championships in Mountain View, Arkansas. Phillips, who appeared to be at least 6 foot 3 and in the neighborhood of 300 pounds, cut an intimidating figure in the courtyard.
Sporting a black cowboy hat, dark sunglasses and a long goatee, he paced with nervous energy before unsheathing his knife—named Delta's Edge—and bombing through the course and to the top of the leader board.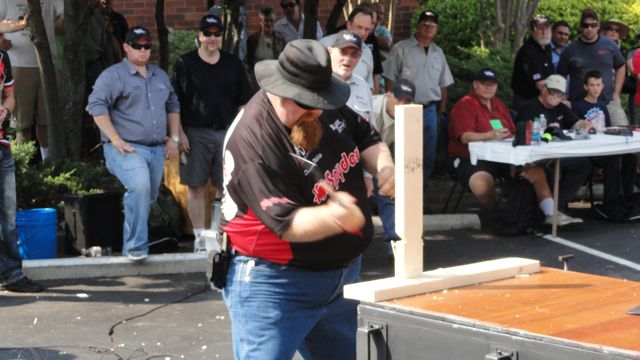 However, Philips reign was only short-lived, as Gary Bond would later nudge past him and take the crown.
If you ever have the time, The Blade World Cutting Competition is definitely worth checking out.  Scope out the video below and let me know what you think.
---