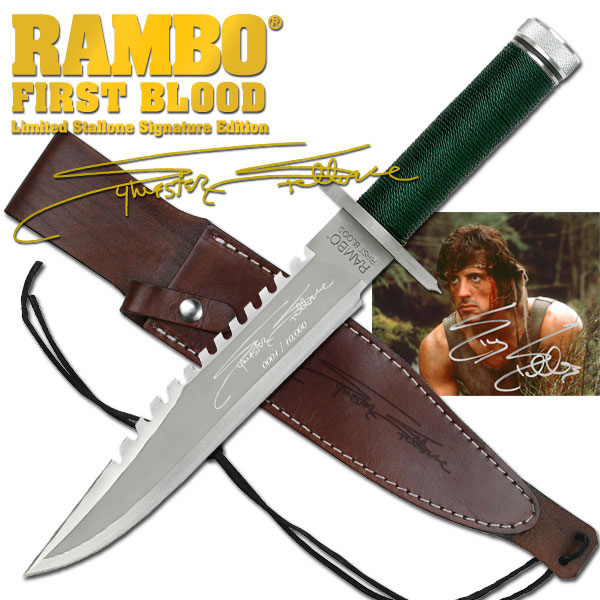 Rambo, as many of you are already aware, never fails at anything, especially when it involves combat. Throughout the First Blood series, Sly Stallone's character, John Rambo, shoots, stabs, punches, kicks, head-butts, incinerates and terrorizes his foes, always with his trusty survival knife in tow.
How many bad guys does Sly slay?  Only God knows, but as pointed out in our earlier post on The evolution of the Rambo knife, he wipes out a total of 236 evildoers in the fourth and final installment of Rambo.
Last week, we announced a Rambo-look alike contest to win a signature edition Rambo knife with second place pulling in a sweet-looking scorpion knife.  Participation has been, frankly, a bit lame, with only  a few worthy Rambos entering.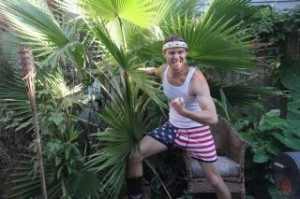 We figure maybe many of our fans don't have their Rambo gear handy, so we're offering another way to win.
Give Rambo a Hand, Win His Survival Knife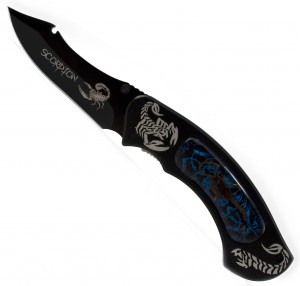 Rambo is always getting in sketchy situations, that's just kind of the way he rolls, but he's always getting out of them as well, due to his huge selection of badass weapons. Tell us how Rambo should dominate the following scenario by writing in the comment section below and you could win either a signature edition Rambo knife or a scorpion pocket blade (pictured on left).
Rambo is hanging from his feet while being lashed with a razor-sharp swatch by a chain-smoking soldier.  In addition to disposing of the soldier who is torturing him, Rambo must paddle across a moat full of crocodiles, scale a 16-foot electric fence, kill ten guards, release POWs, perform minor surgery upon the wounded, subdue a wild boar and flag down a helicopter for his escape.
In his possession is his trusty survival knife, a scorpion pocket knife with real scorpions encased in the blade, a lighter, some rope, bubble gum, an 8-ounce Budweiser can, a pair of brass knuckles, a Taser, a Glock, a dart gun and a grenade.  If he can only bring three of these items with him, which ones should he bring and how should he use them to finish his mission.  Enter your answer in the comment section below before midnight on 10/18 and you'll be eligible to win either a Rambo survival knife or a scorpion pocket blade!
What's that?  You need some inspiration.  Then check out the video below.
---