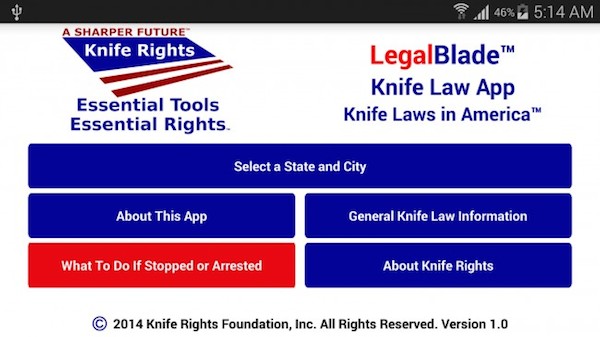 I've lamented the fact that there aren't many useful knife apps out there, aside from the fantastic Steel Knife Composition App from zknives.com, but now you can add another to that list: the LegalBlade app.
Created by Knife Rights, the app gives you information on knife laws for all 50 states, along with info on select cities and jurisdictions in the U.S.
As someone who travels frequently, I've been waiting for something like this to come along. Knife laws in the United States are a confusing mess. Each state has its own variations of certain laws and some cities have different laws than neighboring ones.
Here's what Knife Rights Chairman Doug Ritter said about the app, "While Knife Rights will continue to aggressively work to repeal bad knife laws, knowledge of the law is the first step in avoiding an unfortunate arrest, loss of your knife or other legal complications."
The app is currently available on Google Play, but it will be in the Apple App Store soon. Since I don't have an Android phone, I haven't been able to try it out myself, but when it's up, I'll write up a more extensive review.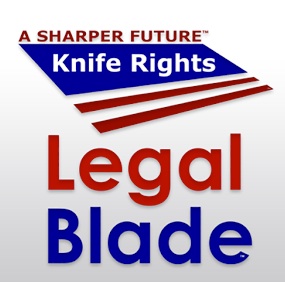 Until then, here are some of the advertised features:
Includes the knife laws of all 50 states and the District of Columbia, plus cities
Results presented incorporate judicial decisions that affect how the law is actually enforced
Easy to understand, color-coded tables
Comprehensive information on the legality of Possession, Open Carry and Concealed Carry for all common knife types, including those most often restricted
Includes length restrictions, age restrictions and other restrictions in the law
Includes the text of the state law, plus applicable portions of court decisions that further define what is legal and what is not
"What To Do If Stopped or Arrested," by Evan Nappen, noted knife law expert and attorney, provides clear, concise information to protect your rights if you are ever stopped for carrying a knife or arrested for a knife law violation
All legal data is maintained on the server for instant law updates and the addition of more cities going forward