There is an old theory called the stepping-stone hypothesis that claims using mild drugs will lead to the usage of more potent and addictive drugs. This phenomenon became more widely known as the concept of the "gateway drug" in the 1970s.
I am not here to argue the merits of the claim, but the term "gateway" has now become a catchall for an introductory item that leads to a greater obsession.
I was curious to learn more about how people came to the obsession of knives, so I set out to find the most common "gateway knives" for every brand. These are the knives people first got that made them more interested in a brand, slowly consuming them until they had bought up as many knives from the brand as possible.
I thought I'd focus on the 20 top brands. I'll include a secondary choice at the end.
Benchmade Mini Griptilian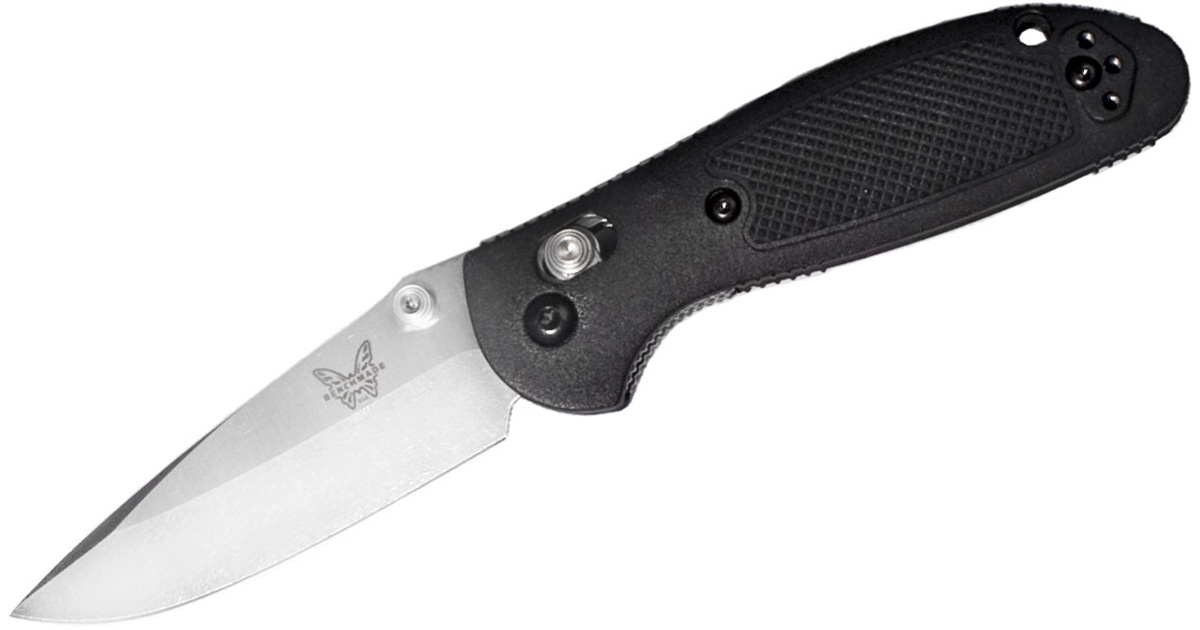 The first brand up is Benchmade. Benchmade is already a brand known for higher-end knives, so it's not likely a person's first knife will ever be a Benchmade. However, for those interested in trying out the brand before they make a long-term commitment to its more expensive offerings, there's the Mini Griptilian.
This knife is an icon and still represents the best of Benchmade. The Mini Griptilian uses 154CM steel on its sub-3-inch blade and Noryl GTX scales. After this knife, you shouldn't be surprised to see someone upgrade to the premium version of the Mini Griptilian and maybe even try out some other Benchies like the Barrage or Infidel.
Secondary Choice – Benchmade Griptilian
I was tempted to choose the Benchmade 940 as a secondary option, but it's about $182. So the larger Griptilian seems like a better option.
Boker Kalashnikov Automat 74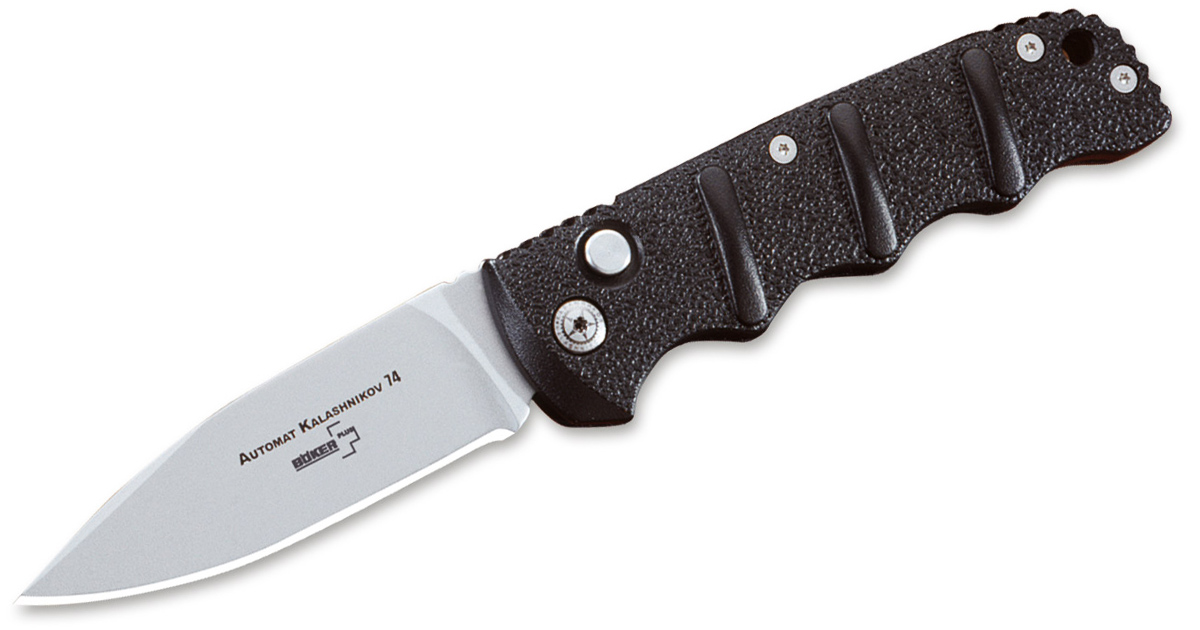 Of all the brands, I had the most trouble finding the perfect gateway knife that could get people hooked on Boker. The problem is that there are so many models — not to mention several different brands under the Boker umbrella. I ultimately decided on the Boker Plus Kalashnikov Automat 74.
This is a manual folding knife under the Boker Plus line and is based off the AK-74 bayonet fixed blade. It has a 3.25-inch AUS8A steel blade and textured aluminum handles. The push button lock works very well.
The Boker Plus Kalashnikov Automat 74 is an excellent gateway to the brand.
Secondary Choice – Boker Plus Subcom
The alternative was kind of a crapshoot, but I chose the SUBCOM because it has a blade under two inches (good under many international knife laws) and a unique design. There are different variations as well.
Buck 110 Folding Hunter Knife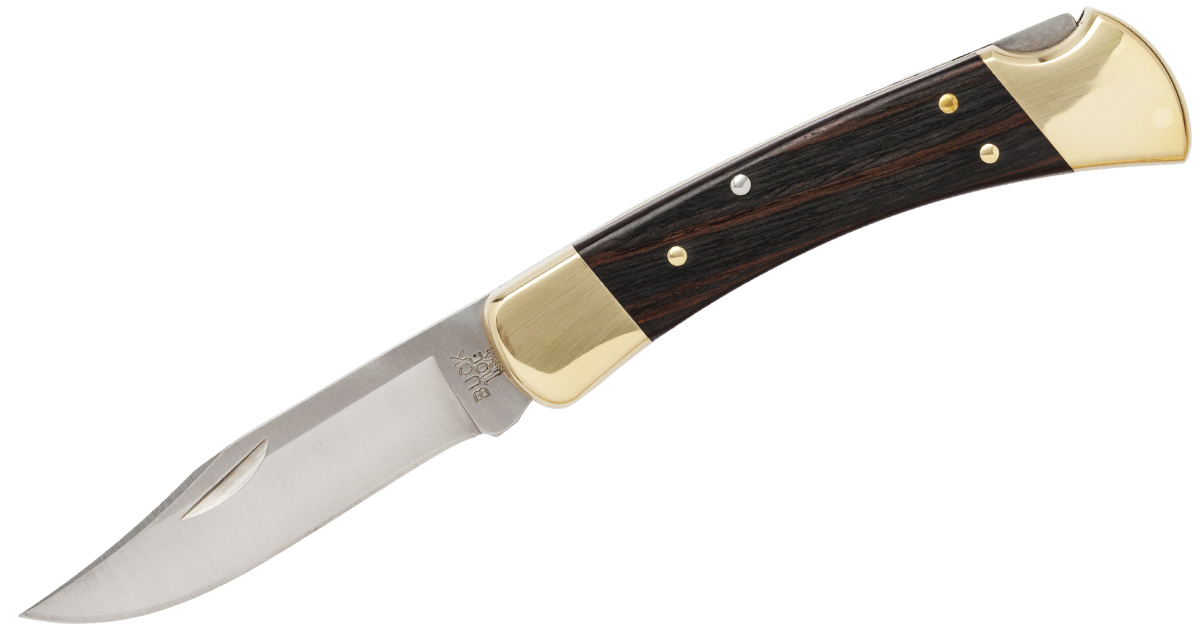 Is there any other choice for Buck than the 110? Well, maybe the smaller version of the 110, the 112. This is the knife that so many people have owned in their life and likely the first pocket knife for many people. It perfectly espouses the values and craftsmanship of Buck.
After using this model, people may be more inclined to check out the more modern offerings of Buck, like the Momentum or the Vantage series.
Secondary Choice – Buck 119 Special
Then, there's the Special. The 119 is almost as iconic and well-known as the 110. This is the option for those who lean more toward a fixed blade.
Case Peanut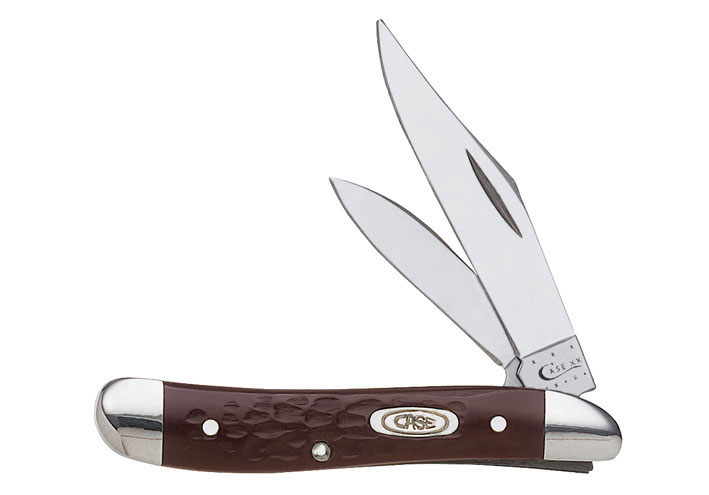 For Case, you might have thought I'd chosen something like the classic stockman. But the Peanut is the perfect storm. It's small, classic, and more affordable. First, you might think to yourself "I love this Case Peanut with synthetic brown handles." Then you might say "Oh, I like the look the Peanut in Buffalo Horn. I'll get one."
It goes on and on until you have all the Peanut models. Then you'll move on to other patterns and the obsession will continue.
Secondary Choice – Case Sod Buster
There's also the Case Sod Buster. It's another affordable design that everyone seems to love. It'll go the same way as the Peanut.
Cold Steel Tuff Lite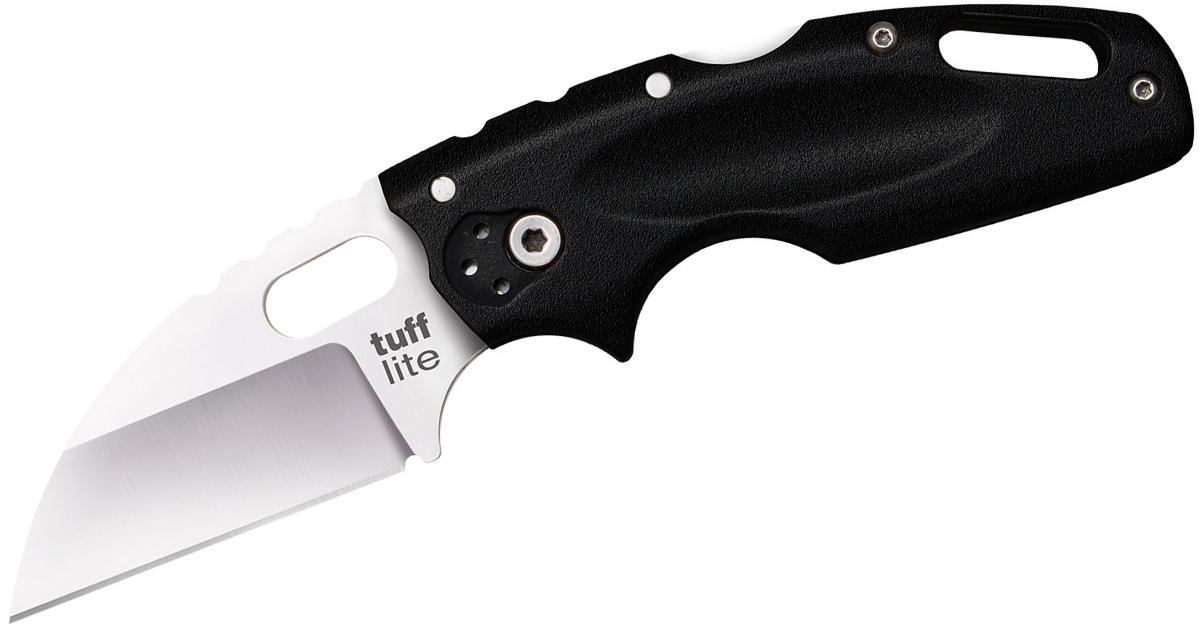 When you think of Cold Steel, you probably picture Lynn Thompson cutting up chunks of meat with massive folders with 6-inch blades. But for those who actually know and love Cold Steel, the knives speak for themselves. I think the best gateway knife is the Tuff Lite. It's a pretty small folder under $40.
It has a 2.5-inch AUS8 steel blade and a Griv-Ex handle. It uses the Tri-Ad lock found on most Cold Steel knives as well. This is just an all-around good little folder that will likely get the owner more interested in other Cold Steel knives.
Secondary Choice – Cold Steel Recon 1
The Recon 1 is another solid choice, but it's a bit on the pricier side. It offers everything the Tuff Lite does except with better steel. You can also get it in a ton of different sizes and variations.
Condor Bushlore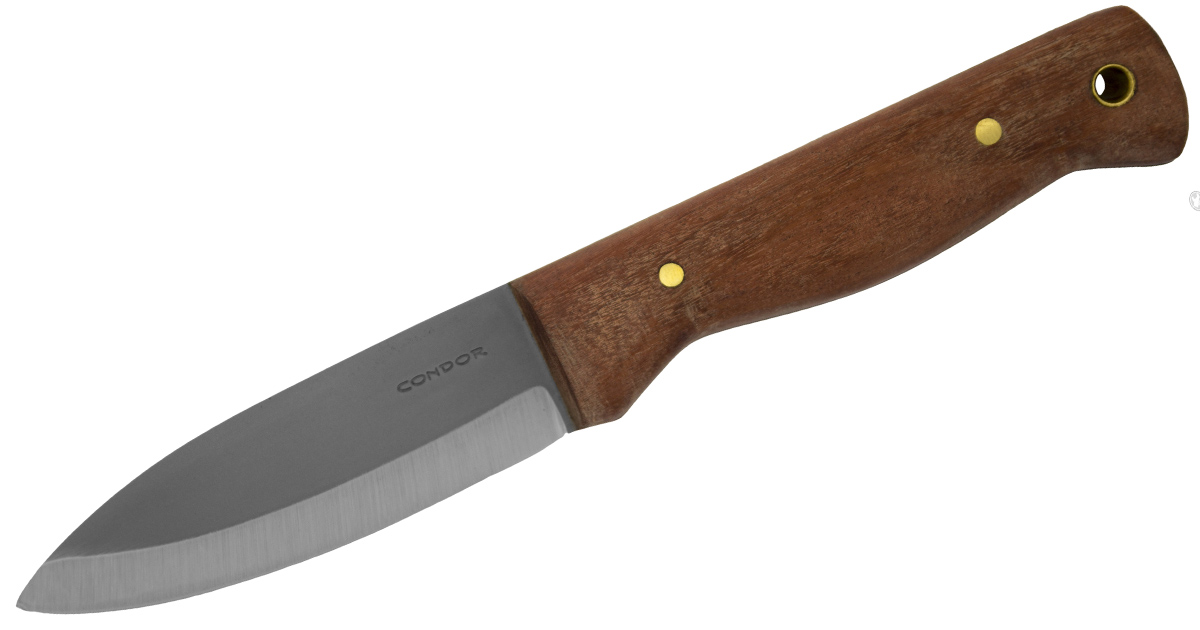 For Condor, you have to go with the Bushlore. It's a popular bushcrafting knife with no bells and whistles, but it will get the job done. The construction is excellent and it'll hold up well.
The 4.31-inch blade is made from 1075 carbon steel and the handle uses Micarta (or hardwood).
Secondary Choice – Condor Rodan
The Rodan is another simple but efficient design. This all-black knife is more of a utility tool. It has a longer 5.25-inch 1075 carbon steel blade and a polypropylene handle.
CRKT M16
As much as I wanted to pick any other knife, the M16 remains a staple of CRKT. Every year new versions of the M16 comes out and for good reason. People love the M16 and it gets others introduced to the brand. I could be wrong, but I believe there are around 36 variations. The M16-01Z is the least expensive version and often gets positive reviews.
It has a 3.125-inch blade that opens with an assisted mechanism via flipper tab. It also has zytel handles and weighs only 2.3 ounces.
Secondary Choice – CRKT Drifter
If the M16 doesn't float your boat, the Drifter might. This simpler folder was called the best pocket for the average person by Wirecutter. Here's a brief excerpt:
On paper, the Drifter offers nothing unique, but it excels at all of the small elements that make for a successful knife. The most impressive of these is the smoothness of the blade's pivoting action, which is among the nicest we tested and on a par with that of knives costing four times as much.
The Pilar was a close third for gateway knives.
Emerson Kershaw Emerson CQC-6K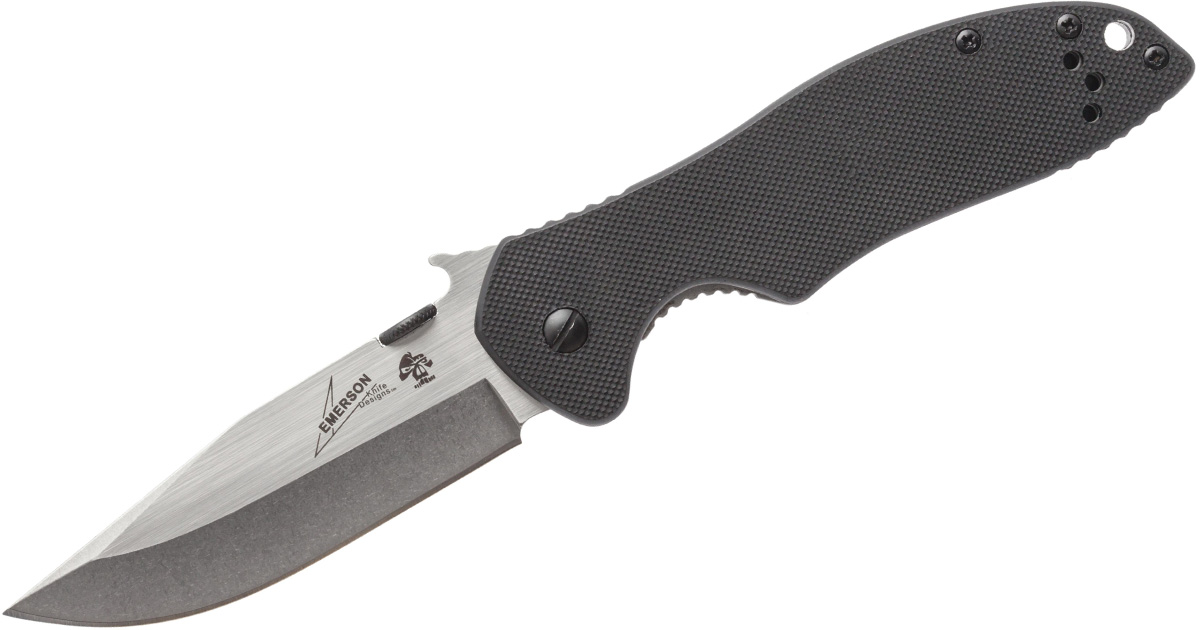 This one is cheating a bit, but the gateway knife for Emerson Knives is the Kershaw Emerson CQC-6K. This knife is a partnership between the two brands and allows you to experience the design elements and stylings of an Emerson without paying the big bucks.
The Kershaw version is a take on the iconic knife but uses budget 8Cr14MoV steel and G10 scales.
Secondary Choice – Emerson CQC-7
If you want an Emerson that's closer to his custom designs, check out the Emerson CQC-7. The knife starts at around $200, but soon after you'll have a Commander, CQC-13, and others.
ESEE Izula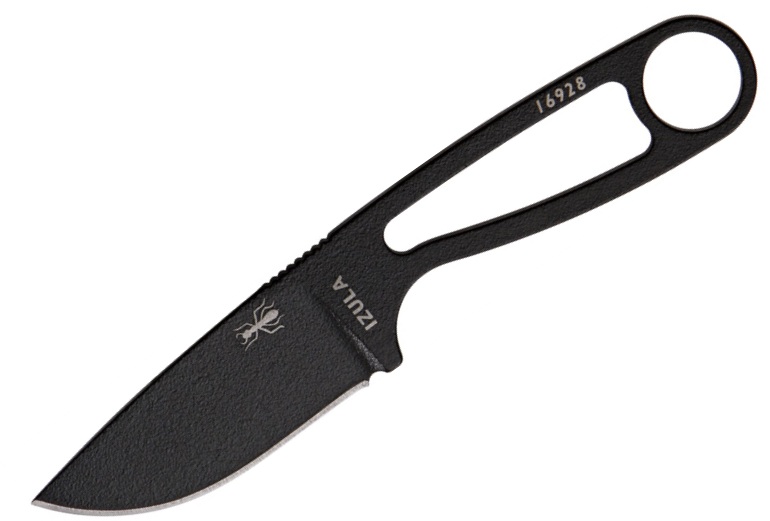 The Izula is a legend. This is a perfect EDC fixed blade knife that can also double as a neck knife. It has a skeletonized handle and is made of 1095 carbon steel. It only weigh 2.6 ounces and comes with a sheath.
The knife is a bit on the pricier side, especially if you get the version with the survival kit, but soon after, you'll be looking at knives like the ESEE-3 and Junglas.
Secondary Choice – ESEE Zancudo
ESEE is best known for its fixed blades, but it does make folding knives. These are less expensive and are perhaps a better entry into ESEE. The Zancudo is a great example. It's from the same team that made the Ontario RAT and is pretty straightforward.
I still think the Izula is a better choice though.
Gerber Gator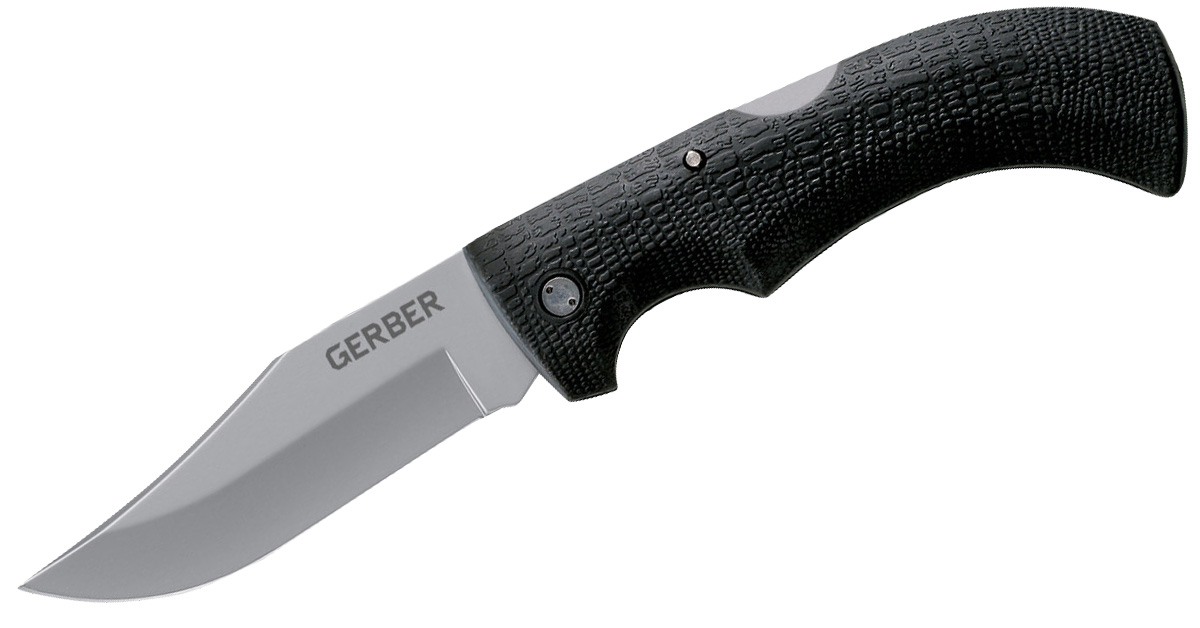 Gerber often gets a bad rap, but it does get a lot right. For a great representation of Gerber, try out the Gerber Gator. This has been a staple of Gerber for decades and continues to be the best gateway knife. The length 3.76-inch clip point blade is made from 420HC stainless steel and the glass-filled nylon handles are reptilian in look and feel.
It uses a backlock mechanism and is made in the United States. The design has been refined over decades, so they have things down pat.
Secondary Choice – Gerber LST
The LST is another oldie but goodie. Sure, Gerber has some great modern folders, but there's something about the LST that still captures so many people — even those who aren't a fan of the brand. For starters, the knife was brought to the market by Pete Gerber himself with input from the great Blackie Collins.
The blade is under 2 inches and I believe it was the first knife to have synthetic handles.
KA-BAR USMC Fighter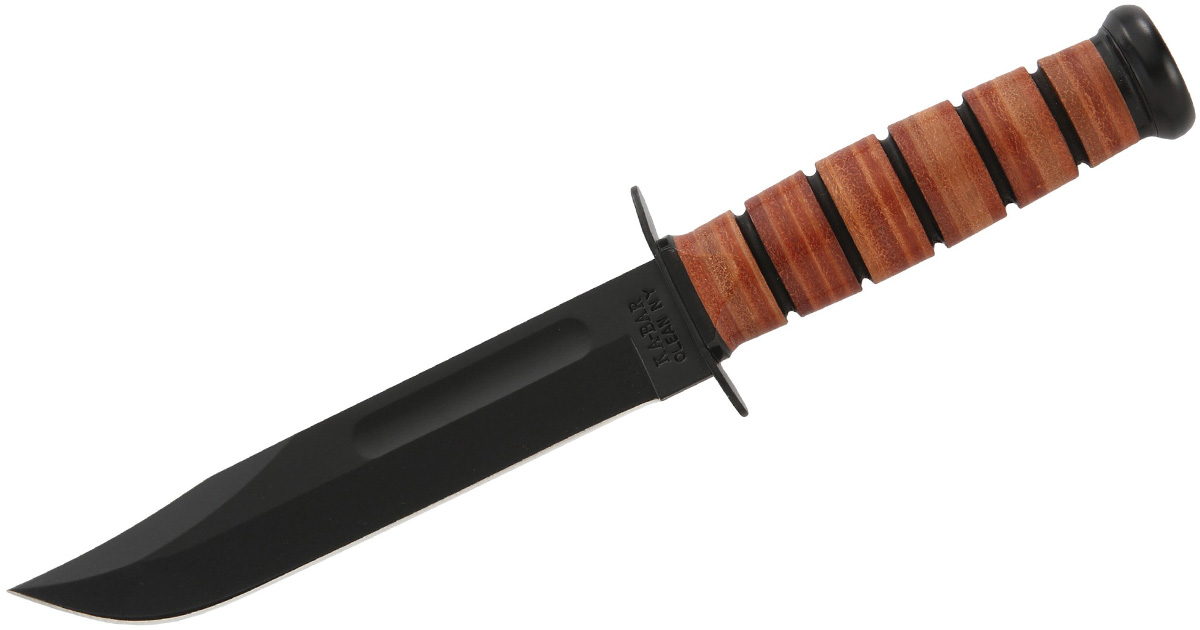 This is the KA-BAR. The thing that gave the company its name. Once you get one, you'll understand just why people have raved about and continue to buy this knife after decades. It's a beast with a tried-and-true design.
There's not too much to say about this knife that hasn't already been said.
Secondary Choice – Folding Dozier
While KA-BAR is known for its USMC Utility Knife, I argue the Folding Dozier may be a better introductory knife. It's cheap, designed by the great Bob Dozier, and works well. If you can try this knife out and feel just how well it works at this price range, you'd likely be curious to see what the more expensive models like the KA-BAR Globetrotter offer.
Kershaw Leek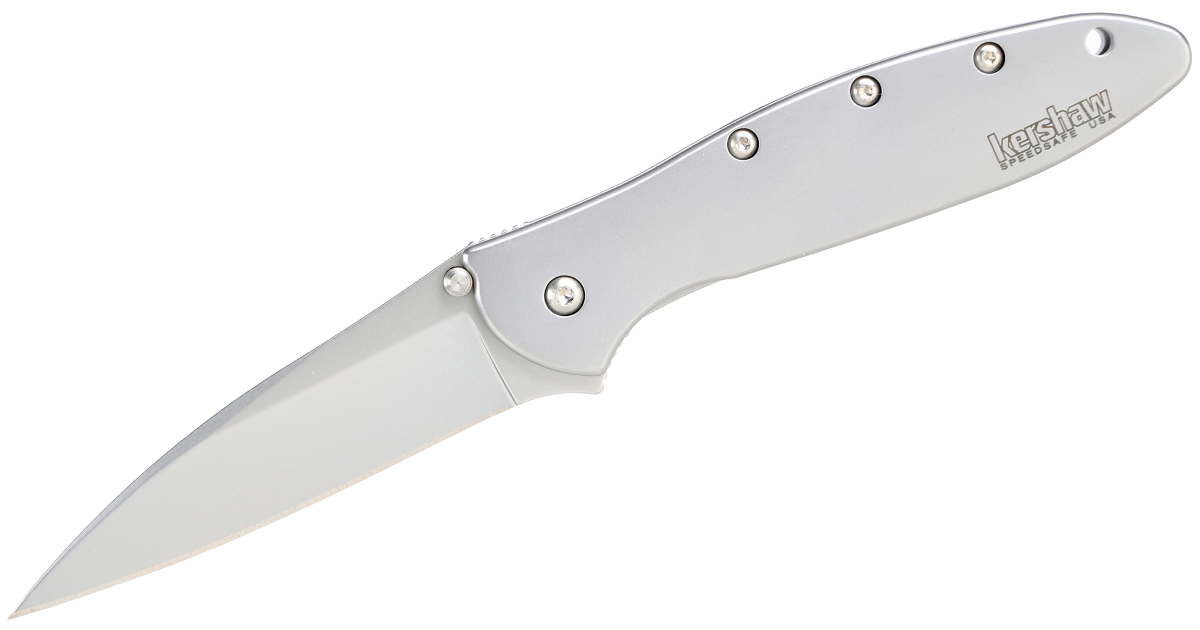 The Leek may very well be most people's first pocket knife. There is a reason. The Ken Onion design is great for EDC. You get an assisted opening Wharncliffe-like blade, a frame lock, stainless steel handles, and made in America construction all in a compact package.
So maybe the Leek isn't perfect but it does offer a ton. At this level, you get to see more what slightly more expensive knives can provide. The Leek is like a Pringle chip. Once you start, you can't stop.
Secondary Choice – Kershaw Blur
The Leek and Blur are like brothers. They both come from Ken Onion and they contrast one another in terms of style and looks. If your first knife wasn't the Leek, it was the Blur.
Leatherman Skeletool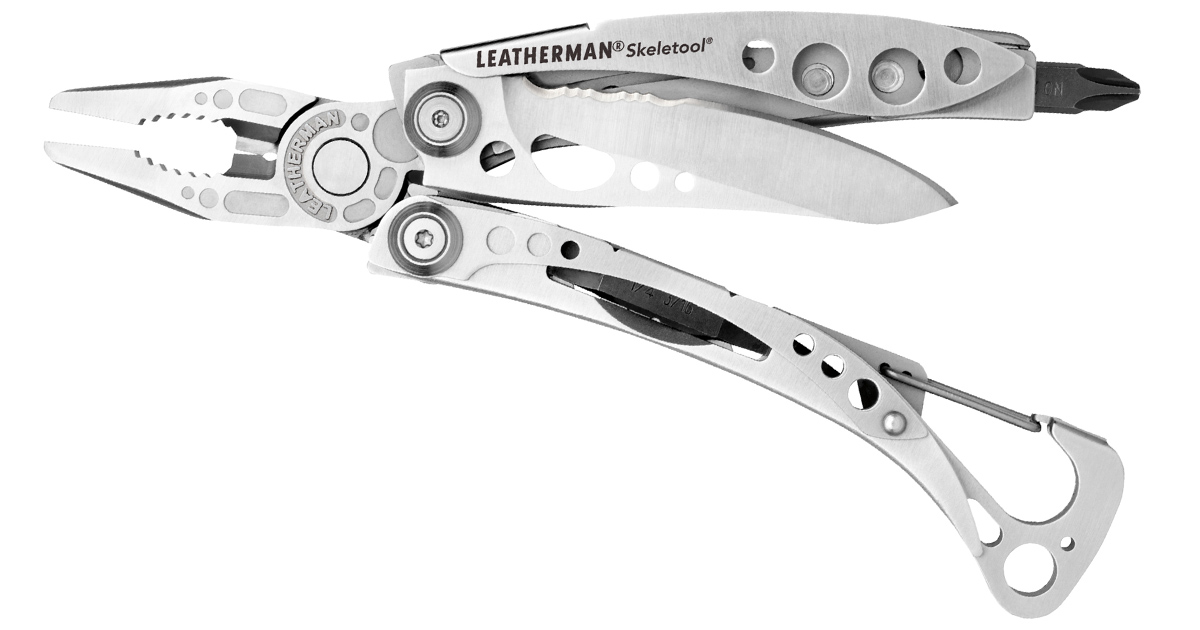 Leatherman is awesome and continues to be an innovator in the field. They make some of the best multitools around and are an American institution like Buck.
The Skeletool did something interesting by bringing the pliers multitool to the masses. Sure, there were more accessible Leatherman models, but most seemed to be for the electrician or construction worker. Leatherman hit the spot of EDC witht he Skeletool.
It has seven functions, such as a bottle opener and blade, and feature a unique design. You can also clip it to your pocket very easily. I carried one for a while before I gave it to my dad. He's thinking about getting another Leatherman…
Secondary Choice – Leatherman Squirt
The Squirt is another option. It's a cheaper multitool that comes in different colors. It is more in line with a Swiss Army Knife in that it is compact and easy to carry lose in the pocket.
Ontario RAT Model 2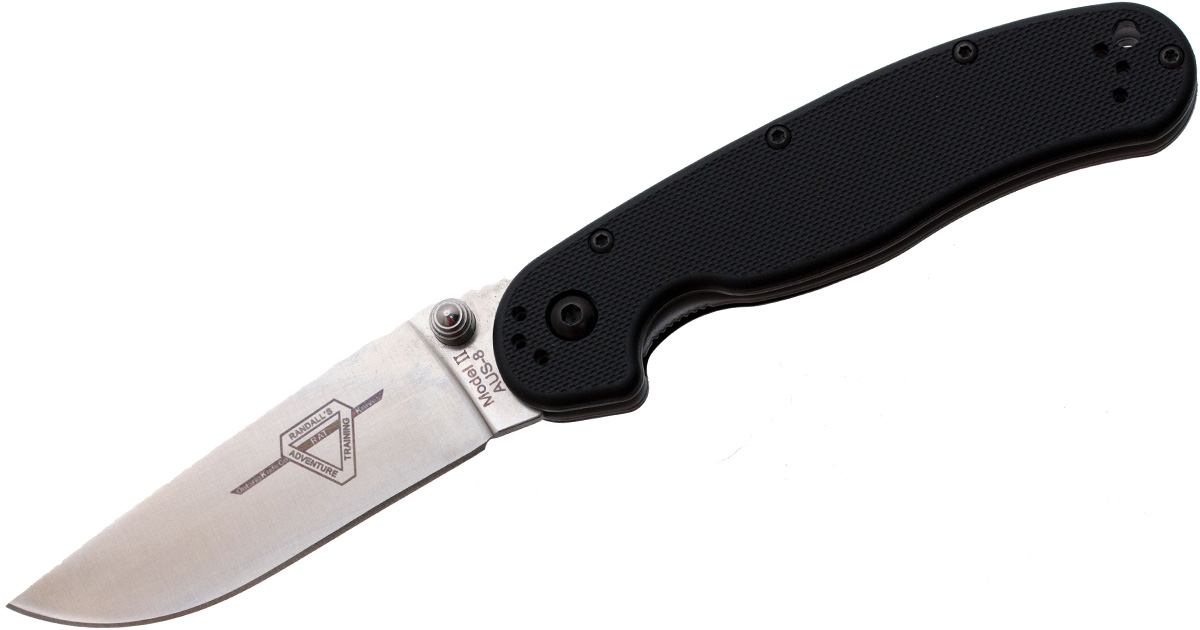 The RAT Model 2 is almost like a gateway knife to knives in general. It's a knife you can recommend to the average Joe because it's cheap and performs very well.
This is a knife almost everyone has in their collection. Although I say the RAT Model 2, you can easily put the RAT Model 1 here. It's the same knife except in a different size.
After the RAT, people may be interested to see what types of other knives Ontario Knife Company has to offer.
Secondary Choice – OKC Air Force Survival
For a fixed blade alternative, there's the Air Force Survival knife. This fixed blade knife is used by several branches of the military and features a great design.
Old Timer 152OT Sharpfinger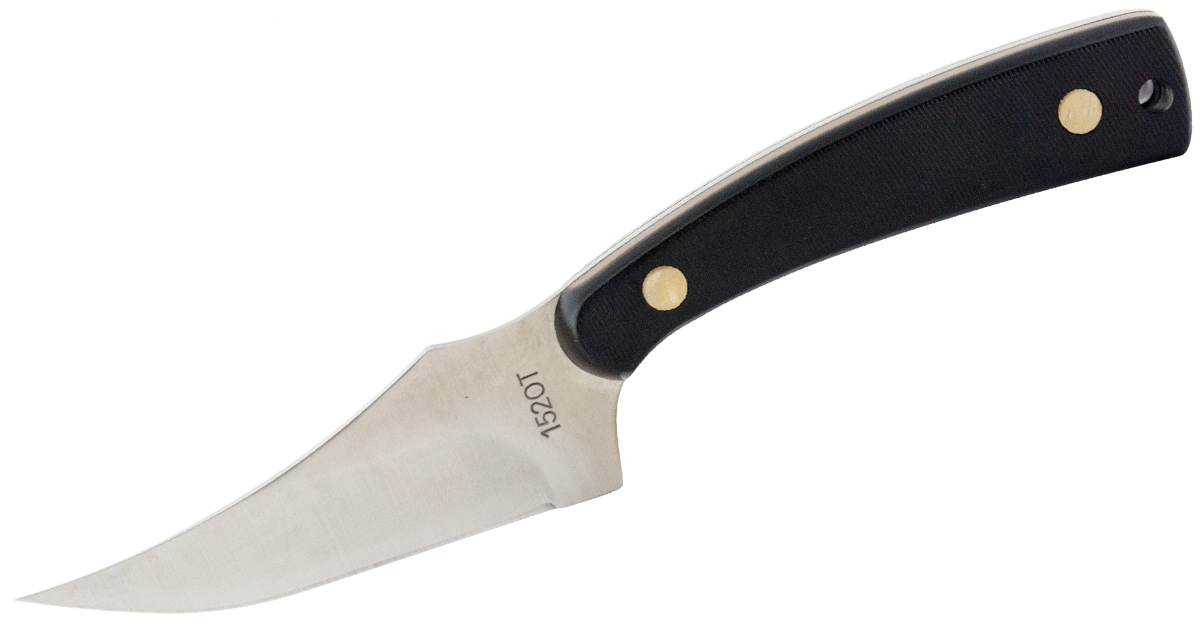 Even though Old Timer is a sub brand of Schrade, I'm calling it its own brand. Old Timer likely came about after someone at Schrade wanted a knife that harkened back to the old days. They succeeded in making classic designs, but its best design was probably the Sharpfinger. Like the Buck 110, this knife became a generic design that others mimicked.
The knife has a 3.3-inch upswept blade and Delrin saw cut handles. It's not as large or unwieldy as other hunting knives. People will get hooked on Old Timer with the workhorse of a knife.
Secondary Choice – Old Timer Senior
The Senior is a stockman pattern that probably better represents what Old Timer is trying to do. It is a classic pattern with a classic design. It's something you wouldn't have been surprised to see in your great grandfather's pocket.
Schrade SCHF36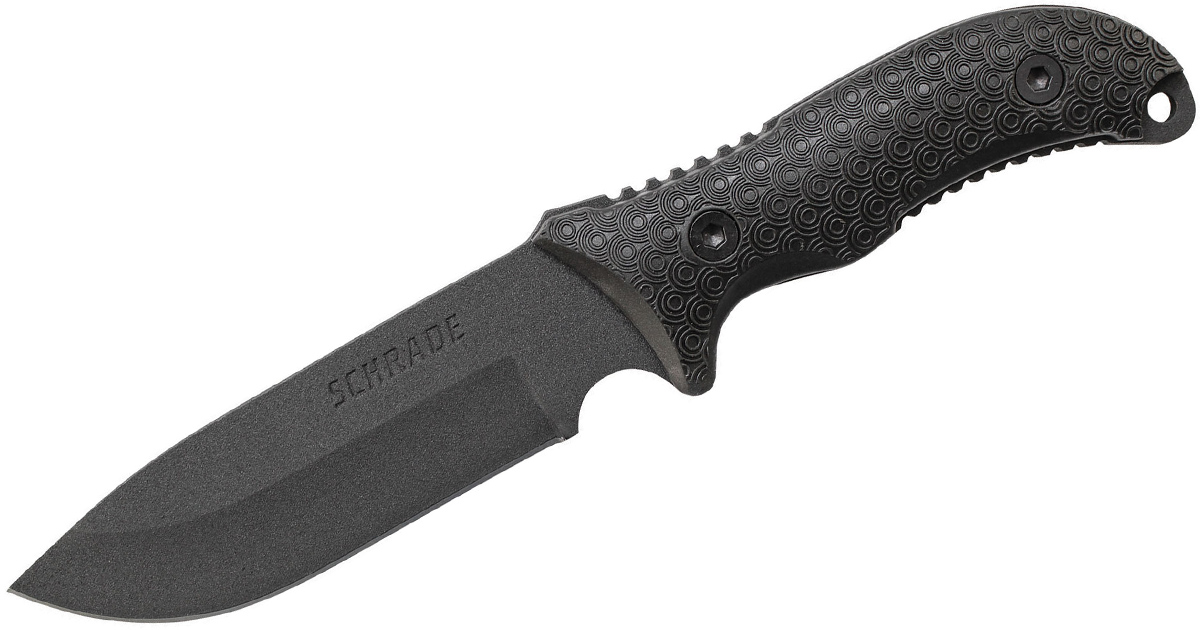 After Schrade closed its doors in 2004, Taylor Brands kept the brand alive (before selling to BTI Tools recently). It took some time for Taylor Brands to get its footing, but they eventually knocked it out of the park on several low-cost fixed blades, including the SCHF36.
This is the perfect outdoor knife. It's cheap and you shouldn't be afraid to abuse the heck out of it. The 5-inch blade is great for all kinds of outdoor tasks and the TPE overmold handles are very comfortable.
An updated version was eventually released, but there's something about the SCHF36 that still gets people into the Schrade brand.
Secondary Choice – Schrade SCHF9
The SCHF9 is another fixed blade that shows what Schrade can do. It has a 6.5-inch blade and TPE overmold handles. Not much else to say about this knife.
SOG Flash II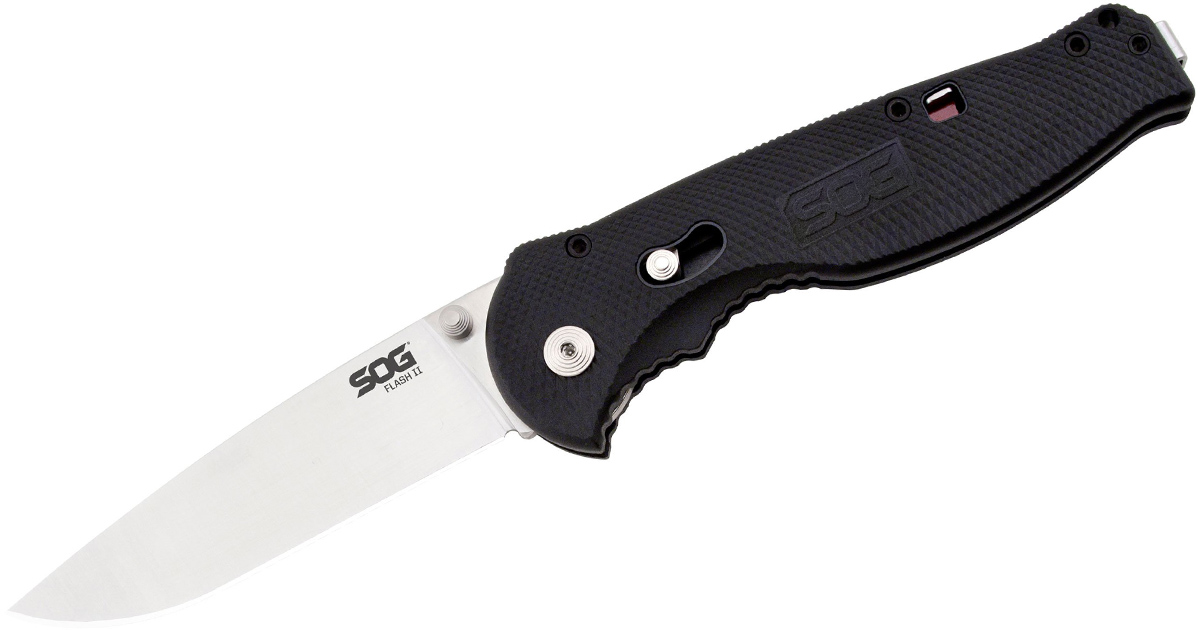 What's the best gateway knife for SOG? The Flash 1 or the Flash 2. The Flash somehow took on a life of its own after some YouTubers called it a masterpiece. While I wouldn't go that far, it is an excellent knife and if it gets people to discover the better offerings of SOG (like the Vulcan, TomCat, and Zoom), then it's a win.
The Flash II is probably the top choice. It has a 3.5-inch AUS8 steel blade, GRN handles, and a piston lock. It also uses an assisted-opening mechanism.
Secondary Choice – SEAL Pup
The inspiration for SOG was a fixed blade, so it's only natural to pick a fixed blade here. The SOG SEAL Pup is the younger and cheaper brother of the SOG SEAL Team, but it has a lot of what makes it great. It has a 4.75-inch clip point blade and GRN handles.
Spyderco Tenacious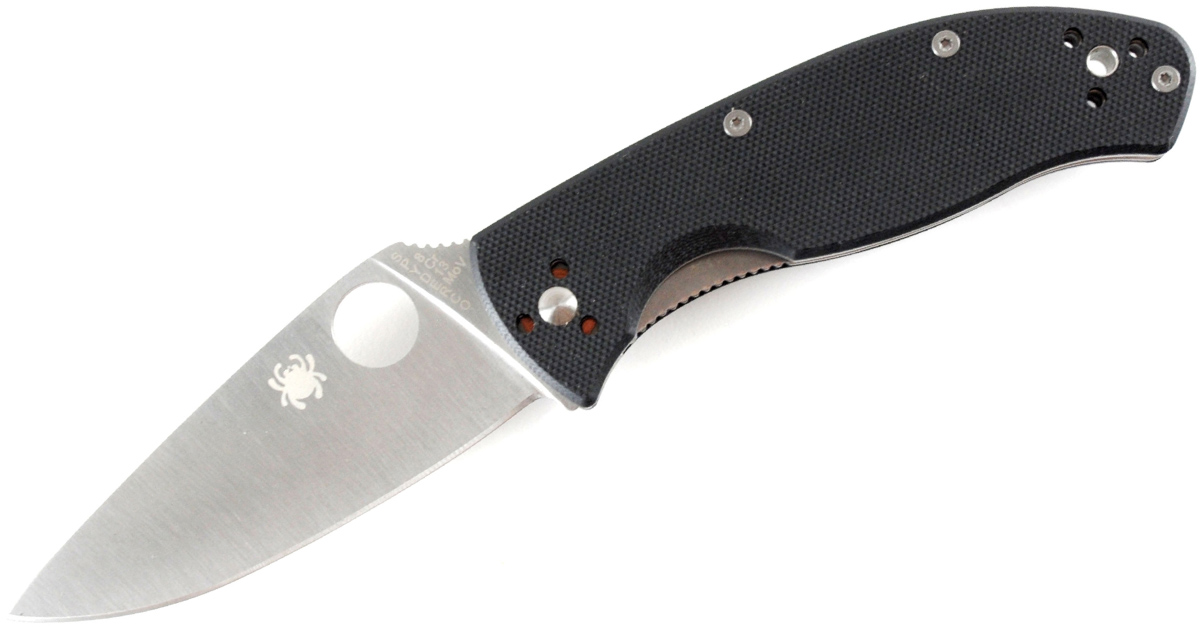 If there is one brand that's the most addictive (besides the collectors who hunt down Case models), it's Spyderco. I had people saying a bunch of different ideas for its gateway knife, but I settled on the Tenacious.
This is most people's first knife from the brand, and although it's not the best Spyderco has to offer, it does showcase some of the design elements of the brand. Others were suggesting the iconic Para Military 2, but that likely wouldn't be the first knife someone gets from Spyderco and it's more expensive.
The Tenacious, on the other hand, has a 3.38-inch blade made from budget 8Cr13MoV steel and G10 handle scales. It is made in China.
Secondary Choice – Spyderco Delica
The next logical choice for a gateway knife to Spyderco is the Delica. This has a lot of what makes Spyderco great — the Round Hole, the blade design, the handle design, the better steel, the quality construction, etc — but it's a little more expensive than the Tenacious.
Victorinox Spartan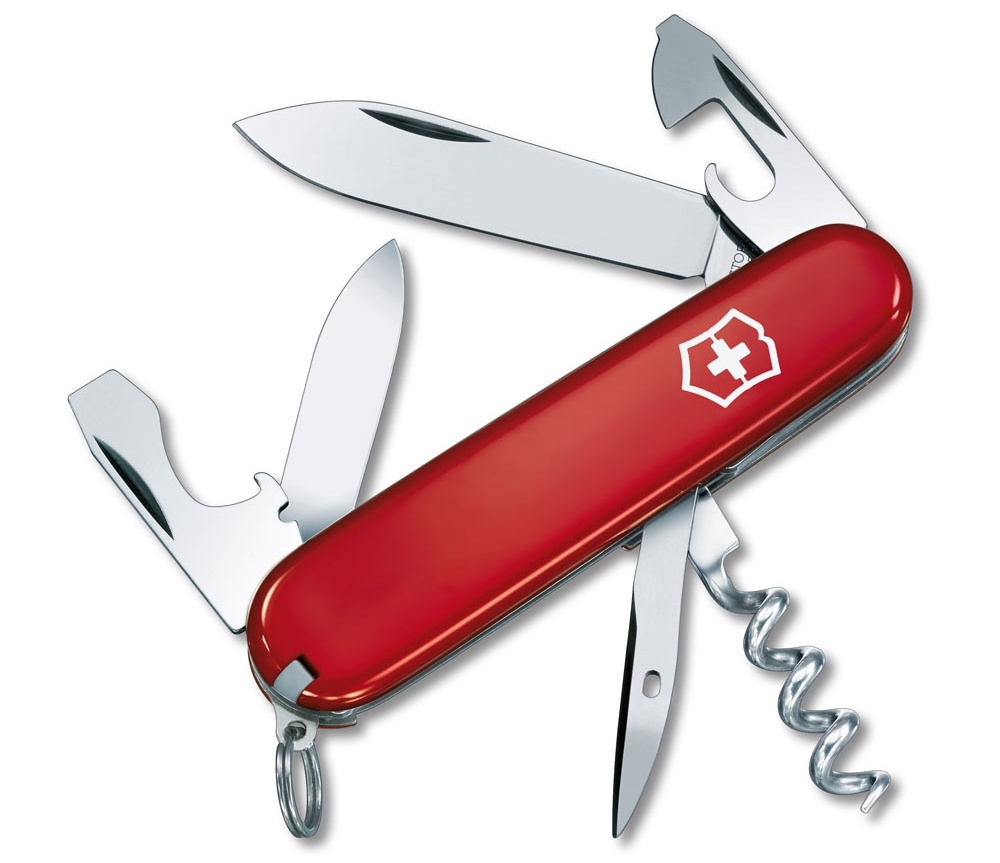 This was another tough one, mainly because any Swiss Army Knife is a gateway knife. I chose the Spartan because it's a classic design. It has the red cellidor scales and 12 essential tools.
It's not hard to see how one could look at another model and say "Hey, I like my Spartan but want something with Alox scales. I'll get the Cadet." Considering the amount of variations and scale designs, you can really go down a rabbit hole.
Secondary Choice – Victorinox Classic SD
The Classic SD is another obvious choice because it's smaller, cheaper, and has fewer tools. This is a knife you can give to almost anyone so they can experience the usefulness knives provide on a daily basis.
Zero Tolerance 0350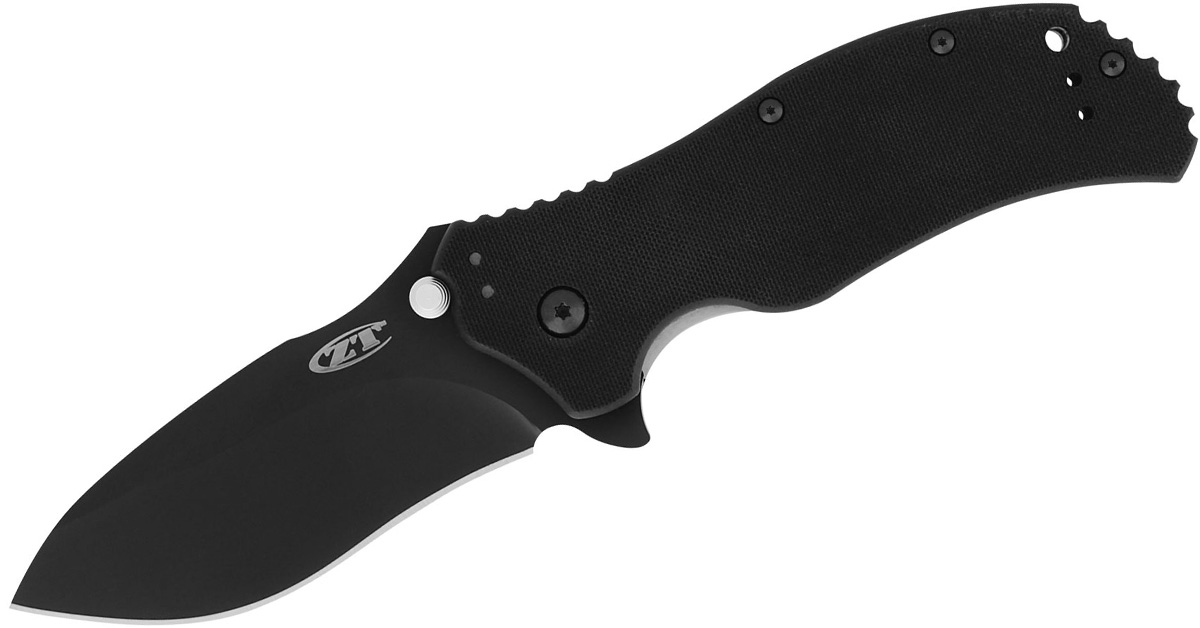 If you're already buying Zero Tolerance knives, you're likely not a novice anymore, but it is a jump to a higher tier of knives. Most people pointed to the 0350 as their gateway knife to the brand because it is a high-quality knife that's stout and well-made — though not as burly as other ZT knives.
The 3.25-inch S30V blade uses an assisted opening mechanism and features black DLC coating. The handles are G10. It is a good representation of the types of things Zero Tolerance offers.
Secondary Choice – Zero Tolerance 0450
Another option is the ZT 0450. There's not too much rhyme or reason for it except that many people mentioned this knife as another ZT model that got them into the brand.
It has a 3.25-inch S35VN blade and titanium scales. This is the most expensive knife you'll find on the list.