Prepare yourself for a shock because CRKT has introduced a brand new folder called the XOC (that's pronounced shock, according to CRKT).
The brand famously known for budget folders with unique innovations is veering off course with this limited edition and ultra premium pocket knife from the mind of frequent collaborator Flavio Ikoma.
Let's see what this knife has to offer.

The blade is a massive 4.258 inches and boasts a blade thickness of 0.181 inches. It's essentially a thick slab of CTS XHP, a material I don't think CRKT has ever used on its knives. The handle is weaved carbon fiber with a titanium inlay. Gold accents can be seen in the pivot collar and pocket clip (which doesn't seem to match the robustness of the knife).
CutleryLover on YouTube recently did a quick video on the knife. Take a look:
Keeping with the overbuilt theme (something CRKT explicitly acknowledges in its product description), the XOC uses the new locking mechanism from Ikoma called the Deadbolt. So far the Deadbolt lock has only been seen in the Seismic. It's been well received as a strong lock with a pretty simple design and easy one-handed use.
Here is Everyday Commentary's take on the lock:
The XOC looks to be taking advantage of the strength of the lock.
It comes in at an overall weight of 11 ounces. The only thing that's more than the weight is the price at $750 MSRP.
That's a lot of money for a lot of knife. There are currently only 200 being made, so the exclusivity and premium materials contribute to the high price.
It looks like these are being sent out to prominent members of the knife community, which means we'll also get impressions from Nick Shabazz and Tony Sculimbrene of Everyday Commentary soon.
CRKT's Experiments with Pricier Knives
This isn't the first time CRKT has explored higher-end and higher-priced knives. In 2014, CRKT offered the unique Buy Tighe from Brian Tighe as a 20th anniversary limited edition model with slightly higher-end materials like 154CM steel and the Klecker Lock. Only 500 were made and it sold for $750.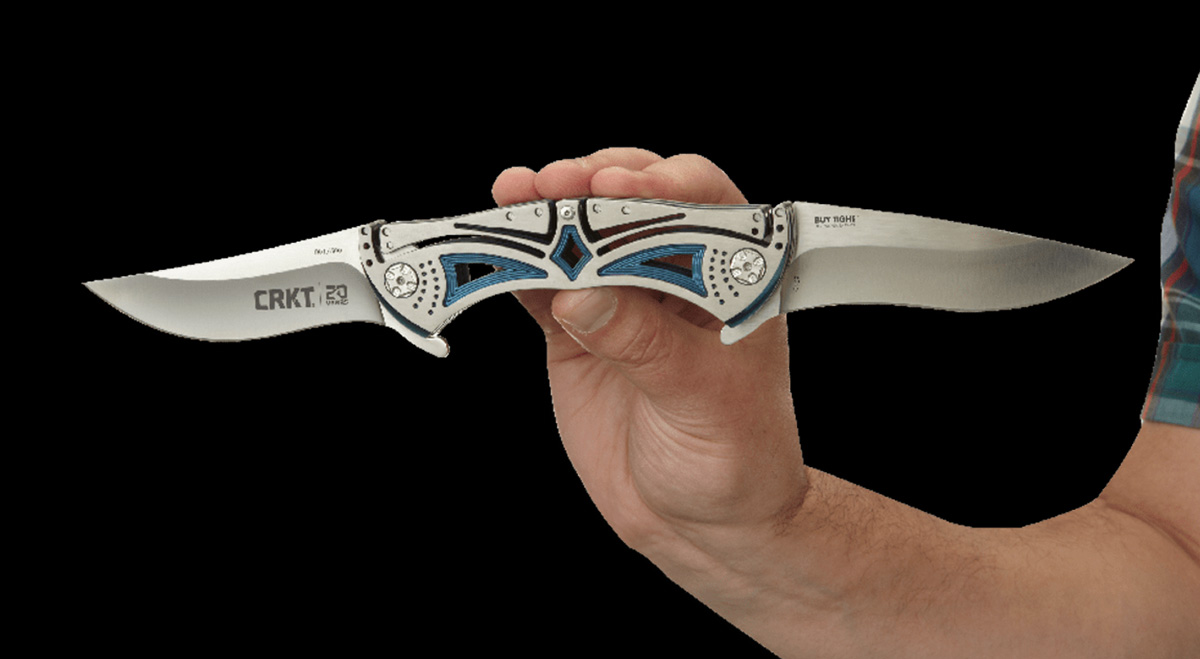 That same year, CRKT made another high-end folder based on a custom in the Hi Jinx. The Ken Onion design featured a 3.32-inch blade with Sleipner steel and titanium handles. The knife was made in Italy by LionSteel. Only 525 pieces were made.
At the moment, CRKT also has a limited edition knife called the Motley available through Blue Ridge Knives Distribution. This is another Ken Onion design with Sleipner steel.

There is also the CRKT.com exclusive Crossbones with M390 steel limited to 500 pieces.
The most expensive standard knife from CRKT aside from the M16 automatic is the Eros, which has an MSRP of $225 and uses Auto 440 steel.
With the release of limited edition models and variations using slightly better materials, it looks like CRKT is finally listening to more diehard knife enthusiasts.