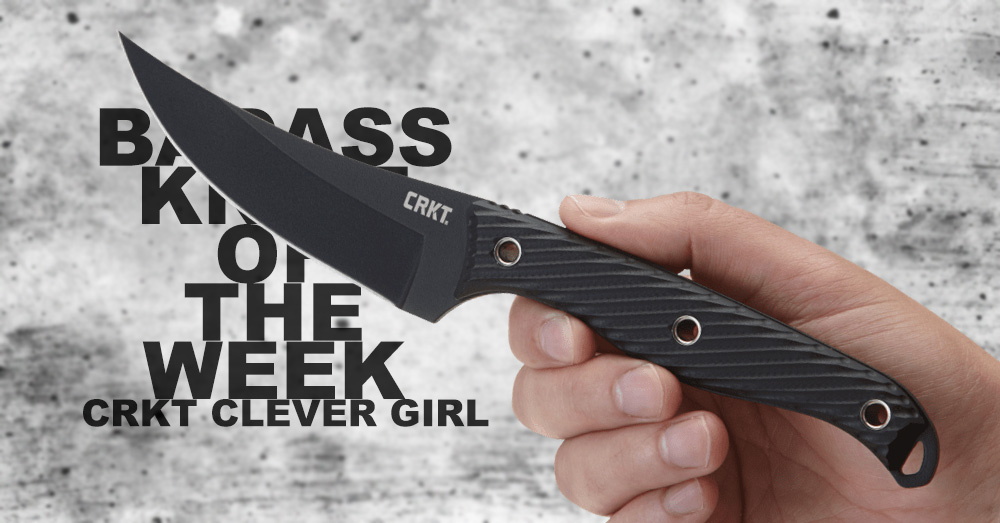 When you're in a fight for your life, you don't need a tool that's pretty or precious, you need something with cunning, grit, and austerity. That's where the latest Badass Knife of the Week comes into the picture.
The CRKT Clever Girl is a tactical fixed blade designed to perform at its best when things are at their worst. From its piercing point to its exposed steel pommel, the Clever Girl is constructed with an eye toward functionality and ferocity.
Its long 4.6-inch blade boasts an upswept blade made from SK5 high carbon steel, an alloy known for balancing blade toughness with the ability to take an edge easily in the field. The black powder coating dampens the reflective property of the steel while giving the slender blade a more understated appearance until you need it in action.
Designer Austin McGlaun, who served in the 101st Airborne Division in Iraq and as a cop on the streets of Columbus, GA, uses his experience to create a knife that works both as a weapon and tool. According to CRKT, his design philosophy is simple: If a knife is ugly but effective, it's not ugly — it's perfect.

The theme of function over beauty extends down into the textured G10 handles. The handle provides an exceptional grip in the toughest environments you'll ever encounter. A lanyard hole near the butt also acts as a small hammer pommel.
Because how you carry a knife is as important as how it performs, the Clever Girl comes with a glass-reinforced nylon sheath that allows for a number of carry options.
For more information on this Badass Knife of the Week, check out the product page for the CRKT Clever Girl.
---